Albert Lloyd 'Bert' Minerd
(1884-1946)
Albert Lloyd "Bert" Minerd was born on March 21 (or 26), 1884 in Dunbar, Fayette County, PA, the son of James and Emma (Meyers) Minerd Jr.
Bert first resided at Tucker Run near Dunbar, Fayette County. Then, in October 1906, said the Connellsville Weekly Courier, he moved to Fairchance, "where he has employment."
Bert married Lucy Mae (Nicklow) Kelly (1891-1940), the daughter of Eli and Della (Savage) Nicklow. They had no children of their own, but raised Lucy's son Charles E. Kelly Sr. from a previous marriage.
They also resided in Wynn and Haydentown near Smithfield, Fayette County. Bert is said to have been a blacksmith.
Bert registered for the World War I military draft in 1918, and stated his occupation as locomotive fireman for the Baltimore and Ohio Railroad.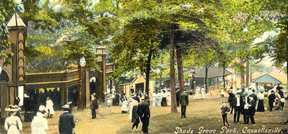 Shady Grove Park near Uniontown

A niece recalled that Bert had a "coal stove and an outhouse" at his home. He played the fiddle at square dances at Shady Grove Park in Uniontown on Saturday nights. He also "called" dances from time to time. A niece recalled him as a "very large man" who had a size 20 neck and a size 50 waistline. He was jolly and handsome and had rosy cheeks.

When the federal census was taken in 1930, Bert and Lucy and his widowed mother made their home together in Smithfield. His occupation was listed as blacksmith, employed by his own shop.

Lucy suffered from sugar diabetes and passed away on Nov. 24, 1940. She was buried in the Minerd family plot at the remote, mountainous Lynn Point Cemetery near Dunbar, Fayette County. The snow was so heavy that her casket had to be carried on a sled up the steep slope to where the cemetery is located. (Click here to see our report on the cleanup of this cemetery.)

Bert outlived his wife by six years. On Nov. 24, 1941, exactly one year after Lucy's death, Bert purchased a classified advertisement in the Uniontown Evening Standard, headlined "In Memoriam:"

I married her when she was young and fair, But after 27 years she had gray hair, When I needed help she was always there, Today she sleeps beneath the clay. Sadly missed by her husband, Albert Minerd; her son, Charles Minerd, and grandchildren.

Having suffered from hardening of the arteries for five years, he died of a heart attack on Sept. 27, 1946, at the age of 62. He was laid to rest near his wife at Lynn Point. Neither of their graves is marked.



~ Stepson Charles E. Kelly Sr. ~

Stepson Charles E. Kelly Sr. (1907-1959) was born in 1907.

He resided in Smithfield, and married Ida Zinn ( ? - ? ).

They produced a brood of nine children – William E. Kelly, Albert L. Kelly, Charles E. Kelly Jr., Emma "Jean" Lowller, Anna Marie Hainzer, Margaret Whoolery, Audrey Burner, Nancy Louise Kelly and Patricia Jane Kelly.

Charles surrendered to death at the age of 52, in Uniontown Hospital, on Oct. 28, 1959. The Connellsville Daily Courier and Uniontown Evening Standard each carried an obituary, which noted that he was survived by 11 grandchildren. The funeral was held at Mount Moriah Baptist Church, by the hand of Rev. Paul Tarcy, followed by interment in Masontown's Fairview Cemetery.

Son William E. Kelly joined th U.S. Air Force. Circa 1959, he was stationed in Sacramento, CA.

Son Albert L. Kelly resided in Cleveland, OH in 1959.

Son Charles E. Kelly Jr. ( ? - ? ) lived at home with his parents in 1959.

Daughter Emma "Jean" Kelly married (?) James Lowller. It's believed that he was the son of Evelyn (Minerd) Walters of Smithfield. As of 1959, they were in Cleveland, OH.

Daughter Anna Marie Kelly was joined in wedlock with Joseph Hainzer. Three known daughters born to this union were Joann M. Rose, Jaren Louise Hainzer and Sandra Jean Hainzer. Circa 1959-1972, they dwelled in Masontown, PA, at 306 Fairview Avenue/
Granddaughter Joann M. Hainzer ( ? -1972) was born in about 1952. She belonged to the All Saints Roman Catholic Church of Masontown and was a graduate of Albert Gallatin High School. On June 10, 1972, she wed James P. Rose Jr. ( ? - ? ) of Andover, NY. In 1972, during the Vietnam War, the Roses lived in Japan, where James was serving as a corporal in the U.S. Marine Corps. Tragedy struck on the fateful day of Oct. 7, 1972. While riding with her husband on a motorcycle, she was killed when struck by a moving train at a railroad grade crossing in Iwakuni, Japan. James was treated for shock at a naval hospital. The Uniontown Evening Standard reported that the remains were shipped home through the services of the Fayette County Chapter of the American Red Cross. A mass of resurrection was held at the family church, led by Rev. Andrew Charnoki. Burial was in St. Agnes Cemetery.
Daughter Margaret Kelly was united in matrimony with Harry Whoolery. Their residence in the late 1950s was in Smithfield.
Daughter Audrey Kelly entered into marriage with Richard Burner. The pair put down roots in Uniontown.
Daughter Nancy Louise Kelly
Daughter Patricia Jane Kelly
Copyright © 2002-2003, 2008, 2012, 2022 Mark A. Miner