Alice Jane (Minerd) Holdsworth
(1881-1933)

Alice Jane (Minerd) Holdsworth was born on Sept. 26 or 27, 1881 at Stauffer near Mt. Pleasant, Westmoreland County, PA, the son of Charles M. and Sabina "Bina" (Pierce) Minerd.
On Feb. 1, 1904, 22-year-old Alice married 23-year-old James Clinton Holdsworth Sr. (1880-1923). He was the son of English immigrant Thomas Holdsworth and Pennsylvania-born Ivy (Kuntz) Holdsworth, and was born in Allegheny City (now the North Side of Pittsburgh). The ceremony was conducted by Rev. S.G. Gahn in Mt. Pleasant. A copy of their marriage license is on microfilm today at the Westmoreland County Courthouse in Greensburg.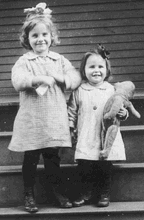 Holdsworth daughters
James was a coal miner at the time of marriage and used his wits and drive to get ahead. The following year, working at the Madison Mine, he applied for and received a certificate as a mine foreman, second grade. In 1908, three years later, his certificate was upgraded to first grade.
Their known children were James Clinton Holdsworth Jr., Iva Holdsworth, Irene Beam, Margaret Jones Chidester, William Holdsworth and Jean Bentz. Two of their daughters, whose identities are not confirmed, are seen here.
Following the availability of coal mining work, the Holdsworths relocated early in their marriage to Carroll, Washington County. When the federal census was enumerated in 1910, they lived on Main Creek Road in Carroll, and James was employed as a coal mine superintendent.
In 1910-1911, James was superintendent for Pittsburg-Westmoreland Coal Co. at its Dunkirk Mine in Monongahela, Washington County. He also held the title of president of the Dunkirk Gas Coal Company.
He used his leadership platform in the industry to be active with the Y.M.C.A. Coal Mining Institute programs throughout Western Pennsylvania. These institutes apparently were held as part of the national Coal Mining Institute of America organization, of which he was a member. His wife's distant cousin by marriage, Harry Oscar Millward, also was a member of the Institute.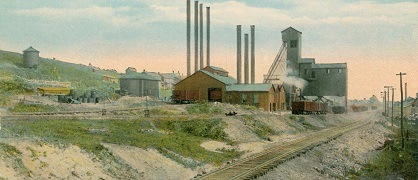 Elk Run coal shaft, Punxsutawney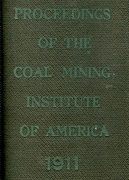 1911 proceedings, Coal Mining Institute
On April 2, 1910, he made a presentation at the Dubois (PA) Institute which "was largely attended," said the The Coal and Coke Operator. "The paper by James Holdsworth was one of the best ever presented at the Institute. It was replete with original thought and suggestions, and evidenced careful research as well as wide experience and acute observation. A warm discussion followed." He was appointed to the committee on arrangements for the 1911 institute.
In the spring of 1911, he served as president of the Pittsburgh District Y.M.C.A. Mining Institute, and delivered an address at its fourth annual meeting held at Monongahela. News of his remarks were printed in the May 11, 1911 edition of The Coal and Coke Operator. Among his fellow officers were W.S. Lewis, first vice president and Pittsburgh-Westmoreland Coal Company superintendent; John C. Rue, second vice president and Star Coal Company superintendent; and F.E. Wood.
Because of his success, James was profiled in the 1912 book Examples of Success By Correspondence Training, written by Thomas J. Foster, president of the International Correspondence Schools of Scranton, PA. The profile read that James:
...was born in 1880 at Pittsburg, Pa., and obtained the beginning of his education in a public school. At the age of 12 he entered the mines. While he was a mine laborer, at the age of 20, when he was earning $2 a day, on January 7, 1901, he enrolled for a Complete Coal Mining Course. He is the superintendent of the Dunkirk Mine for the Pittsburg & Westmoreland Coal Co., having 250 men under his control.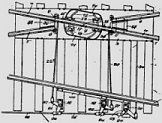 Sketch of James' patented "switch frog" invention
In March 1911, James and Frank R. Blackburn of Monongahela filed a patent application for a device they had invented. It involved a new type of railroad switch for converging rails, called a "switch frog." When the patent was awarded, a sketch and summary was published in the Dec. 31, 1912 edition of the U.S. Patent Office Official Gazette. News of the device also was printed in The Railway and Engineering Review, Jan. 18, 1913.
At some point, the Holdsworths relocated to Punxsutawney, Jefferson County, PA, where one of their daughters was born in 1921. Their home was located at 114 North Main Street. In Punxsutawney, he earned a living as a safety engineer, likely in a coal mine.
Sadly, James contracted a deadly case of pulmonary tuberculosis in about 1918. He lived with the illness for five years, but his health declined rapidly in the winter of 1923. He died at home on April 11, 1923, just eight days shy of his 43rd birthday. Burial was in Mt. Pleasant Cemetery.

Alice survived her husband by nine years, remaining in Punxsutawney. In September 1924, grief visited her once more when her 18-year-old daughter Iva died of kidney problems.
Suffering from chronic heart disease (endocarditis), Alice died at age 51 on Nov. 28, 1932, at the Punxsutawney Hospital. Her remains were returned to Mt. Pleasant to the home of brother in law C.M. Metz, a City Councilman, for the funeral. She was buried at Mt. Pleasant Cemetery. Daughter Irene provided details for her official death certificate.
~ Son James Clinton Holdsworth Jr. ~
Son James Clinton Holdsworth Jr. (1904- ? ) was born in about 1904.
He later moved to Monroe, Monroe County, MI, where he lived with his wife and two daughters.
Sadly, during World War II, James died at age 27, possibly in connection with military service, and possibly in Monroe. Additional details of his passing are not known. His remains were returned for burial to the Mt. Pleasant Cemetery.
~ Daughter Iva Holdsworth ~
Daughter Iva Holdsworth (1906-1924) was born on May 21, 1906.
She resided with her parents in Punxsutawney at 114 North Main Street. Sadly, her body was wracked with arthritis and chronic kidney problems, sending her onto occasional convulsions. After almost two months of suffering, she died at the age of 18 years, four months and four days on Sept. 25, 1924. Her remains were shipped to Mt. Pleasant for burial.
~ Daughter Irene Holdsworth ~
Daughter Irene Holdsworth (1909- ? ) was born in about 1909.
~ Son William Holdsworth ~
Son William Holdsworth also resided at Monroe circa 1931.
Monroe is famed as the home of the family of General George Armstrong Custer. Nothing more is known.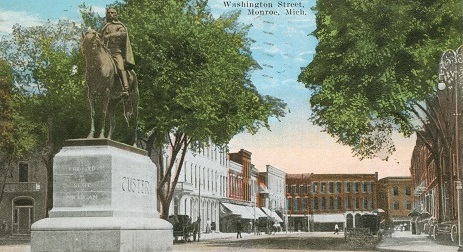 Monroe's Washington Street with its famed statue of General Custer
~ Daughter Jean (Holdsworth) Bentz ~
Daughter Jean Holdsworth (1921-2006) was born in 1921.
She was a registered nurse who graduated from the Indiana School of Nursing, and later worked at Johns Hopkins Hospital, and then for Connellsville Hospital and Frick Hospital.
She married Elmer C. Bentz ( ? -1981) and had two children -- Kathleen Armstrong and Alvin E. Bentz.
They resided in Scottdale, Westmoreland County, at some point in time, where she belonged to the St. Paul's Evangelical Lutheran Church.
Jean passed away in Richmond, VA at age 84 on Feb. 22, 2006. She was laid to rest in the Mt. Pleasant Cemetery, with her obituary published in the Greensburg (PA) Tribune-Review.
Click here to learn more about the Minerd-Minard-Miner-Minor family's surprisingly intimate connection with the Custers, which was the theme of our 2003 national reunion.
Copyright © 2001, 2005, 2006, 2012, 2014 Mark A. Miner
Switch frog sketch courtesy of Google Books