Edna (Minerd) Kyle
(1893-1916)

Edna Kyle

Edna A. (Minerd) Kyle was born in 1893 in Athens County, OH, the daughter of Jacob and Martha "Bessie" (Buck) Minerd Jr.
On May 15, 1912, at the age of 19, Edna entered into marriage with 24-year-old James Delbert Kyle (1887-1965). The ceremony was performed by Athens Mayor G.H. Slaughter.
James was a native of "The Garden" near Stewart, Athens County, and was the son of James and Rose Lowell (Sutton) Kyle. He was of medium height and build, and had blue eyes and dark brown hair.
The Kyles resided in Stewart, Athens County and bore three children -- Etta Louise Kyle, Mary Margaret Jassogne and Anne Applegate.
Sadness enveloped the young couple on Oct. 1, 1912, when their firstborn daughter, Etta Louise, died at the age of three months, 13 days of organic heart disease. The infant was laid to rest in the Bean Cemetery in Stewart.
Tragically, the Kyles' marriage lasted only four years.
In the fall of 1916, Edna came down with a bad case of pneumonia, most likely while expecting the birth of their third child. She passed away from the illness on Oct. 4, 1916, at the age of 24. Her mortal remains were laid to rest in the Haga Cemetery in the rural hills of Guysville.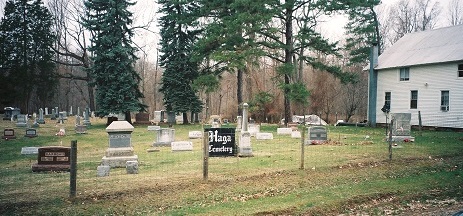 Haga Cemetery, where Edna sleeps for the ages

Edna's grave today is not marked, but is recorded in the booklet, Rome Township Cemetery Inscriptions by Nancy E. Bryan Aiken and T. Lee Gregg, on file at Ohio University. The cemetery was photographed by the founder of this website in April 2005.

The year after Edna's death, James registered for the military draft during World War I. The registration agent filled out a card stating that James was residing on Hazel Ridge in Frost, OH and was self-employed in farming. The agent also marked that James' wife was deceased and that two children were depending upon him for support.

James remained widowed for a few years. On Sept. 16, 1918, he married Mary E. (Thompson) White (1893- ? ), daughter of W.C. and Isabelle (Hunter) Thompson, who also had been married once before. The ceremony was held in Parkersburg, Wood County, WV, by the hand of Rev. E.D. Murch.

At the time of marriage, James' occupation was as a teamster.

Mary brought six children to the marriage -- Elora L. White, Nora I. White, Cora A. White, David C. White, Grace C. White and Wilbur R. White. The Kyles had one son of their own, Hugh (or "Huey" or "Hughie") Weston Kyle.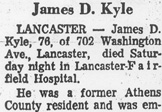 Oobituary, 1965

When the federal census was taken in 1920, James and Mary and their nine children from three marriages lived under one roof in Athens Township, Athens County. The census-taker recorded that the 32-year-old James worked as a general farmer.

Tragedy rocked the family again on June 23, 1937 when son Hugh, just a few weeks shy of his 18th birthday, died of liver disease at the Ohio State University in Columbus. His remains were returned to Athens for burial.

Later, the family relocated to Lancaster, Fairfield County, OH, where they remained for many years. Said a newspaper, James "was employed by the Anchor Hocking Glass Co. in Lancaster until his retirement." They made their home at 528 East Locust and at 702 Washington Avenue.

James passed away in July 1965 in Lancaster, at the age of 76, at Lancaster-Fairfield Hospital.



~ Daughter Mary "Margaret" (Kyle) Jassogne ~

Daughter Mary "Margaret" Kyle (1913-1980) was born in 1913.

She wed Ralph Jassogne (Feb. 24, 1908-1999), a native of Vincennes, IN, whose parents Charles and Helen were immigrants from Charleroi, Belgium.

They produced two known sons, Ralph Charles Jassogne and Paul D. Jassogne.

The year or two before marriage, in 1930, Ralph resided with his parents and worked as a laborer in a glass factory.

In 1932, Mary and Ralph made their home in the Reese Addition of Lancaster, the year their son was born.

The Grim Reaper once again cut down an innocent child in this family on Oct. 12, 1934, when son Ralph, age one year, nine months, was run over by his father's automobile, and died of a skull fracture after being rushed to the hospital in Lancaster. The lad's broken remains were laid to eternal rest in St. Mary's Cemetery in Lancaster.

When the federal census enumeration was made in 1940, Margaret and Ralph dwelled in Lancaster, OH, with no offspring in the home. At that time, Ralph labored as a dairy deliveryman. He is known to have joined the U.S. Army during World War II.

Circa 1952, the family was in Pleasantville, OH. Ralph earned a living as an operator at Deeds Bros. Dairy. He earned many safety driving awards over the years. They belonged to the Sixth Avenue United Methodist Church.

The Jassognes are known to have sold a lot in the town of Lancaster, OH in 1966, located in the city's First Ward, Pioneer Addition. Then they purchased a lot in Lancaster's Third Ward in the Thimmes Madison Avenue Addition. Their address in 1980 was 910 Madison Avenue.

Sadly, Margaret passed away on Dec. 18, 1980, at the age of 67, in Lancaster-Fairfield Coiunty Hospital. Rev. Oren D. Schaffer led the funeral service. Burial was in Lancaster's Floral Hills Memory Gardens. The Lancaster Eagle-Gazette carried an obituary.

The widowed Ralph wed a second time to Peggy a.k.a. Glocie Mildred Woofter (May 3, 1912-2003). They made a home in Lancaster. Ralph enjoyed delivering Meals on Wheels and was a member of the Olivedale Senior Citizens and American Legion.

At the age of 91, as a patient in Fairfield Medical Center, Ralph was gathered away by the angel of death on July 16, 1999. His obituary was published in the Eagle-Gazette. The remains were interred with Margaret in Floral Hills, with Pastor John Harra and Rev. Oren Schaffer co-leading the service.

Son Paul D. Jassogne ( ? - ? ) was born in (?). He was a graduate of Lancaster High School. In young manhood he attended the Lancaster branch campus of Ohio University and worked for Sears. He then joined the U.S. Army during the Vietnam War and trained with Pershing missiles at Fort Sill, OK before being transferred to Germany. Paul married Dorothy ( ? - ? ). The pair dwelled in Lancaster in 1980-1999.


~ Daughter Anna W. (Kyle) Applegate ~

Daughter Anna W. Kyle (1916 - ? ) -- also spelled "Anne" and "Ann" -- was born on May 8, 1916 in Athens, OH.

Anna earned a living in young womanhood as a timekeeper.

On May 8, 1937, in nuptials held in Athens, she wed Clark Andrew Applegate Jr. (Feb. 2, 1916-1997) of Miami County and Toledo, OH. He was the son of Clark and Alice (Clegg) Applegate Sr. and employed at the time with the Pure Oil Refinery. Rev. William G. Seaman officiated.

Whether or not Anna and Clark reproduced is not yet known.

The federal census enumeration of 1940 shows the pair in Lancaster, OH. That year, he sold bending machinery.

Together, the Applegates produced several children.

The couple lived in Dayton, OH in 1947. In time they moved to Arizona.

Anne is known to have resided in Phoenix in 1980.

Later in life, the Applegates returned to Ohio and made a home in Brookville, Montgomery County.

Clark died at age 80 on April 1, 1997.

Death enveloped Anna on March 30, 2002. Interment of the remains was in Riverside Cemetery in West Milton, Miami County, OH.


Copyright © 2005-2012, 2022 Mark A. Miner