Ernest Minerd
(1891-1910)
Ernest Minerd was born in October 1891 in Fayette County, PA, the son of William H. and Missouri (Shelkey) Minerd.
Little is known of his short life, except his tragic and grisly fate.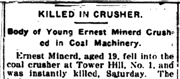 News coverage, 1910

On July 30, 1910, 19-year-old Ernest was working as a machinery oiler at the Tower Hill No. 1 Mine of the Tower Hill Coke Company. In a freak accident, he was instantly killed. The Aug. 1, 1910 issue of the Uniontown Daily News Standard reported that:

[he] fell into the coal crusher ... and was instantly killed, Saturday. The body was not found until a charge of coal fell taking the mangled form with it, onto the lorry below. It is supposed the man fell into the crusher while oiling it. When Mike Blackshic went to discharge the contents of a waiting bin into his lorry the lever worked harder than usual, and after several attempts to release the contents of the bin, he was horrified to see the body of a man fall into the lorry. The body was almost unrecognizable but a friend after a close scrutiny identified the remains as those of the young man.

The news was distributed nationally, with one story appearing in the Los Angeles Herald.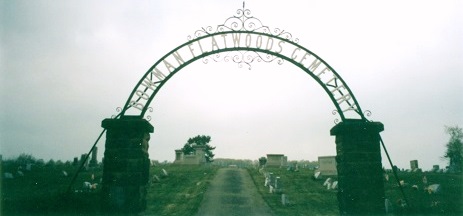 Bowman Flatwoods Cemetery, where Ernest sleeps for all time
Funeral arrangements were handled by the Dearth undertaking firm. On Aug. 1st, Ernest's shattered remains were buried in the old Bowman section of what is now the Bowman-Flatwoods Cemetery near Vanderbilt, PA.
Later, his parents and several siblings also were laid to rest in the same cemetery. Handwritten cemetery records, today on file at the Uniontown (PA) Public Library, confirm these details.
Unfortunately, it's believed that none of the Minerd graves at Bowman-Flatwoods is marked. Despite several walk-throughs, family researchers have not found any of their gravestones.
Copyright © 2001-2002, 2015, 2020 Mark A. Miner