Frances 'Fannie' (Minerd) Jeffries Cross
(1873-1947)

Fannie Jeffries Cross

Frances "Fannie" (Minerd) Jeffries Cross was born on Feb. 3, 1873 (or 1872) in Fayette County, PA, the daughter of William and Sara Elizabeth (Whoolery) Minerd.
In March 1892, when she was age 19, Fannie married Hugh J. Jeffries ( ? - ? ).
Together, they produced one daughter, Mary Miller.
As a young man, in 1889, Hugh suffered a painful accident at the Lemont coke works, as reported by the Uniontown Genius of Liberty:
His foot was caught by the flange of a wheel on a coke car and a deep gash cut from the toe to the heel. His would was dressed by Dr. P.F. Smith, who says he is getting along well, but that it will [be] many days before he will be able for work. This annoys Hugh very much, as he is at present the sole support of his mother and a large family.
The Jeffries lived in a three-room, furnished house with his parents at Ferguson Station near Dunbar, Fayette County. The marriage only lasted a short time. The following April, said the Connellsville Weekly Courier, Hugh "left home and has since refused to live with his wife or support either her or their only child."
By 1900, Fannie and daughter Mary had moved into her parents' home in South Union Township, along with her widowed siblings Mary Ann Crayton Cross, Jennie Herrington Worrick and James "William" Minerd. She worked to support herself and her daughter.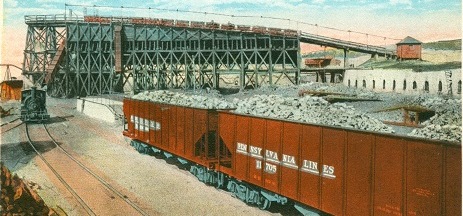 Lemont coke ovens, where Hugh Jeffries labored
Fannie was granted a divorce on March 6, 1905. The following year, on Dec. 4, 1906, she married 49-year-old widower John M. Cross (July 21, 1857-1932), the son of William R. and Catherine (Stryker) Cross of Maryland and Somerset County, PA. No minister officiated, but the pair "united themselves" in matrimony.
John was a "stationery engineer" who was living in nearby East Pike Run Township, Washington County, PA. Fannie was age 33 at the time. John had been married once before, and declared that they were divorced in Septembe 1888, with the cause of "desertion."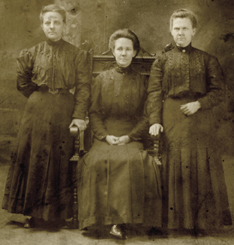 Sisters Fannie (left), Jennie, Sarah

Fannie must have remained close to her sisters Jennie and Sarah, as evidenced by the photograph portrait they took together, in the form of a penny postcard.

It's thought that John's relative Haley Patrick Cross was married to Fannie's sister Mary Ann.

In 1930, the Crosses lived at Richeyville, Washington County and in 1932 in West Pike Run Township, perhaps the same place.

Sadly, John suffered a stroke in mid-January 1932. He lingered for about eight days and passed away on Jan. 23, 1932, at the age of 74. Burial was in Taylor Cemetery. Son-in-law Elmer Miller of Daisytown gave details for the Pennsylvania death certificate. Burial was in Taylor Cemetery.

The widowed Fannie made her residence in 1933 lived at Centerville, Washington County.

Circa 1943, at the time Fannie's sister Sarah Crawford died in Uniontown, Fannie was mentioned in the newspaper obituary, and residing at Daisytown, Washington County.

Afflicted with heart disease and hardening of the arteries, Fannie died in Daisytown at the age of 75 on June 26, 1947. She was laid to rest in the Taylor Cemetery in Washington County. Son-in-law Elmer Miller of Daisytown was the informant for her official Pennsylvania certificate of death. An obituary was printed in the Connellsville Daily Courier.

A few tidbits are known of the Cross genealogy. John's father was a coal miner and was a minister for more than 40 years in the Dunkard Baptist Church. As of 1839, the parents resided at Mt. Savage, Allegany County, MD. By July 1860, the mother was dead but the father resided at Winchester, near Alliance, Stark County, OH, though in that particular month he was holding Dunkard camp meetings in Elk Lick Twp., Somerset County, PA. The father later went to Iowa and died there in about 1879 in Marshalltown.



~ Daughter Mary Ann (Jeffries) Miller ~

Daughter Mary Ann Jeffries (1892-1968) was born on Nov. 22, 1892 in Smithfield, Fayette County.

She was united in holy wedlock with Elmer M. Miller (March 28, 1894-1971), a native of Maryland.

Five offspring born to this union were Mary Patton, Elmer Miller Jr., John Davis Miller, Etta May Leyda and James Alan Miller.

Elmer was employed in 1930 as a coal mine shot firer. Then in 1940, he and son Elmer Jr. labored as coal miners near Daisytown.

The Millers made a home for decades on West Pike Run in Daisytown, Washington County, PA. In 1947, Mary's aged mother died in their home, having resided there for a number of years. The couple belonged to Grace United Methodist Church, with Mary active with its Women's Society of Christian Service. As of 1961, their address was Clover Hill and in 1968 Daisytown.

For many years, Mary was afflicted with hardening of the arteries as well as what doctors called "chronic brain syndrome." She surrendered to the angel of death in the Golden Age Nursing Home in Brownsville, PA on July 7, 1968. Interment of the remains was in LaFayette Memorial Park in nearby Brier Hill, PA. The Connellsville Daily Courier and Monongahela (PA) Daily Republican published obituaries, noting that she was survived by 10 grandchildren and seven great-grandchildren.

Elmer outlived his wife by a number of years. Death cleaved him away at the age of 77 on Dec. 4, 1971. No obituary for him has been located.

Daughter Mary Miller (1914-1997) was born in about 1914. She wed Walter Patton (1914-1994). The Pattons' home in 1968-1970 was in Charleroi, Washington County, PA. They died three years apart and sleep for all time in Maple Creek Cemetery in Charleroi.

Son Elmer E. "Bud" Miller (1917-1970) was born in about 1917. He put down roots near Brownsville, PA. He entered into marriage with Vera Sinclair ( ? - ? ). They resided in Hiller, Fayette County. Elmer was employed as a maintenance supervisor at Brownsville Hospital and was a deputy game protector for the commonwealth of Pennsylvania. Then in 1968-1970, he earned a living in law enforcement. On the sad day of July 9, 1970, while trying to arrest a man from Isabella, who was disturbing the peace and throwing bottles, Elmer suffered a heart attack while in a struggle with the suspect. He was rushed to Brownsville Hospital, where he was pronounced dead on arrival. The news was widely reported in the Uniontown newspapers. The widowed Vera outlived her spouse by 29 years. At her death in 1999, her remains were laid to rest in Lafayette Memorial Park.

Son John Davis Miller (1923- ? ) was born in about 1923. He relocated to Ohio. In 1968, he lived in Bedford, OH.

Daughter Etta Mae Miller (1924-1999) was born on Aug. 7, 1924. On May 7, 1942, at the age of 18, she entered into marriage with Cpl. Elmer Leroy Leyda (April 2, 1922-2009), son of James and Freda (Ames) Leyda and a resident of Coal Center. During the war, Elmer served with the U.S. Army Air Forces from 1942 to 1946, specializing as an aerial gunner on B-17 bomber aircraft. He was the recipient of a Good Conduct Medal, Meritorious Unit Award, American Theatre Service Medal and the World War II Victory Medal. Three known daughters of this couple were Sandra Lasosky Evans Mead, Barbara Streitz and Shirley Juran. They are known to have been in Daisytown in 1945 and in Coal Center circa 1968-1970. Elmer was employed for 35 years by Copperweld as a wire drawer. Etta was an active member of the Women's Society of Christian Service at the Clover Hill Methodist Church. Following retirement, the Leydas relocated to Florida and planted themselves in Lehigh Acres, Lee County. Sadness blanketed the family when Etta passed away on July 17, 1999. Her obituary appeared in the Fort Myers News-Press. Elmer outlived his bride and remained in Lehigh Acres. He belonged to the Faith Lutheran Church. He died in the Heartland Health Care Center of Fort Myers at the age of 87 on Dec. 20, 2009. His remains were shipped to Beallsville for funeral services conducted by Pastor Cliff Reynolds followed by interment in Lafayette Memorial Park.
Great-granddaughter Shirley Lorraine Leyda (1952-2009) was born on Feb. 7, 1952. Evidence suggests that she was a 1967 graduate of California Area (PA) High School. She entered into marriage with (?) Juran ( ? - ? ). She moved to Fort Lauderdale and was there in 1999-2009. She died in Fort Lauderdale at the age of 56 on Jan. 21, 2009. A brief notice of her death was printed in the Sun-Sentinel.
Son James Alan Miller (1928- ? ) was born in about 1928. He migrated to Medina, OH.

Copyright © 2000, 2002, 2004, 2007, 2014, 2022-2023 Mark A. Miner