Percy Donald Minerd
(1896-1988)

Percy Minerd
Percy Donald Minerd was born on June 22, 1896 near Vanderbilt, Fayette County, PA, the son of William H. and Missouri (Shelkey) Minerd.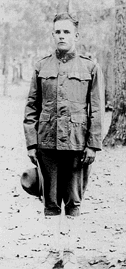 World War I doughboy
Percy served with the U.S. Army in World War I. He was assigned to Motor Group 14, Section B, and trained at Fort Greenleaf, GA. He is seen here in his doughboy uniform.
After the war, Percy returned home and labored as a coal miner.
On Aug. 5, 1919, Percy married Nellie M. Fazenbaker ( ? -1972), the daughter of John F. and Ida Jane (Dannels) Fazenbaker.
They produced one daughter, Lela Fern Clister Kelly.
In 1921, Percy earned a living as a truck driver and shipping clerk for the Home Furniture Company of Uniontown.
During the 1920s, the Minerds lived at 135 Connellsville Street in Uniontown. Later, by 1930, they moved to East Askren Street, and then to Edison Boulevard (Evans Manor), where they remained for many years.
Federal census records for the year 1930 show the family dwelling in Uniontown, with Percy working as a truck driver for a furnace company, and Nellie helping to earn income as a sales lady in a "general store."
With the nation in the grip of the Great Depression in the 1930s, Percy shifted his line of work and by 1940 was serving as a "farmer's helper" on a farm near Uniontown. Also in 1940, daughter Lela helped by working as a waitress in a restaurant.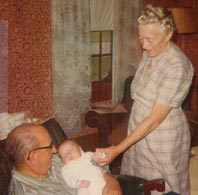 Percy, Nellie and a great-grandson
Percy and Nellie are seen here with a newborn great-grandson, Bryan, in their living room at Evans Manor, circa 1972.
Sadly, Nellie passed away on Nov. 9, 1972, in Morgantown, Monongalia County, WV. Her remains were returned to Uniontown so she could be laid to rest at the Sylvan Heights Cemetery.
Percy outlived his wife by 16 years.
He is seen here seated comfortably in a favorite easy chair.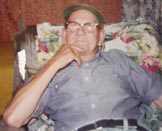 Percy relaxing at home
Wrote a granddaughter, "I remember him having a sharp mind even in his last year of life."
Percy died at age 91 on March 20, 1988. His funeral was held at the James D. Barnett Funeral Home in Uniontown, formerly the Edward E. Minerd Funeral Home. Percy was buried his wife Sylvan Heights Cemetery.
~ Daughter Lela Fern (Minerd) Clister Kelly ~
Daughter Lela Fern Minerd (1920-1992) was born in about 1920 in Uniontown. At the age of 20, in 1940, she lived at home with her parents and was employed in a restaurant as a waitress.
She was married twice.
Her first husband was Jack Clister ( ? - ? ), also a resident of Uniontown. They had one son, who died unnamed at birth on Jan. 11, 1943. The Clisters divorced sometime in the 1943-1946 timeframe.
On March 2, 1946, at age 25, Lela Fern eloped by marry 32-year-old Walter Edward Kelly ( ? - ? ), a coal miner of Lamberton, Fayette County. To tie the knot, they went to Cumberland, Allegany County, MD, with the ceremony performed by Rev. H.A. Kester of the Kingsley Methodist Church.
They had three children -- James Patrick Kelly, John Christopher Kelly and Kathleen Jane Crouser. The Kellys apparently lived in or near Orrville, Wayne County, OH. Lela passed away at Dunlap Memorial Hospital in Orrville, at the age of 72, on Jan. 23, 1992.
Son James Patrick Kelly ( ? - ? )
Son John Christopher Kelly ( ? - ? )
Daughter Kathleen Jane Kelly ( ? - ? ) wed (?) Crouser ( ? - ? ).
For more information on this family, contact Kathleen Kelly Crouser.
Copyright © 2001, 2005, 2008, 2010, 2017 Mark A. Miner