William Alfred Minerd
(1893-1950)

William A. Minerd
William Alfred Minerd was born on May 7, 1893 in Uniontown, Fayette County, PA, the son of Rev. David Ewing and Catherine (Williams) Minerd.
In 1918, at the age of 25, William married Effie Cooley (1895-1978), the daughter of William and Eliza (James) Cooley of Fairchance, Fayette County.
William registered for the military draft during World War I, and listed his occupation as clerk for the Union Supply Store at York Run, Fayette County.
William and his brother Ewing eventually enlisted in the Army, and both received basic training at Fort Lee, VA. William was attached to Company H, 320th Infantry, 80th Division, and was sent overseas to Europe. While in France, he was wounded, and the Oct. 23, 1918 Connellsville Daily Courier reported that he underwent surgery at an Army hospital after "being taken from the trenches...." It added that he wrote home, saying he "was getting along well and that the doctors and nurses gave him the best of care."
Upon his return from the Army, William returned to his wife and young son in Uniontown. They had three sons in all -- William D. Minerd, Harold Daniel Minerd II and James E. Minerd.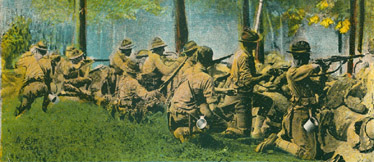 Postcard of American soldiers in action during World War I
When the book Uniontown's Part in the World War was compiled, William and his brothers Ewing and Dan were pictured in the publication. William's entry is seen here.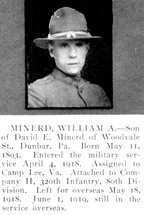 Uniontown's Part in
the World War book
In the 1920 federal census of Pennsyvlania, William and Effie and two-year-old son William were enumerated in Monongahela, Greene County. That year, William was employed as a clerk, likely at a local coal works. Over the years, the Minerds moved often, making their residence at Alicia, near Masontown, and at Connellsville twice and Uniontown twice. During World War II, they lived at 105 West Morton Avenue in Connellsville.
The 1930 federal census of Uniontown, Fayette County shows William and Effie and their three sons residing on Whyel Street, where he worked as manager of a chain grocery.
The names of William and his brothers are inscribed on the Dunbar War Memorial. They can be seen here.

William's name, Dunbar War Memorial
He was a member of Aerie No. 493, F.O.E. Eagles, Milton L. Bishop Post No. 301, American Legion, and Walter E. Brown Post No. 21, Veterans of Foreign Wars of Connellsville, of which he was a commander.
When brother Dan was elected Treasurer of Fayette County, William was named as Assistant Treasurer. William also worked as a timekeeper at the Connellsville Airport and is known to have managed stores, including the Butler Grocery Store. A son later recalled that when the Youghiogheny River once froze over, William pushed wares across the ice to get them from one side to the other.
Two of the Minerds' sons served in the U.S. Armed Forces during World War II -- Harold and James. Circa 1945, the family home was on Coffey Street in Uniontown, where by twist of fate distant cousins had resided decades earlier, the family of Rev. Isaac Herschel Minerd.
William died on May 30, 1950, at the age of 57, at the Veterans Hospital in Aspinwall near Pittsburgh. He remains were returned to Uniontown to rest in Sylvan Heights Cemetery. Burial followed a funeral led by Rev. Earl P. Confer, pastor of the Christian Church of Uniontown. Military rites were held at the grave by the Walter E. Brown Post, Veterans of Foreign Wars.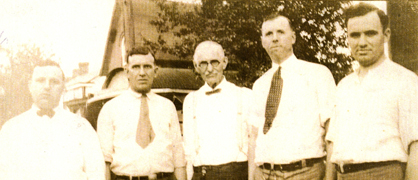 William, 2nd from right, with (l-r:) brothers Edward and Ewing, father David and brother Dan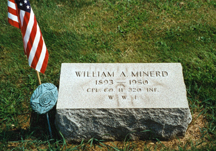 Sylvan Heights Cemetery
Effie survived him by 28 years and died on Dec. 1, 1978 in Cleveland, Cuyahoga County, OH, at the home of son James. At the time, she was survived by three grandchildren and two great-grandchildren. Her remains were returned to Uniontown for interment.
William and Effie are buried together at Sylvan Heights Cemetery in Uniontown.
~ Son William D. Minerd ~
Son William D. Minerd (1919-1975) was born in 1919.
He resided in Los Angeles, Los Angeles County, CA. He was married but had no children.
Records show that he was imprisoned for a crime in Los Angeles County on Dec. 19, 1947, when he would have been 28 years of age.
William died in 1975, at the age of 56.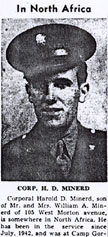 Connellsville Courier
~ Son Harold Daniel Minerd II ~
Son Harold Daniel Minerd II was named after his uncle, famed Connellsville dentist and mayor Dr. Harold "Daniel" Minerd.
Harold worked at Robertshaw Thermostat Company before joining the US Army during World War II. A news story about his military service appeared on the front page of the Connellsville Daily Courier. It stated that he was a corporal with the quartermaster sales company and was stationed "somewhere in North Africa."
He married his first wife, Carol J. Houck (1919-1975), the daughter of James and Alice (Doyle) Houck Sr. of Connellsville. They had two sons -- Michael Minerd and Kenneth Lee Minerd.
Carole "was a member of St. Paul Catholic Church of Greensburg, and was employed by the Professional Building Pharmacy, Greensburg," said the Daily Courier.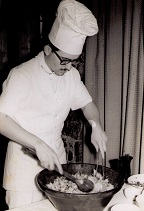 Chef Kenneth L. Minerd
Carole passed away in Medina, OH on Oct. 4, 1975, at the age of 56. She is said to have been dancing with her husband when she collapsed and fell into his arms.
Harold married again to Florence M. Boyer (1919-2009), daughter of C. Wilbur and Lillian (Hebenthal) Boyer of Mt. Pleasant, Westmoreland County.
The newlyweds resided in Mt. Pleasant.
Said the Pittsburgh Tribune-Review, Flo was "employed by Robertshaw Controls Co. as a secretary-clerk retiring after 38 years of service. Florence was a member of the Robertshaw Retirees, Norvelt Ladies Golf Club and Scottdale Swim Club. Florence belonged to the Mt. Pleasant Ladies Bowling League."
Flo died at the age of 90 on July 9, 2009, at Excela Health Frick Hospital in Mt. Pleasant. She was laid to rest at Westmoreland County Memorial Park.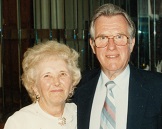 Harold and Flo, 1992
Harold outlived Flo by four years. He celebrated his 93rd birthday on Aug. 6, 2013, with relatives throwing a small party which he seemed to enjoy and know everyone. A little more than three weeks later, he passed into eternity on Aug. 30, 2013, also at Excela.
Both of Harold's sons have been chefs for Marriott Corporation.
Son Kenneth Lee Minerd (1949-2008) was born on March 8, 1949. He lived in Boston circa 1975 and later relocated to Southern California. He died at the age of 59 on March 3, 2008, in Norwalk, Los Angeles County, CA. His son, Chris Minerd, attended our 2008 national family reunion, "Pittsburgh 250."
Son Michael Minerd was married to Linda (?) (1947-2013). They resided in West Newton, MA. They had two children Mark Minerd and Meredith Minerd. Sadly, Linda passed away on March 24, 2013, at the age of 66, after a lengthy battle with cancer.
~ Son James Edward Minerd ~
Son James Edward Minerd (1924-2006) was born in 1924.
He was married twice. His first wife was Emma E. Hutchinson (1919-1982), the daughter of Charles and Sylvia Hutchinson of Uniontown. At the time, he was age 24, and she 29, and they eloped to Cumberland, Allegany County, MD. The nuptials -- held on April 11, 1948 -- were led by Rev. R.M. Campbell of the Presbyterian Church in Cumberland.
They resided at 13302 Highland View Avenue in Cleveland and had one son, Charles W. Minerd.
During World War II, James was a corporal in the U.S. Marine Corps. He took part in the Battle of Okinawa, and after the war was assigned to duty in china. His parents did not hear from him for several months until he was able to communicate again.
Sadly, Emma died at the age of 63 on March 3, 1982. She was buried at Lakewood Park Cemetery.
James' second wife was Nelma Reck (1910-1997), the widow of Leo Reck. They made their home in Parma Heights. She suffered from cancer and died at age 87 on April 26, 1997. She was laid to rest in the Minerd plot at Lakewood Park.
James passed away on May 16, 2006, with burial at Lakewood Park.
Copyright © 2000, 2008-2010, 2013, 2017 Mark A. Miner