Margaret Ann 'Maggie'
(Rankin) Fike
(1879-1965)
Margaret Ann "Maggie" (Rankin) Fike was born on Jan. 3, 1879 in Wharton Township, Fayette County, PA , the daughter of Robert and Hester Ann (Minerd) Rankin.
On Nov. 10, 1902, at the age of 23, Maggie united herself in marriage with 26-year-old Charles Emil Fike (1876-1940), a powder maker and farmer, the son of Jacob M. and Barbara (Thomas) Fike of Maryland.
They together bore four children – Legatha Dennis, Samuel Edward Fike, Woodrow Fike and Charles R. Fike.
The Fikes resided "near the Tent church" in Georges Township, Fayette County, PA. Charles was regarded as a "well-known Georges farmer," said a newspaper, and is shown in that occupation in the 1930 federal census enumeration.
In October 1934, they suffered the death of their married daughter, Legatha Dennis, after an illness of about a year.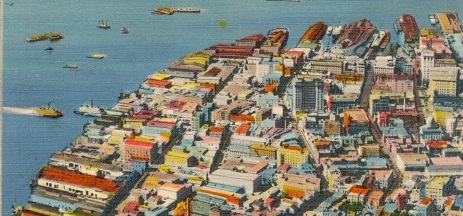 Margaret spent her final years in Norfolk, VA
At the age of 64, in mid-October 1940, Charles fell at home and fractured his left leg. A few weeks later, the wound produced an embolism and he died on Nov. 2, 1940. Said a newspaper, "A few minutes after retiring to the living room at his home to read the morning newspaper he was stricken and death ensued." Rev. C.C. Sollenberger and Rev. David Hunter jointly led the funeral service. Burial followed in Uniontown's Park Place Cemetery.
Margaret outlived Charles by a quarter of a century. She is known to have shared a home with her bachelor sons Woodrow and Charles in 1950 in Georges Township.
By 1959, she moved to Norfolk, VA to be with her son Samuel. Her address in 1965 was 4417 George Washington Highway in Chesapeake, VA.
Suffering from acute cardiac failure, she died in Portsmouth on Oct. 18, 1965, at the age of 86. The remains were transported back to Uniontown for burial beside her husband at Park Place Cemetery.

~ Daughter Legatha (Fike) Dennis ~
Daughter Legatha Fike (1906-1934) was born on July 22 1906 in Georges Township..
She wed Chester Arthur Dennis (April 7, 1906-1965), son of Amos and Harriet "Hattie" (Hayden) Dennis and a native of Oliphant Furnace near Uniontown. He had a grammar school education and in adulthood stood 5 feet, 6 inches tall and weighed 150 lbs. He bore a scar on his right index finger.
The couple did not reproduce.
Legatha in her mid-20s was diagnosed with cancer of the uterus and cervix circa 1932. She suffered for two years and underwent extensive X-rays. Her condition grew worse as the shock of the X-ray treatments induced heart failure. Sadly, she died in her parents' home at age 28 on Oct. 9, 1934 "due to complications following an illness of approximately a year's duration," said the Uniontown Evening Standard.
Rev. C.C. Sollenberger, of the Uniontown Church of the Brethren, officiated at the funeral service. Her remains were lowered into the sacred soil of Park Place Cemetery in Uniontown.
Chester outlived his wife by more than three decades. A year after Legatha's death, the Uniontown Morning Herald reported that he was residing at Oliphant and had "recently gone to work on the farm of A.J. Dennis, Markleysburg." Then in 1940, when required to register for the military draft, he disclosed that he worked for his friend Harry Fike of High House in Fayette County. During World War II, Chester enlisted in the U.S. Army on Aug. 18, 1942, at Greenburg, PA.
He made news in the Uniontown Evening Standard at Christmas 1951 when he was admitted to Uniontown Hospital with facial cuts and a broken right angle, claiming he had been struck by a car on Route 119.
Chester appears to have married again to Agnes Fike ( ? - ? ).
In the Christmas season of 1964, he was a patient in Shady Side Hospital in Pittsburgh. Circa 1965, Chester made his home in the Lee Hotel on Uniontown's Main Street.
At the age of 59, stricken with cancer of the tonsil, he died on Aug. 15, 1965. A prayer service was conducted by Rev. Raymond Lee. Burial was in Little White Rock Cemetery. In an obituary, his five sisters were named as surviving relatives.
~ Son Samuel Edward Fike ~
Son Samuel Edward Fike (1909-2000) was born on March 18, 1909 at Oliphant Furnace, Georges Township. Dr. S.E. Hibbs of Fairchance assisted in the birth.
He stood 5 feet, 7 inches tall and weighed 150 lbs. Samuel was married and divorced in young manhood.
By 1940, Samuel had relocated to Virginia and making a home in Portsmouth, VA at the address of 804 Washington Street. He found employment there at the Navy Yard, working for the federal government. He joined the U.S. Navy during World War II. He is known to have been deployed to Honolulu from November 1943 to June 1944 and to Guam from June 1944 to November 1945.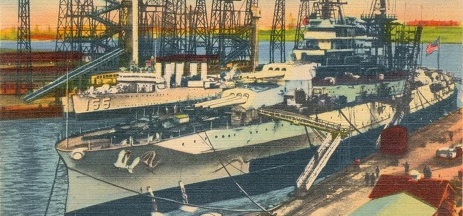 Samuel Fike worked at the Norfolk Naval Shipyard in Portsmouth, VA
In 1950, he was lodging with Enoch and Annie Harlow in Portsmouth, working as a storekeeper at the shipyards. Circa 1951, he remained in Portsmouth.
On Jan. 15, 1953, at the age of 43, he entered into marriage with his second wife, 38-year-old Martha "Kathleen" (Raynor) Watkins (Sept. 22, 1914-2002), a native of Linden, NC, and the daughter of Allen and Charity Jane (Summerlin) Raynor. The wedding was held in Emporia, Greenville County, VA, by the hand of Circuit Court appointee George M. Norwood. She also was divorced from her first spouse.
One son born to this union was Ronald J. Fike.
The Fikes in 1959 dwelled in Norfolk, VA. Kathleen earned a living in Portsmouth through her employment with Leggett Department Store.
The family later resided in North Chesapeake, VA. They belonged to the Brent-Lox Baptist Church.
The angel of death plucked him away at age 91 on Nov. 3, 2000. Burial of the remains was in Meadowbrook Memorial Gardens in Suffolk, VA.
Kathleen outlived her spouse by two years and dwelled on the 1000 block of George Washington Highway North. She passed away on Dec. 2, 2002 in Chesapeake at the age of 88. Rev. Wayne Underwood led the burial service at Meadowbrook Her obituary appeared in the Norfolk Virginian-Pilot.
Son Ronald J. Fike entered into marriage with Margaret Hogue ( ? - ? ), daughter of Lester L. and Ruth (Lipes) Hogue. The pair is not known to have reproduced. Their home in 1995 was in Arlington, VA and in 2002-2014 in Alexandria, VA.
~ Son Woodrow Fike ~
Son Woodrow Fike (1912-1951) was born on June 27, 1912.
He appears not to have married. In adulthood he dwelled in Georges Township.
Woodrow made a living as an "occulist," engaged in making eyeglasses for opticians.
When the federal census enumeration was made in 1950, the 37-year-old bachelor shared a home in Georges Township with his widowed mother and unmarried, 29-year-old brother Charles.
Woodrow began to suffer from an abscess in the right frontal lobe of his brain in late 1950. He endured the illness for three months as pressure increased inside his cranium. Sadly, he died in Uniontown Hospital at the age of 38 on Jan. 9, 1951. He also is buried at Park Place Cemetery. A death notice was printed in the Uniontown Evening Standard.

~ Son Charles R. Fike ~
Son Charles R. Fike (1920-1986) was born on July 31, 1920 in Smithfield, Fayette County.
Charles was a veteran of World War II, serving in the U.S. Army from 1942 to 1945.
The United States census for 1950 shows the bachelor Charles at age 29 sharing a home in Georges Township with his widowed mother and older, unmarried brother Woodrow. Charles earned a living at that time as a farmhand.
He lived in Pittsburgh (circa 1951) and Uniontown, PA. Circa 1965, he made his home in Cleveland, OH.
He died on Dec. 6, 1986 in Pittsburgh. His remains were lowered into the soil of the family plot at Park Place in Uniontown.
Copyright © 2000, 2012, 2022, 2023 Mark A. Miner