Marinda (Rankin) King
(1870-1959)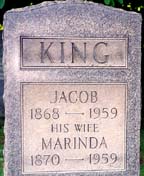 Sansom Chapel Cemetery
Marinda (Rankin) King was born on May 1, 1870 in Farmington, Wharton Township, Fayette County, PA, the daughter of Robert and Hester Ann "Hettie" (Minerd) Rankin. She spent her entire life in the community.
On April 16, 1890, at the age of 18, Marinda married 22-year-old Jacob King (1868-1959). The son of Jacob C. King, he was a glass blower and blacksmith who had been born in the German-speaking section of France who had emigrated to the United States at the age of two. Despite the fact that Marinda was underage, her father signed his approval on the license, saying "I hereby give my free and full consent to the marriage…." Rev. M. Kittell performed the nuptials in Uniontown, Fayette County.
The Kings resided in Farmington, Fayette County.
They had three children – Oliver Jacob King, Kathryn Galloway and John F. King.
Jacob was a longtime farmer and also ran his own blacksmith shop for many years. When the federal census was taken in 1900, Marinda and Jacob and their three children lived on a farm near Farmington, and were next-door neighbors to her parents. By 1910, with Jacob now focusing more fully on his blacksmithing work, only son John remained in the home.
In 1920, census records show Jacob was doing custom work in his blacksmith shop. Son John, age 20, was still living under their roof, and presumably was an apprentice to his father as well as a farmer.

Oliver's grave, 1905
Tragically, son Oliver died suddenly on March 24, 1905 at the age of 14. A newspaper reported that the boy "went to school on Monday as usual and became ill of a pain in the head. He went home in the afternoon and gradually grew worse until death came … of spinal meningitis." He was laid to rest at the Samson Chapel Cemetery, and his grave marker, seen here, is barely legible today.

Book with King photos
Jake and Marinda died 10 days apart in March 1959. He passed away of chronic kidney disease at age 90 on March 13. She died suddenly on March 23, at the age of 88, of a heart attack caused by hardening of the arteries.
They're buried beside their son Oliver at the Samson Chapel Cemetery.
Son John King later took over ownership of the shop.
In 1993, six photos of Jacob and the family were published in the book, Yesteryear in Ohiopyle and Surrounding Communities, compiled by author Marci Lynn McGuinness.
~ Son John T. King ~
Son John T. King (1899-1994) was born in November 1899.
He married Bernadette Baker (1902-1975). They had four children -- Ernest E. King, Emma Gleason, Gene King and Dorothy Snyder.
John continued the family blacksmithing business for many years in Farmington. In 1950, he tore down the old wooden structure and rebuilt it with cement blocks to house a forge and welding operation. He signed both his father's and his mother's death certificates in 1959.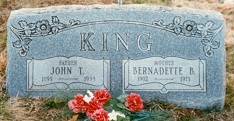 Sansom Chapel Cemetery
Bernadette passed away in 1975. She was laid to rest in the Sansom Chapel Cemetery.
John outlived her by almost two decades. He passed away in 1994, at the age of 95, and joined his wife in eternal repose at the Sansom cemetery.
Son Ernest E. King (1925-2011) was born in 1925. He married Viola Thompson (1928-2012), daughter of James C. and Luella (Turner) Thompson. They lived in Ohiopyle, Fayette County and had no children. Ernest was a veteran of World War II, serving with the 37th Tank Battalion in the European Theatre. He was employed for more than 36 years with Rockwell Corporation, and is said to have been an accomplished fiddler. Viola loved "Annalee dolls, country music, antique cars, the Pittsburgh Pirates and her red Camaro," said the Uniontown Herald Standard. Ernest passed away at age 86, in Uniontown Hospital, on Nov. 10, 2011. Viola survived him only by six months. She died at age 84 on April 11, 2012, followed by interment in the Sunset View Cemetery in Chalk Hill.
Daughter Emma J. King (1930-2012) was born on July 29, 1930 in Farmington. She married Norman "Junior" Gleason ( ? -2011). They had two children -- Leslie Gleason and Julie Gleason. Emma and Junior owned Tall Oaks Camp Grounds in Farmington, and were members of Wharton Furnace Union Church and Sansom Chapel United Methodist Church. Junior passed away on Oct. 1, 2011. Emma outlived him only by seven and a half months. She passed away at the age of 81, in Presbyterian University Hospital in Pittsburgh, on May 15, 2012. At the time of Emma's death, she and Junior had produced six grandchildren and five great-grandchildren. They rest in Visitation Cemetery in Elliottsville.
Son Gene King (1934-living) was born in about 1934. He served in the Korean War. He married and had a family. Gene inherited his father's blacksmith shop and has kept it going over the years (current in 2015) near the intersection of U.S. Route 40 and Pennsylvania Route 381. He has been a member of the Pittsburgh Area Blacksmith Association and the Appalachian Blacksmith Association. In 1993, a number of his old family photographs were published in the book Yesteryear in Ohiopyle and Surrounding Mountain Communities, authored by Marci Lynn McGuinness. He also entertained a visit from the founder of this website circa 1995, sharing family albums filled with news articles and obituaries, and presenting him with a gift of a wrought-iron letter opener. On March 28, 2015, when he was age 81, Gene and son David were profiled in the Greensburg Tribune-Review in a story headlined "Father-and-Son Blacksmiths Still Firing Up Forge in Farmington."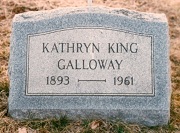 Sansom Chapel Cemetery
~ Daughter Kathryn M. (King) Galloway ~
Daughter Kathryn M. King (1893-1961) was born on Feb. 12, 1893 in Elliottsville.
She married Robert H. Galloway (1882-1956), son of Thomas and Elizabeth Mary (Loring) Galloway of Coal Valley, PA. The bride was 11 years younger than the groom. They had no children.
The Galloways resided for many years along Route 885 in Clairton, Jefferson Borough, Allegheny County, PA, where Robert earned a living as a self-employed carpenter. They were members of the Pine Run Methodist Church.
Robert was stricken with a heart attack and passed away on June 14, 1956, at age 74. Hilda Galloway of Clairton signed his certificate of death. Interment was in the Richland Cemetery in Dravosburg, near McKeesport.
At some point, Kathryn moved back to Farmington, where she spent the remainder of her years.
Suffering from congestive heart failure and hardening of the arteries, she died in her home on May 9, 1961, at the age of 68. Dr. Earl P. Confer officiated at her funeral, followed by burial in the Sansom Chapel Cemetery.
Copyright © 2000, 2005-2007, 2012, 2015 Mark A. Miner