Home

Catherine (Ream) Jennings
(1794-1886)
Catherine Ream was born in 1794 in Ursina, Somerset County, PA, the son of John Ream. It's believed that her mother was our Catharine Minerd, although this needs to be proven.
Catherine married David Jennings (1790-1872).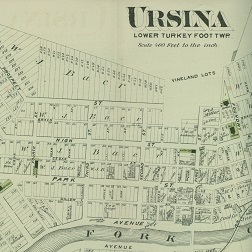 Map of Ursina, circa 1876
Their six known children were Lucinda Jennings, John B. Jennings, Israel Jennings, Isabelle Jennings, Clarinda Jennings and Catharine "Kate" Cullumber Ryan.
Deep sadness blanketed the family in the dead of summer of 1830 when the Grim Reaper cut away the three eldest children -- Israel (3 months, 8 days, on July 31), John (3 years, 7 months on Aug. 5) and Lucinda (Aug. 17). The children's remains were placed into rest in the Ream Cemetery in Ursina.
The 1850 census shows this family dwelling in Lower Turkeyfoot Township, Somerset County. That year, David had no occupation.
When the federal census was enumerated in 1860, the Jenningses remained in Lower Turkeyfoot. Also under their roof were 28-year-old spinster Harriet Boucher and her children Allen S. (age 10), Jane (8), Louisa (5) and Mary (2) as well as 64-year-old Sarah Letts. That year, David worked as a farmer and Catherine as a spinster. Teenage daughter Catherine, Harriet Boucher and Sarah Letts also were seamstresses and spinsters.
For reasons not yet known, David relocated during the Civil War era to Doddridge County, WV, settling in the rural community of West Union. They may have followed their future son-in-law to West Union in his work as a telegraphy expert, but this needs to be confirmed.
In West Union, in June 1867, as his daughter Kate was preparing to marry Reuben Henry Ryan, David penned this note at the top of the marriage license document: "To the Recorder of any County in the State of West Virginia, upon the applicatin of R.H. Ryan you will please issue Marriage License for the said Ryan + my daughter Kate. My daughter Kate is of lawful age - but this is to give my full consent for the marriage of the above named parties."
In about 1869 or 1870, the Jenningses relocated west with their married daughter and son in law, Kate and Reuben H. Ryan. They settled in Iowa in Tama, Tama County, although how the aged David made the long journey is a mystery. David and Catherine are shown in the Ryan household in the 1870 census.
David died in Tama on May 5, 1872 at the age of 82. His remains were interred in Tama's Oak Hill Cemetery.
Catherine survived him by 14 years. She passed into eternity in Tama on April 26, 1886, at the ripe old age of 94. Burial was in the Oak Hill Cemetery in Tama. [Find-a-Grave]
She is named in the booklet Reflections: Ursina 1787-1994 and in the 1884 History of Bedford, Somerset and Fulton Counties, Pennsylvania.

Old covered bridge in West Union, West Virginia
~ Daughter Isabelle Jennings ~
Daughter Isabelle Jennings (1836- ? ) was born in about 1836.
~ Daughter Clarinda Jennings ~
Daughter Clarinda Jennings (1838- ? ) was born in about 1838.
~ Daughter Catherine "Kate" (Jennings) Cullumber Ryan ~
Daughter Catherine "Kate" Jennings (1843- ? ) was born on May 12, 1843 in Somerset County, PA. She learned the skill of a seamstress and in 1860, at age 17, lived at home with her parents and was engaged in this work. Her home was considered Petersburg, today known as Addison.
Research by Shelley Cardiel suggests that Catherine was twice married. Her first spouse is said to have been Abraham Cullumber (1835- ? ), a native of Hocking County, OH. Rev. Cal H. Lakin performed the ceremony, with witnesses including C.C. Davis, M.B. Jennings, I.N. McCormick, Howard Jennings, H.C. Foley, J.W. Steven and Hiram Jennings.
The couple resided in Somerset County and produced one son, David Ream Cullumber, born in 1861. How or why this marriage ended is unknown, and this all needs to be confirmed.
When in her early 20s, her marriage had ended, and Catherine made her home with her widowed father in West Union, Doddridge County, WV.
On July 1, 1867, when she was 24 years of age, she was joined in holy matrimony with 29-year-old Civil War veteran Reuben Henry Ryan (March 27, 1836-1927), born in Erie County, OH, on the outskirts of Detroit. The ceremony took place in West Union.
At the time of marriage, Reuben was employed as a telegraph operator in the booming Ohio River town of Wheeling, Ohio County, WV. He stood five feet, four inches tall, with light hair, grey eyes and a light complexion. He had a square and compass image tattooed in India ink on his right forearm and an American flag image on the inside left forearm.
The couple produced four children -- Ethel Mary Ryan, Earl Ryan, Charles David Ryan and Norma J. Ferguson. Sadly, Ethel Mary died in infancy.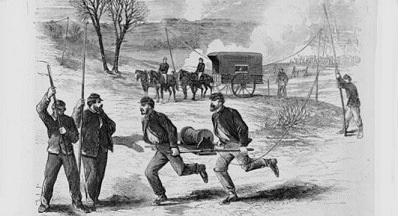 Above: soldiers stringing telegraph wires.
Harper's Weekly, Jan. 24, 1863.
Below: a field telegraph station during the war, from a stereoview image.
Library of Congress.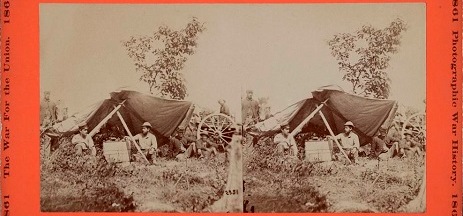 Robert's parents were immigrants -- the father David Ryan from northern Ireland, and the mother Mary Ryan from Scotland. Said a newspaper, "both died before Mr. Ryan was a year old." He was taken into the home of his sister Harriett Ryan in Milan, Erie County, OH. At the age of 13, he struck out on his own, accepting a job as a telegraph operator, learning a skill which provided a stable income for many years. When he was 16, he took a job as a station agent and telegraph operator near Montreal, Canada.
Between the ages of 13 and 16, he was "one of the first telegraphers in the country to take [read] the Morse code by ear," reported the Des Moines Register. While employed by the Grand Trunk Railway Company, during the Civil War, he learned of the horrific losses at the First Battle of Bull Run and decided that he could no longer watch from afar. Said a newspaper, having completed eight years of service in Montreal, "he telegraphed his resignation and started for the states to enlist for service in the Civil War." On Nov. 14, 1861, he joined the U.S. Military Telegraph Service. The U.S. Department of the Interior, in commenting on Reuben's military work, said that "As a rule military telegraph operators during the civil war were not mustered into the military service of the United States, but where civilian employees of the Quartermaster's Department, and received pay as such."
Said a profile in volume 2 of A History of Tama County, Iowa:
During the first two years and nine months of his service in the Civil war, Reuben H. Ryan was connected with the military, telegraph and signal corps of the army, subsequently joining the Eighth Illinois Cavalry, and although really a member of that command he was detailed at telegraphic work, so that often, for months together, he was not in connection with his regiment. His duties as an operator were often arduous and daring in the extreme, as he was obliged to act both as a telegrapher and a reporter of engagements at the front. It is evident that the government had a high appreciation of the services of this class of heroes, as a bill has been often advocated to retire them as captains, with an appropriate pension.
Including his term with the 8th Illinois Cavalry, Company B, Reuben spent four years and 22 days in the Union Army. From Nov. 14, 1861 to May 31, 1862, he served under Capt. Anson Stager, assistant quartermaster. Then until Sept. 9, 1864, he was under the leadership of quartermaster Major T.T. Eckert. In July 1863, he was at the Battle of Gettysburg under the command of Colonel Buford. In another incident, he received a bayonet wound on the left thigh. While in the service in 1864, using an absentee ballot, he voted for Abraham Lincoln for president and tabulated his regiment's vote. He re-enlisted on Nov. 21, 1864, while in camp near Falls Church, VA. He received an honorable discharge at Benton Barracks, MO in August 1865. "He then returned to his Ohio home and remained there for only ten days, as he had an important errand which called him to Wheeling, West Virginia," said the History of Tama County. "Upon his arrival there he married Miss Catherine Jennings."
Following marriage, Reuben obtained a telegrapher position with the Baltimore and Ohio Railroad and spent about a year in Alexandria, VA, leaving there in July 1866. They moved to Wheeling, where their son Earl was born in early 1869.
Circa 1869, Reuben decided to leave telegraphy, and the young family made the decision to migrate to the midwest, taking along Catherine's aged parents. The three-generation extended family moved cross-country to a new home in Iowa in Tama, Tama County, arriving on the red letter day of March 4, 1869. How they managed the voyage is unknown -- a newborn baby, post-partum wife and aged father. While on the journey, they carried the old Ryan family Bible, published in 1825, which contained records of the births and other vital dates of family members' lives.
There, in Tama, the 34-year-old Reuben earned a living as a merchant and quickly was elected mayor of the town. Census records for 1880 show them in Washington, Marshall County, IA, with Reuben continuing his work as a merchant, and Catherine's now-widowed mother remaining in the household.

Reuben's profile in the History of Tama County
Over the years, he was a Republican in politics, was a town councilman and school board director, and a 70-year member of the Masons; the El Kahir Shrine of Cedar Rapids; and the DeMolay Consistory of Clinton, IA. He was commander and adjutant of the Theodore F. Bradford Post of the Grand Army of the Republic, a veterans organization, and belonged to the Tama Methodist Church.
For 17 years, Reuben worked as a merchant and invested in his community. He is known to have provided funds as an incorporator of the Tama Hydraulic and Manufacturing Company in February 1874 to improve the quality of water drawn from the Iowa River. In 1886, he sold the business and returned to telegraphy with a new employer, the Chicago, Milwaukee & St. Paul Railway. He remained with the CM&SP for a dozen years, retiring in 1899. Said a newspaper, "He was a great lover of hishome and was especially interested in the public schools."
He is named in the 1883 book History of Tama County, Iowa: Together with Sketches of Their Towns, Villages and Townships (Springfield, IL: Union Publishing Company).
Sadly, after having spent two decades in Tama, Catherine died at the age of 45 on Nov. 5 or Dec. 6, 1888 in Tama County. Her remains were lowered into repose in Oak Hill Cemetery in Tama. [Find-a-Grave] No news obituary has been located.
The widowed Reuben returned to Tama in 1896, and census records for 1900 show him living there with his 20-year-old daughter Norma, a student. He made a living that year as a landlord.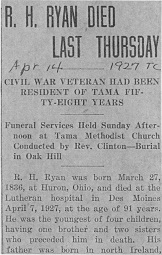 Reuben's obituary in Tama
On July 6, 1899, Reuben was awarded a federal military pension for his wartime service. [Invalid App. #1.231.323. - Cert. #1.041.511, C #2.538.925] Over the years he received increases in his monthly payments, and at the end of his life he was paid $72 each month. Active in veterans' affairs, he was a member of the Grand Army of the Republic (GAR) and was one of scores of old soldiers to volunteer as "aides" to Department Commander D.J. Palmer.
During the presidential campaign of 1924, when candidates Calvin Coolidge and Charles Gates Dawes came through Tama on what newspapers called a "ballyhoo caravan," Reuben was asked to sign the roll of attendees. He was photographed doing so, and the image was published in the Des Moines Register.
By 1910, the 74-year-old Reuben made his home in Tama with his married daughter and son in law, Norma and Harry J. Ferguson. He was profiled at length in volume 2 of J.R. Caldwell's book A History of Tama County, Iowa (Chicago and New York: The Lewis Publishing Company, 1910). As he aged, he began to lose his eyesight.
When Reuben turned 90 in April 1926, a dinner was held at the home of his daughter Norma Ferguson, attended by "some of Mr. Ryan's 'boy friends'," reported the Des Moines Register. "Most of them were 'buddies of '61' and included past national G.A.R. commander, Judge James W. Willet of Toledo. Other guest included one man older than Mr. Ryan. He is Mayor Chauncey J. Stevens of Montour, who will be 92 on May 10." Other Civil War veterans attending the dinner were John Bard, commander of the T.J. Bradford Post of the GAR in Tama, John Winters, Hiram Bissell, Henry Dee, Andrew Harrison, L.H. Branne, J.M. Boardman and Matthew Quick.
Reuben was examined in Des Moines by Dr. Charles F. Howland, an eye, ear, nose and throat specialist on July 1, 1926, and was pronounced totally blind. Helpless to care for himself independently, on Feb. 9, 1927, he was admitted to a Des Moines sanitarium known as "The Retreat" at 28th Street and Woodland Avenue, overseen by superintendent Dr. Russell Doolittle. A family friend, Judge James W. Willett of the 17th Judicial Circuit in Tama, wrote that "over night the Comrade has completely lost his mind and is totally blind."
[He] has, within the past year, become deaf and is now so deaf that it is almost impossible to carry on a social conversation with him, and a business conversation, by virtue of said deafness, is practically impossible for many reasons. The Soldiere has a strangulated hernia on the right side, and is hopelessly blind in th eleft eye because of a cataract and has limited vision out of the other eye. That he is afflicted with telegrapher's paralysis of right arm and hand, and cannot write his name so that it is legible to a stranger. In short, he is completely disqualified from in any way earning a dollar.
Reuben passed away in a the Lutheran hospital in Des Moines at the age of 91 on April 7, 1927. Burial was in Tama's Oak Hill Cemetery, with funeral services officiated by Rev. DeWitt Clinton. A one-paragraph obituary appeared in the Des Moines Register, and a longer obituary was printed elsewhere.
Son David Ream Cullumber (1861- ? ) was born in about 1861 in Somerset County. Nothing about his fate is known.
Son Earl Ryan (1869- ? ) was born on Aug. 12, 1868 in West Virginia, likely in Wheeling. He is said to have married Sarah (?). He migrated back east to New Jersey and/or New York, where he earned a living as a broker. Circa 1927, his home was in New York.
Son Charles David Ryan (1872- ? ) was born on May 20, 1872 in Iowa, probably in Tama, Tama County. In 1910, he was in Tonopah, Nevada, where he worked as a mining broker. On June 9, 1915, at a ceremony held at Broadway Presbyterian Church in New York City, the 43-year-old Charles married 33-year-old Jessie Margaret Taylor (1882- ? ). She wore a white satin gown trimmed with tulle and lace and was given away by her brother, Edmund St. John Taylor. Jessie's sister Bertha was maid of honor, with Clarina and Veva Cushman serving as bridesmaids, while Charles' brother Earl was best man, accompanied by groomsmen Horace S. Gould, Herman E. Miller, William M.T. Spence and Frederick K. Nixon. Rev. Walter D. Buchanan officiated, and news of the wedding was published in the New York Times. An 1891 immigrant from England, Jessie was the daughter of Margaret Taylor. The couple resided in New York in 1915 and in 1920 were enumerated in the U.S. Census as living in Manhattan. Charles' occupation in 1920 was as a buyer for a baking company, and they had a boarder in their home, 53-year-old insurance clerk Frederick Payne. By 1927, their primary residence was in Bronxville, Westchester County, with a summer home in Sharon, CT, near Hartford. Federal census records for 1930 show Charles and Jessie as "retired" and living in Bronxville in a rented home on Pondfield Road in the West Alga Court apartments. During the 1930s, the Ryans relocated to Old Saybrook in Middlesex, CT, and are shown there in the 1940 census.

Harry's profile in the History of Tama County
Daughter Norma Isabelle Ryan (1879- ? ) was born on Dec. 7, 1879 or 1880, most likely in Washington, Marshall County, IA. At the age of 22, in about 1902, she was united in marriage with attorney Harry J. Ferguson ( ? - ? ), originally from New York, and the son of A. and Anna (McNair) Ferguson of Clarence, Cedar County, IA. The Fergusons had two known children, Jean Cathleen Ferguson and Robert Ryan Ferguson. They lived in Tama, where Harry began practicing law in 1901 following graduation from the University of Iowa, having earlier obtained a degree from Cornell College of Mt. Vernon, IA, and having taught school in Tama from the fall of 1896 to the spring of 1899. His first law office was in Sioux City, IA from July 1901 to November 1902, when he entered into a partnership with F.W. Sargent. In 1910, he was profiled at length in volume II of the book A History of Tama County, Iowa, compiled by J.R. Caldwell (Chicago and New York: The Lewis Publishing Company, 1910). Harry was a member of the Masons, the Modern Woodmen of America and the Methodist Church. Harry assisted his aged father in law in writing letters to the U.S. Bureau of Pensions in Washington, DC to seek increases in the amount of the payments. When mentioned in the newspaper obituary of her father in 1927, Norma and Harry resided in Tama.
Granddaughter Jean Cathleen Ferguson (1907- ? ) was born in about 1907 in Iowa, probably in Tama, Tama County.
Copyright © 2002, 2009, 2012, 2014-2017 Mark A. Miner