Home

Catherine (Ream) Woods
(1830-1912)

Catherine Woods
Courtesy BJW / Find-a-Grave
Catherine (Ream) Woods was born on Jan. 31, 1830 in Ursina, Somerset County, PA, the daughter of Samuel W. and Mary (Rheims) Ream.
She and her husband, a Civil War veteran, were pioneer settlers of Nebraska.
Catherine joined the Baptist Church as a young woman, probably the Turkeyfoot Baptist Church near Ursina, also known as the "Jersey Church." A Nebraska newspaper once said that "during her life [she] had been a faithful chrstian woman, true to the teachings of her religious belief."
In 1850, at the age of 21, she lived at home with her parents. Venturing into the unknown, likely in company with her older brothers Henry and William, Catherine migrated to the Nebraska Territory, arriving in the emerging town of Omadi, Dakota County in August 1858.
On Sept. 23, 1860, at the age of 30, Catharine was joined in wedlock with 39-year-old George T. Woods (Feb. 23, 1821-1914), a native of Chautauqua County, NY. Elder Smith presided over the ceremony.
George had come to McHenry County, IL on March 9, 1854 and after spending the summer there went to Delaware County, IA where he earned income making wagons in 1855. In May 1855 he pushed further into Nebraska with Jacob A. Hallack, also spelled "Hallock" and at times "Hillock." The two men settled in Dakota County, and the Dakota County Herald once dubbed George "the first real pioneer of the county." The story of George's and Hallack's harrowing overland voyage into Nebraska was told in detail many years later in an article in the Dakota County Herald (March 12, 1904):
On May 3, 1855, George T. Woods and Jacob A. Hillock arrived in what is now Sergeant Bluffs, foot sore and weary after a tramp from Council Bluffs. They each carried a gun and a knap sack. They stopped with Dr. J.D.M. Crockwell, who afterwards with others founded Dakota City, who kept the hotel there. Leonard Bates and T. Elwood Clark also lived there, their houses being the only ones in the place. The next day he and Hallock looked themselves up claims, and soon after Hallock again footed it to the U.S. land office in Council Bluffs to make the proper filings. He was less foot sore than Woods, the latter stayed and helped other settlers hew logs to put into new houses. Hallock returned in due time, but they had already built some houses and they continued their preparations for settlement. Hallock and Woods purchased themselves a pair of oxen and borrowed another yoke and wagon of some of the other settlers, and on June 16, 1855, Woods started about four oclock in the afternoon for Council Bluffs with the two yoke of oxen and wagon to purchased supplies. It proved a long and very tedious trip, and a part of his experience on that occasion we will relate.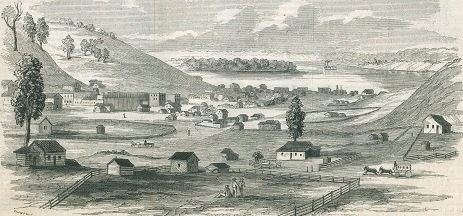 Council Bluffs, Iowa, as it appeared in 1857
.
Ballou's Pictorial.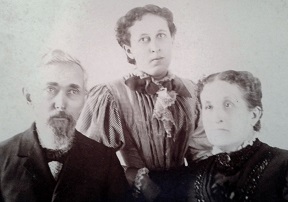 The Woodses' fellow pioneers Jacob and Mary
(Nash) Hallack and daughter Elmira.
Courtesy Nancy (Walsh) Burlage
The flies were so bad that he had to travel nights and the mosquitoes were bad at night. About two o'clock the next morning it commenced to rain, and continued to do so for several hours, and Mr. Woods says he never before or since saw such a rain. He kept moving so long as he could keep the trail, being aided by flashes of lightning, but he finally had to give it up, and chained his oxen to a tree that a flash of lightning revealed right by them, and waited for daylight. It got so cold that he nearly perished, and when daylight did come he was so sore and stiff he could hardly move for a time, and before he was able to start a good Samaritan by name of Stillwell came to his relief, a settler living not very far from there, who by some intuition, came along and took care of him and his team, took them to his cabin, called up his wife who had not yet risen, and they put him into the warm bed just occupied by Mrs. Stillwell, and the warmth of the bed and the stimulants they gave him brought him around, so that he was able to go on towards night. His boots were nearly worn out before he started, he bought a pair of moccasins from an Indian and borrowed a pair of corduroy pants. Traveling through the high grass and mud used up his boots and moccasins, and he had nothing to wear on his feet, so Mr. Stillwell gave him a shoe too small and it had to be cut open, and a boot so much too large that he had to fill in around his foot and leg to keep it on at all, but he says he was never so proud of any foot wear he has ever worn as he was of that old shoe and boot, there being no opportunity to get anything of the kind until he could get to Council Bluffs, which he reached in due time. He could and did get everything in way of supplies he wanted except breadstuff, and the morning he reached there the landloard [sic] of his hotel told the boarders not to come back to dinner until they heard the dinner bell ring, as he did not know when or where he would be able to get anything out of which to make bread, but the stage from St. Joe brought some flour and they called dinner about 2 p.m. A teamster brought up some flour also later but Mr. Woods was unable to procure any of it. He went to a baker and held out his hand with $200 gold in it and told him to take enough to pay for one sack of flour, but the baker told him that the whole of it would not be half enough. Flour had only besn [sic] $3 a sack earlier in the season, but the supply was exausted [sic]. The baker learned where he was from and said he had a little second grade flour that the rats had been in that he would let him have ten pounds of but no more for $1. Mr. Woods thanked him but did not take it and was obliged to leave the Bluffs without any flour, The people depended then on getting their supplies by steamboat up the Missouri river, but the river saw so low that season that steamboats were unable to run for a time. Woods says it is a positive fact that Peter Sarpy the Indian trader was able and did ford the Missouri river between Bellvue, Nebraska, and St. Mary's Iowa, a thing that could not have happened at any other time since the river has been known to the white man.
Woods and Hallock on their way up, on this side of Council Bluffs stopped with a man by the name of Butterfield, a fellow "York state" man, between whom a strong friendship sprang up, because of their coming from the same state. He had a small mill, run by water when there was water, and by horse power at other times. Mr. Woods concluded to see him. Butterfield had no flour but did have some corn and gave Woods the privilege of grinding at night, so he was able to get some meal for their present need and came on back. By the way this same Butterfield was the millwright who built the first saw mill in the county on Omaha creek, near where old Omadi was afterwards located, for Woods and others. On his way back after crossing the Sioux river, he passed through a stretch of country of about eighteen miles, with not a human habitation, and in this stretch he was attacked by wolves. He had nothing to defend himself with except a pitchfork, with this he was able to keep them off his wagon. They followed him for several miles. It was night and quite dark, so he could not tell how many there were, but thought from tha [sic] noise they made there must have been a greater number. He finally got back to Sergeant Bluffs without further mishap, but the memory of the trip will stay with him. Shortly after that he came across the river and located in Dakota county.

Circa 1925, atlas map of Dakota Precinct showing the location of the Woods farm directly west of Dakota City.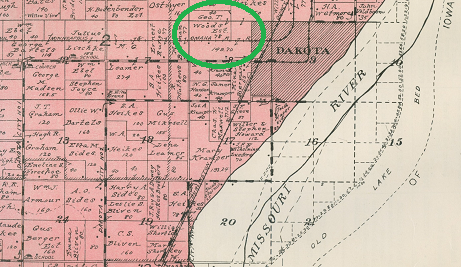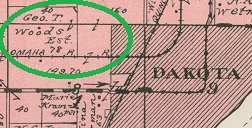 Detail of the Woods farm, 1925, showing the Omaha Railroad running horizontally along the southern border of the property
George's entry into Nebraska was via a skiff rowed across the Missouri River in company with a French pioneer and two Native Americans of the Blackfeet Nation. That day, he had a meal of wild turkey. A few months later, on Sept. 1, 1855, he brought Chancey A. Horr and Moses Kreps across the Missouri "and they began building a log cabin where Omadi was afterwards located," said Warner's History of Dakota County, Nebraska: From the Days of the Pioneers and First Settlers to the Present Time. "This is supposed to have been the first house erected in the county. They were getting ready to build a saw mill on Omaha creek. Mr. Woods foresaw the coming of future events; he reasoned that a human tide would soon roll across the fertile prairies of Nebraska, and a great quantity of lumber would be required to satisfy the demand. While they were at work a band of Indians came along and took all of their provisions and everything else they could get their hands on, including their boat, 'and,' says Mr. Woods, 'they came every nearly taking our scalps.' They were now left without a mouthful of provisions and without any means of reaching the Iowa shore. They found a dead hawk, which was all they had to eat for three days, when a Frenchman happened to come along with a boat and took them across the river. But this little drawback did not keep them from returning to Nebraska and completing the saw mill, which was put into operation on the 1st of April 1856."
The saw mill was constructed in partnership with A.H. Baker, Jacob Hallock and Chauncey A. Horr. Said Warner's History: "It was one of the finest mill sites ever seen in this part of the country. Omaha Creek at that time made a square angle about a mile south of where is now located the Gideon Warner farm, and turning southward until it reached the bluffs, thence east to the river below Blyburg. But during the flood in the spring of 1857, when a great volume of water broke over the river bank above old St. Johns, and rushing down along the bluffs past Col. H. Baird's place into Omaha Creek, so great was the pressure of this vast amount of water that it cut a channel straight through to the river."
The first board of lumber George cut in the mill sold at $30 per 1,000 feet. Then that fall, in November 1856, they constructed a steam saw mill in Omadi and began a beef butchering business, "killing as high as four beeves in one day, on certain occasions, to feed the hungry travelers who were pouring into the country," said Warner's History.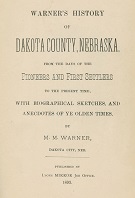 Warner's History of
Dakota County, Nebraska
On Feb. 27, 1857, George started a trip to Colorado, remaining there until the fall of that year, when he returned to Dakota County and presumably met our Catherine Ream.
They were the parents of Ida V. Woods, Fannie Crozier, Halsey G. Woods and Robert A. Woods. Sadly, son Halsey died at the age of seven on Aug. 1, 1872.
George was elected alderman of the town of Omadi on March 22, 1858, with their nephew William C. McBeath (treasurer) and Mayor M.G. Wilkinson, Recorder William D. Smith, Assessor William Cheney, Marshal J.B. Dickey and fellow Aldermen G.W. Burks and S.G. Cochran.
Once married the Woodses moved in 1861 onto a farm later owned by D.Y. Hileman, purchased from George Fangley. Then during the Civil War, George enlisted in the Union Army and was assigned to the 2nd Nebraska Cavalry, Company I, mustering in in October 1862. Said the Herald: "This company was organized for ptection against the Indians that ravaged the western country at that time." He remained with the army until his honorable discharge on Nov. 19, 1863. Unlike many other of his wife's relatives of the Ream and Minerd families, he is not known to have received a military pension for his wartime service.
George returned home from military service and farmed for several months until 1864, when he began constructing Oak's Mill about a mile and a half north of Homer, Dakota County. Said Warner's History, "He has from time to time been engaged in brick burning -- made the brick used to build the court house, the industrial school building at the Winnebago agency, and many other buildings in the county. Has since been engaged in farming, general merchandising, etc. Was first president of the old settlers' association." The new courthouse was completed on Oct. 25, 1871. Among the "other buildings" for which he made brick were the first school house, Masonic hall and Methodist Episcopal Church.
For reasons not yet known, George acquired The Eagle newspaper on May 2, 1879 but after only one issue sold it to Will S. Jay.

Opening lines of George's extensive profile
in Warner's History of Dakota County
Circa October 1880, he was a principal founder of the Dakota City Improvement Company with many other local residents. Two years later, in August 1882, he placed a notice in local newspapers inviting interested settlers to meet in Homer and organize into a group. What resulted was formation of the Pioneers and Old Settlers Association of Dakota County, and George was elected chairman, with historian and author M.M. Warner as secretary. A reunion was held on Sept. 23, 1882, held in Baird's Grove, drawing some 2,000 attendees. Reported Warner's History, "The grounds had been carefully cleared off for the occasion, and the committee had erected good comfortable seats, besides the stands and dancing platform. After spending a few hours conversing and forming new acquaintances, the meeting was called to order by George T. Woods, one of the very oldest settlers of the county, who after making a few appropriate remarks introduced General Joseph Hollman who delivered [an] address of welcome." Encouraged by the turnout, the group agreed to develop a constitution and by-laws for a more permanent organization. Subsequent reunions were held Aug. 25, 1883 and Aug. 30 1884 at Ashford's Grove, and on Aug. 22, 1885, Aug. 14, 1886, Aug. 13, 1887 and Sept. 1, 1888 at Hileman's Grove, and on Aug. 17, 1889 and Sept. 6, 1890 at Homer Driving Park. Many pages of Warner's History are devoted to spelling out details of the association's constitution and reunion speeches.
On Aug. 5, 1910, along with her sister in law Almeda Ream, Catherine was pictured and featured in a Herald story headlined "Pioneer Women of the County."
She passed into eternity at home on Oct. 9, 1912, at age 82, having contracted bronchitis, added to her existing heart problems. Her son Robert, in Spokane, WA, and nephew Kirk Ream of Axtel, KS, returned to be part of the funeral. Rev. J. Crews, of the family church, officiated.
George survived his wife by two years, and was considered "probably the oldest pioneer resident of Dakota county." He suffered a mini stroke in May 1914, at the age of 102, but recovered and was able to travel to visit with family. Then in early September 1914 he was stricken with indigestion. He died suddenly at home on Sept. 20, 1914. His obituary noted that he "was promeintly identified with the early history of Dakota county. To him belongs the distinction of having driven the first claim stake in its fertile soil -- this was July 1, 1855, nearly 60 years ago, when this part of Nebraska was a wilderness and Indians thick as grasshoppers.... Thus closes a long and active career. His familiar figure will no more be seen in our everyday life, but his memory will be cherished by those who have known him all these years, and who are prepared to meet him in the world to come."
Funeral services were conducted in the Methodist Episcopal Church by Rev. Crews, with burial in Dakota City Cemetery. His son Robert, residing in Spokane, WA, traveled to attend. Among the other friends and relatives who came were George's niece Viola Kenyon and her son Darrel of McCook, NE; Mr. and Mrs. F.V. Barnes of Marcus, IA; and Thomas Brennan of Newcastle, NE.
~ Daughter Ida V. Woods ~
Daughter Ida V. Woods (1861-1953?) was born in 1861 in Dakota County, NE. She apparently never married. She knew how to read and write.
For decades, she resided with her parents in Dakota City, NE.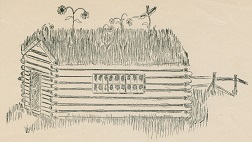 Early pioneer school in Dakota County
By 1920, when she was age 59, her sister and guardian Fannie Crozier filed a lawsuit against her in the District Court of Dakota County. The legal claim asked that Ida be declared an "incompetent person" so that she could be removed as an owner of their parents' extensive real estate holdings and so that the tracts could be sold.
Ida is known to have resided in Norfolk, Madison County, NE circa 1938 when she was named in the Dakota County Herald obituary of her sister Fannie Crozier.
She is believed to have died in 1953. In September of that year, County Judge Joseph E. Marsh petitioned the State of Nebraska to pay for her burial expenses.
More will be added here once learned.
~ Daughter Fannie (Woods) Crozier ~
Daughter Fannie Woods (1863-1938) was born in about 1863 in Dakota County, NE.
On Oct. 15 1903, the 40-year-old Fannie wedded 44-year-old Howard P. Crozier (Jan. 10, 1859-1909?). He was a native of Juniata County, PA who had come to Dakota County in the spring of 1881. A few years before marriage, in 1900, he had boarded in Dakota City with William and Mary Foltz and their large family.
The Croziers made their home on a farm in Dakota County but did not reproduce. Howard had a carpentry shop and was a member of the Dakota City Camp No. 4080 of the Modern Woodmen of America, through which he obtained life insurance. The Dakota County Herald once said he"was a prominent contractor and builder and some of the finest residences in the county were of his handiwork."
Tragically, Howard contracted a deadly case of diphtheria in the autumn of 1909. Reported the Herald:
He had been working at the S.A. Bridenbaugh place about six miles southwest of town, where he was just finishing up a new residence for Mr. Bridenbaugh, and on Tuesday morning of last week he was not feeling well enough to work when they hitched up and brought him to his home in town. Thinking that it was nothing more than an attack of tonsilitis a physician was not summoned until the following morning, when Dr. Maxwell was called and pronounced it was diphtheria. A strict quarantine was established and a special nurse summoned. Anti-toxin was injected into his system, all that the patient could stand, but he grew gradually worse, and on Saturday morning he answered the call of the grim messenger, death.... Owing to the strict quarantine no public funeral services could be held. The body was immediately placed in charge of an undertaker who prepared it for burial, and at 3 o'clock Saturday afternoon it was conveyed to the Dakota City cemetery where a short funeral service was held and the remains deposited in their last long resting place.

Nearby Sioux City, IA, showing where Nebraska, Iowa and South Dakota meet
In mourning, his colleagues of the Woodmen published a resolution in the Herald, calling him "its leading officer and one of its truest members ... who for three years previous to his death was venerable consul of our camp..." The resolution was signed by Mell A. Schmied, E.H. Gribble and L.H. Ambright.
Fannie survived her husband by many years and maintained a very active social life. The census of 1910 marks her as widowed and living next door to her aged parents.
She and her mother were named in the gossip columns of the Herald in December 1906 when traveling via the Burlington Railroad to Axtel, KS to visit their relative Kirk Ream. She remained close with her cousin Kirk over many years, exchanging visits in each others' homes, and also hosted Kirk's son in law A.O. Schumacher. She also had a special bond with her cousins Ann "Marie" (Ream) Eakins who lived in Fannie's home for several years, while studying music in Sioux City, later marrying Ernest R. Eakins and establishing a home in Somerville, KS. In March 1915, she traveled to the Pacific northwest to visit with her brother, who was keeping a hotel in Spokane, WA, and while en route visited with relatives in McCook, NE and Axtel, KS and toured through exhibitions in Los Angeles and San Francisco.
In honor of her parents' accomplishments, Fannie was active as a volunteer with the Pioneers and Old Settlers of Dakota County. In 1921, she served on the Invitation Committee to the annual picnic. She also was a member of the Order of Eastern Star and Ladies Aid Society and enjoyed attending chautauqua cultural events with her brother Robert.
By the winter of 1922, Fannie sold her home and household goods in Dakota City and relocated to live with her brother Robert in LaCrosse, Whitman County, WA.
In time she moved again to Los Angeles to dwell with her brother Robert. She succumbed to death in his home on Dec. 9, 1938. Word was sent back to Judge William P. Warner in Dakota County and published in the Herald. Funeral services in Los Angeles were officiated by Rev. Clark, a former pastor of hers' from four decades earlier. The remains were cremated and shipped to Sioux City to rest for all time in Graceland Park Cemetery.
~ Son Robert A. "Rob" Woods ~
Son Robert A. "Rob" Woods (1867-1946) was born on Dec. 27, 1867 in Dakota County, NE.
He relocated to Waterbury, NE and was there circa 1907, when he was 39 years of age.
On Feb. 11, 1907, he was joined in wedlock with Grace E. Monroe ( ? - ? ) of Sioux City, IA. She had been married previously. The nuptials were held in the parsonage of the First Methodist Episcopal Church of Sioux City, with Rev. S.R. Beatty officiating. The union apparently did not last, and the March 13, 1908 edition of the Dakota County Herald reported that Robert had departed for LaCrosse, WA, "to look after his farming interests, after spending a couple of months at his old home here. He returned alone -- this time."
Robert's health declined in the late summer of 1910 -- perhaps due to the stress of running a hotel -- and announced that he would spend the winter recuperating with his parents in Dakota City.
For eight to 10 years, Robert spent his summers on a large ranch in LaCrosse, where he raised crops of wheat and had interests in lumber and coal. Then in October 1911, he relocated to Spokane, WA to operate the Haliday hotel. The facility was referred to in press stories as "a fine six-story European hotel."
In about January 1912, he was united in holy matrimony with his second spouse, Alice Wright ( ? - ? ), in nuptials believed to have been held in Washington.
At the sudden death of his father in 1912, Robert traveled from Spokane to attend the funeral. In about 1917 he traded for a 920-acre farm in Great Falls, MT. While in Washington, Robert received a letter from his sister Fannie Woods, asking "what effect the Washington liquor laws have had on business conditions in Spokane." In response, he penned a lengthy letter, which his sister arranged to be published in his old hometown newspaper, the Nov. 2, 1916 edition of the Dakota County Herald. The lengthy letter concluded by stating:
The great blessings, which prohibition has brought upon our community, can never be estimated in dollars and cents, but in the blighted homes which have been restored to happiness and prosperity; the innocent children and loving wives and daughters, who have for years watched and waited for the reformation of husband and father, now have their hopes realized; the bright eyes and firm and determined step of the man who goes out with confidence to earn a living and prepare a home for those he loves. He, who in former years was betrayed on account of the temptation of these saloons, whose gaunt face and outstretched arms were always a menace to his work and his life, is tempted no more, for the saloons have disappeared.
In August 1918, Robert and Alice attended the annual Chautauqua cultural event in company with his sister Fannie Crozier, and were guest in the home of S.A. Combs. Then during the winter of 1922, Fannie sold her home and household goods in Dakota City and relocated to LaCrosse to live with her brother for good.
The Woodses eventually relocated to Los Angeles. They provided a home there in the late 1930s for his widowed sister Fannie Crozier.
Sadly, Robert was gathered away by the Angel of Death in Los Angeles on June 11, 1946.
Copyright © 2002, 2009, 2012, 2014-2017, 2020 Mark A. Miner