Home

John Alva Ream
(1846-1939)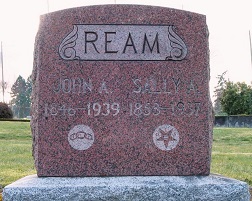 John and Sally's grave, Oswego, OR
Courtesy Bill Meyers, FindAGrave.com
John Alva Ream was born in about April 1846 in Ursina, Somerset County, PA, the son of Levi and Hila (King) Ream.
As with his younger brother Cleon, he "was of a restless nature," said an Illinois newspaper, learned the carpentry trade early in his life and used that to great advantage. Circa the late 1860s, he went to Texas to trade cattle. Then in about 1870, he and Cleon "found plenty of work on the railroads and at the Indian agencies and Government forts," said the Historical Encyclopedia of Illinois, Vol. 2, Part 2, authored by Newton Bateman and Paul Selby.
"At the conclusion of their work at Fort Laramie each traded a six-shooter for a pony, and started on their travels. At Fort Collins, Colo., they sold their ponies, and, walked to Greeley, after which they took the Denver Pacific Railroad to Denver, thence starting for Texas. The train rain into a terrible snow storm, and for three days, with the other able bodied males they were obliged to shovel their way out." Continuing their journey, the two brothers took a stagecoach into Texas, and then walked toward the town of Belton, TX.
During their walk across the Texas plains, on which no roads existed, they saw hundreds of wild steers feasting on beans from mesquite trees, and swam in the Brasor River. "They were finally obliged to return to Denver, and the day following their arrival there started east for Vinita, Indian Territory, the terminus of the Missouri, Kansas & Texas Railroad," said the Historical Encyclopedia. "After staging for 450 miles, they again struck a section of the railroad which they could use on their way to Austin, Texas, and finally, by alternate walking and riding, reached the State capital and afterward Houston. In this vicinity they were employed at carpentry for about six months, when they returned to Denver...."
At some point the brothers went to Washington State, where they heard about the discovery of gold in Gold Ruby Creek, hired two native guides, traveled the Skadgett River by canoe, found bodies of men who had drowned in the swirling river, and arrived only to find that the water was too deep for effective panning for gold.
Evidence suggests that John was married several times. With his first bride, name unknown, who were married in the early-to-mid 1880s, they produced these five known children -- Cleondale Ream (born 1885 in Iowa), John Wayne Ream (1887, Iowa), Lenora "Lena" Downer (1889, California), Fay W. ("Stella"?) Ream (1892, Iowa), and Leland Ream (1894, California).
When John ran into "financial difficulties," said the Salina (KS) Evening Journal, his older brother Norman took several of the children into his home until proper arrangements could be made. (More below.) Circa 1900, John relocated from his home in Los Angeles to a farm near Lilly, Tazewell County, IL, or Danvers, McLean County, IL (or both), which he began to cultivate.
The federal census of 1900 shows John and his newlywed bride Nellie (Jan. 1875- ? ) residing in Danvers with his five children. His father's obituary in 1903 says that at that time, John was in Houston, TX.
But by 1910, John and his 35-year-old eldest son Cleon resided together in Chicago, with John working as an "inventor - drainage," and marked either as "single" or "widowed" (but not "married"). In 1915, when his wealthy younger brother Norman died, John received a $20,000 life trust inheritance, and was named in the New York Times.
John was wedded a third time to Sally A. Rickabaugh (July 8, 1858-1937), daughter of Dudley and Elizabeth Chapman (Spieres) Rickabaugh. They migrated to the Pacific Northwest and settled on a farm in Oregon in the Long Creek Valley of Lake Oswego, Clackamas County. John was a member of the Odd Fellows, and Sally of the Order of Eastern Star.
Sally passed away in 1937, and John joined her in death just two years later, at the age of 93. No obituary has yet to be found for either. They repose for eternity in Oswego Pioneer Cemetery in Oregon. [Find-a-Grave] They are named in Iva (Ream) Barkley's 2017 book Ream Riehm, and John is mentioned in Paul Ryscavage's 2013 book Norman B. Ream: Forgotten Master of Markets.
~ Son Cleondale Ream ~
Son Cleondale Ream (1885- ? ) was born in January 1885 in Iowa.
He relocated to Chicago and in 1910, living with his father on Pale Prairie Avenue, was employed as a decorator in a department store.
His whereabouts after that are not known.
~ Son John Wayne Ream ~
Son John Wayne Ream (1887- ? ) was born in September 1887 in Iowa.
Census evidence suggests that he joined the Army and in 1910 was stationed at Fort Shafter in Honolulu, HI.

Osceola's railroad depot, early 1900s
~ Daughter Lenora (Ream) Downer Barcus ~
Daughter Lenora (or "Lena") Ream (1889- ? ) was born September 1889 in California.
She and her father and siblings returned to Iowa where in 1900 they lived in Danvers, McLean County. When her father struggled financially, she was taken in by her multi-millionnaire uncle Norman Bruce Ream and then placed into the care of Mrs. Heddlee in Osceola, Clarke County, IA.
At the age of 19, in about 1907, Lenora suffered the amputation of her hand in an accident on the Chicago, Burlington and Quincy Railroad (of which her uncle was a major shareholder), and she was awarded $2,500 in damages, with the promise that the uncle would provide for her during the remainder of her lifetime.
Circa 1910, census records show her in two places, suggesting that she moved back and forth -- in Osceola, as a ward of John C. and Elizabeth A. Headlee -- and in Neligh, Antelope County, NE with her sister Stella in the home of their widowed aunt Samantha (Ream) Johnson.
In 1913, at the age of about 24, she was joined in marriage with Frank M. Downer, Jr. ( ? - ? ).
When the uncle died in 1915, but did not name Lenora in his will, her husband left her.
By 1918, she had remarried to (?) Barcus ( ? - ? ) and lived in Detroit but traveled back to Chetopa to see her foster mother.
She sued the uncle's estate in 1922 for what she claimed was her $100,000 share. In doing so, her photograph was published in newspapers such as the Salina (KS) Evening Journal.
~ Son Fay W. Ream ~
Son Fay W. Ream (1892-1971?) was born September 1892 or on Nov. 14, 1892 in Iowa or California.
With his father unable to provide for their support, Fay and his siblings Leland and Lena were placed as wards in the home of John C. and Elizabeth A. Headlee in Osceola, IA, circa 1910. Also in 1910, a census-taker recorded him as living with his sister Lenora in the dwelling of their widowed aunt Samantha (Ream) Johnson in Neligh, Antelope County, NE.
Fay is believed to have traveled with W.E. Headlee to Parsons, KS in October 1913, as reported in the Chetopa (KS) Advance. Later that year, in December, the Advance noted that he was leaving to go to New York and thence to Worcester, MA "where he has a position in his uncle's steel plant."
Fay was named in a February 1915 Advance obituary of his wealthy uncle, Norman Bruce Ream, saying that Fay and his brother Leland "have made their home here with Mr. and Mrs. W.E. Headlee, and of Mrs. F.M. Downer, jr., who is now visiting here with the Headlees. Fay Ream has been East for the past year, where he has a position in one of his uncle's steel mills."
Fay soonafter was transferred to Philadelphia, where he worked in an office of United States Steel Corporation, where the uncle was a board director. After the outbreak of World War I, Fay joined the U.S. Navy Airship Service and was stationed at Pensacola, FL. He sent letters and postcards back home to Chetopa, informing his foster parents and friends of his whereabouts.
He is believed to have passed away in Los Angeles County, CA on Feb. 26, 1971, with interment in Grand View Memorial Park in Glendale. [Find-a-Grave]
~ Daughter Stella Ream ~
Daughter Stella Ream (1892- ? ) was born in 1892 in California.
~ Son Leland L. Ream ~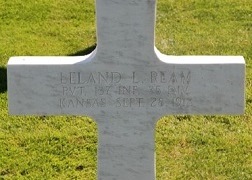 Leland's grave, Meuse-Argonne American Cemetery, Lorraine, France
Courtesy Marijke Taffein
Son Leland L. Ream (1894-1918) was born in December 1894 in California.
He relocated with his widowed father and older siblings to Iowa where they are shown in the 1900 census of Danvers, McLean County. By 1910, the father financially strapped, Leland and his older brother Fay and sister Lena were "wards" in the home of John and Elizabeth Headlee in Osceola, Clarke County, IA.
Leland enjoyed the outdoors, including catching butterflies and fishing, and in 1914 helped organize the Chetopa High School Athletic Association's basketball teams. Leland and his brother Fay were named in a 1915 Oswego (KS) Independent article about the death of their multi-millionnaire uncle Norman Bruce Ream, stating that they "are said to be heirs to a good portion of an estate left by their uncle ... amounting to something like $75,000,000." At the time, Leland was in Chetopa, while his brother resided in Philadelphia, PA. Newspapers reported that he received a bequest of $75,000.
He joined the U.S. Armed Forces in 1917, as the nation edged ever closer to the inferno of World War I, and was preparing to be shipped to France in October of that year. He contracted a serious case of influenza in the winter of 1918 and spent 42 days confined to a hospital in Camp Doniphan, OK.
Leland was sent overseas again after recovering, as a member of the 137th Infantry Regiment, 35th Division. In December 1918, his friend Ed Frye of the 130th Field Artillery in France sent a letter to his mother, Mrs. C.B. Stephens of Chetopa, saying that Leland had "been severely injured by bullets from a Hun machine gun." Another Chetopa resident, Gertrude Hazen, serving with the Red Cross in France, said that Leland was missing in action, but Dewey Winstead, another local, said he had seen Leland in a hospital having lost a leg.
The matter remained a mystery for months, until June 26, 1919, when the Advance reprinted a Parsons Sun story stating that Leland was a wartime casualty due to an accident. In fact, Leland had been wounded during the Battle of the Meuse Argonne and died on Sept. 28, 1918, at the age of 23. Interment of the remains was in the Meuse-Argonne American Cemetery and Memorial in Lorraine, France, where they rest for eternity. [Find-a-Grave]
Copyright © 2002, 2009, 2012, 2014-2017, 2022 Mark A. Miner