Marie (Ream) Garretson
(1857-1926)

A.B. Garretson
Library of Congress

Mary "Marie" (Ream) Garretson

was born on April 23, 1857 in Ursina, Somerset County, PA, the daughter of

Levi and Hila (King) Ream.

As with many in her family, she migrated westward to Iowa, and likely went with her father in 1868 when she would only have been 10 or 11 years old.

At the age of 21, on Sept. 2, 1878, Marie was joined in wedlock with 21-year-old Austin Bruce "A.B." Garretson (Sept. 14, 1856-1931), son of Nathan and Hannah G. (Swan) Garretson of Winterset, IA.

The couple together produced three children -- Ivan Ream Garretson, Marie E. Garretson and Vida Kenyon.

They resided for many years in Osceola, Clarke County, IA where they are shown on the federal census in 1900. Austin's occupation in 1900 was listed as "Travelling Adjuster." He became known as "a notable figure among railroad men in the United States and Mexico," said the Ames (IA) Daily Tribune. Austin was employed as a conductor on the Burlington Railroad early in his working career. In 1894, he became an officer of the Order of Railway Conductors, an early union, and was elected president in 1906, holding that position until retirement in 1917.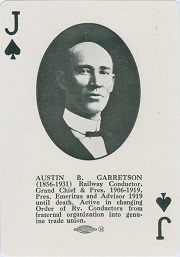 One of his early tangles was in 1903, when he offered a proposal to the Northern Pacific Railroad for increased union wages, only to be turned down. Reported the Mason City (IA) Globe Gazette, "It was he who became the chief arbiter in the historic railroad strike that threatened to wreck our transportation system during World War I." He was linked professionally to three other presidents of railroad unions, among them Warren Stone of the Locomotive Engineers, W.G. Lee of the Railroad Trainmen and W.S. Carter of the Railroad Firemen, and was pictured in newspapers for his work to negotiate wages and better working conditions, including threatening a strike of 400,000 railmen until Congress passed an eight-hour workday law. In 1916, he authored an article, "Will Ye Serve God or Mammon," published in the Order's newpaper, Railway Conductor, promoting Woodrow Wilson for president, with distribution to all railroad men in the nation in advance of election day.
At some point, Austin was appointed by Wilson to a Commission on Industrial Relations. The Garretsons were members of the Christian Scientist Church. In about 1906, they moved to a new home in Cedar Rapids, Linn County.
Marie made news in February 1922 when she was mentioned in a Cedar Rapids Republican and Times article about the pending marriage of her niece, Marion T. (Ream) Stephens, to a Philadelphia laborer. Circa 1926, their address was 1920 Grande Avenue in Cedar Rapids, and Austin served as a board director of the Merchants National Bank of Cedar Rapids.
At the age of 68, stricken with chronic kidney disease, she passed away, and the doctor arrived too late. Burial was in Oak Hill Cemetery in Cedar Rapids, following services held at Wymer's Chapel, conducted by Charles Westerfield of the Christian Science Church.
Austin survived her by five years, with his health declining from heart and mental deterioration. He succumbed at the age of 74 on Feb. 27, 1931.
The loss was felt deeply within the union movement. The Amalgamated Meat Cutters & Butcher Workmen of North America union, part of the American Federation of Labor, paid tribute to his memory when it produced a set of playing cards of union leaders, with Austin's photo and short biography appearing on the face of the Jack of Spades card. The offices of the AMC&BWNA were located in Chicago at 2800 North Sheridan Road.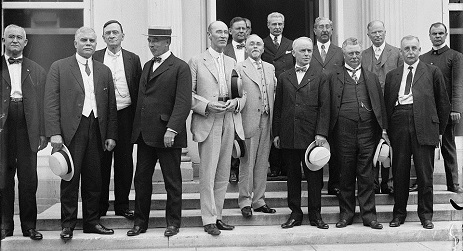 Above, 5th from left, Austin with fellow railroad union officials at the White House. Below: 3rd from left, Austin at a meeting of the Commission on Industrial Relations, appointed by President Woodrow Wilson. Library of Congress.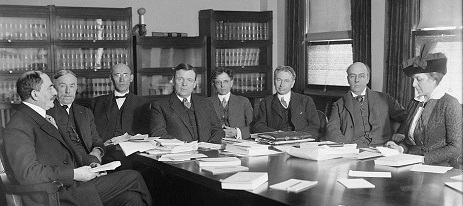 ~ Son Ivan Ream Garretson ~
Son Ivan Ream Garretson (1881-1946) was born on March 18, 1881 in Osceola.
At the age of 19, in 1900, he lived at home and earned a living as a newspaper compositor. The following year, he was a foreman with the Burlington (IA) Democrat-Journal.
He married Nell (?).
By 1926, he had relocated to Chicago, and apparently had accepted employment at more lucrative work as a railroad clerk. Ivan was a member of the Republic lodge of the Masons, Englewood Commandery of the Knights Templar and the Oriental Consistory.
Their address in the mid-1940s was 7236 Coles Avenue.
He died in Chicago on Oct. 6, 1946, at the age of 65, with burial at Oakwoods Cemetery.
~ Daughter Marie E. (Garretson) Seeley ~
Daughter Marie E. Garretson (1883- ? ) was born in April 1883 in Iowa.
She was interested in fashion and at the age of 17, in 1900, worked in a millinery shop in Osceola.
She was joined in matrimony with E.S. Seeley ( ? - ? ).
They produced at least two children, Gary Seeley and Jane Seeley.
They dwelled in Cedar Rapids in 1926.
If daughter Jane also went by the name "Elizabeth," she was wedded to Douglas Kuhlman in 1942 in Prescott, AZ. At the time, Elizabeth was a teacher with the Civilian Pilot Training program of Prescott, having graduated from the University of Oregon, and Douglas was a student pilot in Prescott.
~ Daughter Vida (Garretson) Kinyon ~
Daughter Vida Garretson (1884-1951) was born on Christmas Day 1884 in Osceola.
In 1926, unmarried at the age of 42, made her home in Honolulu.
By 1931, at the death of her father, she had married widower Charles Peter Kinyon (1861-1935) and dwelled in Santa Ana, CA.
Charles once had headed sales for the Fuller Morrison Company in Chicago, and had owned a wholesale drug business in Cedar Rapids. He was a member of the Rotary Club, and then sold his firm and moved to Santa Ana. He confessed to a reporter from the Santa Ana Register in April 1920 that "the years he spent before he found Santa Ana were more or less wasted in a vain search for the joy of living that he has at last found here in the balmy southland." He became secretary-treasurer and manager of the People's Finance and Thrift Company of Santa Ana, a position he held in 1924.
His first wife, Amanda (Watkins) Kinyon, of Rossville, IA, had died in March 1928.
When a Seeley nephew and niece attended the University of Southern California in 1929, the Kinyons entertained them in their home.
Sadly, Charles died on Valentine's Day 1936, at the age of 75, with burial in Fairhaven Memorial Park in Santa Ana.
Vida survived her husband by 11 years. Circa 1940, living on Yorba Street in Santa Ana, she was a member of the Garden Study Club and hosted meetings in her home. She passed away in Orange County, CA on St. Patrick's Day 1951. [Find-a-Grave]
Copyright © 2002, 2009, 2012, 2014-2017, 2022 Mark A. Miner