Home

Otho Reams is said to have been born on April 19, 1815 in Ursina or Listonville, Somerset County, PA, the son of Samuel W. and Mary (Rheims) Ream. Another source, his daughter Carrie, claimed that his birthplace was Dayton, OH.
As a young adult, he served as a deacon at the Jersey Baptist Church near Ursina. Otho held an account at the John McMillan tannery in Listonville, and an entry apparently from the 1840s is recorded in the tannery's business ledger which is preserved today. The entries read as follow: ...a Qr. of SL [shoe leather] weight 7½ lbs., cost $2.34¼.
By 1850, he had relocated to Washington Township, Wayne County, IN, where at age 35 he was single and laboring for wealthy farmer Dickenson Hurst.
When he was 44 years of age, on March 15, 1859, Otho married 30-year-old Marietta Smith (Dec. 1829-1907). She was a native of Tippecanoe or Marietta, OH, with the ceremony performed in Miami County, OH, by the hand of J.M. Robinson. The bride was about 14 or 15years younger than the groom.
Their six known children were Winfield Scott Reams, Carrie Elizabeth Reams, Ethan A. Reams, Addie B. Evans and Albert Smith Reams and one who died young.
At some point during the 1850s, not satisfied with his circumstances, he migrated further westward and settled in Missouri.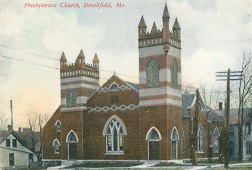 Presbyterian Church, Brookfield
The family resided in 1860 on a farm in Yellow Creek, Chariton County, MO. Otho was a party to a lawsuit which made its way to the high court of Missouri in the October Term, 1878, known as Lynde v. Williams, and which was published in Reports of Cases Determined by the Supreme Court of the State of Missouri. His part in the matter was his ownership of a tract of land in the northeast quarter of Section 36, which had borders not strictly enforced until many years later. In 1865, he bought the tract from Jesse Brewer "who took possession and raised a crop on the land," said the Reports. On Feb. 10, 1866, he sold to H. DeGraw "of all his improvements upon the land, ...and a lease back to said Reams from DeGraw of same date for the northeast quarter, commencing March 1st, 1866, and running to March 1st, 1867...."
Circa 1866, they helped to found the First Presbyterian Church of Brookfield, officially organized on Nov. 18, 1866. Otho is named for this role in Birdsall & Dean's 1882 book The History of Linn County, Missouri: An Encylopedia of Useful Information. Other church members involved at the outset were A.W. Myers, Lavinia H. Myers, Ephraim Banning Sr., Louisa C. Banning, William Donaldson, Jane Donaldson, Ira Johnson, Ellen A. Johnson, Martha J. Day and Samuel P. Huston. The congregation began construction a church building in October 1869, said to have been "a handsome brick edifice, of imposing appearance."
The U.S. Census of 1870 shows the Reamses remaining in Chariton County, on a farm in Township 56, Range 20.
During the 1870s, the family relocated to Brookfield, Linn County, MO. Their home in 1880 was in the west end of town. Said the St. Joseph (MO) Weekly Herald, Otho "was a member of the Presbyterian church, and one of the early helpers of Dr. Finley in laying the foundations of Brookfield college...."
Otho died the day after his 76th birthday on April 20, 1891. Interment was in Rose Hill Cemetery in Brookfield. [Find-a-Grave] An obituary in the Weekly Herald noted that he was "one of the oldest and most respected residents of this city [and] will be greatly missed by all his former co-laborers in that community."
Marietta outlived her husband by 16 years and died in September 1907. An obituary in the Chariton (MO) Courier said that she had passed "at the ripe old age of 77 years" and referred to her as "relict of Otto Reams... Mr. and Mrs. Reams were for many years residents of Chariton county."
When the book Brookfield, Past and Present was published in 1905, consisting of some 274 pages, Otho was named for his role in the founding of the church. He also is named in the 1954 book, The Reams, by Harry Clyde Smith (268 pages).

Burlington Railroad Bridge over Yellow Creek at Brookfield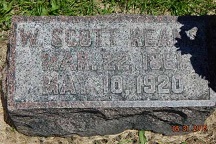 Rose Hill Cemetery.
Courtesy Homeward Bound
~ Son Winfield Scott Reams ~
Son Winfield Scott Reams (1861-1920) was born on March 21, 1861 in Chariton County.
He never married and lived with his widowed mother and adult siblings in Brookfield. At the age of 19, he lived at home and worked as a farm laborer near Brookfield.
Circa 1900-1920, he served as constable of Brookfield Township and, reported the Chariton (MO) Courier, was "going to sell an automobile at public sale to satisfy an execution." His home in Brookfield was at the corner of Pearl and Maple.
In about 1919, Winfield began to suffer from "pernicious anemia" -- when the body cannot produce enough red blood cells. After a year of enduring the illness, on May 10, 1920, at the age of 59, he died in Brookfield. His sister Carrie signed the Missouri death certificate. [Find-a-Grave]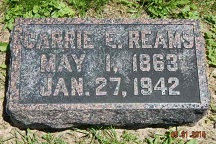 Rose Hill Cemetery.Courtesy Homeward Bound
~ Daughter Carrie Elizabeth Reams ~
Daughter Carrie Elizabeth Reams (1864-1942) was born on May 1, 1863 in Chariton County.
She did not marry during the span of her long life but instead shared a home with her aged mother and adult siblings in Brookfield. Over the years, she made her home in Brookfield, at 230 South Pine Street, and was a teacher.
She also was an ardent practitioner of Christian Science.
During the last year of her life, Carrie was stricken with kidney failure and hypertension. At the age of 80, on Jan. 27, 1942, she succumbed. Burial was in Rose Hill Cemetery. [Find-a-Grave]
~ Son Ethan A. Reams ~
Son Ethan A. Reams (1866- ? ) was born in about 1866 in Missouri. When he was 14 years of age, in 1880, he resided with his parents in Brookfield, Linn County.
On March 4, 1888, at the age of 22, Ethan was joined in holy matrimony with Elizabeth J. Goode ( ? - ? ). The nuptials were held in Brookfield, with Rev. W.H. Welton (sp?) officiating.
~ Daughter Addie B. (Reams) Evans ~
Daughter Addie B. Reams (1869- ? ) was born in about 1869 in Missouri. In 1860, at the age of 10, she lived under her parents' roof in Brookfield.
When she was age 23, on Jan. 11, 1893, she was united in wedlock with Frank J. Evans ( ? - ? ). The wedding took place in Brookfield, led by Rev. A.S. Leonard. In making their marriage license application, Addie relied on her younger brother Albert to state that she was above the age of 18.
~ Son Albert Smith Reams ~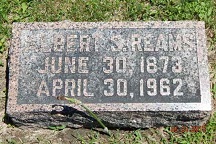 Rose Hill Cemetery
.
Courtesy Homeward Bound
Son Albert Smith Reams (1873-1962) was born on June 30, 1873 in Brookfield, a community in which he spent his entire life.
Albert was married twice. His first bride was the ill-fated Minnie C. Newkirk (July 17, 1876-1899). The couple was wed at Linneus, Linn County, on Feb. 28, 1895, with probate judge R.M. Tunnell officiating. They had a daughter, Pearl Reams, born in September 1897.
At the untimely age of 23, she passed away on Oct. 2, 1899, leaving Albert with a young daughter to raise. Burial was in Rose Hill Cemetery.
After a period of grieving, Albert was wedded a second time, on April 15, 1903, to Stella Mae Gardner (1883-1953), daughter of Frank and Emma (Stalsworth) Gardner of St. Joseph, MO.
This union produced four known children -- Clarence Albert Reams, Alys M. Culler Royar, Marietta S. Ziehr and Clyde Reams. Their home was on 721 West Helm Street. Albert owned a transfer storage business in Brookfield for many years.
Sadly, having borne congestive heart failure, Stella died at the age of 70 on July 18, 1953.
Albert lived for another nine years as a widower. Burdened with senility at the age of 88, he died at home on April 30, 1962. Burial was in Rose Hill Cemetery. Daughter Alys Culler of Marceline, MO was the informant for the official Missouri death certificate. [Find-a-Grave] In an interesting twist, a distant cousin of Albert's, Electa Ann "Licty" (Minard) Walker, and her adult children resided in Brookfield in the 1920s.
Daughter Pearl E. Reams (1897- ? ) was born in September 1897. When she was age 18, on Aug. 22, 1916, she married John B. Hyatt ( ? - ? ). News of the wedding was printed in the Chariton Courier of Keytesville, MO. Nothing more is known.
Son Clarence Albert "Bertie" Reams (1904-1978) was born in 1904. On July 27, 1929, in a ceremony held in Columbia, Boone County, MO, he married 22-year-old Daisy Foltz (Jan. 17, 1907-1970), daughter of Edward Winfred and Ida F. (Edgar) Foltz. They resided in Brookfield. The couple produced three known children -- Virginia Mae Reams, Ralph Lee Reams and Frances J. Campbell Carlson. The couple apparently divorced. On Sept. 22, 1951, Clarence married for a second time to widow Lucile (Springer) White (April 19, 1906-2003, daughter of Melvin J. and Etta L. (Bledsoe) Springer. From her first marriage, to Charles M. White ( ? -1948), she brought these children to the union with our Clarence -- George White, Charles H. White and Jenelle Fresh. Daisy, the first wife, passed away on April 14, 1970 in Pershing Memorial Hospital in Brookfield. Albert died in Kansas City, Jackson County, MO on Feb. 15, 1978. Lucile survived him by nearly a quarter of a century. She passed into eternity on Feb. 4, 2003, at the age of 96, with burial in Rose Hill Cemetery. Circa 1970, Clarence's daughter Virginia Reams was in the U.S. Army in Hawaii; daughter Frances J. Campbell was in Alexandria, VA; and son Ralph was in Brookfield.
Granddaughter Virginia Mae Reams (1931-2009) was born on Feb. 16, 1931 in Brookfield. She never married and spent her adult life in military service, from March 1951 to January 1972, attaining the rank of sergeant first class. Circa 1970, she served in the U.S. Army in Hawaii. Said a newspaper, "She served as a driver at the Pentagon, among her passengers were Dr. Robert Oppenheimer (father of the atomic bomb) and General Jimmy Doolittle. She was transferred to Munich, Germany in 1953, and worked in the Commissary and then in Personnel doing finance records. She was then in 1956, transferred to Fort Mason in San Francisco, California to work in Personnel and then to Fort Slocum in New York to become a US Army journalist. She then worked in Allied Fields of journalism moving every two years. She was transferred back to Europe in 1964, and in1966, became Editor of one of the ten largest US Army Unit papers in the Department of Defense. In 1968, she was transferred to Hawaii and stationed at US Army Pacific, responsible for Community Relations... She was a Charter member of Women's Memorial Service Organization and was a member of the Daughters of the American Revolution." Virginia passed away at the age of 78 on May 15, 2009, with interment in Rose Hill Cemetery.
Grandson Ralph Lee Reams (1932-2001) was born on Oct. 8, 1932 in Brookfield. He served as a corporal in the U.S. Army during the Korean War. On Dec. 7, 1958, at the age of 26, he was wedded to 21-year-old Esther M. (June 3, 1937- ? ). The couple had one known sons and perhaps more -- Blake Allen Reams, who died in infancy in 1962. They lived in Brookfield. Ralph passed away in Brookfield on March 3, 2001. Burial was in Rose Hill Cemetery.
Granddaughter Frances J. Reams (?) married (?) Campbell. Her home in 1970 was in Brookfield. By 2009, she had wedded again to Ted Carlson and lived in Southport, NC.
Step-granddaughter Jenelle White married Elwin Fresh. In 2009, their home was in Lee's Summit, MO.
Step-grandson Charles H. White (?).
Step-grandson George White made his residence in 2009 in Independence, MO.
Daughter Alys M. Reams (1906-1997) was born on New Year's Eve 1906 in Brookfoeld. She was twice married. On May 31, 1934, in a double ceremony with her sister Marietta, she wedded George Barbee Culler (1900-1950), son of Fred Evert and Blanche (Barbee) Culler. with Rev. Cleve G. Hardgrove officiating in Brookfield. The Cullers produced three daughters -- Carol McMahon, Connie Straub and Janet Walters. As a young man, George was tall and slender, with brown hair and eyes. He initially was employed by the C.B. & Q. Railroad in Linn County. George earned a living over the years as a Metropolitan insurance agent. Sadly, George died on June 5, 1950 at the age of 50. Later, after 19 years as a widow, she was joined in matrimony with Adolph W. Royar ( ? -1978). Adolph was well known in Marceline, MO as manager of a lumberyard for more than half a century. He brought a son to the marriage, Robert Royar. Alys became widowed a second time when the Grim Reaper swept Adolph away in September 1978. His remains were placed into eternal repose in La Plata Cemetery in Macon County, MO. At the age of 90, Alys passed away at the Pioneer Health Center in Marceline, MO on Oct. 18, 1997. Funeral services were led by Bob Covell, with interment following in Rose Hill Cemetery. Their daughter Carol married (?) McMahon and lived in Overland Park, KS; daughter Connie wedded Rod Straub and resided in Amana, IA; and daughter Janet was joined in wedlock with Kermitt Waters of Las Vegas.
Daughter Marietta S. Reams (1908-1951) was born on April 17, 1908 in Brookfield. At the age of about 25, on May 31, 1934, in a double ceremony with her sister Alys, she wedded Harold E. Ziehr ( ? - ?), with the nuptials held in Brookfield, led by Rev. Cleve G. Hardgrove. Marietta died on April 27, 1951, with burial in Rose Hill Cemetery in Brookfield.
Son Clyde Reams (1909- ? ) was born in about 1909 in Brookfield.
Copyright © 2002, 2009, 2012, 2014-2017 Mark A. Miner