Elizabeth Richardson
(1815-1872)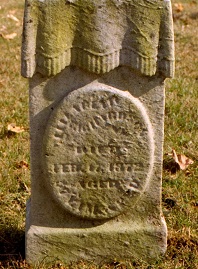 Hopewell Cemetery
Elizabeth Richardson was born in about 1815 in Ohio, the daughter of Jane Richardson. The identity of her father is not known.
Elizabeth was about age nine in 1824 when her mother married Frederick Miner Sr.
Over the course of her long life, Elizabeth never married. She made a home with her mother and stepfather.
Elizabeth at age 24 lost her mother to death in 1839. She remained with her stepfather for the balance of his years near Sego, Perry County.
The federal censuses of 1850-1860-1870 show them together in the same household, with Elizabeth serving as a housekeeper on the farm. Living next door in 1870 were her married, younger half-sister Mahala Johnson and family. He is known to have borrowed funds from her or otherwise made out IOUs which later were redeemed after his death.
Elizabeth undoubtedly grieved deeply in 1871 when her stepfather passed away. As a mark of his affection, he bequeathed to her an equal share of his estate, spelling her name "Richison." She thus was eligible to receive $101.22 as a direct inheritance in addition to repayment of debts of more than $30.
Sadly, Elizabeth only lived for less than another year. She contracted lung fever and died at the age of 57 on Feb. 17, 1872. Burial was in the Miner family plot in Hopewell Cemetery.
Her grave marker stood tall and legible when photographed by the founder of this website in November 1996.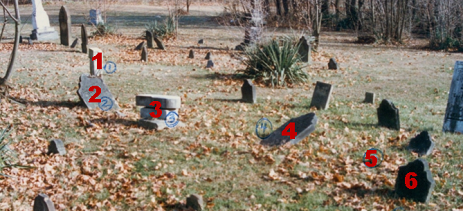 Photographed in Nov. 1996: Elizabeth's grave (#1) at far left, in a line with, L-R: her mother Jane (Richardson) Miner (2), her stepfather Frederick Miner Sr. (3); Elizabeth (Sechman) Miner (4), footstone with the initials "S.M." (5); and Sarah Miner, footstone initials "E.M." (6).
Copyright © 2019 Mark A. Miner