Susanna 'Anna' (Rose) Durst
(1853-1935)
Susanna Elizabeth "Anna" (Rose) Durst was born on Sept. 6, 1853 in Kingwood, Somerset County, PA, the daughter of Charles and Catherine (Minerd) Rose.
In about 1875, at the age of 22, Susanna married 31-year-old Levi Durst (Jan. 15, 1844-1912), a native of Maryland and the son of Henry and Mahala (Young) Durst.
They produced four known children: Edith Sharkey, Sarah "Sadie" Hellenbrook, Louise "Lulu" Durst and Hattie Blackburn. They also helped to raise a granddaughter, Wilma Demmitt.
The Dursts made their home for many years near Ursina, Somerset County, next to the Scott farm east of town.
The federal census of 1880 shows Levi earning a living as a laborer.
In 1900, the Dursts dwelled near Ursina, with Levi working as a day laborer. They lived just a few houses away from Annie's parents, unmarried brother John Wesley Rose, and married brother William Rose and his wife Maggie.
Levi was listed in a 1903 directory of Ursina, which was reprinted in the book, Reflections: Ursina 1787-1994.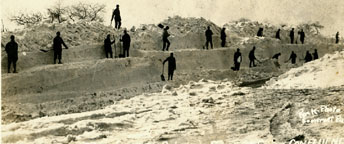 A common wintry sight -- men clearing a heavy snowfall on the road from Confluence to Somerset, circa 1936.
Levi was considered "a hard-working, industrious man," reported the Meyersdale Republican.
During the winter of 1911, Levi contracted a case of dropsy, or buildup of fluids in his tissues due to heart valve failure. He suffered for a year and was "in delicate health," said the Republican. He succumbed at the age of 67 on Jan. 21, 1912, with an obituary appearing in the Republican, giving an incorrect age of "about 55 years." Polly Durst of Ursina signed the certificate of death.
By 1920, when the census again was enumerated, the widowed Susanna headed a household including her 34-year-old unmarried daughter Lulu, her 69-year-old unmarried brother John Wesley Rose and her 90-year-old widowed mother Catherine.
When the census was taken in 1930, the 75-year-old Susanna made her home with her unmarried, 44-year-old daughter Lulu Durst in Ursina. Also in their household that year were Susanna's married daughter Sadie Hellenbrook and husband Fred, both of whom were unemployed.
Susanna was burdened with kidney disease and hardening of the arteries, and died at the age of 81 on April 30, 1935. She is buried at the Ursina Cemetery. No stone is known to mark her final resting place.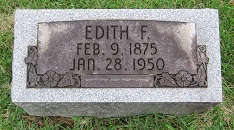 Ursina Cemetery
~ Daughter Edith (Durst) Demmitt Sharkey ~
Daughter Edith Durst (1875-1950) was born on Feb. 9, 1875 in Ursina.
She was twice married. Her first spouse was William M. Demmitt (July 11, 1860-1901), also spelled "Demitt." She was 15 years younger than her husband.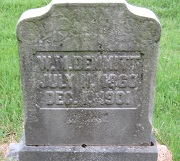 William's grave, Ursina Cemetery
They produced one daughter, Wilma F. Demmitt.
Sadly, on Dec. 1, 1901, William died at the age of 41. The cause of his untimely passing is unknown. His remains were placed into repose in Ursina Cemetery. A search for an obituary in the Meyersdale (PA) Republican has proven unsuccessful. A small inscription on his grave marker, photographed in July 2018, reads "At Rest."
By 1910, the widowed Edith had moved to Jeannette, Westmoreland County, PA, where she and her sister Hattie boarded in a rooming house kept by Caroline Lutz. She earned a living there as a trimmer in a rubber works.
Sometime between 1910 and 1913, Edith married her second husband, Joseph E. Sharkey (1876- ? ), the son of Irish immigrants.
The couple bore one known daughter, Irene G. Pierce.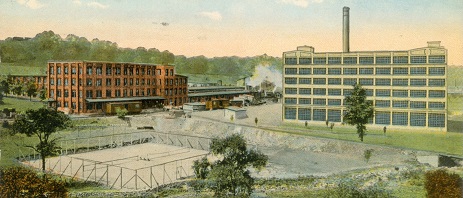 Pennsylvania Rubber Company in Jeannette, where Edith worked circa 1910
They made their residence in Cumberland, Allegany County, MD. In early January 1916, Joseph became seriously ill and was confined in the home of Edith's mother in Ursina. He seems to have recovered and the following month, having secured work in Pittsburgh, moved there, followed shortly thereafter by Edith. The family is shown in Pittsburgh in the 1920 United States Census, with Joseph earning a living as a railroad brakeman.
We are looking into whether Joseph is the same man who drowned in Robertson Creek near Walkers Mills in Collier Township near Pittsburgh on May 22, 1923, as reported by the Pittsburgh Daily Post.
By 1930, Edith again was widowed, and lived in Pittsburgh with her 16-year-old daughter Irene. She supported herself by cleaning office buildings.
Edith and her daughters are known to have attended a Rose family gathering at the home of her cousin Charles H. Rose of Paddytown, Somerset County in the summer of 1930.
Her home in the 1940s was at 711 Hestor Drive in the Greentree section of Pittsburgh.
Edith was diagnosed with hypertension in about 1942. She endured the illness for eight years, but suffered a heart attack and died at the age of 74 on Jan. 28, 1950. Daughter Irene Pierce, in whose home Edith died, signed the Pennsylvania certificate of death. The remains were transported to Ursina Cemetery for burial. She rests beside her first husband.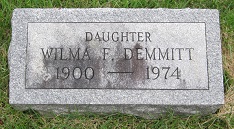 Ursina Cemetery
Daughter Wilma Demmitt (1900-1974) was born on Sept. 16, 1900 in Humbert and was but a toddler when her father died in 1901. She was raised by her grandparents after the death of her father and the remarriage of her mother. She never married and dwelled in Pittsburgh circa 1930. Wilma died in Pittsburgh on Aug. 16, 1974, at the age of 73. An obituary in the Meyersdale Republican said she was survived by her sister Irene Pierce of Pittsburgh. She is buried in Ursina Cemetery.
Daughter Irene G. Sharkey (1913-1996) was born on April 10, 1913 near Ursina. She grew up in Pittsburgh. Irene married Harold L. Pierce ( ? - ? ). They had one son, Harold F. Pierce. The Pierces lived in the Crafton section of Pittsburgh. At the age of 83, Irene died in Allegheny General Hospital in Pittburgh on Nov. 18, 1996. An obituary in the Somerset Daily American noted that she was survived by four grandsons. Her remains were brought back to Ursina for burial, with funeral services led by Rev. Thomas Charles. A metallic plaque stands at her grave.
~ Daughter Sadie (Durst) Hellenbrook ~

Ursina Cemetery
Daughter Sadie Durst (1881-1978)was born in 1881.
She married Fred L. Hellenbrook (1878-1969), a native of Olean, Cattaraugas County, NY. He was a veteran of the Spanish-American War, having served as a private in a New York Infantry regiment.
Fred was active in church affairs, and in February 1932 helped to establish a Sunday School at "the Tunnel," where he was elected superintendent.
They had no children.
In September 1932, the Meyersdale Republican noted that Sadie and Fred, along with her mother and sister Lulu Durst, accompanied by Mrs. Fred Younkin, went to Markleysburg to attend revival services in the Church of God, led by Rev. John Busch.
Fred died at the age of 91, on Oct. 23, 1969, in the Altoona (PA) Veterans Hospital. Rev. Clinton Spencer preached the funeral sermon, followed by burial in Ursina Cemetery.
Sadie outlived Fred by nine years. She passed away at the age of 97 in Confluence on July 5, 1978. They are buried together at the Ursina Cemetery.
~ Daughter Louise "Lulu" Durst ~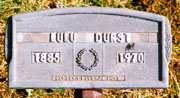 Ursina Cemetery
Daughter Louise "Lulu" Durst (1885-1970) was born on June 22, 1885 in Ursina.
She apparent never married.
Over the years Lulu made a living as a laborer on "odd jobs" in the Ursina region of southern Somerset County.
In 1920, Lulu spent the spring visiting her married sister Hattie Blackburn and family in Pittsburgh. Upon returning home to Ursina in May, she brought her nieces Anna and Dorothy Blackburn for a visit there.
She died at the age of 85 on April 12, 1970. Following funeral services preached by Rev. Arthur Gotjen, burial was at the Ursina Cemetery. A short obituary was published in the Meyersdale Republican.
Only a small temporary metal marker, seen here as photographed in the winter of 1999, identifies the location of her grave.
~ Daughter Hattie E. (Durst) Blackburn ~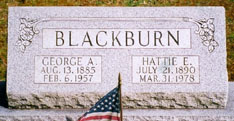 Ursina Cemetery
Daughter Hattie E. Durst (1890-1978) was born on July 21, 1890.
At the age of 20, Hattie and her widowed sister Edith Demmitt roomed together in a boarding house in Jeannette, Westmoreland County, PA, where they both worked in a rubber factory.
On Jan. 30, 1912, the 21-year-old Hattie married 25-year-old George A. Blackburn (1885-1957). Born in Steubenville, Jefferson County, OH, he was the son of Charles and Ellen (Woods) Blackburn. The wedding ceremony was performed by Rev. H.E. Lewis of the Methodist Church.
News of the marriage was published in the Feb. 29, 1912 edition of the Pittsburgh Christian Advocate, the official newspaper of the Methodist Church of western Pennsylvania, eastern Ohio and northern West Virginia. Notice also was printed in the Meyersdale Republican, which noted that George was "a popular young man of this place, a brother-in-law of William Willsman, the sawmill operator. Mrs. Blackburn is an estimable young lady, born and reared here where she has hosts of friends."
They had these children -- Anna Sunderland, Dorothy Ella Miller and George E. Blackburn.
George was a military veteran, and was employed over the years as a local contractor.
In December 1912, having secured work in Pittsburgh with William Wilsman and Lloyd Livengood, all three moved to the city to begin the contract. They took Wilsman's teams of horses for use in the labor.
The Blackburns' home in 1914 was in Pittsburgh, although Hattie spent the summer that year with her widowed mother in Ursina, as reported in the gossip columns of the Republican.
Circa 1933, Hattie and George lived in Greentree, near Pittsburgh, where he was a "route foreman." In 1947, his occupation was given as "salesman." Their postal address in the 1950s was 39 Rhodes Avenue.
Suffering from heart disease and congestive heart failure, George died at home on Feb. 6, 1957, at the age of 72.
Hattie outlived her husband by 21 years. She died on March 31, 1978 in Beaver Falls, Beaver County, PA. Her remains were returned to Ursina for interment, with Rev. Arthur Gotjen officiating at the funeral. Her obituary appeared in the Somerset Daily American.
Daughter Anna Blackburn ( ? - ? ) was born in (?). She was joined in marriage with (?) Sunderland ( ? - ? ). Their home in 1978 was in Princeton, NJ.
Daughter Dorothy Ella Blackburn (1911- ? ) was born in 1911. She resided at 39 Rhodes Avenue in Greentree, near Pittsburgh, in 1933, at the age of 22. That year, she wed 22-year-old clerk Charles Frederick Miller (1911- ? ), son of Karl and Elizabeth (Butter) Miller of Greentree. The wedding ceremony was performed in Somerset on Sept. 5, 1933 by Rev. A.W. Hays. Dorothy lived in Pittsburgh in 1978.
Son George E. Blackburn (1919-1992) was born on Oct. 26, 1919 in Carnegie, Allegheny County, PA. He resided with his parents at 39 Rhodes Avenue in Greentree, near Pittsburgh, and was employed at age 27 as a salesman and truck driver for Original Wonder Bread in Pittsburgh. He served in World War II with the U.S. Navy as a gunner's mate aboard the USS Salt Lake City. On Feb. 8, 1947, George married 27-year-old bookkeeper Dorothy M. Danko (1920- ? ), daughter of Slovak immigrants Frank J. and Anna (Kostelnik) Danko. Dorothy was born in Youngstown, OH but at the time was a resident of 52nd Street in Pittsburgh. The wedding ceremony took place in St. Elizabeth's Church, officiated by Rev. John Hrusko. The couple produced one known son, Jeffrey "Jeff" Blackburn. He continued his work as a truck driver and delivery man for National Biscuit Company (Nabisco) and is said to have worked without a safety incident for 15 years. In 1957, he was the official informant for his father's death certificate and lived in Pittsburgh at the time. George passed away in his sleep on Jan. 10, 1992. Dorothy survived her spouse and was still in the land of the living circa 2004.
Grandson Jeffrey Blackburn wrote a tribute to his father which is published on the U. S. S. Salt Lake City CA25 website. [

Link

]
Copyright © 2000, 2008, 2013, 2017-2018 Mark A. Miner