Greenwell Reasoner 'Green' Shirer
(1846-1919)
Greenwell Reasoner "Green" Shirer was born on March 28, 1846 in Adams Township, Muskingum County, OH, the son of Valentine and Hester "Esther" (Gaumer) Shirer Jr.
At the age of 19, after the tragic death of his brother in law William Porter Bell in the Civil War, Greenwell on April 20, 1865 signed his name as a witness on the widow's declaration to receive a government pension. After the end of the war, Greenwell and his future brother-in-law William Martin Lydig worked side by side on the family farm, "harvesting, haymaking, building rail fences, cutting and splitting rails and firewood and hauling same," he recalled.
Then on Dec. 23, 1868, in Zanesville, Muskingum County, he attended the wedding of his widowed sister Winifred to Lydig.

Greenwell's signature. National Archives

In Adamsville on Sept. 24, 1874, when he was age 28, Greenwell married Mary Ellen Fisher (Aug. 14, 1850-1892), daughter of German immigrants Casper and Catherine Fisher.

The couple produced a brood of nine children -- Bernice Luella Strickler, Christian Fisher Shirer, Camilla Bushnell Odgers, Murle Roxanna Shirer, Bessie Karlyn Hesla, Ohio Kate Knudtsen, Clyde Branton Shirer, Hazel Elizabeth Hesla and Ralph Melville Shirer.

When the federal census enumeration was made in 1880, the Shirers made their home near Adamsville, with Greenwell earning a living as a farmer.

In 1882, Greenwell was named in the book The Household Guide and Instructor, with Biographies: History of Guernsey County, Ohio.

Snowy Greene, Iowa, with the water tower and school in view at left
They migrated to Iowa in April 1883 or early 1884 and settled in or near Greene, Butler County.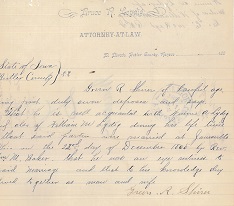 One of Greenwell's letters. National Archives

They migrated to Iowa in late 1883 or early 1884 and settled in or near Greene, Butler County.

Sadness blanketed the family when daughter Murle, who survived the family's migration to Iowa, died in Greene at the age of five and a half on Nov. 6, 1886.

The family again was plunged into mourning when Mary Ellen died in the Greene area on March 1, 1892.

As a widower, Greenwell made his home in 1900 in Coldwater, Butler County and generated income as a carpenter. In the household that year were six children ranging in age from 10 to 20, in addition to Elsie M. Shirer, a granddaughter.

The 1910 U.S. Census shows Greenwell still in Coldwater, with daughters Bessie and Hazel under his roof. He was age 65 at the time and likely retired as no occupation is listed.

Greenwell underwent surgery in an Iowa City hospital in September 1919, but the operation did not help.

He died in Iowa City on Sept. 16, 1919. A brief notice of hs passing was printed in the Davenport (IA) Daily Times.

~ Daughter Bernice Luella (Shirer) Strickler ~

Daughter Bernice Luella Shirer (1875-1948) was born on Sept. 10, 1875 in Adamsville, Muskingum County.

At the age of 19, on June 2, 1895, Bernice entered into marriage with 26-year-old Dayton Township farmer William Frank Strickler (March 23, 1873-1946), the son of Fred and Mary A. (Sneath) Strickler, and a native of Cairo County, IL. Her uncle Rev. Daniel Gurley Shirer led the wedding ceremony. On her marriage license, she disclosed that her "race" was German.

The Stricklers bore at least six offspring -- Harry G. Strickler, Stella B. Woods, Florence Lenore Furlow, Bessie Winifred Strickler, Robert Ward Strickler, Julia M. Duvall and Mildred A. Morse Johnson. One of the daughters married Robert Dye and lived in Kansas City, MO in 1963. Another was joined in marriage with Claude Foster and in 1945 made a residence at 7015 East 12th Street Terrace.

Heartache cascaded over the family in about August 1908 when their son Robert contracted spinal meningitis which left him paralyzed, mentally disabled and bedfast for the balance of his 27 years of life.

Circa 1910, when the federal census enumeration was made, the family lived in Waterloo, Black Hawk County, IA. Bernice's bachelor brother Clyde lived in their household that year. Both William and Clyde were employed at that time as machinists in a gasoline engine factory.

Their next home for 36 years, from about 1912 to 1948, was in Kansas City, MO. There, he made a living as a millwright.

The couple's address in 1932 was 3726 East 10th Street, in 1935 at 6242 East 12th Street and in 1946 was 2215 Lister Avenue.

Tragedy rocked the family on Nov. 20, 1946. William at the age of 73 was critically injured, his skull, right shoulder and ribs fractured. The horse-and-wagon he was driving following a delivery of ice on was struck by a Public Service Company bus at the corner of 27th Street and Raytown Road. According to the Kansas City Times, he told police he was making a turn onto 27th when the vehicles collided. He was rushed to the General Hospital and lingered for four days until he succumbed to the spectre of death on Nov. 24, 1946.

As a widow, Bernice made her final residence at 1518 Bennington.

At the age of 72, having been burdened with hypertensive heart disease, Bernice suffered a cerebral hemorrhage and died on June 24, 1948. Mrs. Harry Strickler of 5103 Pasco, Kansas City, signed the official Missouri certificate of death. Burial was in Floral Hills Cemetery.

Son Harry G. Strickler (1896-1985) was born on April 27, 1896. On March 23, 1921, he wed Dollie Mae Webb (Aug. 7, 1898-1977). The pair did not reproduce. They made their residence in Kansas City, MO in 1935 at 4201 Indiana Street. They then moved to Branson, MO, where they remained in the 1960s through the 1980s. In those years, they often visited his sisters Bessie and Stella in Bull Shoals near Mountain Home, AR. The Stricklers marked their golden wedding anniversary in 1971. Sadly, Dollie died on Sept. 26, 1977. Harry later married Pauline ( ? - ? ). He was a member of the Lions Club of Branson-Hollister, the Telephone Pioneers Club and the Branson post of the Veterans of Foreign Wars. They belonged to the Branson Christian Church. At the age of 88, Harry died in Skaggs Community Hospital on March 28, 1985. The remains were interred next to Dollie's in Ozarks Memorial Park Cemetery, with an obituary published in the Springfield (MO) Leader and Press. On the face of their grave marker is the prayer "Thy will be done."

Daughter Stella B. Strickler (1899- ? ) was born in about 1899 in Iowa. She entered into wedlock with Hedrick Woods ( ? - ? ). In 1935, the Woodses lived at 717 South Valley Street in Kansas City, KS. She lived with her parents in 1946 at 2215 Lister Avenue at the time of her father's tragic death. She migrated to Arkansas where she resided in Idlewood Resort, Bull Shoals, AR in the 1960s and was a member of the Dogwood Garden Club, the Woman's Society of Christian Service of the Bull Shoals United Methodist Church and the Business and Professional Women organization. 

Daughter Florence Lenore Strickler (1902-1946) was born on Sept. 8, 1902 in Iowa. In young womanhood she attended college in Kansas City, MO. In 1932, at the age of 29 or 30, she married a fellow student, Floyce Ervin Furlow (July 21, 1907-1999), a native of Trinidad, Las Animas County, CO and the son of Samuel and Cora Mae Furlow. Floyce was five years younger than his bride, and the couple did not reproduce. The Furlows resided at 2609 Amie Court in Kansas City in 1935. By 1940, the pair relocated to Inglewood, Los Angeles County, CA, where Floyce obtained employment as a punch press operator in an airplane factory. Florence died in Los Angeles at the age of 44 on Dec. 7, 1946. Her remains are believed to rest for all eternity in Pacific Crest Cemetery, Redondo Beach. Floyce survived Florence by more than half a century. For more than 30 years, he earned a living with Mobil Oil Corporation in Torrance as a warehouse clerk. On March 30, 1951, he tied the knot with Gladys B. Hayes ( ? - ? ) of Hermosa Beach. Their union endured for 48 years until cleaved apart by death. Gladys brought two stepsons into the second marriage, Robert Alan Hayes and Thomas Roy Hayes. Floyce was active in the 1970s and 1980s with the Paradise First Baptist Church. He also was a member of the Mason's Table Mountain Lodge for more then five decades. Floyce died in Enlow Medical Center in Chico, at the age of 92 on Sept. 15, 1999. Interment was in Paradise Cemetery. He was pictured in his obituary in the Paradise Post.

Daughter Bessie Winifred Strickler (1906-1967) was born on Feb. 12, 1906. She never married. At one time, for 27 years, she was employed in Kansas City by the Price Candy Company. When both women were 34 years of age, Bessie and her Price Candy co-worker Louise Seivers made news and were pictured in the Kansas City Times in May 1940 after they:
... hit every nail, sawed each board and completed all the stone work on a 2-room cabin nearing completion on a site overlooking the Lake of the Ozarks eight miles northwest of Warsaw in an addition that a neatly painted sign designates as "Goofy Corners." [They] decided early this spring that building a cabin on the lake would give them more pleasure than the customary movies and dances. Armed with a set of blue prints and more tools than they at first knew how to manipulate, the two women have spent each week end since late February at a construction task that in the early stages appeared rather hopeless.
The pair prevailed in their work, despite having to build the foundation twice, and lived in the cabin, considered part of Bull Shoals. Together, they were candy makers and partners in the Idlewood Candies shop at Idlewood Resort, said the Baxter (AR) Bulletin. Sadly, at the age of 61, Bessie passed away at home on Oct. 1, 1967. Leading her funeral service was Rev. J.E. Linam of the Presbyterian churches of Bull Shoals and Cotter. Interment was in Yellville Cemetery. The inscription on her grave marker reads "Friends for 35 years."
Son Robert Ward Strickler (1908-1935) was born on Feb. 16, 1908 in Waterloo, IA. At the age of six months, he contracted spinal meningitis which rendered him paralyzed, mentally disabled and bedfast for the balance of his life. At the age of 27, he resided in his parents' home in St. Louis at 6242 East 12th Street. He contracted lobar pneumonia in October 1935 and a week later he died on Oct. 20, 1935. An obituary was published in the Kansas City Star. Burial was in the Memorial Park Cemetery.
Daughter Julia M. Strickler (1914- ? ) was born in about 1914 in Illinois. She was united in matrimony with (?) Duvall ( ? - ? ). Their home was in Bond, CO in 1946.
Daughter Mildred A. Strickler (1918- ? ) was born in about 1918 in Missouri. At age 22, in July 1940, she married 23-year-old Paul Richardson ( ? - ? ). Another of her husbands, circa 1946, was (?) Morse ( ? - ? ). The Morses lived in Los Angeles in 1946. In time she wed (?) Johnson ( ? - ? ). Her home in 1967 was in Whittier, CA and in 1985 in Huntington Beach, CA..
~ Son Christian Fisher Shirer ~
Son Christian Fisher "C.F." Shirer (1877-1944) was born on July 10, 1877 in Adamsville. He also went by the name of "Chris."
Christian was age six-and-a-half in April 1884 when he accompanied his parents and siblings to Iowa, settling in Butler County. He remained in the county for the rest of his life and spent his young manhood as a farmer.
He was married twice.
His first spouse was Alma Viola (Bragg) Buhlis (Oct. 22, 1863-1927), daughter of Lafayette and Jane (Burress) Bragg of Butler County. They tied the knot on Christmas Day 1900, when he was age 24. G.A. Hess officiated.
Alma had been married previously to W.T. Buhlis ( ? - ? ) and thus brought two stepchildren into the second union, Pearl M. Crabtree and Arthur F. Buhlis.
One known son born to the couple was Clarence A. Shirer.
The Shirers were farmers near Packard, IA. When World War I erupted, Christian enlisted in the U.S. Army in April 1918.
Upon his return home, Christian was appointed in July 1919 as treasurer of Butler County, IA. He held the post for 11½ years. He also spent a year as chairman of the Butler County Selective Service System, appointed in 1940 by President Franklin Delano Roosevelt.
Alma was a member of the Allison Chapter of the Order of Eastern Star and the Greene chapter of the Pythian Sisters. In 1919, she transferred her membership from the Church of Christ at Greene to the Associated Churches of Allison. Said the Greene Recorder:
She was always a kind and obedient child, willing to do her part of any kind of work the family needed, ready to help a neighbor in time of need no matter how hard the task. She was buried with her Lord in baptism in early womanhood by the Rev.W.B. Sanford in the clear waters of the Shell Rock across from Camp Comfort, where she spent her happy childhood days with her sisters and brother... She lived not for self, but others.
The Shirers marked their silver wedding anniversary at Christmas 1925. Said the Recorder, "a few of their relatives went over to help them celebrate the event. If a table loaded with good things to eat can be counted for anything, they we would say the affair was a grand success. The table was so full of good things to eat that it reminded one of Belshazzer's feast (only the wine and golden vessels were missing."
Alma suffered with dim eyesight in the mid-1920s and was treatd by a specialist in Iowa City.
Alma became seriously ill in late 1926 or the first of the new year 1927. She stayed at the home of her sister Mrs. W.A. Timblin in Greene and made plans to return home to Allison in early January. Sadness blanketed the family when Alma died in the Timblin residence on Aug. 3, 1927. Funeral seervices were held in the Church of Christ, led by Rev. G.A. Hess of Charles City. Burial was in the Rosehill Cemetery, with an obituary appearing int he Recorder.
Later that year, in mid-December, the Eastern Star held a memorial service for her and another deceased member in the Masonic Hall.
On Sept. 2, 1928, after less than a year as a widower, the 52-year-old Christian entered into marriage with his second bride, 41-year-old Emma Etta McCreary ( ? - ? ), originally from Kimball, SD and the daughter of William Luther and Sarah Nettie (Doty) McCreary. The wedding was held at Allison, IA, officiated by O.B. Preston of the Congregational Church.
In 1931, the pair moved to a farm near Clarksville, IA, where they remained for the balance of their lives together.
Christian in 1931 was named as Butler County Supervisor and served in the position for a year and a half. He also held memberships in the local lodge of the Masons, Eastern Star and Knights of Pythias as well as the local post of the American Legion.
Christian passed away on the home farm in Clarksville, after a long illness, on March 23, 1944. The funeral service was held in the Community Church, with interment in Lynwood Cemetery. His obituary was published in the Waterloo (IA) Courier.
Stepdaughter Pearl M. Buhlis (1886-1949) was born on March 26, 1886. She was educated in the schools of Greene and then at Iowa State Teachers College. In 1908, at the age of about 22, she wed Edward J. Crabtree ( ? - ? ). Their nuptials were held in Greene. They were the parents of William Crabtree and Paul Crabtree. The family first dwelled in Kingfisher, OK until a move back to Greene, where they farmed for 15 years. The couple then acquired a local restaurant which they ran for two decades. Pearl was a member of the Eastern Star and American Legion Auxiliary, and they belonged to the local Presbyterian Church. Sadly, Edward died in 1945. The widowed Pearl appears to have disposed of the restaurant business at that time. At the age of 63, Pearl suffered a stroke and lingered for four days before dying at home on March 23, 1949. A short prayer service was held in the home followed by a funeral in the Presbyterian Church, by the hand of Rev. Harold Johnson. An obituary was printed in the Greene Recorder.
Stepson Arthur F. "Art" Buhlis ( ? -1947) is known to have relocated to Minneapolis circa 1925, with evidence suggesting that he operated a store. Death swept him away in 1947.
Son Clarence Alfred Shirer ( ? -1963) was born in (?) in Butler County. In young manhood he earned a living as a laborer in Allison, IA. On Dec. 3, 1920, he was united in matrimony with Alberta N. Johnson ( ? - ? ), daughter of Albert and Clara (Mead) Johnson. Their nuptials were held in Allison, by the hand of Rev. Richard S. Haney. The pair became the parents of two sons -- William Shirer and Robert Shirer. The family made a home in 1927 in Allison, IA and in 1944 in Des Moines, IA. At some point he worked for his father as deputy treasurer of Butler County. He thereafter joined the Iowa Highway Patrol, holding the rank of sergeant. Then in 1939, he was appointed as acting state superintendent of motor vehicles, with the family moving to Des Moines. He succeeded T. Harry Vicker, who had been tapped as commissioner by Iowa Secretary of State Earl G. Miller. The family relocated to Sioux City, IA and were there in 1954. Their final move was to Chicago. Clarence was stricken by a heart attack and died in the Windy City at the age of 61 on April 18, 1963. The Greene Recorder published an obituary. Funeral services were held in the United Church of Christ at Allison, with burial following in Allison Cemetery.
Grandson William Shirer ( ? -1973) was born on (?). He joined the U.S. Army Air Forces during World War II. In March 1944, he was posted to Salina, KS. On the Fourth of July 1943, William entered into marriage with Edith Ann Schrage (April 22, 1922-2001) of near Allison, IA and the daughter of Ernest and Minnie (DeBower) Schrage. Their trio of sons were Thomas Shirer, Steve Shirer and Michael Shirer. Edith as a baby was baptized in St. John Lutheran Church of Vilmer, IA and then at the age of 14 confirmed in Allison at the St. James Lutheran Church. She was a 1939 gradaute of Allison High School and then attended a business college in Des Moines. The family is known to have moved in 1948 to Belmond, IA, where she was employed by R.W. Courson Insurance Agency. Edith was active with the Cub Scouts, and the couple belonged to the Trinity Lutheran Church. On Aug. 26, 1973, he died at the age of 52 in a hospital in Rochester, MN. The body was brought back to Belmond for funeral services at the Lutheran Church and burial in the Belmond Cemetery. An obituary appeared in the Waterloo (IA) Courier. Edith outlived her husband by 28 years and spent that time in Belmond. At the end, she was admitted to the Muse Norris Hospice Inpatient Unit in Mason City, where she surrendered to the angel of death at age 79 on Aug. 15, 2001.

Great-grandson Thomas Shirer resided in Britt, IA in 1973-2001. He married Avis.

Great-grandson Steven Shirer wed Karen. They established a home in Williamston, MI.

Great-grandson Michael Robert Shirer ( ? - ? ) was born on (?). On June 29, 1991, he entered into wedlock with Karen Lynn Ipe ( ? - ? ), daughter of William Ipe of Centerville, OH. The wedding was performed by Rev. Dr. Robert Smith in the Southminster Presbyterian Church and announced on the pages of the Dayton (OH) Daily News. The pair put down roots in Pasadena, CA and lived there in 2001.

Grandson Robert F. Shirer ( ? - ? ) was born on (?). He was united in matrimony with Mary Jo. Robert was in Des Moines in 1944. The family relocated to Omaha where they dwelled in the early 1960s. By 1973, at the death of his brother, they were in Atlanta, and remained as of 2001.
~ Daughter Camilla Bushnell (Shirer) Odgers ~
Daughter Camilla Bushnell Shirer (1879-1971) was born on Oct. 24, 1879 in Adamsville.
Prior to marriage, in about 1898, she is believed to have given birth to a daughter, Elsie M. Shirer.
By 1907, Camilla wed Iowa native Charles Odgers ( ? -1959).
Circa 1940, Camilla and Charles made their residence in Cheyenne, WY, where he plied his trade as a plumber. Charles held a membership in Cheyenne in the Low Twelve Club and the Acacia lodge of the Masons.
They pulled up stakes in 1941 and moved to California, where during World War II Charles was in charge of the installation of plumbing at the U.S. Army's airbase north of Santa Rosa, CA. Then about 1946, the family relocated to Santa Rosa, Sonoma County, where Charles became employed as a plumbing inspector by the City of Santa Rosa, working for city manager Ross Miller. Census records for 1950 show their daughter and son-in-law under their roof.
Their address in the 1950s was 490 Macklyn Avenue.
Charles retired from the city plumbing position by 1959, capping a baker's dozen years of service..
Sadly, Charles did not get much time to enjoy retirement. He died at the age of 75 on July 22, 1959 in a local hospital. His obituary was published in the Santa Rosa Press Democrat. Rev. Shirley Sherrill, along with the local Masons brethren, co-officiated the funeral service. The remains were interred in Santa Rosa Memorial Park.
Camilla passed into eternity in a convalescent home in Santa Rosa on June 8, 1971, at the age of 91. The Press Democrat printed her obituary.
Daughter Elsie M. Shirer (1898- ? ) was born in April 1898 and spent her early years in the home of her mother and widowed grandfather Greenwell Shirer in Coldwater, Butler County, KS. She eventually married E. Leon Etheridge (1902- ? ), a Texas native. He was four years younger than she, and the couple is not thought to have reproduced. As of 1950, Leon was unemployed, with the couple sharing a home with Elsie's parents in Santa Rosa, CA. By 1959, they had found their own dwelling place in Folsom, CA. Elsie was back in Santa Rosa by 1971.
~ Daughter Bessie Carlyn (Shirer) Hesla ~
Daughter Bessie Carlyn Shirer (1883-1940) was born on Jan. 14, 1883 in Adamsville, Muskingum County, OH.
As a one-year-old, she accompanied her parents and siblings to Iowa. At the death of her mother in 1892, Bessie at age nine went to Kansas to reside with an aunt. After staying there for six years, she returned to Greene.
As of 1910, still single at the age of 27, she lived with her widowed father and sister Hazel in Coldwater Township, Butler County. She did not marry until after her father's death.
In the fall of 1919, Bessie at age 36 married Syvert A. Hesla ( ? - ? ). Syvert has been married before and brought five stepchildren into the union -- Mrs. W.D. Clarke, Mrs. Harry Weldon, Otto Hesla, George Hesla and Royal Hesla.
The couple did not reproduce.
They migrated to Canada and remained for a few years. Their next move was to California circa 1925, where they made a home in Bloomington, CA.
Bedfast for the last four months of her life, Bessie died in Bloomington on Nov. 30, 1940 at the age of 57. Word was sent to her brother Christian in Clarksville, IA. An obituary appeared in her hometown newspaper, the Greene Recorder.
Stepdaughter (?) Hesla married W.D. Clarke. Their residence in 1940 was in Chicago.
Stepdaughter (?) Hesla wed Harry Weldon. The couple migrated to San Antonio, TX.
Stepson Otto Hesla relocated to California. Circa 1940, he lived at Lake Arrowhead, CA.
Stepson George Hesla moved to Grass Valley, CA.
Stepson Royal Hesla dwelled in Grass Valley, CA in 1940.
~ Ohio "Kate" (Shirer) Knudtsen/Knudson ~
Daughter Ohio "Kate" Shirer (1884- ? ) was born on Oct. 12, 1884 in Greene, Butler County, IA.
She was united in wedlock with Edward S. Knudtsen/Knudson ( ? - ? ).
The pair relocated to Canada and in 1940 lived in Champion, Alberta.
The Knudtsons were still in Canada as of 1971.
~ Son Clyde Branton Shirer ~
Son Clyde Branton Shirer (1885-1952) was born on May 9, 1885 in Greene, Butler County.
In 1910, a bachelor at the age of 24, he made a home with his married sister Bernice Strickler in Waterloo, Black Hawk County, IA and worked as a machinist in a gas engine factory.
He was married twice. On Nov. 28, 1911, when he was 26 years of age, he married Dorothy B. Geier (Aug. 11, 1873-1952).
The couple eventually established a home in Southern California. They bore at least one child, Wayne Arthur Shirer.
Evidence suggests that they may have divorced. As of 1940, Clyde resided in Kelso, WA.
Clyde later wedded his second wife, Marion Clark ( ? - ? ).
Ex-wife Dorothy passed into eternity in Orange County, CA on Jan. 13, 1952.
Clyde died in Pierce County, WA on Jan. 15, 1952.
Son Wayne Arthur Shirer (1912- ? ) was born on Sept. 2, 1912 in Black Hawk County, IA. In a wedding ceremony held in San Diego County, CA, on June 17, 1961, he was joined in the bonds of matrimony with Mary Louise Priddy ( ? - ? ). Circa 1987, Mary Louise actively was researching her spouse's Shirer/Gaumer roots, and corresponded with Minerd cousin-researcher Eugene F. Podraza. They exchanged information, and today an original copy of her pedigree chart is preserved in the Minerd.com Archives.
~ Daughter Hazel Elizabeth (Shirer) Hesla ~
Daughter Hazel Elizabeth Shirer (1888-1970) was born on March 7, 1888 in Greene, Butler County, IA.
Still single at the age of 22, in 1910, she made a home with her widowed father and single sister Bessie in Coldwater Township, Butler County.
On Sept. 16, 1910, when she was 22 years of age, she married 23-year-old Noris S. Hesla ( ? - ? ), son of O.L. and Caroline (Hanson) Hesla. Their wedding was conducted in Butler County, by the hand of officiant Rev. W.U. Parks. At the time of marriage, Noris was a clerk, living at Storm Lake, IA.
One known daughter of this union was Marjorie Fern Schneider.
They relocated to California, where their home in 1940-1970 was in Van Nuys. Their address in 1947 was 6618 Bevis Avenue.
Sadly. Hazel passed away on Aug. 26, 1970.
Daughter Marjorie Fern Hesla ( ? - ? ) was born on (?). She was a graduate of Van Nuys High School. In a wedding held in Van Nuys Central Lutheran Church, on June 15, 1947, she entered into matrimony with George G. Schneider ( ? - ? ). In announcing the marriage, the
Van Nuys News
published Marjorie's bridal portrait and reported that she wore "a gown of imported ivory lace with a high round collar of satin and long satin-in-banded lace mits to match. Her veil was held in place with a sweetheart halo of orange blossoms and she carried a bouquet of orchids and bouvardia." George also was an alumnus of Van Nuys and had served overseas during World War II with the U.S. Army. After his return home, he entered the radio business.
~ Son Ralph Melville Shirer ~
Son Ralph Melville Shirer (1890-1970) was born on April 1, 1890 in Greene, Butler County.
He was wed to Utah native Olive Zella Kainz (1907-1977), daughter of Fred and Zella B. Kainz. There was an 17-year difference in their ages.
No evidence exists to show that the pair reproduced.
They made their home in Inglewood, CA (in 1940 and 1971) and in Van Nuys, CA. The 1950 United States Census shows them as next-door neighbors to his married sister Camilla Odgers in Santa Rosa, Sonoma County, with Ralph employed as a plumbing contractor at a time his brother-in-law Charles Odgers was the Santa Rosa City plumbing inspector. Olive appears to have been active with the Church of Jesus Christ of Latter Day Saints in Santa Rosa.
Ralph passed into eternity in Van Nuys on May 22, 1970. Interment was in Inglewood Park Cemetery.
Olive survived by seven years. She died in 1977.
Copyright © 2000, 2006, 2011, 2015-2017, 2020-2022 Mark A. Miner

Minerd.com is grateful for records compiled by Corinna (Leydig) Talbot, Elsa Bernice Haupt, Mary Louise (Priddy) Shirer, Gilbert R. Gaumer, Paul K. Gaumer, Mary L. Shirer, the Shirer Genealogy Project, Somerset (PA) Historical Center and National Archives in the preparation of this and the Daniel Gaumer Sr. family biographies.