Home

Hannah A.C. (Shirer) Leydig
(1841-1909)
Hannah A.C. "Han" (Shirer) Leydig was born on March 1, 1841 in Adams Township, Muskingum County, OH, the daughter of Valentine and Hester "Esther" (Gaumer) Shirer Jr.
As a youth, she joined the Methodist Episcopal Church and was a lifelong member.
Hannah is known to have attended the wedding of her widowed sister Winifred (Shirer) Leydig to William M. Lydig in Zanesville, Muskingum County just before Christmas 1868. She later wrote an affidavit testifying to her attendance which helped the sister obtain a Civil War pension.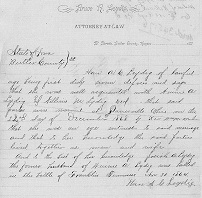 Hannah's affidavit, 1880s
National Archives

In 1880, U.S. Census records show that Hannah was single at the age of 37 and living with her parents and 27-year-old single sister Sidna E. Shirer in Adamsville. She was still not yet married when named in the 1882 book The Household Guide and Instructor, with Biographies: History of Guernsey County, Ohio.

But later that year, on Feb. 24, 1882, at the age of 41, she married 55-year-old Emanuel Leydig (1827-1905). Emanuel was the widower of Hannah's first cousin, Rebecca (Shirer) Leydig, who had died two years earlier on April 17, 1880, of the family of Valentine and Catherine (Gaumer) Shirer Jr.

In marrying Emanuel, Hannah became the step-mother of his six children -- Mary E. Shaw, Eliza J. Harrington, Christiana "Ann" McKee, Jacob V. Leydig, Carrie Shook, Emma Thompson, Elizabeth "Lizzie" Martin and Ida F. Leydig.

The couple did not otherwise reproduce.

He immediately brought Hannah to Iowa, where he had resided for years near Greene, Butler County. They remained in Greene for the balance of their lives, on a farm in Section 13, Township 93, Range 17. In 1900, the federal census enumeration shows the couple living on a farm in Coldwater Township, with Hannah's younger sister, Cidna Shirer, residing in their home and working as a seamstress.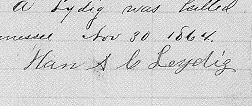 Hannah's signature. National Archives

In the 1880s, Hannah used the law office stationery of her nephew Robert "Bruce" Leydig of El Dorado, KS, to provide sworn testimony in writing that she had attended her sister Winifred's marriage to William M. Lydig many years before.

Sadly, Emanuel passed away in 1905.

Hannah survived him by four years. Reported the Greene (IA) Recorder, she "was a great sufferer for many years, but bore her affliction with patience and uncomplaining."

She died at home in Greene on Aug. 11, 1909, at the age of 68 years, six months and 11 days. The day she died, the Recorder stated that she had passed "at her home on the west side of the river, where she has lived for sometime" and said she was "the second wife of E. Leydig who died several years ago." The next week, the Recorder printed a longer obituary which did not not list any children or step-children.

Copyright © 2000, 2006, 2011, 2015-2017, 2020-2022 Mark A. Miner

Minerd.com is grateful for records compiled by Corinna (Leydig) Talbot, Elsa Bernice Haupt, Mary Louise (Priddy) Shirer, Gilbert R. Gaumer, Paul K. Gaumer, Mary L. Shirer, the Shirer Genealogy Project, Somerset (PA) Historical Center and National Archives in the preparation of this and the Daniel Gaumer Sr. family biographies.