Home

Mary Elizabeth (Smith) Kreegar
(1841-1919)
Mary Elizabeth (Smith) Kreegar was born on June 6, 1841 in Somerset County, PA, the daughter of Eli and Mary "Polly" (Younkin) Smith.
She was very young when her father died and was about four when her mother wedded a second time to Aaron Schrock.
Mary grew up in the Schrock household in Middlecreek Township, Somerset County. Circa 1860, at the age of 19, she was listed by the census-taker as a "domestic."
On Jan. 31, 1865, she married Civil War Ephraim Smith Kreegar Sr. (Aug. 22, 1842-1910), son of John "Dietrich" and Sarah (Shaulis/Shawley) Kreger, the father an immigrant from Germany. Rev. Josiah Zimmerman, an old preacher of the Evangelical Lutheran Church of New Centerville, officiated at the wedding, held in the residence of H. Kreegar in New Lexington. Among those in attendance were Mary Minder and Ephraim's cousin William S. Kregar.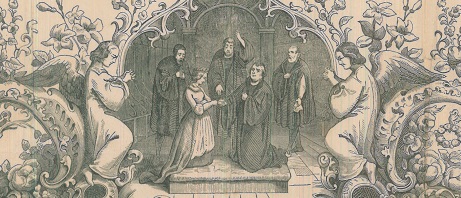 Details from the Kreegars' 1865 Lutheran marriage certificate.

National Archives.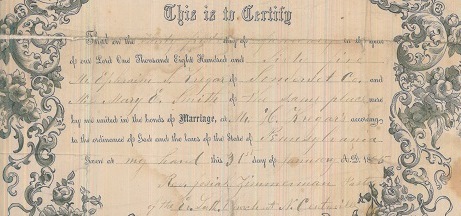 The family name also has been spelled "Craiger" and "Kreger." The couple produced at least eight children -- Norman Kreeger, Harriet Jenny Reddick, Ursina Bella Jahnig, Dora Ellen Gibson, Bessie M. Tarno, Mary E. Swartzlander, Ira Franklin "Frank" Kreeger and Ephraim Smith Kreeger Jr.
Ephraim stood 5 feet, 10 inches tall, with blue eyes, sandy hair and a fair complexion. Prior to the Civil War, in 1859, the teenage Ephraim traveled to Athens County, OH to work for his uncle Aaron Shawley performing "grubbing" -- removing trees and overgrowth. When he raised his mattock to swing, he wrote, "it was caught by a grape vine, causing the mattock to strike into my left foot, almost severing my left great toe and cutting into the second toe, and into the ball of my foot, part of the bone of the great toe was cut off."
During the Civil War, the 19-year-old Ephraim joined the Union Army at Somerset on Sept. 4, 1861. He was given the rank of private with the 54th Pennsylvania Infantry, Company C. In late August 1863, he became ill with syphilis and was treated in the regimental hospital in camp. By Sept. 26, not progressing, he was sent to the U.S. General Hospital in Cumberland, MD, where he appears to have remained until about Nov. 4. He received a discharge at Harpers Ferry, WV on Sept. 3, 1864.
The young family first made a home in a community which was laid out in 1868 as "Ursina." Ephraim is recognized as having built the first house in the town, also in 1868, and then using it as a hotel. When a daughter was born that year, she was named "Ursina" in the town's honor.
Federal census enumeration records for 1870 show the Kreger family in Ursina, where Ephraim contniued to keep the hotel. Their post office at the time was Somerfield. Making a home in their household in 1870 were 19-year-old domestic servant Nancy Younkin, 26-year-old railroad contractor Samuel R. Johnson and 19-year-old laborer Christopher Beisinger.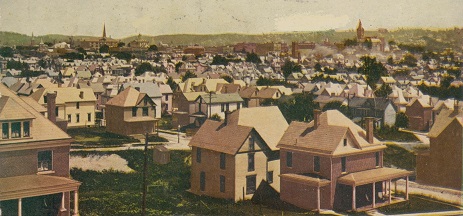 Bird's-eye view of Butler, PA, where the Kreegars moved in the 1870s
During the decade of the 1870s, the family relocated to Butler County, PA, where they made a home in Greece City, Concord Township and in 1880 Ephraim earned a living as a laborer. Then by the second day of the new year in 1881, he obtained working cutting cord wood in Warren County, PA. He was injured again, he said, "as I was splitting a block of wood, the block standing on end, the axe went through, striking the left top of my left ankle, cutting deeply into my ankle and cutting off the tendons." Dr. O.P. Pisor was called to treat him, and "found the tendons of the four lesser toes all cut off," he wrote in 1895. "The tendons never united and I find the toes have no motion."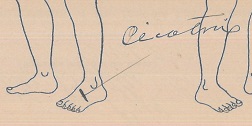 Surgeon's sketch of Ephraim's axe wound
National Archives
He also worked on local oil wells in Butler County, and was hurt one day in about 1884 when lightning struck the derrick, "tearing it to pieces, and giving me a severe shock," he recalled. "I was unconscious for three of four hours." Ever after, he experienced numbness in his legs and ankles.
In April 1892, Ephraim was awarded a military pension. [Invalid App. #1.103.523 - Cert. #848.923] He was active in veterans' affairs and a member of Butler's Veteran Legion.
Ephraim was hurt at work once more in September 1892 when cutting corn for Fred Bauer. He injured his left arm or wrist and was unable to provide labor after that.
In August 1895, Ephraim made news in the Butler Citizen when he caught three rattlesnakes in his field of oats. He placed them in large glass gars and advertised them for sale for a dollar apiece. Said the Citizen, "Last year he made $18 out of rattle snakes." While trying to bag a rattler in August 1904, he was bitten and, reported the Citizen, "has a sore hand." He also raised cattle and made money selling yearling Jersey heifers.
He also leased part of his farm in 1896 to the drilling firm of Vance, Frantz & Co. Seeking oil, the drillers hit water at the fourth sand level and deepened their efforts to the fifth level.
Ephraim once again was in the news in late May 1901 when hail storms and a cloudburst devastated local farms. At the time, he was a tenant farmer working for John Thompson, and lost a field of grain and fruit trees.
He acquired the Markel grocery store in Greece City in May 1905.
Burdened with heart valve disease, he passed away at home in Greece City on Aug. 11, 1910, just 11 days shy of his 68th birthday. Funeral services were held in the Kreegar home, attended by members of the Legion and Grand Army of the Republic. Rev. Ibach and Rev. McSherry co-officiated. Burial was in Zion Lutheran Cemetery in Chicora, Butler County. His grave was marked with a standard-issue military gravestone, but the name was misspelled "Kreegar." [Find-a-Grave]
Now widowed, Mary Elizabeth began receiving her late husband's pension. [Widow App. #948.978 - Cert. #711.950] Among those neighbors and friends providing affidavits in support of her claim were W.P. Brown of Butler and Legion member Oliver C. Redic and former Somerset County neighbors Cyrus B. Moore and John J. McMillen.
Her final years were spent living with her daughter Bessie at 237 Oak Street in Butler, Butler County, PA. Having suffered a stroke of apoplexy, she died at the age of 78 on Aug. 27, 1919. Interment was in Zion Cemetery. Daughter Bessie was the informant for the certificate of death.
When Ursina celebrated its centennial event in 1972, a story in the Meyersdale Republican acknowledged Ephraim as having built the first house in the town.
~ Son Norman B. Kregar ~
Son Norman B. Kregar (1867- ? ) was born on April 13, 1866 or May 9, 1867 in Lower Turkeyfoot Township, Somerset County. Records of his birthdate differ. In the spring of 1889, when he was age 22, he married Bella Wick ( ? - ? ), daughter of John Turner and Katherine Wick. They were the parents of Arthur Ray Kregar, Ernest L. Kregar, Bessie Kregar, Nicholas Kregar and Twila Kregar. The family dwelled in the early 1900s in Chicora, Butler County. Heartache blanketed the family twice in 1907. Bella went through a difficult labor with an infant son, and the baby asphyxiated and was stillborn. That same year, their one-year-old son Arthur was diagnosed with blindness. Tragedy followed the next year, on Aug. 31, 1908, when young Andrew received fatal burns when pulling a cloth and lighted lamp from a table. His clothing ignited, and even as his mother tried to put out the flames, both were burned, the son horifically and whose life lasted only three hours before the Angel of Death carried him away. The family grieved again in January 1913 when 19-year-old son Ernest was stricken with a cerebral abscess and died in Butler County General Hospital. Funeral services were held in the Wick home with burial taking place in Zion Cemetery. Bella must have been shaken quite deeply in December 1913 when keeping house for the John Curry family in the New Castle area. While at dinner, the 68-year-old Curry choked on a piece of meat. Bella called Curry's wife, who was blind, and was told to "beat him on the back," said the New Castle Herald. But "before either of the women could reach him, he walked across the floor to a lounge where he lay down and was dead almost immediately." Bella's residence in 1914 was in Ellwood City, Lawrence County, PA. As had his brother and brothers-in-law a few years before, Norman went to Oklahoma to work in the oilfields in the autumn of 1914. Back home, the specter of death haunted the family once more when 13-year-old daughter Bessie contracted spinal meningitis and died on Nov. 3, 1914 in the home of her uncle George Wick of Ellwood City. Funeral services were held in the Concord Township residence of the girl's grandmother Katherine Wick, led by Rev. C.E. Houk of the Concord Presbyterian Church. Her remains were placed into repose in Zion Lutheran Church Cemetery. How any parent could have sustained so much repeated emotional injury over the years without after-effects cannot be measured. What is known is that Bella sued Norman for divorce in July 1917 in Lawrence County Court. She told court officials that she had "stayed on the job for twenty years" but that in November 1909, her husband "suddenly departed since which time the two have lived apart and he has contributed nothing to her support." News of the claim was printed in the New Castle News. Clues hint that Norman may have invested more than $950 to buy four town lots in Haskell, OK. In April 1918, with World War I aflame in Europe, he was taken into custody by federal officials and brought from the oilfields into the town of Boynton. His purported crime was having "made bitter statements against the government and to have expressed the hope that Germany will win the war," said the Muskogee (OK) Daily Phoenix. "His arrival at the federal jail was greeted with jeers as 'number three of the kaiser kissers'." Later that year, in October 1918, Bella was slightly injured by a streetcar of the Harmony Car Line when crossing the tracks near Ellwood City. She "was blinded by the light of the car, being struck before she had time to get out of the way," noted the Herald. "Only the fact that the car was going so slowly saved her life."
Grandson Nicholas "Nicola" Kregar ( ? - ? ) was born in (?). In May 1906, while turning handstands, his weight broke both major bones in one of his arms. Nicola became angry at his parents in mid-July 1915 and threatened to kill them. He was arrested and found to be insane, and taken to the Dixmont Hospital for the Insane near Pittsburgh. A news story about the incident in the

New Castle Herald

referred to him as an "Italian." Apparently having recovered, he joined the U.S. Army in July 1917 as the threat of World War loomed.
~ Daughter Harriet "Jennie" (Kreger) Reddick ~
Daughter Harriet "Jennie" Kreger (1867-1915) was born on May 5, 1867 in Lower Turkeyfoot Township, Somerset County. In about June 1905, when she was 38 years of age, she married 51-year-old farmer James C. Reddick (Sept. 17, 1849-1927), son of John and Martha (Wick) Reddick. News of their marriage license application was printed in the Butler Citizen. The copule bore one known daughter, Mary J. Reddick. When the federal census was taken in 1910, the Reddicks lived on a farm along the Butler to Emlenton Road. Their home in 1915 was in Washington Township, Butler County. Sadly, suffering from cancer of the rectum for three years, she became seriously ill in the spring of 1915, described as "stomach trouble" by a local newspaper. She died at the age of 49 on Aug. 2, 1915. Her remains were lowered into repose in Concord Church Cemetery, with a brief funeral notice printed in the Citizen. James survived his wife by a dozen years. On the fateful day of Aug. 5, 1927, while on the commode at home, he suffered a stroke of apoplexy and died immediately. Interment was in Concord Cemetery.
~ Daughter Ursina Bella (Kreger) Jahnig ~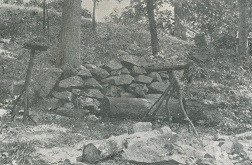 Mineral springs, Saxonburg, a local landmark.
G.W. Maurhoff, publisher
Daughter Ursina Bella Kreger (1868-1935) was born on Dec. 13, 1868, the first child to be born in the town for which she was named, Ursina, Lower Turkeyfoot Township, Somerset County. When she was a girl, she joined her family in a migration to Butler County, PA. At the age of about 17, in 1886, Ursina wedded 22-year-old German immigrant August W. Jahnig (March 14, 1863-1930), son of Carol and Christinia (Herald) Jahnig, pronounced "Yah-nig." August had emigrated from Frankenburg, Saxony, Germany at the age of about three in 1867. They became the parents of seven children, among them Charles F. Jahnig, Dora C. Jahnig, William Cleveland Jahnig, Mary Elizabeth Carter, Edna Myrtle Wetzel, Viola Magdalene Burnham and Novella Antoinette Ehrman Carrier. The family lived in rural Buffalo Township near Saxonburg, Butler County, with August making a living as a farmer and lumberman. The Jahnigs' residence in 1930 was on Water Street in Saxonburg. August was stricken with pernicious anemia in about 1929 and lingered for a year before death at age 67 on July 15, 1930. William C. Jahnig of 226 Muntz Avenue in Butler signed the death certificate. Ursina outlived her husband by five years. She suffered a cerebral hemorrhage and died in Our Lady of Woods Hospital in Donegal, Butler County on Jan. 30, 1935, at the age of 66. Burial was in Saxonburg Cemetery.
Granddaughter Dora C. Jahnig (1890-1978) was born on March 14, 1890 in Coal Hollow, Butler County. Dora was united in marital union with Michael Aventino Bartello (Feb. 4, 1886-1952). He was the son of Remigio and Barbara (Pent) Bartello and had been born in Villarforkiado, Italy. For 26 years, until Michael's death, they made a home in the 1950s in Gibsonia in rural Richland Township, Allegheny County, PA. Michael was employed as a fireman with the Baltimore and Ohio Railroad. For three decades, he suffered from emphysema and tuberculosis of the spine, and for about five years from hypertensive heart disease and hardening of the arteries. At the age of 66, on St. Patrick's Day 1952, he suffered a massive heart attack and was dead within minutes. Dora outlived her spouse by more than 25 years. She died on Oct. 30, 1978. Burial was in Mount Royal Cemetery in Glenshaw. Twila Bartello of Gibsonia signed the death certificate.
Grandson William Cleveland Jahnig (1892-1968) was born on March 11, 1892 in Coal Hollow, Butler County. In about 1924, he was joined in wedlock with Eleanor Frances Marsh (Aug. 4, 1890-1975) of Pittsburgh. Their only known daughter was Catharine Eleanor Kirk, born in 1926. Circa 1930, when William signed his father's death certificate, they made their home at 226 Muntz Avenue in Butler, Butler County. William died at the age of 76 on June 27, 1968. His remains were cremated and allegedly spread in Butler. Eleanor survived another seven years as a widow and moved to Lakeland, Polk County, FL. She died there in May 1975. Interment was in Lakeland Memorial Gardens.
Granddaughter Mary Elizabeth Jahnig (1894- ? ) was born on Jan. 12, 1894 in Coal Hollow, Butler County. Her husband was Guyon John Carter (1885-1990). They relocated to New York and dwelled in Steuben County. Mary Elizabeth was cut away by the Grim Reaper on Sept. 3, 1969, at the age of 75. Burial was in Woodlawn Cemetery in Canisteo, Steuben County.
Granddaughter Edna Myrtle Jahnig (1896-1936) was born on Sept. 3, 1896 in Coal Hollow, Butler County. She wedded Edward Christian Wetzel (1893-1940), son of Charles A. and Annie E. (Ferne) Etzel of Winfield Township, Butler County. Between 1915 and 1929, the couple produced these children -- Elizabeth Mary Young, Jeanette Delsie Montgomery, Twila Marcia Fink, Wilfred Wesley Wetzel, Leonice Verlee Cypher, Irving Edward Wetzel and Earl Leroy Wetzel. They made a residence on a farm in Cabot, Butler County. Sadly, at the age of 40, when expecting another child, Edna attempted a self-induced abortion at home. Acute heart and septicemia infections set in, she was rushed to Allegheny General Hospital, and passed away on Nov. 8, 1936. Her remains were placed into eternal repose in St. Mathews Cemetery, later part of Butler County Memorial Park and Mausoleum. Edward lived for another six years but apparently never got over his wife's senseless death. On the fateful day of April 26, 1940, suffering from poor health and melancholy, the 47-year-old Edward pointed a shotgun at his chest and pulled the trigger. Burial was at St. Mathews Cemetery, with daughter Elizabeth Young of Sarver providing details for the death certificate.
Granddaughter Viola Magdalene Jahnig (1903- ? ) was born in about 1903 in Cabot, Butler County. As a young woman, she resided in Edinboro, Erie County, PA and pursued teaching as her occupation. On Aug. 24, 1943, when she was age 41, she was united in holy wedlock with 56-year-old George Burnham ( ? - ? ), a native of Bergen Point, NJ and the son of Gillis Payne and Ada V. (Sharp) Burnham. The nuptials were held in Edinboro, with justice of the peace I.R. St. John officiating. At the time, George was a salesman in Pittsburgh and resided at 2106 Fifth Avenue.
Granddaughter Novella Antoinette Jahnig (1910-1971) was born on June 7, 1910. At the age of 15, she is believed to have married Paul J. Ehrman (1907-1962). In the short time they were wedded, they produced a son and daughter, Vernon Ehrman and Pauline N. "Paula" Dent. The couple divorced within a few years, and Novella and the children lived beside her parents in Saxonburg in 1930 when the U.S. Census was taken. Former husband Paul Ehrman married a second time and produced three more children. Later, Novella wedded a second time to Theodore Roosevelt Carrier ( ? - ? ). They relocated to Cambridge Springs, Crawford County, PA. Sadly, Theodore succumbed in Oct. 1966 at the age of 58. Novella survived him by five years. She passed away at the age of 60 on April 17, 1971. Burial was in Skeltontown Cemetery in Crawford County. Daughter Pauline (1928-1981) married (?) Dent.
~ Daughter Dora Ellen (Kreger) Gibson ~
Daughter Dora Ellen Kreger (1873-1928) was born on Sept. 13, 1873. She was united in holy matrimony with Martin "Luther" Gibson (Oct. 14, 1858-1926), son of David and Mary (Smith) Gibson and a native of Washington Township, Butler County. Luther made a living as a laborer. Their home in the mid-1920s was at 331 Mercer Street in Butler. Sadly, while bearing gangrene of his right foot, Martin underwent surgery on Feb. 1, 1926. Just three days later, post-surgery, he was stricken with a brain embolism and passed into eternity at the age of 67 on Feb. 4, 1926. Burial was in South Side Cemetery. She died three days after Christmas 1928. Her remains rest in Butler County Memorial Park and Mausoleum.
~ Daughter Bessie M. (Kreger) Tarno ~
Daughter Bessie M. Kreger (1876-1939) was born on March 27, 1876 in Butler County. She was joined in wedlock with Ammon Aaron Tarno (1877-1957). They produced two children -- Merle "Lee" Tarno and Helen Mary Harrison. Their home in the 1930s was with their son Lee at 1005 Center Avenue in Butler, Butler County. Afflicted with inflammation of the lining of her arteries, she underwent amputation of her left leg in late November 1939. Post-surgery, she is believed to have suffered a pulmonary embolism and died at the age of 63 on Dec. 2, 1939. Son Lee signed her death certificate. Burial was in North Cemetery in Butler.
Grandson

Merle "Lee" Tarno

(1902-1984) was born in 1902.
Granddaughter Helen Mary Tarno (1904-1926) was born on Valentine's Day 1904. She wedded Joseph L. Harrison

( ? - ? ). The young couple lived at 134 South Main Street. At the age of 22, suffering from a host of ailments, she died suddenly on Sept. 18, 1926 in Butler. Her death certificate listed the causes of death as dilitation of the right portion of her heart, fluid buildup of the lungs, hemorrhaging and acute pneumonia. Interment was in North Side Cemetery.
~ Daughter Mary E. (Kreger) Swartzlander ~
Daughter Mary E. Kreger (1878- ? ) was born on May 3, 1878. If her middle name was Edna, she was joined in wedlock on New Year's Eve 1900 with Philip Swartzlander ( ? - ? ). A short article about the wedding, in the Butler Citizen, called him "a young tool dresser of Chicora." Philip is known to have worked as an oil driller on the farm of Josiah Byers of Modoc. Byers brought a lawsuit against Philip circa 1907 for "throwing steel and pieces of broken tools into a well drilling on Byers' farm, with the result that the tools were stuck and lost," reported the Butler Citizen. The case ended when Byers could not pay court costs. In the winter of 1909, Philip and his brothers-in-law Ammon Tarno and Ephraim S. Kregar Jr. went to Oklahoma to work in the oilfields.
~ Son Ira Franklin "Frank" Kregar ~
Son Ira Franklin "Frank" Kregar (1881-1953) was born on Jan. 23 or 26, 1881 in Greece City, Concord Township, Butler County. He was a longtime farmer. Ira married Alberta Hannah "Bertha" Elliott (Jan. 22, 1878-1958), daughter of John Addison and Isabella "Belle" (Michael) Elliott. In the early 1950s, they lived on a farm in rural Oakland Township, Butler County, along Route 38. Bertha became an invalid in about 1928 and remained so for the last 30 years of her life. Among her sufferings were gangrene of the left foot and multiple ulcers. At the age of 72, three days before Christmas 1953, while working on a roadway project seven miles north of the county seat of Butler, Frank was felled by a heart attack, collapsed and died. His remains rest for all time in Zion Cemetery in Concord Township. Bertha lived for another five years and succumbed on May 29, 1958.
~ Son Ephraim Smith Kregar Jr. ~
Son Ephraim Smith Kregar Jr. (1884-1933) was born on March 23, 1884 in Butler County. He was twice married. His first bride was Nettie Louise Voland Osterling ( ? - ? ), who were wedded on May 22, 1905. In the winter of 1909, he secured employment in the oil fields of Oklahoma along with brothers in law Ammon Tarno and Phil Swartzlander. Reported the Butler Citizen, "Their families will join them in about a month." In a twist, Nettie filed for divorce in August 1911, and it was granted the following month. Later, he wedded Marie Gierke ( ? - ? ). They made a home in Erie, Erie County, PA, where Ephraim was employed as a streetcar conductor. They went on to produce a son, Richard Alfred Kregar, who sadly died of heart valve disease and endocarditis at the age of 14 on Valentine's Day 1927. At the age of 49, Ephraim suffered heart failure and died on Aug. 19, 1933 in Erie. Burial was in North East Cemetery in Erie County.
Copyright © 2016-2019 Mark A. Miner
Research for this page graciously shared by the late Olive (Rowan) Duff and the late Donna (Younkin) Logan.