Charlotte 'Lottie' (Turner) McMillan
(1881-1906)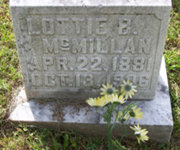 Bryner Ridge Cemetery

Courtesy Brenda (Turner) Blake
Charlotte "Lottie" (Turner) McMillan was born on April 21 (or 22), 1881 in Wharton Township, Fayette County, PA, the daughter of George Washington and Mary Frances (White) Turner.
History's scant paper trail records her in 1900 at age 19, making her home with her parents at the time of the federal census. That year, she was employed as a "laborer."
On Christmas Eve 1902, at the age of 21, Lottie and 27-year-old John McMillan (1875- ? ) united themselves in marriage. He was the son of Robert and Lucy McMillan, and was born in Allegheny County, PA. At the time of marriage, John was a laborer living in Stewart Township.
They made their home near Farmington, and John made his business calls in Ohiopyle.
Double tragedy struck this young family in the autumn of 1906. Struggling with a pregnancy, Lottie gave birth on Oct. 13, 1906 to a stillborn baby, gender unknown. Lottie herself died the same day, at the age of 25 years, six months. She was buried with the baby in her arms in the Bryner Ridge Cemetery near Ohiopyle, where her mother and other relatives already were at eternal rest.
Dr. H.Y. Brady of Ohio Pyle, who attended the dying patient, later wrote grimly that the cause of death was "Inertia of uterus causes by over distention and other complications. Feotus removed by forceps, inversion of uterus requiring amputation. Had been sick from Friday 5th of October."
Any other details of their lives are lost in the misty haze of the past.
John's fate is unknown. More will be reported here when learned.
Copyright © 2003-2004, 2006-2007, 2009-2010 Mark A. Miner
Grave marker photo courtesy of Brenda (Turner) Blake, which also is posted on the Find-A-Grave webpages for Bryer Ridge Cemetery