Frank George Turner
(1884-1946)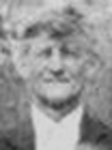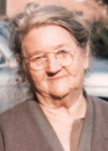 Frank and Bertha
Frank George Turner was born in 1885 in Fayette County, PA, the son of George Washington and Mary Frances (White) Turner.
Frank married Bertha Ann Lee (1890-1985).
They resided on Jacobs Creek Road in South Huntington Township, Westmoreland County. Circa 1918, when he registered for the federal draft during World War I, he was employed by the Strawn-Blaney Coal Company of Allenport, PA. Later, in the 1940s, they lived at Ohiopyle.
The Turners had at least 11 children -- Mary Louise Dean Shipley, Warren Frank Turner, Leah Bernadine Turner, Dora Lotta Turner, Kenneth G. Turner, Harold E. Turner, David G. Turner, Verna Wise, Mabel Ridley, Ruth Cutright and Nancy Johnson.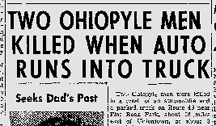 Connellsville Daily Courier, 1946
Sadly, two daughters died in infancy. Dora Lotta, afflicted with whooping cough, but with no physician in attendance, passed on Feb. 25, 1910, at the tender age of 27 days. Leah Bernadine died in 1935.
Tragedy struck twice in 1946 -- first in October, when married daughter Mary Louise Dean Shipley died, leaving her three young sons as orphans. The boys were taken into Frank and Bertha's home to raise.
The second horrible event of that year was when Frank himself was killed when the automobile in which he was a passenger collided with a truck the day before Christmas Eve 1946. The accident occurred on U.S. Route 40 near Flint Rock Park, east of Uniontown, and made front-page headlines in the Connellsville Daily Courier. He was laid to rest at Bryner Ridge Cemetery, along the Farmington-Ohiopyle Road.
Bertha outlived her husband by almost four decades.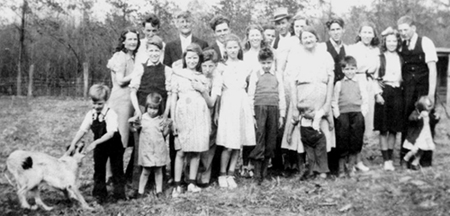 Circa 1943-- back row, l-r: Mary & Gene Shipley, Frank Turner, Bill & Verna Wise, Toots & Warren Turner, Dot & Harold Turner, Mabel Ridley, Hannah & Kenneth Turner. Middle, l-r: Frank Dean, Nancy Johnson, Dave Turner, Corky, Vincent Dean, Bertha Turner, Eddie Dean. Front: Gerald, Ruth, Paul, Dottie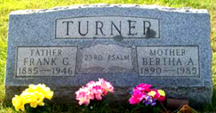 Bryner Ridge Cemetery

Grandchildren remember fondly that she always had homemade bread and gravy ready for visitors anytime they came. The Uniontown newspaper said she "was a life long resident of the area. She was a homemaker and was a member of the Lemont United Methodist Church."

Bertha passed away on July 7, 1985, at the age of 95. She was interred beside her husband, and the words "23rd Psalm" were inscribed on the face of their grave marker.

~ Daughter Mary Louise (Turner) Dean ~

Daughter Mary Louise Turner (1907-1946) was born in 1907.

She married Charles William Dean Sr. (1900-1933), the son of Warren McEwen and Bessie (McNutt) Dean Sr.

The Deans had five sons -- Charles William Dean Jr., David Lewis Dean, Frank Warren Dean, Vincent Dean and Edward Dean.

See their linked biography for more detail.

Warren Turner
~ Son Warren Frank Turner ~
Son Warren Frank Turner (1911-1992) was born in 1911.
He married Naomi Shaeffer (1915-1965). They resided in Ohiopyle, Fayette County.
Warren died in 1992 at the age of 81.
~ Son Harold E. Turner ~
Son Harold E. Turner (1914-1983) was born in 1914.
He married Dorothy Litten (1920-2006) and Mary Sims. They made their home primarily in the coal mine patch town of Republic, Fayette County, and later for a short time in Ambridge, Beaver County, PA.
Harold died in 1983.
~ Daughter Verna J. (Turner) Wise ~
Daughter Verna J. Turner married Clarence William Wise (1918-1992).
They lived in Lemont Furnace/Cove Run, Fayette County.
Clarence passed away in 1992 at the age of 74.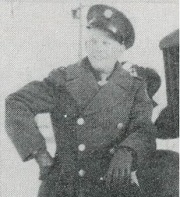 Kenneth, World War II
~ Son Kenneth George Turner ~
Son Kenneth George Turner (1921-2007) was born in 1921.
He graduated from Ohiopyle High School and served in the U.S. Army during World War II. He was pictured in uniform in the high school's 1946 yearbook, The Ohiopylean, in a page devoted to "Our Servicemen." An original copy is preserved in the Minerd.com Archives.
After the war, Kenneth lived in Ohiopyle and Hopwood, Fayette County, and was married five times -- to Hannah Thorpe (1924-1992), Zelda Provance (1925-2005), Mamie Iseley (1915-1982), Dorothy Currin and Thelma Luckey.
Kenneth also served in the Army during the Korean War and Vietnam War. In January 1950, he received an Army commendation "for outstanding performance of duty as a military escort in the program of returning war dead," said a local newspaper. "The commendation was in recognition of Sgt. Turner's service in escorting the remains of American servicemen who died overseas and whose bodies have been returned here for final burial... Turner and other trained military escorts accompany each deceased serviceman from New York to the place of final burial selected by next of kin. After contacting the family on arriving at the serviceman's home town, the escorting soldier offers his services and presents the country's flag to the next of kin at the conclusion of the graveside service." He retired from the Army at the end of 1971 with the rank of command sergeant major.
He died on May 10, 2007, just a week after his 86th birthday.
~ Daughter Mabel (Turner) Ridley ~
Daughter Mabel Turner married Arnold Ridley (1925-1992).
As a young woman, Mabel lived in Fairmont, Marion County, WV. Later, after marriage, she and Arnold resided in Lemont Furnace, across the street from his mother and married sister Verna Wise.
~ Daughter Ruth "Corkie" (Turner) Cutright ~
Daughter Ruth "Corkie" Turner (1924-1981) was born in 1924.
She married Richard Cutright (1924-1990).
Their residence was in Fairmont.
~ Son David G. Turner ~
Son David G. Turner (1928-2013) was born on Feb. 20, 1928 in Ohiopyle.
He married Margaret Ann Van Swearingen (1925-2002). They made their home in Uniontown, Fayette County.
Margaret died at the age of 77 on June 7, 2002.
David outlived his wife by almost 11 years He passed away at the age of 85 on April 15, 2013.
~ Daughter Nancy M. (Turner) Johnson ~
Daughter Nancy M. Turner married Theodore Clark Johnson.
They have lived in Newport News, VA, most of their married life together.
Copyright © 2003-2004, 2006-2007, 2009-2010, 2015 Mark A. Miner
Portraits and grave marker photos courtesy of Brenda (Turner) Blake. Also see the Find-A-Grave webpages for Bryer Ridge Cemetery