Ulysses Simpson 'Grant' Turner
(1869-1948)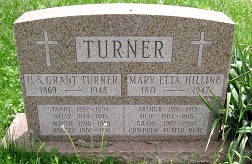 Family grave for 10 individuals at Percy
Ulysses Simpson "Grant" Turner was born on May 29, 1869 in Farmington, Wharton Township, Fayette County, PA, the son of George Washington and Mary Frances (White) Turner. He entered this world just four years after the Civil War ended, and was named for famed Union Army General Ulysses Simpson "U.S." Grant.
As a young man, Grant was a laborer, and lived in Stewart Township.
Grant married Mary Etta Hilling (Aug. 16, 1871-1947), the daughter of Nelson and Catherine (Inks) Hilling. The ceremony took place on Nov. 26, 1891, when Grant was age 22 and Mary Etta 20. Justice of the peace R.S. McCrum performed the ceremony at Ohio Pyle.
They resided in Mt. Braddock, Fayette County for four decades, where Grant earned a living as a mechanic. In an interesting twist, Grant's cousin Della Firestone was married to Mary Etta's brother, William T. Hilling.
Grant and Mary produced seven children -- of whom only two survived into adulthood, Maude Hartzell and Grant Turner Jr. -- three lived only into their teens -- and the rest died as toddlers. The unfortunate toddlers were Fanny Turner (1892-1894) and Nelly Turner (1894-1896). The teens were Robert Finley Turner (1900-1918), Arthur Turner (1901-1918) and Ocie Ollie Turner (1904-1918), all three of whom died in the fateful year 1918.
Further heartache visited the family in the dead of winter 1918, when 16-year-old son Arthur was critically injured in a coal mining accident and died Feb. 22, 2918. Then, seven months later, with an epidemic of influenza sweeping the nation, 19-year-old son Robert and 14-year-old daughter Ocie contracted influenza and bronchial pneumonia. Both quickly succumbed, he on Nov. 8, and she on Nov. 11, 1918. In reporting on Robert's death, the Daily Courier noted that "Mt. Braddock Stricken: Five deaths from influenza and pneumonia were reported [today]."
Circa 1946, when two of Grant's brothers died in separate events, Grant was named in the Connellsville Daily Courier and Uniontown newspaper obituaries. The couple's home during that era remained in Mt. Braddock.
Mary Etta was burdened in her final years with hardening of the arteries and heart failure. Having contracted pneumonia, she died on March 25, 1947, "after a lingering illness," reported the Daily Courier.
Grant followed her to the grave a year later, having suffered from heart disease and hardening of the arteries. The Angel of Death swept him away at the age of 79 on Sept. 23, 1948. 1948. His remains were laid to rest in the Fairview Cemetery at Percy near Uniontown. Daughter-in-law Alice Turner of Mt. Braddock signed the official Pennsylvania certificate of death for her father, but was unable to furnish the names of his parents.
For such a small graveyard, the cemetery at Percy contains the final resting places of several diverse branches of the family. Among these are Catherine (Minerd) Nesmith Dean, Frank and Margaret (Kilgore) Minerd and young children; and William H. Minerd, killed in an industrial explosion in 1884, the first known -- but not the last -- tragic demise in the mining and metals industries.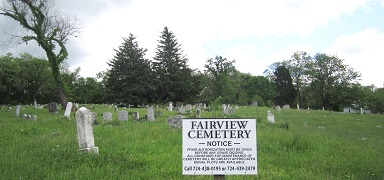 Fairview Cemetery in Percy, where the Turners rest together
~ Son Arthur Turner ~
Son Arthur Turner (1901-1918) was born on Christmas Eve 1901.
At the age of 16, in the winter of 1918, he was employed as a coal mine laborer at Mount Braddock.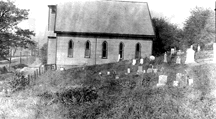 Church and burying ground at Percy
In the dead of winter 1918, on Feb. 19, 1918, Arthur was "injured in the mines at Mount Braddock," said the Connellsville Daily Courier. He contracted an infection of meningitis in his blood stream, leading to periostitis (an inflammation of tissues surrounding the bone).
After suffering for five days, he died in nearby Dunbar Township on Feb. 22, 2918. The Daily Courier said that following a funeral at the church at Percy, the "funeral party will leave Mount Braddock on a special street car."
He was laid to rest in the family plot at Fairview Cemetery in Percy, near Uniontown. Arthur is one of far too many cousins in the extended family to lose their lives in workplace accidents in the mining and metals industries.
~ Son Grant Turner Jr. ~
Son Grant Turner Jr. (1907-1980) was born in 1907.
At the age of 19 or 20, on Feb. 17, 1927, he was joined in wedlock with Genevieve Arison of Allison, Fayette County. Justice of the peace Clyde B. Miller officiated the wedding held in Uniontown.
The couple made a home in the patch town of Clyde No. 1 coal mine at Fredericktown, Washington County. The newlyweds' union was troubled, and on Oct. 9, 1927, while Grant was away at work, Genevieve moved out. She relocated to Toledo, OH. Grant sued for divorce, citing "wilful and malicious deserton," and it was granted in late 1930 or early 1931.
Grant is believed to have married again circa 1931 to Alice Louise Gildroy (March 9[?]- ? ) of Dunbar. News of their marriage license was printed in the Connellsville Daily Courier.
The couple bore four known offspring -- Robert Charles "Red" Turner, Mary Lou Bates, Ruth Sumey and Thomas Turner.
Grant and Alice eventually separated, with Grant relocating to the Pacific Northwest. They divorced in December 1944..
Alice married again to Frank DeVault ( ? -1975), son of James and Sally (Hilling) DeVault. The DeVaults were in Markleysburg, Fayette County in 1973. Frank died at the age of 84, in Spear's Convalescent Home, on July 13, 1975. Funeral services were held in the Farmington Free Methodist Church, led by Rev. Carl Gales and Rev. Frances Kezmarsky, with burial in Samson Chapel Cemetery in Farmington.
Grant resided in Tacoma, WA in the mid-1940s and in Seattle in 1973.
Grant died in 1980. His remains were placed at rest at the Fairview Cemetery in Percy, near Uniontown, with his parents and five younger siblings.
Son Robert Charles "Red" Turner ( ? - ? ) ws born on Oct. 18 (?). On Sept. 15, (?), he married Beverly Spear ( ? - ? ), daughter of John Spear of Markleysburg, Fayette County. The couple is known to have been in Markleysburg circa 1973. They produced a family of six known offspring -- Jerry Turner, Diane Lucy, Rusty Turner, Rodney Turner, Craig Turner and Bradley Turner.
Granddaughter Diana Turner (1960- ? ) was born in about 1960. She married Timothy Lucy, son of Frank Lucy. Timothy earned a living with Frantz Construction Company of Hopwood. They lived at 79 Bierer Avenue in Uniontown in 1977. At least one son was born to this union, Timothy Aaron Lucy.
Daughter Mary Lou Turner ( ? - ? ) - she wedded (?) Bates. In 1974, the Bateses were in Altoona, PA and in 1975 in Zeigler, IL.
Daughter Ruth Turner ( ? - ? ) - she was joined in wedlock with (?) Sumey. They relocated to Illinois and in 1975 dwelled in West Frankford, IL.
Son Thomas "Tom" Turner ( ? - ? ) moved across the state line and lived in Bruceton Mills, WV.
~ Daughter Maude (Turner) Hartzell ~
Daughter Maude Turner (1896-1989) was born in 1896.
She married Milton Hartzell ( ? - ? ), a civil engineer.
The Hartzells moved to Fayetteville, Franklin County, PA.
They were the parents of three children -- George Turner Hartzell, Ida Mary Kistler (1921- ? ) and Mary Ellen Moyle (1924- ? ).
Maude died in 1989, at the age of 93. She rests for eternity in the family plot at the Fairview Cemetery at Percy.
Son George Turner Hartzell (1920- ? ) resided in Fayetteville and worked there for a construction company. In 1977, he published a 124-page book, A Book of Life, regarding the genealogy of the Hartzell, Hertzel, Hirtzel and Hirzel families. His work has been cited in other research studies, among them Ancestors and Descendants of James Vincent Hartzell et. al., authored by Marlyn Hartzell Dalsimer.
Daughter Ida Mary Hartzell (1921- ? ) was born in 1921. She married (?) Kistler.
Daughter Mary Ellen (1924- ? ) was born in 1924. She wedded (?) Moyle.
Copyright © 2003-2004, 2006-2007, 2009-2010, 2014 Mark A. Miner