Ulysses Simpson 'Grant' Turner
(1869-1948)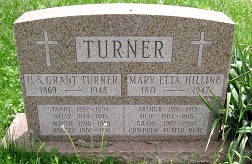 Family grave for 10 individuals at Percy
Ulysses Simpson "Grant" Turner was born on May 29, 1869 in Farmington, Wharton Township, Fayette County, PA, the son of George Washington and Mary Frances (White) Turner.
He entered this world just four years after the Civil War ended, and was named for famed Union Army General Ulysses Simpson "U.S." Grant.
As a young man, Grant was a laborer, and lived in Stewart Township.
Grant was united in the bonds of matrimony with Mary Etta Hilling (Aug. 16, 1871-1947), the daughter of Nelson and Catherine (Inks) Hilling. The ceremony took place on Nov. 26, 1891, when Grant was age 22 and Mary Etta 20. Justice of the peace R.S. McCrum performed the ceremony at Ohio Pyle.
They resided in Mt. Braddock, Fayette County for four decades, where Grant earned a living as a mechanic. In an interesting twist, Grant's cousin Della Firestone was married to Mary Etta's brother, William T. Hilling.
Grant and Mary produced seven children -- of whom only two survived into adulthood, Maude Hartzell and Grant Turner Jr. -- three lived only into their teens -- and the rest died as toddlers. The unfortunate toddlers were Fanny Turner (1892-1894) and Nelly Turner (1894-1896), who fell victim to diphtheria. The teens were Robert Finley Turner (1900-1918), Arthur Turner (1901-1918) and Ocie Ollie Turner (1904-1918), all three in the fateful year 1918.
Further heartache visited the family in the dead of winter 1918, when 16-year-old son Arthur was critically injured in a coal mining accident and died Feb. 22, 2918. Then, seven months later, with an epidemic of influenza sweeping the nation, 19-year-old son Robert and 14-year-old daughter Ocie contracted influenza and bronchial pneumonia. Both quickly succumbed, he on Nov. 8, and she on Nov. 11, 1918. In reporting on Robert's death, the Daily Courier noted that "Mt. Braddock Stricken: Five deaths from influenza and pneumonia were reported [today]."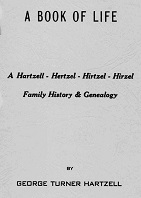 A Book of Life
by Grant's grandson

Grant was described thus in the 1977 volume A Book of Life by grandson George Turner Hartzell:
He was an accomplished man, a true survivor. He was knowledgeable about herbs and folk medicine; he was a shoemaker, coal miner, fiddler, farmer, woodsman and at times a hard drinker. He was a huge manand my recollections of him are few but I do remember him taking me out into the mountain and feeding me "Sarvice" berries also known as Shadbush.
Continuing in his book, the grandson wrote of Mary Etta:
She had flaming red hair... She left her mark on my generation -- I am the redhead. But my family and each of my sisters' families also have a titan-haired daughter to trace back to their great grandmother.
In 1930, U.S. Census records show Grant and Mary Etta residing near Uniontown, with their married-but-separated son Grant Jr. also in the household. Grant Sr. worked that year as a machinist in a coal works and son Grant as a coke yard laborer.
Circa 1946, when two of Grant's brothers died in separate events, Grant was named in the Connellsville Daily Courier and Uniontown newspaper obituaries. The couple's home during that era remained in Mt. Braddock.
Mary Etta was burdened in her final years with hardening of the arteries and heart failure. Having contracted pneumonia, she died on March 25, 1947, "after a lingering illness," reported the Daily Courier.
Grant followed her to the grave a year later, having suffered from heart disease and hardening of the arteries. The Angel of Death swept him away at the age of 79 on Sept. 23, 1948. His remains were laid to rest in the Fairview Cemetery at Percy near Uniontown. Daughter-in-law Alice Turner of Mt. Braddock signed the official Pennsylvania certificate of death for her father, but was unable to furnish the names of his parents.
For such a small graveyard, the cemetery at Percy contains the final resting places of several diverse branches of the family. Among these are Catherine (Minerd) Nesmith Dean, Frank and Margaret (Kilgore) Minerd and young children; Forward Ream Nicklow; Squire and Dianna (Nicklow) Shipley; John Wesley Kooser; Elmer and Dorothy Pearl (Hall) Hawk; and William H. Minerd, killed in an industrial explosion in 1884, the first known -- but not the last -- tragic demise in the mining and metals industries.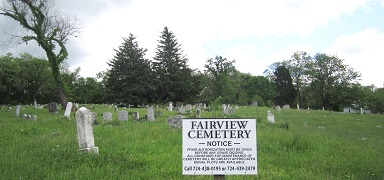 Fairview Cemetery in Percy, where the Turners rest together
~ Son Arthur Turner ~
Son Arthur Turner (1901-1918) was born on Christmas Eve 1901.
At the age of 16, in the winter of 1918, he was employed as a coal mine laborer at Mount Braddock.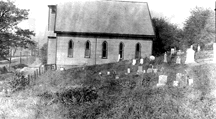 Church and burying ground at Percy
In the dead of winter 1918, on Feb. 19, 1918, Arthur was "injured in the mines at Mount Braddock," said the Connellsville Daily Courier. He contracted an infection of meningitis in his blood stream, leading to periostitis (an inflammation of tissues surrounding the bone). Another source, A Book of Life authored by a nephew, said that Arthur had "died as a result of an infection due to an injury during haymaking."
After suffering for five days, he died in nearby Dunbar Township on Feb. 22, 2918. The Daily Courier said that following a funeral at the church at Percy, the "funeral party will leave Mount Braddock on a special street car."
He was laid to rest in the family plot at Fairview Cemetery in Percy, near Uniontown. Arthur is one of far too many cousins in the extended family to lose their lives in workplace accidents in the mining and metals industries.
~ Son Grant Thomas Turner Sr. ~
Son Grant Thomas Turner Sr. (1907-1980) was born on July 1, 1907 in Mt. Braddock. He inherited his mother's red hair.
At the age of 19 or 20, on Feb. 17, 1927, he was joined in wedlock with Genevieve Arison (1910- ? ) of Allison, Fayette County. Justice of the peace Clyde B. Miller officiated the wedding held in Uniontown.
The couple made a home in the patch town of Clyde No. 1 coal mine at Fredericktown, Washington County. The newlyweds' union was troubled, and on Oct. 9, 1927, while Grant was away at work, Genevieve moved out. She relocated to Toledo, OH. Grant sued for divorce, citing "wilful and malicious deserton," and it was granted in late 1930 or early 1931.
Grant moved back into his parents' home as shown by the 1930 federal census, working as a laborer in a coke yard..
He is believed to have married again circa 1931 to Alice Louise Gildroy (March 9, 1907-1979), daugher of John and Elizabeth "Bessie" (Adenhart) Gildroy of Dunbar. News of their marriage license was printed in the Connellsville Daily Courier.
The couple bore four known offspring -- Grant Thomas Turner Jr., Robert Charles "Red" Turner, Mary Lou Bates and Ruth Sumey .
During the Great Depression, George was invited to move to Chambersburg, PA to work on the farm at Back Creek owned by his brother-in-law Milton Hartzell. After a time Grant became disenchanted and quit and moved back home. It's rumored that one of his sources of irritation was an ornery horse of which Grant was afraid.
Grant and Alice eventually separated with a divorce forthcoming in December 1944. Grant then relocated to Oregon, where he obtained work as an airplane factory foreman.
Alice married again to Frank DeVault ( ? -1975), son of James and Sally (Hilling) DeVault. The DeVaults were in Markleysburg, Fayette County in 1973. Frank died at the age of 84, in Spear's Convalescent Home, on July 13, 1975. Funeral services were held in the Farmington Free Methodist Church, led by Rev. Carl Gales and Rev. Frances Kezmarsky, with burial in Samson Chapel Cemetery in Farmington.
Grant resided in Tacoma, WA in the mid-1940s and in Seattle in 1950-1973. He wed a third time to Ruth (1909-1976). The federal census enumeration of 1950 shows the pair in King County near Seattle, with Grant working as a sheet metal mechanic for an aircraft company and Ruth as a saleslady in a variety store. He retired from Boeing Aircraft Company.
Together, they bore a son, Clarence "Jack" Turner.
Ruth was stricken with cancer and passed away on July 25, 1976. Grant remained in Seattle for the next three-and-a-half years.
Former wife Alice moved from Markleysburg to the home of her daughter Mary Lou in Zeigler, IL. There, she surrendered to the angels at the age of 72 on Sept. 16, 1979. Her obituary also was published in the Carbondale Southern Illinoisan.
Grant relocated from Seattle and spent his final three months in Zeigler, Franklin County, IL, where his daughters Mary Lou and Ruth were living. At the age of 72, he died on May 24, 1980, as a patient in Franklin Hospital in Betnon, IL. He is buried either in the Zeigler Cemetery or in Fairview Cemetery near Uniontown with his parents and five younger siblings. An obituary was printed in the Southern Illinoisan.
Son Grant Thomas "Tom" Turner Jr. (1934- ? ) was born on Feb. 19, 1934 and grew up in Mt. Braddock. At his seventh birthday, he was pictured in the Uniontown Morning Herald. On May 20, 1959, at age 25, he entered into marital union with Nancy Nell Clevenger ( ? - ? ), daughter of Melvin C. and Evelyn (Tetrick) Clevenger of Harnedsville, Somerset County of the family of Benjamin Franklin "Badger" and Emily (Younkin) Clevenger. The wedding was held in the Asher Glade Church of the Brethren, by the hand of Rev. Joseph A. Lewis, and announced on the pages of the Uniontown Morning Herald. The couple appears to have divorced, with Thomas moving across the state line and in 1979 living n Bruceton Mills, WV, and Nancy marrying by 1981 to (?) Rice and dwelling in Uniontown. Sadly, Thomas was deceased by 2001.
Son Robert Charles "Red" Turner (1935-2001) was born on Oct. 18, 1935 in Mt. Braddock. On Sept. 15, (?), he married Beverly Spear ( ? - ? ), daughter of John and Bessie Spear of Markleysburg, Fayette County. Their marriage endured for 45 years until cleaved apart by death. The couple is known to have been in Markleysburg circa 1973-2001. They produced a family of six known offspring -- John R. "Rusty" Turner, Diane Lucy, Gerald E. "Jerry" Turner, Rodney Turner, Craig Turner and Bradley Turner. Together, they owned Spear Convalescent Home among many other sources of income. The family belonged to the New Life Covenant Church of God, and he helped to found the Markleysburg Henry Clay Volunteer Fire Department. Reported the Somerset Daily American, Charles was the "owner of the C.R. Turner Trucking Co. and Turner Farms. He was known for his talent of looming toboggans for children throughout the world. He was associated with the Turner Funeral Home and was instrumental in the operation of funeral homes in [Pennsylvania] and [West Virginia]. He was employed many years ago by the Ralph Glisan Lumber Co. and the Glisan's service station. He was also employed by the Arnold Fike and Jess Maust Construction companies for many years." When time allowed, he liked to golf and be out-of-doors. Sadly, Charles died at the age of 66 on Dec. 11, 2001. He was survived by 10 grandchildren. The funeral service, held in the family church, was jointly led by Rev. Wesley Duncan and Rev. Jerry Steele. His remains were laid to rest in Sylvan Heights Cemetery near Uniontown. An obituary was printed in the Daily American and Cumberland (MD) Times.
Granddaughter Diana Turner (1960- ? ) was born in about 1960. She married Timothy Lucy ( ? - ? ), son of Frank Lucy. Timothy earned a living with Frantz Construction Company of Hopwood. They lived at 79 Bierer Avenue in Uniontown in 1977. At least one son was born to this union, Timothy Aaron Lucy. Diana lived in Brownsville in 2001 and was a companion of John (?).
Grandson Gerald E. "Jerry" Turner (1963- ? ) was born in about 1963. He entered into marriage with Wanda Dennis ( ? - ? ), daughter of Richard E. and Lucille (Spaw) Dennis. Their home in 2001 was in Markleysburg.
Grandson Rodney S. Turner (1965- ? ) was born in about 1965. At his birthdays in childhood, he was pictured in the Uniontown Evening Standard. He tied the knot with Beverly K. ( ? - ? ) and dwelled in Markleysburg.
Daughter Mary Lou Turner ( ? - ? ) - she wedded (?) Bates. In 1974, the Bateses were in Altoona, PA and in 1975-2001 in Zeigler, IL at the address of 204 Orchard Street..
Daughter Ruth Turner ( ? - ? ) - she was joined in wedlock with Stanley Sumey ( ? - ? ). One known son of the couple was Douglas L. Sumey. They relocated to Illinois and in 1975 dwelled in West Frankford, IL and in 1980 in Zeigler, IL. By 2001, she had returned to her native region and put down roots in Markleysburg.
Grandson Douglas L. Sumey was a 1982 graduate of Zeigler-Royalton High School. Circa 1983, he was a private with the Army National Guard at Fort Benning.
Son Clarence John "Jack" Turner ( ? - ? ) lived in Seattle in 1980.
~ Daughter Maude (Turner) Hartzell ~
Daughter Maude Turner (1896-1989) was born on Nov. 30, 1896 in Fayette County.
She married civil engineer Milton Brindle Hartzell (June 12, 1889-1949), son of Dr. Charles Augustus and Ida (Brindle) Hartzell of Fayetteville, Franklin County, PA.
The Hartzells lived in or near Washington, PA in 1920 at the birth of their eldest son. Later they put down roots in Fayetteville.
They were the parents of three children -- George Turner Hartzell, Ida Mary Kistler and Jane Ellen Moyle.
Maude was said to have had a "strong moral fiber" and to have been strongly opposed to alcohol consumption. At the age of about 30, she underwent a mastoid surgery. Her only other major health issue was cancer of the uterus which she overcame after surgery at age 75.
Maude and Milton are known to have received a letter in 1920 from her grandfather, George Washington Turner, in which he mentioned wanting to see their newborn son, and his namesake, George.
In a 1977 memoir, A Book of Life, their son George wrote this of his mother:
Her life it would seem was uneventful, perhaps because we are very close. She did all the mundane things necessary to running a family. She is an excellent cook and loves to do it. Her home is always filled with exotic plants and flowers which she is forever "starting" and giving to someone else. Even today at 81 years she does her own gardening and lawn mowing. She makes dolls, stuff animals, wall decorations, "apple" dolls, and a list of other items which she sells but mostly gives away to her host of grandchildren and great grandchildren.
Milton received his degree from Lehigh University. Circa April 1913, he is known to have traveled to Montana to provide civil engineering services to the U.S. Reclamation Service. Then circa 1924, he became employed by the Pennsylvania Department of Highways, forerunner to today's PennDOT, and worked there for 25 years. The family belonged to St. Paul Lutheran Church, Mechanicsburg.
He grew heavy ("portly") in his office work. After leaving the highways department, he took a job with the Baltimore and Ohio Railroad in Philadelphia, where they dwelled in an apartment. While with the B&O, wrote their son, he engaged in "field work" which likely "overtaxed his cardiovascular system" and in 1943 suffered a stroke. The incident did not leave him paralyzed but rather "with many phobias and his mind was not at ease."
The family moved back to Fayetteville following the stroke. Sadly, Milton passed away at the age of 60, on Nov. 9, 1949, at the Brook Lane Farm convalescent home in Leitersburg, MD. Rev. Roderic N. Seft guided the funeral service, with burial following in Lincoln Cemetery. The Chambersburg Public Opinion published an obituary.
Maude outlived her husband by four decades and remained in Fayetteville at the address of 301 Hartzell Drive.
Toward the end, she was admitted to reside in the Menno Haven Nursing Home. There, she died at the age of 92 on June 15, 1989. An obituary in the Public Opinion said she was survived by 11 grandchildren and 19 great-grandchildren. Her funeral was jointly officiated by Rev. John Nagle and Rev. William Long. She rests for eternity either in Lincoln Cemeteery in Chambersburg or in the family plot at the Fairview Cemetery at Percy.
Son George Turner Hartzell (1920-1999) was born on Feb. 11, 1920 in Washington, PA. He was a 1938 graduate of Chambersburg High School. During World War II, he served in the U.S. Army. George attended Dickinson College in Carlisle, PA, where he earned a bachelor of science in chemistry. He subsequently secured his master's degree in chemistry from Shippensburg University. As an adult, George resided on Turner Drive in Fayetteville and owned his own construction firm, Hartzell Construction and Fence Company. He married Anna Pearl Reamer (May 29, 1922-2016), daughter of J. Harvey and Ethel (Eckenrode) Reamer. Together, the couple bore a trio of children -- Elaine Ann Nagle, Susan Perry Rosenberry and Anita MacNeill. Anna Pearl received an associate degree in liberal arts and sciences in 1975, at the age of 53, from Penn State's campus in Mont Alto. They were members of St. John's United Church of Christ in Chambersburg, where he at one time was president of the consistory and she taught Sunday School for a baker's dozen years. George's list of community activities is lengthy, as reported by the Carlisle Sentinel:
...Kittochtinny Historical Society in Chambersburg, Chambersburg Chamber of Commerce, Guilford Township Planning Commission, Franklin County Realtors Association, Franklin County Builders Association, Pennsylvania Builders Association, Greene Township Lions Club, B.P.O. Elks Lodge 600 of Chambersburg and Burt J. Asper Post 46 American Legion of Chambersburg; a member and past commander of the Susquehanna Power Squadron; a member of the board of directors of the Franklin County Legal Aid Society and a member of the board of directors of Mutual Living Styles, Chambersburg. He had served as a member of the former Greene Township School Board for one term and later as a member for two terms with Chambersburg Area School Board. He also had served as an officer with the Greene/Guilford Environmentalist Association and currently was president of the Franklin County Rental Property Owners Association.
Interested in education, he founded the Chambersburg Area School District Foundation, sponsored an award at the Franklin County Science Fair and co-founded a Neighborhood Watch in the Fayetteville community. Anna Pearl volunteered for St. John's Camp located at Cowan's Gap. In 1977, George published a 124-page book, A Book of Life, regarding the genealogy of the Hartzell, Hertzel, Hirtzel and Hirzel families. His work has been cited in other research studies, among them Ancestors and Descendants of James Vincent Hartzell et. al., authored by Marlyn Hartzell Dalsimer. In this book, he devotes 11 pages to his own life's story, an invaluable window of description. He concluded the work by writing: "Thus, I fling to you the torch; go forth and shine. It is your book of life also. Write it boldly." Sadly, George died suddenly at age 79 on Sept. 29, 1999 as a patient in Chambersburg Hospital. Rev. Jeffrey R. Roth led the funeral. Anna Pearl lived for another 17 years as a widow and took over the operation of the family construction business. Said the Chambersburg Public Opinion, "In 2006, she deeded a gift of propeerty to the Chambersburg Area School District for the new Fayetteville Elementary School and dedicated the library in memory of her husband.." She spent her final time at Menno Haven Nursing Home, where she passed into the realm of eternity on March 13, 2016. The funeral was co-officiated by Pastor Mark Ruzicka and her son-in-law, Rev. Dr. Nagle. Burial was in Lincoln Cemetery. She was pictured in her Public Opinion obituary.
Granddaughter Elaine Ann "Lanie" Hartzell (1942- ? ) was born in 1942 in Carlisle and blessed with red hair. She was a 1960 graduate of Chambersburg High School. Elaine earned her bachelor's degree in biology in 1964 from Gettysburg College and a master's of education degree in 1967 from Shippensburg State College. On June 12, 1965, she wed Rev. Dr. John R. Nagle ( ? -living), son of Rev. Robert S. and Rebecca Nagle and a native of Meyersdale, Somerset County, PA. Their nuptials were held in the chapel of Gettysburg's Lutheran Theological Seminary. Together, they produced two offspring, Kristen Sue Nagle and Gretchen Elisabeth Nagle. John also was an alumnus of Gettysburg College, receiving a bachelor of arts in 1965. He then obtained his master of divinity degree in 1969 from the Lutheran Theological Seminary in Gettysburg followed by a doctorate of ministry from Drew University. John and Elaine spent his internship year in Fort Dodge, IA. He was ordained on May 25, 1969 and from 1969 to 2005 spent 36 years as pastor of Christ the King Lutheran Church in Cary, NC. He has authored five books based on his body of sermons -- Teddy the Bartender, Carp in Your Trout Stream, Her Potato Salad Was Loved by All, Happy Birthday Jesus, and The Story I Love to Tell. As well, John has held roles in a number of church and community boards of directors. Elaine and John over time traveled to 125 countries within seven continents. He is said to have "a passion for genealogy and... traced over 15 lines of his ancestors to the sixteenth century and earlier." Circa 2021, he was named interim pastor of Our Saviour Lutheran Church in Southern Pines, NC.

Great-granddaughter Kristen Sue Nagle (1970- ? ) was born in 1970 in Raleigh, NC.

Great-granddaughter Gretchen Elisabeth Nagle (1974- ? ) was born in 1974 in Raleigh,NC.

Granddaughter Susan Kaye Hartzell (1951- ? ) was born in 1951 at the time her parents dwelled on Hafer Road. She was a 1970 alumna of Chambersburg High School. Her first spouse was Randy Lee Perry (1950- ? ), son of John Leslie and Elizabeth Jane (Metz) Perry Sr. He was a year ahead of Susan in high school. Their two children were David George Perry and Timothy John Perry. Circa 1977, the family dwelled on Brindle Drive in the Hartzell property development in Fayetteville. At that time, he was employed by the family's Hartzell Construction Company in sales and estimating and, said his father-in-law, "has been primarily responsible for the explosive growth of the fencing division." Later, she was joined in matrimony with Jeffery Rosenberry ( ? - ? ). Their home in 1999 was in Chambersburg and in 2016 in Fayetteville, PA.

Great-grandson David George Perry (1971- ? ) was born in 1971.

Great-grandson Timothy John Perry (1977- ? ) was born in 1977.

Granddaughter Anita Dawn Hartzell (1958- ? ) was born in 1958. She was a 1976 graduate of Chambersburg High School and then studied at the University of North Carolina. Anita entered into wedlock with Jack MacNeill ( ? - ? ) and established a residence in Lynchburg, VA. They remained in Lynchburg in 1999-2016.
Daughter Ida Mary Hartzell (1921-2006 ) was born on May 23, 1921 in Gettysburg, PA. In 1939, she and her future husband graduated from Carlisle High School. Ida married Martin Leo "Buck" Kistler (April 7, 1921- ? ), son of William Eugene and Nora May (Nailor) Kistler. For decades, they lived in Carlisle at the address of 364 West North Street. Their four children were Doris Jeanne Hysick, James Edward Kistler, William Martin Kistler and Yvonne Anne Heckler. Martin had served in World War II and badly hurt in North Africa when the truck he was piloting was bombed. Over the years, Ida earned a living with Dutrey's Shoes and as an aide at Claremont Nursing and Rehabilitation Center. Martin was employed as a routeman with Kruger's Dairy. In time he joined the Pennsylvania Department of Highways and circa 1977 worked for an electronics crystal maker. They belonged to St. Paul's Evangelical Lutheran Church, where she served as advisor for the congregation's Luther League. The couple's address in 1989 was 364 West North Street. At the end of her life, Ida resided in the Thornwald Home, Carlisle. She died at the age of 85 on July 10, 2006. Rev. Timothy W. Sadler led the funeral service held in the family church. The remains were placed into eternal repose in Carlisle's Westminster Cemetery. Her obituary appeared in the Carlisle Sentinel.
Granddaughter Doris Jeanne Kistler (1943- ? ) was born in 1943 with red hair. She entered into marriage with Peter Hysick Jr. (1942- ? ). They put down roots in Carlisle and dwelled at 107 West South Street. Their two offspring are Keith James Hysick and April Lynn Hysick.

Great-grandson Keith James Hysick (1972- ? ) was born in 1972.

Great-granddaughter April Lynn Hysick (1976- ? ) was born in 1976.

Grandson James Edward Kistler (1945- ? ) was born in 1945. During the Vietnam War, James joined the U.S. Armed Forces. He is said to have been badly wounded while in battle action in a rice paddy. James is said to have received his father's artistic talents and majored in art in college. He was united in matrimony with Elizabeth "Betty" Payne ( ? - ? ). They have made a home in Carlisle, PA and are the parents of Aimee Beth Kistler and Melissa Skye Kistler. As of 1977, he worked in Carlisle for an electronics company.

Great-granddaughter Aimee Beth Kistler (1972- ? ) was born in 1972.

Great-granddaughter Melissa Skye Kistler (1974- ? ) was born in 1974.

Grandson William Martin Kistler (1947- ? ) was born in 1947. He was joined in wedlock with Patricia Sage (1948- ? ). Together they bore a daughter, Joanna Ellen Kistler. The pair lived in Mt. Holly Springs, PA in 1977-2006.

Great-granddaughter Joanna Ellen Kistler (1974- ? ) was born in 1974.

Granddaughter Yvonne Anne Kistler (1950- ? ) was born in 1950. She wed Steven John Heckler (1950- ? ). They have dwelled near Shippensburg, PA (1977) and in Venice, FL (2006).
Daughter Jane Ellen Hartzell (1924- ? ) was born on April 27, 1924. She was an 1942 alumna of Carlisle High School and attended Dickinson College, where she met her future husband. On Aug. 30, 1944, in what the Chambersburg Public Opinion described as "a quiet wedding ... on the lawn" of her parents' home, Jane Ellen wed William H. "Bill" Moyle (Sept. 14, 1922-2012), of West Hartford, CT and a native of Toronto, Canada. He was the son of Dr. Henry Brown and Emily Gertrude (Greenwood) Moyle. The nuptials were led by Rev. Charles C. Frazier of the Fayetteville Lutheran Church. They stayed together through the thick and thin of an extraordinary 68 years. William at the time of marriage was with the U.S. Marine Corps at its base in Chicago. The couple went on to become the parents of four -- Janet Kathleen Rhoades Smith, Dr. Richard Alan Moyle, Cheryl Lynn Long and Becky Sue Moyle. Upon his return home from the war, William completed his degree at Dickinson College and received a master's degree in social work from Columbia University. In 1949, the pair lived in St. Paul, MN and then moved to Meriden, CT. They eventually settled in Carlisle, PA, where in the mid-1970s he was employed as a welfare policy specialist by the Commonwealth of Pennsylvania's Department of Aging. He is known to have held memberships in the Academy of Certified Social Workers and the Clinical Social Workers organizations. In her own right, Jane went back to school after raising her family. She obtained a degree from Shippensburg State College and then with daughter Janet learned medical technology at Harrisburg Hospital. Armed with those credentials, she obtained a position with Harrisburg's Community General Osteopathic Hospital as a registered medical technologist. In 1989, their address was 150 Old Gap Road.they belonged to the Brethren in Christ Church. Their final home was in Lebanon, PA. William passed away at the age of 90, on Sept. 25, 2012, as a patient in Lebanon Veterans Administration Medical Center. An obituary in the Carlisle Sentinel said that the funeral would be preached by their son-in-law Rev. William H. Long in the St. John's United Church of Christ. Interment of the remains was in Indiantown Gap National Cemetery.
Granddaughter Janet Kathleen Moyle (1945- ? ) was born in 1945. She received a degree from Grantham College. She and her mother together were educated in medical technology at Harrisburg Hospital and then joined Community General Osteopathic Hospital in Harrisburg as a registered medical technologist. She entered into marriage with Ray Rhoades (1942- ? ). He was a graduate of Muskingum College, having obtained a bachelor's degree in education. As of 1977, they made a home in Harrisburg, where he worked for a fine arts studio. By 2012, she had wed again to Delbert Smith Jr., ( ? - ? ), son of Delbert and Mary (Burgett) Smith Sr. of Boiling Springs, PA. The Smiths have lived in Florence, SC.
Grandson Dr. Richard Alan Moyle (1947- ? ) was born in 1947. He was united in wedlock with Joan Lynn Shoemaker ( ? - ? ). Their only known son was Michael Shoemaker Moyle.. Richard received a Ph.D. in nuclear physics, while Joan earned her master of arts in library science. Circa 1977, their residence was in Herndon, VA and in 2012 in Dundee, NY.

Great-grandson Michael Shoemaker Moyle (1973- ? ) was born in 1973.

Granddaughter Cheryl Lynn Moyle (1951- ? ) was born in 1951. She was a graduate of Carlisle High School. On May 13, 1972, when she was 20 years of age, was joined in matrimony with Rev. William Henry Long ( ? - ? ). The pair's only known daughter is Holly Elizabeth Long. William received a degree from Messiah College and graduated from Myerstown (PA) Evangelical Seminary. He became an ordained minister in the United Methodist Church. In 1977, they lived in Clearville, PA and in 2012 in Lebanon, PA..

Great-granddaughter Holly Elizabeth Long (1974- ? ) was born in 1974.

Granddaughter Becky Sue Moyle (1959- ? ) was born in 1959 with "unashamedly and gloriously red hair," wrote an uncle. She was a gymnast in high school and as of 1977 was majoring in language at Bryn Mawr College. She married Brian Goins ( ? - ? ) and in 2012 was in Jacksonville, FL.
Copyright © 2003-2004, 2006-2007, 2009-2010, 2014, 2022 Mark A. Miner