Home

Angie (Walker) Oliver
(1877-1951)

Angie (Walker) Oliver was born in 1877 in or near Millersburg, Green Township, Iowa County, IA, the daughter of William "Crawford" and Electa (Minard) Walker. As a girl, she moved with her mother to Dedham, Carroll County, IA.
When she was 14 or 15 years of age, on Jan. 18, 1892, Angie married Kentucky native J.T. Oliver ( ? - ? ), believed to be "Joseph," who was living in Brookfield, Linn County, MO at the time. Justice of the peace George W. Bailey officiated. Because Angie was underage, her mother provided her written consent to the union.
The couple produced one son, Ola "Oley" Oliver.
The Olivers made their home in or around Kirksville, Adair County, MO. An article in the gossip columns of the Kirksville Weekly Graphic reported in October 1896 that "Mrs. J.T. Oliver and little Ola returned Tuesday from a two weeks' visit with Brookfield relatives." Two months later, on Dec. 11, 1896, the Graphic noted that Angie and son Oley "left Wednesday morning for Brookfield to visit Mrs. Oliver's mother, and will remain until after the holidays."
The marriage collapsed and there is evidence that J.T. was jailed circa 1897, when his name appears on a May 1897 list printed in the Chariton (MO) Courier, stating that the local municipality was billed $61.70 in reimbursement for the cost of his board as a prisoner. If correct, this left Angie as a single mother for all intents and purposes. She and Oley are known to have moved back into her mother's home, and the two women remained together for decades.
In 1900, when the federal census again was taken, the 23-year-old Angie was listed as widowed, and residing with her mother and baby son in Kirksville, Adair County, MO. She was employed that year as a nurse. Their home was on McPherson Street. Also living under their roof that year was 16-year-old boarder Minnie Porter.
Angie, Oley and Electa remained in Kirksville for at least a decade, and are shown on the 1910 census of Adair County. The 33-year-old Angie is listed as married, for 18 years, and no longer working as a nurse but rather as a farm manager. Oley, age 17, labored on the farm. Electa, age 68, was listed as widowed.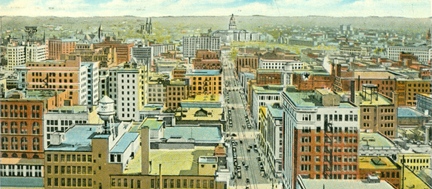 Angie's home in 1951, Denver, showing a panorama of 16th Street and the city's business district as seen from the Daniels & Fishers Towers.
By 1920, Angie and Electa were living together on Smith Street in Brookfield, Linn County, MO. At the time, Angie (still shown as a widow) was employed as a laborer in a shoe factory.
Angie's older sister Mamie Rice died in Wichita, KS at age 80 in March 1951. In the obituary in the Wichita Eagle, Angie was named as a surviving sister, and living at the time in Denver, CO.
~ Son Ola "Oley" Walker ~
Son Ola "Oley" Walker (1893- ? ) was born in January 1893, most likely in Kirksville, Adair County, MO. As a boy of 17, in 1910, he lived with his mother and widowed grandmother in Benton, Adair County, MO.
Copyright © 2011, 2017 Mark A. Miner