Mary (Weyand) Rhoads
(1823-1897)


Mary and Joseph Rhoads - courtesy David Rhoads
Mary (Weyand) Rhoads was born on Feb. 12, 1823 in Somerset County, PA, the daughter of Michael and Mary Anne (Ream) Weyand Sr. She never learned how to read or write.
Mary was joined in wedlock with Joseph A. Rhoads (1821-1881), also spelled "Rhoades," son of Abraham and Susanna (Wingerd) Rhoads.
The couple produced these eight known children -- Ephraim Rhoads, Sarah Rhoads, William Michael Rhoads, Julia A. Shaulis, Mary A. Gashaw, Manasseh J. "Manassas" Rhoads, Frank Samuel Rhoads and Abraham "Lincoln" (or "Link") Rhoads.
When the United States Census was made in 1850, Mary and Joseph lived next door to his parents in Somerset Township, Somerset County. In addition to their young children, 14-year-old Sarah Rhoads and 21-year-old Joseph Musgrave, a laborer, were under their roof that year.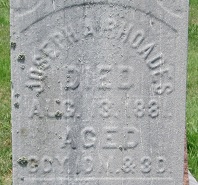 Joseph's grave marker, Wills St. Johns
The federal census enumeration of 1860 shows the Rhoadses living as farmers near Benford's Store, Somerset Township.
The family dwelled on a farm in Lavansville in the township in 1870, when the census next was taken. That year, 45-year-old Samuel Frank and his son Lincoln lived under their roof, and residing next door was the family of Mary's brother Joseph.
In 1870, after the death of his father, Mary was bequeathed $939.17 as an inheritance.
When the census again was made in 1880, only daughters Julia and Mary remained under their roof, with Julia having suffered from diphtheria during the past year.
Joseph passed away on Aug. 13, 1881 at the age of 60 years, 10 months and 25 (or 3) days. His remains were lowered into rest in Wills Church Cemetery, with a one-sentence obituary appearing in the Somerset Herald.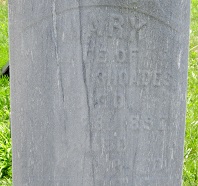 Mary's badly faded grave marker,
Wills St. Johns Cemetery
Sons William and Manasseh were named as administrators of the estate. As was a standard practice, Mary was allowed to retain $300 for her personal use as well as 96 different household and farm items, appraised at $357 in value.
An estate sale was held on Aug. 27, 1881 to sell what Mary did not want to keep. The auction generated gross proceeds of $1,197.73.
Mary died on May 28, 1897 in Somerset County. Interment took place next to the remains of her spouse in Wills Church Cemetery. [Find-a-Grave]
Many decades later, a number of the Rhoades' adult children were among 300 relatives who attended the 17th annual reunion of the Abraham Rhoads family in July 1933, held at Edgewood Grove. Reported the Somerset Daily American, "A bountiful dinner was served at noon. Mrs. Sue Horner, 93, of Friedens, was the oldest descendant in attendance."
Included in the day's entertainment at the picnic was a play, "The Anybody Family on Sunday Morning," the Rinick string orchestra of Berlin and readings by Mrs. John Riniew of Berlin. Kinsman D.W. Rhoads of Somerset was elected president, Aaron Heiple of Geiger vice president, Wilson Rhoads as secretary and Harrison Zarefoss as treasurer.
~ Son Frank Samuel Rhoads ~
Son Frank Samuel Rhoads ( ? - ? ) was born in (?).
His sttory is lost in the misty haze of the past.
~ Son Ephraim Rhoads ~
Son Ephraim Rhoads (1845- ? ) was born in about 1845.
He lived on the family farm in Somerset Township as a boy, as shown in census records for 1850 and 1860.
Nothing more about him is known.
~ Daughter Sarah Rhoads ~
Daughter Sarah Rhoads (1848- ? ) was born in about 1848 in Somerset Township.
Her paper trail has faded from view.
~ Daughter Mary Ann (Rhoads) Gashaw ~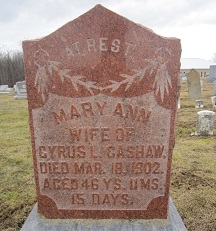 Wills St. Johns Cemetery
Courtesy Brian J. Ensley
Daughter Mary Ann Rhoads (1855-1902) was born in about 1855 in Somerset Township.
She did not marry until in her early 40s, and dwelled with her brother Manasseh near the post office of Lull, Somerset County.
When she was 42 years of age, on June 21, 1898, she entered into the sacrament of marriage with 34-year-old farmer Cyrus Lincoln Gashaw ( ? - ? ), of near Somerset. He was the son of Henry Gashaw and also of Eli and Elizabeth "Betsy" Rayman. Rev. J.J. Welch of Friedens officiated the ceremony, held in Manasseh's residence, with the union announced in the Somerset Herald.
The marriage was short-lived. Mary succumbed to the spectre of death on March 18, 1902. A terse notice of her death was printed in the Altoona (PA) Tribune. Her remains were lowered into the sacred soil of Wills Church Cemetery, with a large, red barre granite stone marking her grave.
After just six months as a widower, Cyrus on Sept. 25, 1902 entered into wedlock with 21-year-old Hattie Grace Stutzman ( ? - ? ), daughter of Jonas and Sarah Stutzman. Their wedding was held in Friedens, by the hand of Rev. H.D. Hoover.
The second marriage, which lasted for 33 years until the separation of death, resulted in a brood of offspring -- Carrie Shaulis Neill, Mrs. Theodore McClemens, Nellie Marie Egolf, Lester Jonas Gashaw, Mary Ruth Albright and Emory Lincoln Gashaw.
Grace was burdened by a host of diseases and died in Somerset Community Hospital at the age of 54 on June 23, 1935. Her obituary was published in the Somerset Daily American.
Cyrus survived his second wife by seven years.
During World War II, the only one of his children left at home was his son Emory. But the son was drafted into military service in early April 1942. Deeply anguished about the future, Cyrus decided to end his life and did so with an antique pistol on April 16, 1942. Reported the Daily American, "Despondent because his son had been called to the army, and there was no one to do the farm work, [Cyrus] committed suicide Thursday morning by firing a shot from a .25 caliber revolver through his right temple."
Copyright © 2002, 2009, 2012, 2014-2015, 2017, 2019-2022 Mark A. Miner