Home

Sarah (Weyand) Coleman
(1819-1899)
Sarah (Weyand) Coleman was born on May 30, 1819 in Somerset County, PA, the daughter of Michael and Mary Anne (Ream) Weyand Sr.
She was united in matrimony with Joseph Coleman (1803-1876). The bride was 16 years younger than the groom.
They were the parents of two offspring, Mary Weller and Henry Coleman, born seven years apart.
The family resided on a farm two-and-a-half miles west of Somerset in Somerset Township in the 1850s and for many years thereafter. The federal census enumeration of 1850 shows the family living on a Somerset Township farm, with eight-year-old William Weitzell in their household.
When the census again was made in 1860, the Colemans remained on a farm in Somerset Township, with a post office of Benford's Store. That year, 16-year-old Rosannah Coleman resided under their roof.
In 1870, Sarah inherited $650.00 from the estate of her late father. The 1870 census of Somerset Township shows that two others in the house that year were 22-year-old laborer Austin Weller and 27-year-old domestic servant Rachel Hoff.

Portion of Joseph's last will and testament - Will Book 6, page 80 - Estate #17 of 1876.
Courtesy Register of Wills, County of Somerset, PA.
Joseph penned his last will and testament in September 1872 but lived for another nearly four years. Sadness blanketed the family when he died at the age of 73 on July 17, 1876. A brief death notice was published in the Somerset Herald.
In his will, Joseph wrote that he wanted to "commend my soul into the hand of the Almighty God ... hoping for free pardon and the remission of all my sins and to enjoy ... happiness in the heavenly kingdom through Jesus Christ my savior." His first bequest was of his house in which his "beloved wife Sarah" then resided, according to an agreement he had reached with their son-in-law William F. Weller. She also was to earn interest on an endowment of $1,000 annually "as long as she ... [will] retain my name, this money to remain in the hands of the said William F. Weller untill after her death." His daughter Mary and son Henry were to equally divide the balance of the state, to "share and share alike." His final act was to name his "trusty friend" Weller and brother-in-law Samuel Weyand as co-executors of the estate. The document was witnessed by Jacob Neff and John H. Weimer.
Among the household and farm items in the inventory of his estate were a cow, chairs, wool wheel, flax, wooden buckets, stove and cream crocks, and tinware. Some of the items ranged from a cooking stove, copper kettle, sheep shears, hammer and wood box to a square of oilcloth, carpeting, slaw cutters and a wooden dish. Additional objects included a coal stove, mantle clock, large chest, blanket, 11 linen sheets, wash tub and more than 30 yards of flax linen.
Sarah outlived her spouse by a number of years and moved into the home of their daughter Mary Weller as of 1880.
She died at the age of 80 on or about Nov. 22, 1899. Word of her passing was telegraphed to her 86-year-old sister Catharine Frank in Illinois.
Circa 2000, her name was mentioned in genealogy research done by James Weyand, MD of Seattle, WA.

Mary and Frederick
~ Daughter Mary (Coleman) Weller ~
Daughter Mary Coleman (1849-1935) was born on June 16, 1849 in Somerset Township, Somerset County, PA.
At the age of 16, on Jan. 23, 1866, she wedded 24-year-old Civil War veteran William "Frederick" Weller (May 25, 1841-1907), son of Jacob and Barbara (Shaulis) Weller. The nuptials ceremony was held in Somerset, officiated by Rev. L. Gerhard.
A pre-printed marriage certificate blank in red ink -- which Frederick may have purchased in the Army -- was inscribed in black-ink handwriting with the details of the wedding. At the top, in small lettering, read "What God hath joined together, let no man put asunder." At the bottom, on a diagonal, read "Wagner SC."
Frederick stood 5 feet, 7½ inches tall, weighed 16 lbs. and had a fair complexion, brown hair and blue eyes.
The three children born to this marriage were Elizabeth J. "Lizzie" Weller, Charles Edwin Weller and Daniel Weller.

Civil War stereoview of soldiers' tents in the sands of Morris Island, SC.

Library of Congress
Christ Casebeer Lutheran Church
During the Civil War, on Sept. 28, 1864, Frederick joined the Union Army. He was assigned to the 52nd Pennsylvania Infantry, Company C. Among his comrades in the company were Abraham Howard, William Mull and John Schrock of Bakersville, Somerset County. Frederick often exchanged letters with Mary, his sweetheart and future wife.
While on duty at Morris Island, SC in January 1865, he contracted typhoid fever which led to bronchitis, heart disease and lung problems. He was feverish and stayed on duty until it got worse. Then he received treatment at the regimental hospital. Recalled Howard, his tentmate and messmate, "I never expected to see him get of[f] Morris Island alive, he was so low from the diseases..." and was then transferred to a hospital in Charleston and thence to another hospital in the District of Columbia. After receiving an honorable discharge, he returned home in July 1865.
The couple were farmers for many years in Somerset Township, living sabout two-and-a-half miles from the county seat.
When the federal census was taken in 1880, Mary's widowed mother resided in the household. In the late 1880s, Frederick began receiving a Civil War soldier's pension from the federal government. [Invalid App. #738.602 - Cert. #499.851]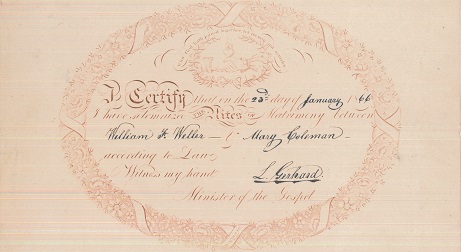 Marriage certificate for William and Mary Weller, 1866.
National Archives.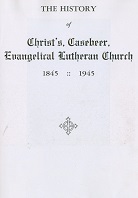 Christ Casebeer history
He found it difficult to work at farming, complaining often to neighbors Harmon Barron and Samuel S. Miller about "spells of sickness" which included pain in the chest and difficulty in breathing. Perhaps finding politics a lighter form of work, he is believed to have won the elected position of Director of the Poor in 1888-1892. The Somerset Herald noted in September 1892 that he "contemplates a trip to Erie, Pa., early next month, at which time the Poor Directors of the State hold their annual convention in that city."
Then in 1893 he ran for county commissioner and in 1894 was a candidate for school director in the township. For three years, in 1895-1897, he was an elder of the Christ Casebeer church congregation and held a seat on the church council. He was known for his abstinence from alcohol.
Mary is believed to have been a sufferer from tuberculosis, known as "consumption" at the time.
One day in about 1892, while "sitting in his home one evening," reported the Connellsville Daily Courier, "...a shot was fired by some unknown person, the bullet striking Mr. Weller in the back and inflicting a painful injury, from which he suffered for a long time, the bullet never having been removed. At the time there was consierable excitement over this fact, because Mr. Weller had no known enemies, and it was a mystery why any one should desire to take his life."
Frederick sold their Somerset Township farm in about 1897 and moved into the town of Somerset, purchasing a half-acre of land which included a small house.
Circa 1898, apparently unhappy at home, he made plans to become a resident of the Soldiers' Home in Erie. While en route, he stayed overnight in a hotel in Sharon, PA, and nearly died of natural gas inhallation. Reported the Herald, "Frederick Weller, an old soldier who formerly resided in the vicinity of Stoyestown, was found unconscious in his room ... where he had blown out the gas before going to bed... To the physician at Sharon who attended him he said his wife is a consumptive and that when his pension money was exhausted his children kicked him out. He bewailed his fate, and wished he had died."

Above: the Wellers' entry in the Christ Casebeer Church history.
Below:
Somerset County Home, a.k.a. "Poor House," where Frederick was a director.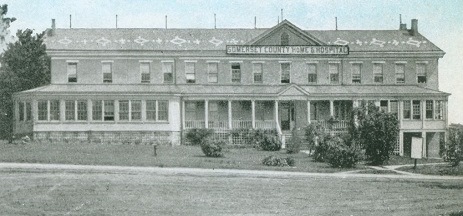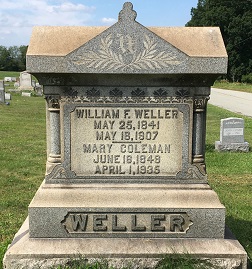 Christ Casebeer Lutheran Church
Frederick apparently did not complete his relocation to Erie, and remained in Somerset. One day while plowing in the hot sun, he drank cold water from a nearby well. When he quit work at 4 p.m., he came home, put his horse away and consumed a light supper. Then between 6 p.m. and 7 p.m. he became nauseous and began to vomit. Dr. S.J.H. Louther was called and diagnosed a case of gastritis. He fortunately recovered.
On the last day of his life, on May 16, 1907, he seemed to be in reasonable health. His brother came for a visit, and they talked for two hours. But after the brother's departure, Frederick complained of sharp heart pain, fell into bed and died. He was just nine days shy of his 66th birthday.
An obituary in the Daily Courier said that he had been sick for a few days "but his death was unexpected and came as a blow to his friends and family. [He was] a consistent member of the Lutheran church and was well known throughout the county. He was an excellent citizen and the community will miss him."
Mary outlived her spouse by nearly 30 years. She learned she was eligible for a military pension as the widow of a Civil War veteran, and it was awarded the month after his death. [Widow App. #871.389 - Cert. #633.965] Toward the end, she lived with her widowed daughter Elizabeth Trent at 145 East Catherine Street. Mary suffered a cerebral hemorrhage and died at the age of 85 on April 1, 1935. Burial was beside her spouse in Christ Casebeer Lutheran Church Cemetery in Sipesville. Elizabeth Trent was the informant for the Pennsylvania death certificate. [Find-a-Grave]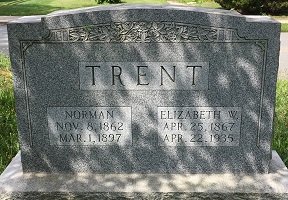 Union Cemetery, Somerset, PA
Daughter Elizabeth J. "Lizzie" Weller (1866-1935) was born on April 24, 1866 or April 25, 1867 in Somerset Township. As a young woman, circa 1889, she taught in a local school. On April 11, 1889, at the age 22, Lizzie was united in matrimony with 26-year-old farmer Norman E. Trent (Nov. 8, 1862-1897), son of Uriah and Harriet Trent, also of Somerset Township. The nuptials were performed by J.F. Shearer. The Trents did not reproduce. They owned a farm located three miles north of Somerset, and a local newspaper called him "a popular and leading young farmer of Somerset township." When the World's Fair -- the "World's Columbian Exposition" -- was held in September 1893 in Chicago, Norman is known to have traveled to take in the sights. In February 1897, Norman developed a bad cold which led to "quinsy" -- tonsilitis -- and related medical issues. After two weeks of declining health, he died at the age of 34 on March 1, 1897. Funeral services were held in the family home, with interment following in the Somerset Lutheran Cemetery and an obituary appearing in the Somerset Herald. The widowed Lizzie then advertised in the Somerset Herald that she would be renting the farm, which the Herald considered "one of the best in Somerset township." Within the year, she sold the acreage to Peter Speicher of Lincoln Township. Lizzie outlived Norman by almost four decades and moved back into her parents' home. Lizzie survived her spouse by 38 years. She and her brother Charles are known to have traveled to attend the Central State Normal School graduation of their brother Daniel in Lock Haven, PA in June 1898. In the early 1930s, the widowed Elizabeth lived at 145 East Catharine Street in Somerset, sharing the residence with her aged, widowed mother. Lizzie mourned at her mother's death on April 1, 1935, but ironically only had three weeks of her own life left. She suffered a heart attack on April 20 and passed into eternity two days later on April 22, 1935, just two days shy of her 69th birthday. Burial was in Union Cemetery in Somerset, following funeral services in her home led by Rev. Dr. I. Hess Wagner of the Trinity Lutheran Church of Somerset. . Her niece Mrs. Norman E. Knepper Jr., of South Center Avenue in Somerset, was the informant for the official Pennsylvania certificate of death. An obituary printed in the Somerset Daily American noted that she "had been ill only a few days.... The only surviving relatives are two nieces, Mrs. John Speicher and Mrs. Norman E. Knepper Jr., both of Somerset, and two nephews, J. Edward Weller and Dan W. Weller, both of Pittsburgh."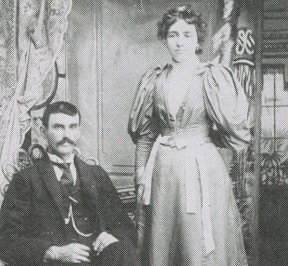 Charles and Carrie Weller
Son Charles Edwin "C.E." Weller (1869-1926) was born on Jan. 29, 1869 in Somerset Township, Somerset County, PA. He grew up learning the occupation of farmer. At the age of 26, three days before Christmas 1895, he was joined in holy wedlock with 19-year-old Carrie May Miller (Aug. 23, 1876-1969), daughter of Jeremiah "Jere" and Magdalena L. "Maggie" (Saylor) Miller of Quemahoning Township. The wedding was held at the home of the bride in Lincoln Township, performed by Rev. C.F. Gephart in front of a room about 60 invited guests. In a report about the wedding written by Gebhart, the Somerset Herald said that "After the ceremony and congratulations all were invited to the dining room where a sumptuous supper was served, that all enjoyed. After a pleasant, social time during the evening the guests bid Mr. and Mrs. Weller God speed, upon the voyage of life together, and returned to their homes delighted with the pleasant event they were invited to witness." The couple lived on a farm in Somerset Township belonging to her father. They produced one known son -- Parke M. Weller.
When Carrie's mother died in 1899, she brought her widowed father into their household in the village of Husband, and he remained until his death in May 1942. The United States Census of 1900 shows the young family in Somerset Township, with Charles earning a living as a farmer, and 22-year-old boarder/servant George Crise helping with farm labor. Charles is believed to have been the same "C.E. Weller" who, in June 1905, built a water reservoir near their home and, reported the Somerset Daily American, "now enjoys the convenience of having water piped through all parts of his house." They were longtime members of Christ Casebeer Lutheran Church and were pictured and profiled in a history of the congregation published in 1945, with Carrie receiving credit for providing the material for publication.
The family was plunged into grief when, on the fateful day of Sept. 2, 1907, their 10-year-old son Parke was killed in a lightning strike. His remains were laid to rest in what would become the family plot in their church cemetery. The sudden bolt from the skies also set their barn afire. The building was destroyed at a loss of $4,000, including "the greater part of this year's crops," reported the Ligonier Echo. The Wellers remained on the farm and apparently rebuilt the barn and brought Charles' aging father into their home. He was in the household when the 1910 and 1920 censuses were taken.

Above: the Wellers' entry in the history book about Christ Casebeer Lutheran Church. Below: their graves at Christ Casebeer.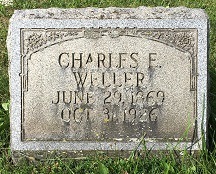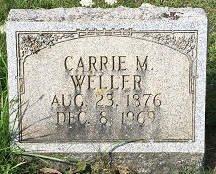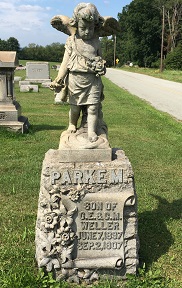 Grave of son killed by lightning
Charles, stricken with "neuraligia of the heart," succumbed on Oct. 31, 1926 at the age of 57. Interment was in Christ Casebeer Lutheran Church Cemetery. Carrie outlived her spouse by more than four decades. She kept busy by teaching Sunday School and serving on all related committees. She belonged to the Ladies Volunteer Bible Class where she also taught. She also was honored at the 75th anniversary of her membership in the local Grange organization. Her final residence, for the last six years of life, was in the home of John Swift in the Berlin area. She died in Somerset Community Hospital at the age of 93 on Dec. 8, 1969. Rev. Robert Clark presided at the funeral service. An obituary in the Somerset Daily American noted that she was survived by four nieces and nephews -- Mrs. Walter Judy, Marie Speicher, J. Edward Weller and Daniel Weller.
Grandson Parke M. Weller (1897-1907) was born on June 7, 1897. He grew in boyhood on his parents' farm near Husband in Somerset Township. He was not destined to reach adolescence. On the awful day of Sept. 2, 1907, at the age of 10 years, two months and 25 days, while playing near his father's barn, a storm arose. Newspapers said it was "one of the most violent thunder storms that has visited that section in a long while." Parke ran into the barn's storm shed for protection, and took a seat on a two-horse wagon. With the storm still raging, a bolt of lightning struck the barn and set it afire. The boy also was hit by the strike, and he instantly was killed. The news was reported throughout the state, including in faraway Lebanon, Lebanon County. His remains were placed into eternal sleep in Christ Casebeer Cemetery.
Son Daniel Webster Weller Sr. (1879-1931) was born on Jan. 19, 1879 on a farm near the village of Husband, Somerset Township. In his late teens, after receiving his public school education, he attended Lock Haven State Normal School and graduated in 1898. From there he became employed as a clerk with the banking department of County Trust Company. On June 26, 1900, when he was 22 years old, he wedded 21-year-old Darl Irene Kifer (Feb. 18, 1879-1929), daughter of Michael and Mary (Saylor) Kifer. Rev. E.P. Wise was the officiant at the wedding ceremony. They produced these known offspring -- James "Edward" Weller, Daniel Webster Weller Jr., Edna Weller and Marie Speicher. Daniel eventually left the trust company to join a Pittsburgh wholesale business as a traveling salesman. He resigned from his sales work in February 1926 to become postmaster in Somerset and then was re-appointed for a second term at the recommendation of Congressman Samuel Austin Kendall. In his free time, he enjoyed singing in the choir of Trinity Lutheran Church and belonged to the Lions Club. Sadly, Darl contracted kidney failure compounded by a serious case of pneumonia. She was admitted to St. Francis Hospital in Pittsburgh, where she passed away at the age of 50 on Dec. 6, 1929. Daniel only outlived his wife by a little more than a year. On the fateful day of Jan. 8, 1931, while a passenger in a vehicle driven by his son-in-law John Speicher, he suddenly slumped in the seat while they passed the Farmers National Bank in the city's public square. Speicher sped to the post office to get help and then drove to the office of Dr. Charles C. Barchfield, who pronounced Daniel dead on arrival. Said the Somerset Daily American, "Word of Postmaster Weller's passing spread quickly throughout the community and everywhere was received with profound sorrow. After the public had recovered from the first shock men and women gathered in groups and discussed the loss the community had sustained in the unexpected removal of an efficient and popular public servant." Following funeral services in the home, led by Rev. Dr. I. Hess Wagner of the family congregation, Christ Casebeer Lutheran Church, interment was in Somerset. An obituary in the Somerset Daily American stated that she was survived by eight grandchildren and a dozen great-grandchildren.
Grandson James "Edward" Weller (1905-1984) was born on March or May 2, 1905 in Somerset. He married Roberta Wilson (Jan. 18, 1910-2007), a native of Pittsburgh and the daughter of Robert Henry and Mary (Irwin) Wilson. They remained together for 52 years. The couple's three children were James Edward Weller, Dr. Suzanne Gross and Jane Choquette. Edward was employed at the age of 26 in 1931 by Sandard Sanitary Manufacturing Company in Pittsburgh. He went on to work for Allis Chalmers in Pittsburgh and was manager of a condominium. Roberta was trained as a nurse, graduating in 1931 from the West Penn Hospital School of Nursing. Later, the family relocated to Wisconsin, and settled in the town of Wauwatosa. There, Roberta was active with the Wauwatosa Presbyterian Church and community groups as well as serving as president of the local chapter of the American Association of Retired Persons. Edward died in Wauwatosa on Dec. 12, 1984 at the age of 79. Burial is believed to have been in Wisconsin. Roberta survived her spouse by 23 years, and at the end was in Morgantown, WV with her daughter Suzanne. She succumbed to death in Morgantown at the age of 97 on April 18, 2007. Her remains were transported to her former home to rest for all time in the Eternal Life Garden Mausoluem of Wisconsin Memorial Park. Her obituary was published in the Milwaukee Journal Sentinel.
Great-grandson James Edward Weller married Jayne. They made a home in 1984 in Wauwatosa, WI and in 2007 in West Allis, WI.

Dr. Suzanne Gross

West Virginia University
Great-granddaughter Dr. Suzanne Weller married Donald Gross. Becoming a nurse in 1956, she spent nearly a half-century as a nurse and health care administrator, earning degrees from the University of Pittsburgh and the University of Texas at Austin. Over time, she was employed in hospitals in New York and Pennsylvania before joining West Virginia University Hospitals in 1978 as a charge nurse and assistant professor. Her life's work ranged from maternity to oncology, and she authored papers published nationally about relaxation therapy for breast cancer patients. In 2004, she received WVU's Mary Catherine Buswell Award for Outstanding Service to Women. In an announcement about the award, the university said that "In her 48-year career, she's tended to premature infants in the neonatal unit and overworked nursing students grappling with the all-encompassing demands of both the classroom and the clinic. She's counseled breast cancer patients and their families and once took a financially strapped student into her own home so that student could stay in school and fulfill her dream of becoming a nurse." She is believed to have helped found the Weller-Gross Family Library Endowment within the WVU Foundation.
Great-granddaughter Jane Weller was united in wedlock with Kenneth Choquette. She resided in Ames, IA in 1984 and in Des Moines in 2007.
Grandson Daniel Webster Weller Jr. lived with his parents in 1931. In February 1940, in Pittsburgh, he was joined in marriage with Kay Roberts ( ? - ? ). Their wedding was held in the rectory of St. Paul's Cathedral, officiated by Rev. Andrew Pauley. A story about the event, printed in the Somerset Daily American, said that Kay "was dressed in a street frock of turquoise blue crepe with a small matching toque and her shoulder corsage was of orchids." They spent their honeymoon aboard the S.S. Ancon, sailing for Balboa Heights in the Panama Canal Zone, where Daniel was employed. Daniel's home in 1984 was in Glen Burnie, MD and in 1988 was in Columbia, MD.
Granddaughter Marie Lois Weller (1902-1988) was born on Jan. 14, 1902 in Somerset. She married John Jacob Speicher Sr. ( ? - ? ). The three children born to this union were John Jacob Speicher Jr., Fred W. Speicher and Martha I. Speicher. Their home in 1931 was on East Patriot Street in Somerset. Marie was a longtime teacher in the elementary schools of the Somerset Area School District. She also was a member of the First Christian Church. She passed into eternity at the age of 86 on Dec. 5, 1988. Rev. William J. Sleasman officiated at her funeral, with burial following in Husband Cemetery.
Great-grandson John Jacob Speicher Jr. (1929-2007) was born on July 25, 1929 in Somerset. He was united in the bonds of matrimony with Betty Ann Miller (May 15, 1925-2004), a native of Brothersvalley Township, Somerset County and the daughter of Ord Skyles and Edna M. (Gumbert) Miller. The couple were the parents of Michael L. Speicher, Marjorie A. Dellinger, Audrey M. Padmos, Joyce C. Thomas and David J. Speicher. Upon graduation from high school, John appears to have joined the U.S. Air Force, with service in country during the Vietnam War. He retired with the rank of master sergeant in 1977. He then became employed by Hunt's Truck Sales as an auto parts manager. The family belonged to the First United Methodist Church. In retirement, the Speichers appear to have had a second home in Tampa, FL. Sadly, Betty succumbed to death on March 24, 2004. John spent his final years in Mascoutah, IL, where his son David was living. He died on Aug. 13, 2007 at the age of 78. The remains were transported back to Somerset County for funeral services led by Rev. Daniel F. Nicksich and interment in Husband Cemetery, with military rites provided by the Somerset County Honor Guard. His survivors were counted as 15 grandchildren and five great-grandchildren.
Great-grandson Fred Weller Speicher ( ? - ? ) was born in (?). He served in the U.S. Army circa 1955 and trained at Fort Riley, KS before being sent to Germany. After the end of his military service, he returned home. On Sept. 11, 1959, Fred was joined in wedlock with Glenda Broeseker (July 31, 1933-2020), a resident of Berlin, the daughter of farmers Karl Ludwig and Laura Mae (Dickey) Broeseker and the twin sister of Linda Pepin. News of their marriage license was published in the Somerset Daily American. Their union endured for 60 years. Children born to the couple were Daniel Speicher and Douglas Speicher. During her growing-up years, Glenda helped with farm chores, ranging from milking cows to removing rocks from farm fields and planting potatoes. Then after high school, she received a degree in elementary education in 1955 from Indiana University of Pennsylvania. She taught school in Somerset County at the start of her career. When he obtained employment in 1960 with the Milton Hershey School, as a herdsman on the school's dairy farm, the couple relocated the Central Pennsylvania and put down roots in the community of Hershey. Glenda continued teaching in such schools as Nye Elementary (1960-1963) and, during her child-raising years, was a substitute teacher. She returned to full-time elementary teaching in 1975 with Derry Township School District, and remained until retirement in 1998. Once stepping away from paid work, she volunteered with the Hershey Medical Center. Reported an obituary, "She shuttled materials among the multiple buildings, shepherded visitors to appointments, and served as a goodwill ambassador to staff and patients alike. She was so proud of the opportunity to serve others with simple acts of kindness, but was equally proud of the seven miles of walking she could achieve in just a few-hour stretch of volunteering." The Speichers belonged to the Derry Presbyterian Church of Hershey, with Glenda singing as a soprano in the choir for half a century. The pair marked their 60th wedding anniversary in September 2019. Sadly, Glenda's life of family and helping others ended with her death in Hershey at the age of 86 on Jan. 17, 2020. Her cremains were placed into eternal repose in the family church.
Great-granddaughter Martha I. Speicher (1938-2002) was born on May 13, 1938 in Somerset. She was the mother of Tammy Emerick. Martha spent her life in Somerset and belonged to the First Christian Church. The Angel of Death spirited her away at the age of 64 on Oct. 11, 2002 as a resident of Meyersdale Manor. Rev. Daniel F. Nicksich led the funeral service, with burial in Husband Cemetery. The Somerset Daily American published an obituary.
~ Son Henry Coleman ~
Son Henry Coleman (1854-1929) was born on Sept. 17, 1854 and grew up in Somerset.
At the age of 25, on Sept. 21, 1879, he married Binnie Barron ( ? - ? ). Rev. A.E. Truxal officiated. In a letter to the editor of the Somerset Herald, a writer pen-named "Little Schnacum" wrote the following: "Let me tell you a little about the happy couple Mr. Henry Coleman and Miss Binnie J. Barron, who were united together in matrimony ... on Sunday morning, ... and happily serenaded on Monday night following. The serenading party numbered about one hundred and fifty men and boys; and after serenading about an hour and a half they were all invited to partake of the hearty supper prepared. All we had for supper I cannot state; I couldn't name everything. This serenading is estimated to have been one of the best that ever took place in Somerset county. The serenading took place at Mr. Coleman's residence. I, with all the rest of the serenaders, wish you and your pretty wife all the luck we can, and a happy life in this world and in the world to come, and are ever so thankful for the kind usage we got."
The couple were farmers for decades before retiring in the 1920s.
Their only child was Stewart E. Coleman.
They left their farm and purchased a residence in Somerset at 608 South Center Street. Henry was employed in those later years as a tipstaff in the Somerset County Court system, appointed by his brother-in-law, Judge J.A. Berkey.
At the age of 74, Henry began to be treated medically for angina pectoris -- severe chest pain caused by poor blood flow into the heart. After four months of suffering, he went to work on Dec. 12, 1929 and put in a full day. Sadly, after a good supper that evening he "was seized with a sudden and violent illness" and died that evening, said the Somerset Daily American. His obituary reported that the "citizens of Somerset were shocked" at the news. Interment was in St. John's Cemetery in Somerset, following funeral services preached by Rev. J.J. Funk of the United Brethren Church.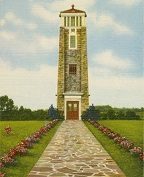 Somerset County
Memorial Park
Son Stewart E. Coleman (1883-1957) was born on Nov. 16, 1883 in Somerset Township. As a young man, he dwelled near Lavansville, Somerset County. On March 20, 1904, at the age of 21, he was joined in marriage with Jennie M. Weigle ( ? - ? ), daughter of John and Marion (Ringler) Weigle of Somerset Township. The ceremony was performed by Rev. John Wilson at his home in Somerset, with the news reported in the Somerset Daily American. Their attendants were Lewis Wilson and Naomi Wilson. They dwelled in rural Somerset Township, and Stewart earning as a moulder for Somerset Foundry and Machine Company. They produced five known children, John Henry Coleman, Frances Fox, Cloyde E. Coleman, Paul F. Coleman and JoAnn Cage. Over the span of decades of their marriage, they remained in the same house. The couple were members of the First Evangelical United Brethren Church in Somerset, and Stewart belonged to the International Order of Odd Fellows in Somerset for four decades. When the children all married and started making babies, the Colemans received the gift of five grandchildren in the single year of 1949. The couple celebrated their 46th wedding anniversary in March 1950 with a restaurant dinner and driving trip to Altoona, courtesy of their daughter JoAnn Cage and her husband. At their 50th anniversary in 1954, they held an open house for family and friends at the First Evangelical United Brethren Church. In reporting on the anniversary event, the Daily American said that "Mr. Coleman is now retired, and spends a great deal of his time in doing carpenter work, while Mrs. coleman makes rugs. She makes several different types of rugs, hooked and braided, and just enjoys making rugs for various placed in her home and in the homes of her children. Both are enjoying good health and keep quite active. Mr. Coleman is a member of the Odd Fellows lodge and has been quite active in the unit for many years." On June 24, 1957, burdened with heart disease and hardening of the arteries, Stewart died in Somerset Community Hospital after a 10-day stay. The remains were placed into eternal repose in Somerset County Memorial Park, with funeral services co-officiated by Rev. Melroy M. Wirick and Rev. Dr. B.F. Bungard. Their son John signed the official Pennsylvania certificate of death, and the Daily American ran an obituary.
Arlington National Cemetery

Grandson John Henry Coleman (1906-1967) was born on May 12, 1906 in Somerset Township. He served in World War II with the U.S. Navy, with three and a half years spent in the Pacific Theater as a member of the Navy and the Seabees. He was discharged with the rank of chief petty officer. He married Lorene Blevins ( ? - ? ) of Nashville, TN. Children born to this marriage were Jacqueline "Jacquie" Coleman, JoAnn Coleman and John Michael Coleman. After the war, he secured employment in Baltimore with the local shipyard. The couple lived in 1949-1957 in Chattanooga, TN and then in 1967 in McLean, VA. Sadly, John died unexpectedly at the age of 60 on Jan. 29, 1967. Funeral services were held in the chapel at Fort Myer, VA, followed by military burial in Arlington National Cemetery (Section 51, Grave 1983).
Grandson Cloyde E. Coleman (1910-1981) was born on Nov. 8, 1910 in Somerset. He married Thelma Merrill ( ? - ? ). They dwelled over the years on West Garrett Street and on Berkey Lane in Somerset. The couple bore these children -- Carol Anselmo, James Coleman and William Coleman. Cloyde earned a living over the years with Jewel Tea Company, the Pennsylvania Turnpike Commission and IXL Creamery. For half a century, he was a member of First United Methodist Church of Somerset and was active in its Brotherhood Bible Class. As his health failed, Cloyde was admitted to Somerset Hospital, where he succumbed at the age of 80 on Aug. 7, 1991. Dr. Arthur J. Gotjen preached the funeral sermon, with interment in Somerset County Memorial Park.
Grandson Paul F. Coleman (1918-2023) was born on Valentine's Day 1918 in Somerset. On Sept. 11, 1940, he entered into marriage with Betty Faidley ( ? - ? ). Their union endured over an extraordinary span of 69 years. Their duo of children were Thomas Coleman and Linda Adams. Over the 105 years of his life, he and Betty variously lived in Chattanooga, TN in 1954 and in Johnstown, Cambria County, PA, where for three decades he drove a delivery truck for Schmidt Baking company. Later, he moved to Dayton, Montgomery County, OH in 2000-2011. Said an obituary, "He was an avid gardener, enjoyed nature and animals, traveling and the Pittsburgh Pirates, but he most loved his family and was always there for them." Toward the end of their years they returned to southwestern Pennsylvania, making a home in Valencia where their adult children were residing. Sadness blanketed the family when Betty died on Nov. 30, 2009. Paul outlived his bride by 14 years and at the end was admitted to reside at the Concordia of Cranberry in Mars, PA. The angel of death swept him away as a patient of UPMC Family Hospice on Sept. 2, 2023. The remains were interred in Somerset County Memorial Park.

Great-grandson Thomas Coleman was joined in wedlock with Jenene ( ? - ? ). Their home in 2023 was in Valencia, PA.

Great-granddaughter Linda Coleman was united in matrimony with Eugene Adams. They planted themselves in Valencia.

Granddaughter Frances Coleman (1920-2011) was born in 1920. She worked in Washington, DC in 1945. She wedded Paul A. Fox ( ? - ? ) and made a home in Jackson, MI in 1949-1967. They bore three children, David Fox, Alan Frederick Fox and Lori Kelly. By 2000, Frances was in Cadiz, KY. She died in Trigg County Hospital at the age of 91 on Oct. 18, 2011, with an obituary appearing in the Louisville (KY) Courier Journal.
Granddaughter JoAnn Coleman (1928-2000) was born on Nov. 28, 1928 in Somerset and was 22 years younger than her eldest brother. She married Albert L. Cage Jr. ( ? - ? ). Their address in 1949 was on East Sanner Street in Somerset and they remained in the city for the balance of their lives. They were the parents of Brenda Suzanne Winkelman, Sara Elizabeth Cage and Kristine Brockwell. The Cages were members of Calvary Methodist Church, where JoAnn served for many years as the organist. Later, she played organ for Grace United Methodist Church. JoAnne was a member of the Order of Eastern Star, the Rotary Club of Somerset (where she was a Paul Harris Fellow) and Somerset Music Club. She also volunteered her time with the Somerset Food Pantry and Meals on Wheels. JoAnn died at the age of 71 at home on July 9, 2000. Funeral services were held in the Calvary Church, co-officiated by Rev. Raymond Lyon and Rev. Charles Olson, and burial in Somerset County Memorial Park. An obituary was printed in the Somerset Daily American.
Copyright © 2002, 2009, 2012, 2014-2015, 2017, 2019-2023 Mark A. Miner