Home

William 'Squire' Weyand
(1821-1888)
William Weyand was born on April 5, 1821 in Somerset County, PA, the son of Michael and Mary Anne (Ream) Weyand Sr. He earned the nickname "Squire."
In 1844, when he was age 22, William married Catherine J. Loehr (1820-1884), daughter of Peter J. and Anna B. (Schneider) Loehr, with their nuptials held in Somerset County. Her maiden name also has been spelled "Lare" over the years, perhaps reflecting how it was pronounced.
Catherine's father was a German-born tailor in who worked in Somerset, and many years later his farm, east of Somerset, was owned by Daniel Kimmell.
The children born to this marriage were Mary L. Calkins, Frances J. Latham, William J. Weyand, Albert E. Weyand.
As a young man, he learned the tailoring trade, possibly from his father-in-law. In 1844, in company with other Somerset Countians, the newlywed Weyands relocated to Illinois, settling in Bloomington, McLean County. Among those who also made the voyage about that time were William's married sister Catherine and her husband Jacob Frank and their offspring. Catherine's parents appear to have joined them in Bloomington with a year or two.
The family home was located at 510 West Front Street, where their children were raised.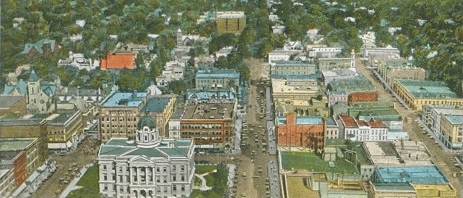 Business district in Bloomington, Illinois
William earned income in Bloomington in the tailoring business. Circa 1849, when they ran advertisements in the Bloomington Weekly Pantagraph, he was in partnership with (?) Rogers and operated under the name "Weyand & Rogers, Fashionable Tailors." By 1850, he appears to have secured a new partner with the firm named "Knotts & Weyand, Tailors." He later worked in a dry goods firm. In 1870, after the death of his father, William received $810.00 as an inheritance from the estate. The 1870 federal census shows him working as a magistrate, and in 1880 in real estate, with Catherine's widowed mother living next door during that decade.
"For many years," reported the Bloomington Pantagraph, "he was a familiar figure about the courts, where he was known as a most careful and faithful attache of the sheriff's office. He was for a long time a justice of the peace. He was of a quiet and reticent disposition, but to those whom he was intimately acquainted there was behind his reservedness at all ties a kindly heart and a faithful, trusting nature."
He was a member of the Remembrance lodge of the International Order of Long Fellows and at the time of his death in 1888 was one of its oldest members. He is known to have hosted a visit in May 1878 from his brother Samuel, who was visiting from Pennsylvania, and then in September 1878 from his brother John, also who had traveled from Somerset County. In September 1886, William traveled back to Somerset to visit loved ones, and upon returning, the Pantagraph said that he "seems to have tapped the fountain of youth."
After enduring what the Pantagraph called "a lingering illness," Catherine died on Sept. 30, 1884 at the age of 64. Her obituary observed that she "was a fond mother and wife, and highly respected by all her acquaintances."
William passed away on or about Jan. 8, 1888. An obituary in the Bloomington Pantagraph said that "It had scarcely become known to his friends that his condition was dangerous before the silent messenger of death summoned his spirit to its eternal home. Mr. Weyand has for many years past been considered quite feeble by the members of the family. He was on last Tuesday evening taken with a congestive chill. He failed to rally under proper treatment, and the exhaustion resulting from the congestion, complicated with other constitutional derangements, proved fatal. Mr. Weyand was one of the oldest and perhaps best known citizens of this city and county.... Mr. Weyand had the gift of acquiring money, and at the time of his death was estimated as a man of large wealth." The obituary was reprinted in the Somerset newspapers in his old hometown.
Circa 2000, William's name and birthdate were mentioned in genealogy research done by James Weyand, MD of Seattle, WA.
~ Daughter Mary L. (Weyand) Calkins ~
Daughter Mary L. Weyand (1849-1924) was born on March 19, 1849 in Bloomington. In girlhood, she joined the Christian Church.
Mary was twice married. The identity of her first spouse is not yet known, but by 1880 they were divorced, with Mary having moved back into her parents' home.
Then on Jan. 15, 1885, Mary wedded Rolla D. Calkins (May 13, 1859-1918), a native of Livingston County, IL. The bride was nine years older than the groom.
They were the parents of two children, Frank W. Calkins, born in 1885 and another deceased by 1900.
As a young man, Rolla studied to become a lawyer while at the same time working as a traveling salesman. He eventually practiced law in Bloomington and served as a local justice of the peace. They were members of the First Christian Church of Bloomington. In 1898, they left Illinois and moved to Carthage, MO. After five years in Carthage, in 1903 they moved again to a farm six miles west of Cuba, Crawford County, MO. There, he was elected to the Missouri legislature and became a prominent member. Rolla was known by the Cuba Review as "the silver tongued orator of western Iowa and gave many public speeches over the years. Circa September 1894, Mary and her brother William traveled together to Denver for a visit. Rolla served in the legislature until poor health led to his resignation.
He spent his final time in a state hospital in Farmington, MO in hopes of recovery. He died in Farmington at the age of 59 on Nov. 24, 1918, with his body shipped back to Cuba for burial, and the funeral officiated by Rev. A.H. Barnes.
Mary as a widow remained in their home, and she was a member of the Order of Eastern Star. Having borne heart valve failure, she succumbed in Cuba at the age of 75 on Oct. 25, 1924. Her remains were lowered into eternal repose in Mounts Cemetery, with brother Albert signing the Missouri certificate of death. Rev. Morse of the Cuba Presbyterian Church officiated at her funeral service, and an obituary was printed in the Cuba Review.
Son son Frank W. Calkins (1885- ? ) was born in 1885. He lived in Knobview west of Cuba, Crawford County, MO. Circa 1920, he helped organize the Iron Ridge Farm Club, a group of local farmers seeking to pool their resources to cut costs. Frank was elected to the Farm Club Buying Committee. Reported the Cuba Review, "These men shipped in car loads of feed and flour, fertilizer, binder twine, etc., and saved the farmers many a dollar on the above commodities." As more clubs were organized, the group was reorganized in 1922 into the Live Stock Shipping Association, "whereby farmers could ship their stock cooperatively to a cooperative market, which has save the farmers thousands of dollars." At some point he located to a farm about 2.5 miles northeast of the town of Rosati, Phelps County, MO. He provided a home for his dying uncle Albert E. Weyand, with death occurring in July 1944.
~ Daughter Frances J. "Fannie" (Weyand) Latham ~
Daughter Frances J. "Fannie" Weyand (1852-1899) was born in 1852 in Bloomington.
In June 1871, pursuing a career in teaching, she graduated from the Normal University. She went on to teach during the 1871-1872 term in Somanauk for three months, Belleflower for six months and Bloomington for two months. Her teaching career has been summarized in the 1882 book, A History of the Illinois State Normal University, Normal, Illinois, co-authored by John W. Cook and James V. McHugh.
In Feburary 1874, she wedded William A. Latham ( ? - ? ).
The couple produced five known offspring, among them Florence Benson, Isabel Keighin and Frances C. Gooding.
Circa 1882, they were on a farm near Osman, McLean County. Later, circa 1884, they dwelled in Kankakee, Kankakee County, IL, where William acquired a sizeable farm. They were members of the Christian church. In April 1887, she and her adult siblings William, Albert and Mary filed a lawsuit in District Court of the 19th Judicial District Court to divide Loehr family real estate in Woodson County, KS so that the value could be distributed to the heirs. The legal advertisement of the complaint was published in the Sumner County Standard and Woodson (KS) Democrat. The tract, in Section 1, Township 25, South Range 16 was appraised at $1,000, and the court ordered that the property be sold at a sheriff's sale.
Their home in 1888 was in Pontiac, Livingston County, IL and in Kankakee in 1899. William also owned a 4,000-acre ranch in Texas, where he and Frances lived for several years in the late 1890s.
The Grim Reaper rent the marriage apart on Nov. 19, 1899 when Frances, having given birth to their daughter of the same name, passed away. Rev. J.H. Gilliland traveled from Bloomington to Kankakee to lead the funeral service. An obituary was printed in the Bloomington Pantagraph, and her death was noted in the 1907 book Semi-centennial History of the Illinois State Normal University.
Daughter Florence Latham (1876-1958) was born on Sept. 6, 1876 in Bellflower near Bloomington. Said the Bloomington Pantagraph, "She spent her childhood in Blooomington, lived also in Fort Worth, Texas, and Kankakee. She graduated from Cumberland University Annex in Lebanon, Tenn." At the age of 26, on Nov. 12, 1902, in Kankakee, she was joined in marriage with Harry Wright Benson ( ? -1942). The couple bore four children -- Helen Leys, Dorothy Woolsey, Walter Latham and Harry Gordon. They purchased a new home in 1919 located at 1102 North East Street. They belonged to the First Christian Church, with Florence active in its Christian Women's Fellowship, chairing its quilters group and serving on the church board. Sadly, Harry died in 1942. Their house on North East Street was acquired by Illinois Wesleyan University and converted to a dormitory for women. Florence's address in the 1950s was 1511 East Olive Street. As her health declined, she became a resident of the Highland Park Nursing Home in Chicago in August 1957. She died in the home at the age of 81 on or about June 1, 1958. Her funeral service was preached by Rev. John D. Trefzger of the First Christian Church, with interment in Park Hill Cemetery. An obituary was published in the Pantagraph.
Daughter Isabel Latham ( ? - ? ) was born in (?). On Feb. 2, 1916, she was joined in marriage with Clarence B. Keighin (Feb. 4, 1892-1970), the son of David Byron and Mary Ellen (Benson) Keighin. They were longtime farmers in the Normal community of McLean County and members of the First Christian Church. The children born to this union were Robert L. Keighin, Paul B. Keighin and Kenneth A. Keighin. Clarence was active with the Cabery lodge of the Masons and served as master. He also was a member of the Towande lodge of the Masons, the Bloomington Consistory and Farm Bureau. For two decades, he served as a leader in the 4-H organization. They are known to have spent the winter of 1953-1954 in Long Beach, CA. In 1958, having retired, they resided at 808 South Mercer Avenue in Bloomington. At the age of 78, while a patient at Brokaw Hospital, Clarence died on Nov. 29, 1970. Rev. Dr. John D. Trefzger officiated at the funeral service followed by burial in East Lawn Cemetery
Daughter Frances C. Latham (1899- ? ) was born in Nov. 1899 and was named for her mother. When the mother tragically died post partum, the baby was taken into the home of her married aunt Mary L. Calkins, in Carthage, MO. On July 20, 1920, in nuptials held in Kankakee, she was united in wedlock with World War I veteran John C. Gooding (Sept. 23, 1893-1975), son of Oliver and Laura (Thomas) Gooding. During the war, John served in the American Expeditionary Force in France. The couple dwelled for many years in Kempton, IL, where John earned a living as a dealer of farm implements. They produced four children -- Todd J. Gooding, Floyd L. Gooding, Mary Mercier and a daughter who died in infancy. They were members of the Kempton United Methodist Church. For 50 years, John was a member of the Olson-Bute American Legion. He also belonged to the Kempton-Cabery Lions Club and the Ford County Historical Society. He was admitted to Riverside Hospital in Kempton in late June 1975 and died there 10 days later on July 6, 1975. Interment was in Mound Grove Cemetery in Kankakee, with an obituary printed in the Bloomington Pantagraph
~ Son William J. Weyand ~
Son William J. Weyand (1856-1936) was born in 1856 in Bloomington and spent his entire life in the community.
In 1884, he worked for the Chicago & Alton Railroad. He was a C&A brakeman in 1887 and, on a stop in Girard, suffered an injury when one of his hands was partially crushed.
On Aug. 10, 1898, when he was age 42, he married May Emmett (Feb. 4, 1869-1943), a native of Washington, IL who spent her growing up years in Bloomington. They did not reproduce.
The couple established a home at 905 West Wood Street in Bloomington and remained there for the balance of their lives. In the 1890s, William and his brother Albert, brother-in-law William A. Latham and cousin Leon L. Loehr became partners in the Zenith Roller-Mill located in the eastern section of Bloomington on the old Crown roller mill property. Each partner subscribed to $10,000 worth of stock.
In December 1890, with the valuation of the mill calculated at $65,000, the partners traded the facility to J.B. Goode in return for 4,290 acres of what the Chicago Inter Ocean called "fine cotton land near Dallas, Texas." At some point, the mill closed, and William sued his partners in November 1893 to recover $5,000 in what he believed he was owed. In reporting on the case, the Bloomington Pantagraph said that "In the fall of 1890 this mill was traded to a man by the name of Goode for 4,400 acres of land in Texas. The plaintiff in this case claims that Mr. Latham bought his interests in the farm as well as that of his brother and Mr. Loehr, paying at the rate of $12 per acre; that he paid a portion of it, and there is about $5,000 of the balance unpaid. Mr. Latham claims that he has paid all that he was to pay and that he does not owe Mr. Weyand anything." He was named in the 1903 Pantagraph obituary of his aunt Catharine (Weyand) Frank. William is known to have traveled to Missouri in 1924 to attend the funeral of his sister Mary.
Sadly, William suffered a stroke in 1935 and lingered until the Grim Reaper swept him away at the age of 79 on Jan. 18, 1936. An obituary was printed in the Pantagraph.
May lived for another seven years in her home at 905 West Wood Street. She passed away on Dec. 22, 1943.
~ Son Albert E. Weyand ~
Son Albert E. Weyand (1861-1944) was born in 1861 in Bloomington, McLean County, IL.
He remained in Bloomington into his 30s. At the age of about 23, in 1884, he was employed by the Chicago & Alton Railroad.
In March 1894, he and May G. Stroud ( ? - ? ) of St. Louis obtained a marriage license, with the news reported in the St. Louis Post-Dispatch. At the time, her address was 1235 North Grand Avenue in St. Louis. In reporting on the wedding, the Bloomington Pantagraph said it was "a surprise to the friends of Mr. Weyand, who is a very highly esteemed and estimable young gentleman, with many warm friends in this city, in which he has spent his life."
The couple is not known to have reproduced.
Circa 1903, Albert and his brother in law Rolla D. Calkins owned 700 acres of land in Knobview Township, Crawford County, MO and constructed a nine-room modern home, "finished in hard wood," said the Cuba (MO) Review. "They have completed their large barn. It is the intention of the gentlemen to put out many acres of orchard in a short time."
In February 1911, after 17 years of wedlock, Albert filed for divorce. The case was announced in the Steelville (MO) Ledger and the final decree published in the Review and Crawford (MO) Mirror.
He lived in Knobview circa 1924-1936. He is known to have attended McLean County's centennial anniversary celebration in 1930 and to have visited his brother William in Bloomington at that time. Albert's name again appeared in print in July 1936 involving a real estate partition involving property in Section 9 of Blue Mound Township near Bloomington. As he aged, and contracted cancer, he went to live in the household of his nephew Frank W. Calkins near the town of Rosati, Phelps County, MO.
He died there at the age of 83 on July 15, 1944. In an obituary, the Review said that "Mr. Weyand had lived in Crawford County over 40 years. He is survived by 3 nephews and 4 nieces, none of whom lives in this part of the state." Interment was in Mounts Cemetery.
Copyright © 2002, 2009, 2012, 2014-2015, 2017, 2019-2020 Mark A. Miner