Lucy (Woody) Kinder
Moseley Dalton
(1892-1975)


Lucy (Woody) Kinder Moseley Dalton was born on April 28, 1892 in Kilvert, Athens County, OH, the daughter of Fleming and Susanna (Minerd) Woody. She was the firstborn daughter of the only known freed slave in our family.
Lucy was married at least twice. In 1909, when she was 16 or 17 years old, she gave birth to a son. Sadly, the infant died at the age of one day and was never named. The little baby boy was buried at or near the family home in Stewart. On the official certificate of death, Lucy's father signed his name as the informant -- "F. Woody."
Four years later, in 1913, Lucy is known to have borne a daughter, Izora Kinder. Whether or not she was married to Izora's father has not yet been established. All we know about him was that he was of German descent.
Lucy was married sometime during the eight-year span between 1910 and 1918, to a man named "Moseley." They divorced by 1918.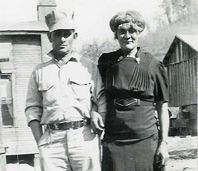 Ezra and Lucy
At the age of 27, on Aug. 21, 1918, Lucy married 26-year-old Ezra Edrick Dalton (1891-1958). Ezra was the son of Anthony and Elizabeth (Holbert) Dalton, and a native of Westland, Decatur Township, Washington County, OH. The Hon. E.C. Woodworth, Mayor of Athens, Ohio, performed the ceremony. Ezra was a soldier in the United States Army at the time, and may have been preparing to be sent away for military training.
Ezra was of medium height and build, with light blue eyes and dark brown hair.
Three years before marriage, at the age of 25, Ezra registered for the World War I military draft, and told the registration agent that he was employed as a teamster for "F. Cole" of Stewart. He also advised the agent that his "Father & Mother" were depending upon him for support. Ezra signed the registration card with an "X" indicating he could neither read nor write.
The Daltons had four known children -- William Riley Dalton, Thomas Dalton, Jean Carol Peters and Robert "Bobby" Dale Dalton.
When the federal census was taken in 1920, Ezra and Lucy made their home together, with her daughter Izora Kinder and handicapped brother Dow Edward Woody (age 22) also living under their roof. The census-taker recorded Ezra's occupation as "farmer" and the family's racial classification as "Mu" for "mulatto."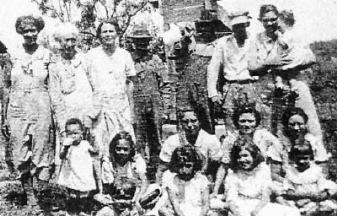 Lucy (standing, far left) and Ezra (4th from left) at the home of her cousin Floyd and Reatha Goins (far right) in Zanesville, OH, 1944. Front, l-r: Betty Dalton, Arcelia 'Tootie' Goins, Reath Tabler, Georgia McCuen, Izora Dalton, Charles Goins, Nancy Goins, Catherine 'Katie' Goins

Heartache rocked the young couple in March 1921 when their firstborn son, Thomas Dalton, died at the tender age of two days, having been prematurely. His remains were laid to rest in the Stewart Cemetery. His grave is believed to be marked by the small metal plaque.
The 1930 census shows Ezra and Lucy, and daughters Izora and Jean, residing in Rome Township, Athens County. Ezra continued his longtime occupation that year as a farmer. Among their neighbors a few houses away was the family of her cousins Basil and Audrey Minerd.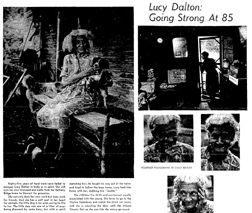 Athens Messenger article
One of the few other nuggets known of their lives is preserved on the pages of the Athens Messenger newspaper, available today via the Ancestry.com website. In the edition of June 12, 1932, the Messenger reported that "Ezra Dalton, who lives near Amesville, is having an addition built to his residence." Otherwise the newspaper record is silent on Ezra's life activity.
In 1953, the Daltons lived at Coolville, Route 2.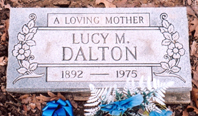 Lucy was profiled in an Aug. 2, 1970 edition of the Messenger, headlined "Lucy Dalton: Going Strong at 85," even though she actually was only 78 years of age. The photo essay was comprised of five images. An extended caption read, in part:
Eighty-five years of hard work have failed to conquer Lucy Dalton in body or in spirit. She still cuts her own firewood and walks from her Bethany Ridge home to Stewart for groceries. She not only does her own work but does work for friends... She still likes the thrills and excitement usually associated with the young. She loves to go to the Skyline Speedway and watch the stock car races, and she is counting the days until the Athens County Fair so she can ride the merry-go-round.
Ezra suffered from a stomach ulcer, and became deathly ill when it ruptured. He was rushed by ambulance to Sheltering Arms Hospital in Athens, where he died at the age of 67 on June 28, 1958.
Lucy outlived her husband by 17 years. She passed away in 1975, at the age of 83.
She was laid to eternal rest near her parents in the Stewart Cemetery. Her children purchased an attractive marker to be placed at her grave.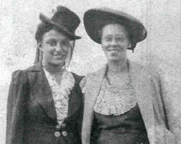 Izora and sister Jean Peters
~ Daughter Izora (Kinder/Dalton) Johnson ~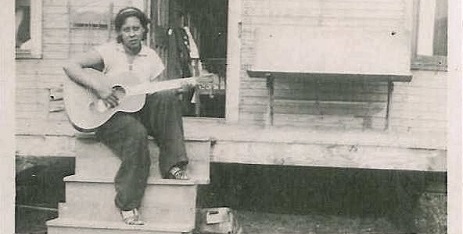 Izora playing guitar
Daughter Izora Kinder (or Dalton) (1912-2006) was born on Dec. 18, 1912 in Athens County, OH.
She is pictured here, at far left, with her sister Jean Carol Peters.
Izora married Walter Johnson ( ? - ? ), of Cleveland, Cuyahoga County, OH. Walter is known to have proceeded her in death.
Izora enjoyed playing the guitar, and is pictured here posing on the steps of an unidentified residence or building.
She passed away in a nursing home on March 22, 2006 at the age of 93.
~ Daughter Jean Carol (Dalton) Peters ~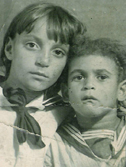 Jean and Bobby
Daughter Jean Carol Dalton married William Peters Sr.
She appears here with her younger brother Robert "Bobby" in a tender portrait, likely taken at an arcade, during the mid-1930s.
Jean Carol and William had seven children -- Anita Butcher, William Peters Jr., Maxine Still, Lucy Mary Peters, Dow Lorenzo Peters, Josephine "Jo" Peters and Izora Elaine Armstrong.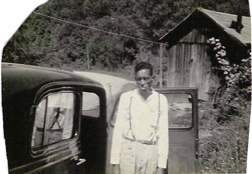 William, date unknown
William is pictured here, posing beside an automobile, at an unknown location and year.
Daughter Maxine Peters (1948-2012) was born in Athens. She married Lawrence Still, and they had three children -- Angela Still, Scott Still and Terrie Still. Family members said she "radiated love, generosity and kindness and left a valuable imprint harbored in the depth of our own essence of being." Sadly, Maxine died of cancer at the age of 63 on Feb. 3, 2012. "She will always remain a significant part of our life," the family said. "She leaves behind a true and heartfelt legacy of love." She was laid to rest in Coolville Cemetery near Athens.
~ Son Robert Dale "Bobby" Dalton ~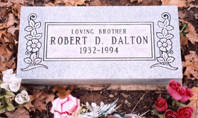 Son Robert Dale "Bobby" Dalton (1932-1994) was born in 1932.
He died in 1994, at the age of 62, and is buried in the Stewart Cemetery.
His grave marker is inscribed, "Loving Brother."
It was decorated with flowers when photographed in April 2005 by the founder of this website.
~ Son William Riley Dalton ~
Little is known about son William Riley Dalton. He appears to have been born with severe birth defects and developmental disabilities.
He is seen in photographs below in the arms of his grandmother, Susanna (Minerd) Woody.
His fate is not yet known.