Lucy (Woody) Kinder
Moseley Dalton
(1892-1975)


Lucy and Ezra Dalton

Lucy (Woody) Kinder Moseley Dalton was born on April 28, 1892 in Kilvert, Athens County, OH, the daughter of Fleming and Susanna (Minerd) Woody. She was the firstborn daughter of a freed slave.
Lucy was married at least twice. In 1909, when she was 16 or 17 years old, she gave birth to a son. Sadly, the infant died at the age of one day and was never named. The infant boy was buried at or near the family home in Stewart. On the official certificate of death, Lucy's father signed his name as the informant -- "F. Woody."
Four years later, in 1913, Lucy is known to have borne a daughter, Izora Kinder. Whether or not she was married to Izora's father has not yet been established. All we know about him was that he was of German descent.
Lucy was married sometime during the eight-year span between 1910 and 1918, to a man named "Moseley" ( ? - ? ). They divorced by 1918.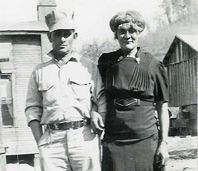 Ezra and Lucy
At the age of 27, on Aug. 21, 1918, Lucy was united in matrimony with 26-year-old Ezra Edrick Dalton (1891-1958). Ezra was the son of Anthony and Elizabeth (Holbert) Dalton, and a native of Westland, Decatur Township, Washington County, OH. The Hon. E.C. Woodworth, Mayor of Athens, Ohio, performed the ceremony.
Ezra was a soldier in the United States Army at the time, and may have been preparing to be sent away for military training. He was of medium height and build, with light blue eyes and dark brown hair.
Three years before marriage, at the age of 25, Ezra registered for the World War I military draft, and told the registration agent that he was employed as a teamster for "F. Cole" of Stewart. He also advised the agent that his "Father & Mother" were depending upon him for support. Ezra signed the registration card with an "X" indicating he could neither read nor write.
The Daltons had four known children -- William Riley Dalton, Thomas Dalton, Jean Carol Peters and Robert "Bobby" Dale Dalton.
When the federal census was taken in 1920, Ezra and Lucy made their home together, with her daughter Izora Kinder and handicapped brother Dow Edward Woody (age 22) also living under their roof. The census-taker recorded Ezra's occupation as "farmer" and the family's racial classification as "Mu" for "mulatto."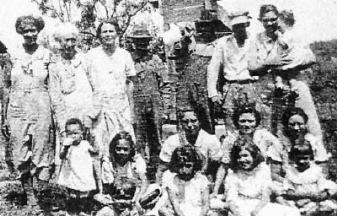 Lucy (standing, far left) and Ezra (4th from left) at the home of cousin Floyd and Reatha Goins (far right) in Zanesville, 1944. Front, l-r: Betty Dalton, Arcelia 'Tootie' Goins, Reath Tabler, Georgia McCuen, Izora Dalton, Charles Goins, Nancy Goins, Catherine 'Katie' Goins

Baby son Thomas' grave

Heartache rocked the young couple in March 1921 when their firstborn son, Thomas Dalton, died at the tender age of two days, having been prematurely. His remains were laid to rest in the Stewart Cemetery. His grave is believed to be marked by a small metal plaque.

The 1930 census shows Ezra and Lucy, and daughters Izora and Jean, residing in Rome Township, Athens County. Ezra continued his longtime occupation that year as a farmer. Among their neighbors a few houses away was the family of her cousins Basil and Audrey Minerd.

One of the few other nuggets known of their lives is preserved on the pages of the Athens Messenger newspaper, available today via the Ancestry.com website. In the edition of June 12, 1932, the Messenger reported that "Ezra Dalton, who lives near Amesville, is having an addition built to his residence."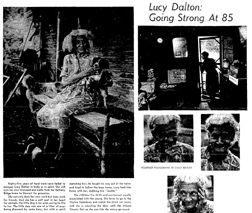 Athens Messenger article

Otherwise the newspaper record is silent on Ezra's life activity.

When the federal census enumeration was made in 1940, the Daltons dwelled in Rome Township, two houses away from her older half-sister Inez Gertrude Crippen and family. The census-taker recorded that the family had been in the same house for the past five years, and that Ezra earned a living as a road project laborer with the Works Progress Administration. Daughter Izora earned a living with the same WPA as a typist.

The WPA was one of the ways President Franklin Delano Roosevelt and the federal government tried to overcome unemployment during the Great Depression. It's widely considered one of the Roosevelt's largest and most ambitious undertakings of his "New Deal" to get the nation back on sound economic footing. Over the years, the WPA hired millions of out-of-work individuals to build public works projects, such as roads, bridges, retaining walls and buildings.

The United States Census of 1950 shows the family in Rome Township, Athens County. At that time, Ezra earned income as a laborer for the state highway department, and son Robert worked as a timber man. Lucy's widowed, 94-year-old mother resided under their roof that year.

In 1953, the Daltons lived at Coolville, Route 2.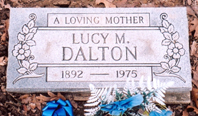 Stewart Cemetery

Lucy was profiled in an Aug. 2, 1970 edition of the Messenger, headlined "Lucy Dalton: Going Strong at 85," even though she actually was only 78 years of age. The photo essay was comprised of five images. An extended caption read, in part:

Eighty-five years of hard work have failed to conquer Lucy Dalton in body or in spirit. She still cuts her own firewood and walks from her Bethany Ridge home to Stewart for groceries. She not only does her own work but does work for friends... She still likes the thrills and excitement usually associated with the young. She loves to go to the Skyline Speedway and watch the stock car races, and she is counting the days until the Athens County Fair so she can ride the merry-go-round.

Ezra suffered from a stomach ulcer, and became deathly ill when it ruptured. He was rushed by ambulance to Sheltering Arms Hospital in Athens, where he died at the age of 67 on June 28, 1958.

Lucy outlived her husband by 17 years. She passed away in 1975, at the age of 83.

She was laid to eternal rest near her parents in the Stewart Cemetery. Her children purchased an attractive marker to be placed at her grave.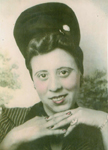 Izora Johnson - Jo Peters

~ Daughter Izora (Kinder/Dalton) Johnson ~
Daughter Izora Kinder (or Dalton) (1912-2006) was born on Dec. 18, 1912 in Athens County, OH.
When she was 27 years of age and not-yet-married, Izora resided at home with her parents in 1940. She was employed as an office typist by the Works Progress Administration, with her father working as a WPA road project laborer.
Izora married Walter Johnson (1908- ? ), of Cleveland, Cuyahoga County, OH.
It is doubtful that the couple reproduced.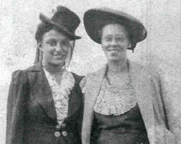 Izora and sister Jean Peters

When the federal census enumeration was made in 1950, the Johnsons dwelled in Cleveland, with Walter earning a living as a tire re-treader in a retail tire sales business and Izora as a waitress in a cafeteria. That year, 23-year-old Alabama native Lois Jones lodged in their household and worked as a clothes sorter at a laundry.

Walter is known to have proceeded her in death.

Izora eventually became employed as a hospital supervisor. She enjoyed playing the guitar, and is pictured here posing on the steps of an unidentified residence or building.

Her later-years companion was Theodore H. Harris (Dec. 12, 1931-2004). At one time he was a seaman recruit in the U.S. Navy.

Theodore died on Aug. 16, 2004.

She passed away in a nursing home on March 22, 2006 at the age of 93. Interment was in Coolville Cemetery, under the same stone as Theodore.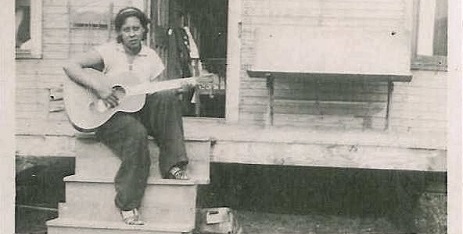 Izora playing guitar - courtesy Jo Peters


Jean Carol and William - courtesy Jo Peters

~ Daughter Jean Carol (Dalton) Peters ~
Daughter Jean Carol Dalton (1928-1965) was born on June 3, 1928 in Stewart, Athens County.
On June 19, 1943, in nuptials held in Meigs County, OH, Jean at age 15 was joined in wedlock with 33-year-old William Chauncey Peters Sr. (May 28, 1905- ? ). Rev. Isaac Kennedy, of Cutler, presided. William was the son of William Spotwood and Luvina (Calender) Peters and a native of Chillicothe, Ross County, OH but at the time of marriage resided in Coolville. His occupation at marriage was laborer, and he was 23 years older than his bride. He stood 6 feet tall, weighed 155 lbs. and carried a scar on his hip.
Jean Carol and William together bore seven children -- Anita Butcher, William Chauncey Peters Jr., Maxine Still, Lucy Mary Peters, Dow Lorenzo James Peters, Josephine "Jo" Peters and Izora Elaine Armstrong.
Just prior to World War II, William was required to register for the military draft. At age 35, he lived in Cleveland, OH and was employed by Al Goodman of Goodman Salvage located at the end of East 72nd Street.
When the federal census enumeration was made in 1950, the Peters family made a residence in Fairfield Township, Washington County, OH, along Route 555 heading north from Cutler. Four children were in the household as well as William's brother Maxie. In the "Race" column of the record, the census-taker initially marked "C" for "colored" but later changed it to "Neg."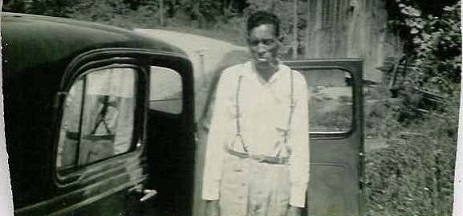 William Chauncey Peters Sr., date unknown - courtesy Jo Peters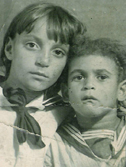 Jean and Bobby
Jean earned a living through her work at Ohio University Athens. The family was plunged into grief when Jean contracted throat/lung cancer, rumored in the family to have been caused by a chemical she was using at work. She died on Christmas Eve 1965 at the age of just 37. Burial was in Stewart Cemetery. On the grave marker is inscribed, "A loving sister."
William outlived his wife by 24-plus years and remained in the Coolville area, where he generated income through timber-cutting and logging. The angel of death cleaved him away in Selby General Hospital in Marietta, OH on Jan. 6, 1990.
Daughter Anita Peters (1946- ? ) was born in about 1946. She wed John Butcher ( ? - ? ). They are believed to have made their residence in Zanesville at one time and later in Athens County.
Son William Chauncey Peters Jr. (1948- ? ) was born in about 1948. He married Bernice ( ? - ? ). The couple put down roots in Columbus.
Daughter Maxine Roberta Peters (1948-2012) was born on Aug. 10, 1948 in Athens County. She married Lawrence Franklin Still ( ? - ? ), and they bore three children -- Angela Still, Scott Still and Terrie Still. Family members said she "radiated love, generosity and kindness and left a valuable imprint harbored in the depth of our own essence of being." Circa 2006, the Stills made a home in Hopewell, VA and later moved to Nelsonville, OH. Sadly, Maxine died of cancer at the age of 63 on Feb. 3, 2012. "She will always remain a significant part of our life," the family said. "She leaves behind a true and heartfelt legacy of love." Her remains were laid to rest in Coolville Cemetery near Athens.
Granddaughter Angela Dawn Still ( ? - ? ) was raised in Athens. Today she dwells in Hopewell, VA.
Grandson Scott Still ( ? - ? ) was joined in wedlock with Suzan ( ? - ? ).
Granddaughter Terrie Still ( ? - ? )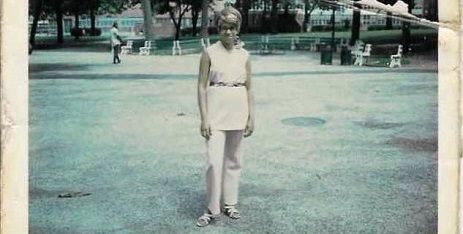 Lucy Mary Peters -
courtesy Jo Peters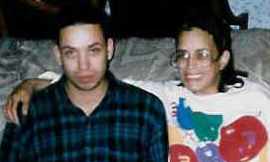 Lucy Mary and son James - Courtesy Jo Peters

Daughter Lucy Mary Peters (1950-2006) was born on Feb. 15, 1950 in Athens. She was an alumna of Carthage Troy High School in Stewart, OH. Lucy was the mother of four -- Peter Lee Bell, James William Bell, Christa Bell and Vanessa Bell. Reported the Columbus Dispatch, "She devoted her life to her family and friends and had a special place in her heart for her grandchildren. She had a quick wit beyond comparison and a memory that never failed. She remains a part of every life she touched." Sadly, she died at the age of 56 on Nov. 21, 2006. An obituary in the Dispatch said she was a "longtime resident of Columbus." Burial was in the sacred soil of Coolville Cemetery.
Grandson Peter Lee Bell ( ? - ? )
Grandson James William Bell ( ? - ? )
Granddaughter Christa Bell ( ? - ? )
Granddaughter Vanessa Bell ( ? - ? )

Dow Peters
Son Dow Lorenzo James Peters (1951-2013) was born on June 30, 1951 in Athens County, OH. He was a graduate of Carthage-Troy High School and then went on to serve in the U.S. Navy during the Vietnam War. Dow was the father of Dow Lorenzo Peters II, Aaron Scott Peters and Violet Peters. Dow was a longtime companion of Arlene Rose (Wires) Koenig (April 7, 1946-2022), daughter of Leroy A. and Laura (Lenz) Wires of Coolville and the stepdaughter of Gay Fields. Arlene had been married before and was the mother of Myron Koenig, Laura Mae Wilson, Darren Koenig and Carrie McCormack. They dwelled in Athens for years, where he is thought to have been engaged in farming. Death swept him away as a resident of Kobacker House in Columbus at the age of 61 on March 6, 2013. Interment of the remains was in Coolville Cemetery. An obituary was published in the Parkersburg (WV) News and Sentinel. Arlene outlived Dow by nine years and moved into Zanesville. Said an obituary, Arlene was a vibrant, beautiful woman who loved her family and enjoyed dinner parties. She loved her classic rock music, KFC dinners, and reading romance novels." As her health declined, she was admitted to the Oaks at North Point nursing facility. There, at the age of 76, she succumbed to the specte of death on Oct. 28, 2022. Pastor George Horner presided over the funeral rites, with burial following in Tuppers Plains Christian Cemetery.
Grandson Dow Lorenzo James Peters II ( ? - ? ) was in Zanesville in 2022.
Grandson Aaron Scott Peters ( ? - ? )
Granddaughter Violet Peters ( ? - ? )
Daughter Josephine "Jo" Peters (1954- ? ) was born in 1954. She put down roots in Columbus. Jo is the mother of Micho. She graciously has provided content for this biography.
Daughter Izora Elaine Peters ( ? - ? ) entered into marriage with Charles Armstrong ( ? - ? ). In 2006, their dwelling-place was in Bealeton, VA.



Robert Dalton
Courtesy Jo Peters
~ Son Robert Dale "Bobby" Dalton ~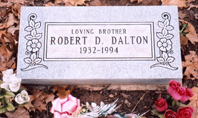 Stewart Cemetery

Son Robert Dale "Bobby" Dalton (1932-1994) was born in 1932.

At age 18, in 1950, he lived at home and made a living as a timberman.


He died in 1994, at the age of 62, and is buried in the Stewart Cemetery.

His grave marker is inscribed, "Loving Brother."

The gravesite was decorated with flowers when photographed in April 2005 by the founder of this website.



~ Son William Riley Dalton ~

Little is known about son William Riley Dalton ( ? - ? ).

He developed polio in his youth and endured severe developmental disabilities.

He is seen in photographs below in the arms of his grandmother, Susanna (Minerd) Woody.

William's fate is not yet known.


Copyright © 2004-2006, 2009, 2011, 2014, 2022 Mark A. Miner