Home

Peter Woolam Sr. (1749-1820s?) and
Margaret Smith ( ? -1820s)
Peter Woolam Sr. was born on Feb. 9, 1749 in or around Sleepy Creek, Berkeley County, WV, the son of Jacob and Maria "Magdelena" (Boeshaar) Woolam. At the time of his birth, Berkeley County was part of Virginia. As an adult, Peter became a pioneer settler of southwestern Pennsylvania.
When just a few weeks of age, on March 6, 1749, under the name spelled "Peter Ulm," his parents had him baptized in the Trinity Evangelical Lutheran Church in New Holland, Lancaster County, PA. Sponsors were Peter and Margretha Sumi. A record of the baptism was recorded in German by the church pastor and, many years later, published in English in the 1977 book Records of Pastoral Acts at Trinity Evangelical Lutheran Church.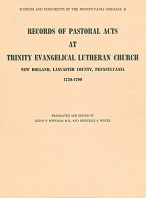 Book recording Peter's baptism
One source, Mark Ogan, writing in the 1992 book, Genealogy of Jacob Colvin of Elk Township, Vinton County, Ohio and Allied Families, states that Peter's father was a farmer and a weaver, and that Peter's grandfather (name unknown) was born in or around Karlsruhe, Baden, Germany in about 1684 and sailed to the American colonies in about 1700, when he was age 16.
Peter's name also has been spelled "Woolham" (circa 1790) - "Wholam" - and "Woollom." By about 1820, the spelling was simplified to "Ullom" or "Ullum." He was among 10 siblings identified as Balser Woolam, Mathias Woolam, Wendle Woolam, Samuel "Shem" Woolam ("Wullum"), Daniel Woolam, John Woolam, Jacob Woolam, Juliana Woolam, Magdelena Woolam and Hannah Woolam.
On May 10, 1770, when he was 21 years of age, Peter married 18-year-old Margaret Smith (Feb. 4, 1752- ? ).
They produced six known sons -- Peter Ullom Jr., Joseph Ullom, Jacob Ullom, Elijah Ullom, Stephen Ullom and George Ullom.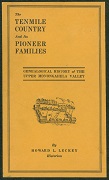 Book naming Peter
and Margaret
As an adult, Peter and his brother Shem migrated to the Ten Mile section of Washington County, PA. They may have made this move following the death of their father in 1778.
The Ten Mile is a region generally marked by the meandering trail of the Ten Mile Creek through Washington and Greene Counties. They were listed there in 1790 when the inaugural federal census enumeration was made.
In that 1790 census, their names were spelled "Woolham," with 10 individuals residing under Peter's roof, including six free white males under age 16, two white males above 16 and two free white females. Five persons lived in Shem's household, including one free white male over age 16, one white male under 16, and three white females.
During the American Revolution, circa 1793, Peter's brother Shem served in Captain William Crawford's Company of militia.
Also in the year 1793, Peter acquired 98 acres of land, part of what was then called "Hook's Delight" in Washington County. The deed to this purchase is still on file in the Washington County Courthouse in Book 1-I, page 765. Peter and Margaret resided on their farm for the remainder of their lives. In 1796, without moving, they became residents of the newly formed Greene County which was carved from part of Washington County.
When the census count again was taken in 1800, Peter "Wollem" and his family of seven made their home in Morgan Township, Greene County. By 1810, census records show them remaining in Morgan Township, but only three heads in the household. Also living nearby in Morgan were George Wollam (eight individuals) and Joseph Wollam (five).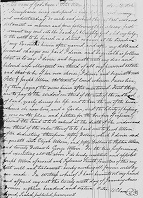 Peter's last will, 1816
On Jan. 29, 1816, "being indisposed in body but of sound memory and understanding," he wrote, he authored his last will and testament. Under his terms, Margaret was to receive one third of all of her husband's personal estate, "that to be of her own choice." Then, his eldest two sons Peter and Joseph were to receive the tract of land on which Peter then was living and pay the widow for same. They were to have the use of the family house and garden, "and the liberty of keeping a cow on the place and pasture for the cow free of expense." After the widow's death, the land was to receive a valuation, and one-third of that value was to be paid to son Jacob, reserving a $50 payment to son Elijah, $50 to son Stephen and $20 to son George. To carry out all of this work, Peter appointed his son Joseph and Sylvanus Smith to serve as executors. The will is on file today in the Greene Count Courthouse.
Peter passed away on Aug. 1, 1824. The specifics of his death, and place of burial, may be lost to history.
Following the terms of Peter's will, widow Margaret inherited the farm and remained there until her death in the mid-to-late 1820s. Their sons jointly received ownership of the farm upon her demise, and on May 18, 1829 sold it to Isaac Ullom (relation unknown). The deed for the transaction may be found in the Greene County Will Book 1, page 257.
Some 130 years after their deaths, in 1950, Peter and Margaret and their family were mentioned in a genealogical article in the Waynesburg Republican, authored by local historian Howard L. Leckey. The article later was incorporated into Volume VI of Leckey's book entitled The Tenmile Country and Its Pioneer Families: A Genealogical History of the Upper Monongahela Valley.
The old Peter Ullom family Bible is said to have been in the possession of Dr. Josephus T. Ullom of Philadelphia circa 1963.
~ Son Peter Ullom Jr. ~
Son Peter Ullom Jr. (1789- ? ) married Mary (?).
They had five known children -- Harrison Ullom, Elisha Ullom, Shem Ullom, Rachel Harris and Nancy Gaffield.
He is said to have "died about the same time as his father" in the late 1810s or early 1820s, according to Leckey's Tenmile Country book. At the time, his children were all underage and were named as beneficiaries in Orphans Court Docket 1, page 214 and Docket 2, page 36.
Son Shem Ullom (1807-1903) was born on Sept. 22, 1807, in either Virginia or Greene County, PA. He married Nancy Davis (1809-1879), and they had the following known children -- James B. Ullom, Mame H. Ullom, Joshua D. Ullom, William Henry Harrison Ullom, Mrs. Peter Janes and Mrs. James Hannam. He migrated to Morrow County, OH where he settled near the village of Iberia, Washington Township. The family was listed there in 1850 when the federal census was taken. Said the Marion (OH) Daily Star, Shem "had always enjoyed good health and attributed his long life to simple living." In 1880, after Nancy's death, Shem married again, to Harriet Davis ( ? - ? ). Their marriage license was filed in Morrow County. Toward the end of his life, he resided with his son James at 123 Charles Street in Marion, OH. He died there at the age of 96 on Oct. 25, 1903, with burial in the Iberia Cemetery. [Find-A-Grave]
Grandson Joshua D. Ullom (1836-1911) was born on Oct. 10, 1835 in Greene County. As a boy, he migrated to Morrow County with his parents. Joshua married (?), and resided in Marion, Marion County, OH, where he earned a living as a painter. Suffering from organic disease of the liver and heart, Joshua died at the age of 75, on July 14, 1911, in Marion. He was laid to rest in the Adelaide Cemetery.
Grandson William Henry Harrison Ullom (1838-1919) was born on March 22, 1838 near Waynesburg, Greene County. He was a carpenter, living and working in and around Chillicothe, Ross County, OH. William was married, and was widowed later in life. After a long battle with cirrhosis of the liver, he passed into eternity at age 81 on Christmas Eve 1919, with interment in Grandview Cemetery in Chillicothe. "Mrs. Chas. Knapp" was the informant on his death certificate.
Grandson James B. Ullom (1856- ? ) was born in about 1856 in Morrow County. He was a carpenter. James was married at least twice, first to an unknown woman, and they divorced. At the age of 43, he wed 35-year-old divorcee Viola (Coon) Davick (1864- ? ), daughter of George N. and Martha (Jarvis) Coon. Their wedding took place in Dayton, Montgomery County, OH on March 4, 1899, with Rev. G.M. Mathew officiating.
Daughter Rachel Ullom ( ? - ? ) is believed to have wed Nathan Harris ( ? - ? ) on Aug. 23, 1849, in Morrow County.
Daughter Nancy Ullom ( ? - ? ) is believed to have wed Thomas Gaffield ( ? - ? ) on May 1, 1860 in Morrow County. Rev. Chester L. Foote officiated.
~ Son Joseph Ullom ~
Son Joseph Ullom ( ? - ? ) is lost to history.
He may well be the same Joseph Ullum who resided in 1820 in Franklin Township, Greene County, and headed a household of eight members.
~ Son Jacob Ullom. ~
Son Jacob Ullom ( ? - ? ) was born in (?).
He wed Millicent Villiers ( ? - ? ). Nothing more is known.
~ Son Elijah Ullom. ~
Son Elijah Ullom ( ? - ? ) is thought to be the same "Elijah Ullum" marked in the 1820 federal census of Franklin Township, near Waynesburg, Greene County. That year, there were four members of his household counted by the census-taker.
~ Son Stephen Ullom ~
Son Stephen Ullom ( ? - ? ) is shrouded by the misty haze of the past.
He is thought to be the same "Stephen Ullum" living in 1820 near Waynesburg in Greene County, PA, with five individuals in the dwelling.
Copyright © 2014, 2017-2018 Mark A. Miner