Catharine (Younkin) Ludington
(1823-1874)

Catharine (Younkin) Ludington was born on Nov. 21, 1823 in Somerset County, PA, the daughter of Henry and Elizabeth "Betsy" (Weimer) Younkin. She and her husband were pioneer settlers of Iowa.
She was united in marriage with Hiram R. Ludington (1818-1910), also spelled "Luddington," a native of Indiana.
They had four known children -- Priscilla "Jane" Ludington, Henry C. Ludington, Horace Ludington and Civilla "Frances" Ludington. Priscilla was the only one of their offspring to be born in Pennsylvania, with the others in Virginia (later West Virginia).

Sadly, son Horace, born on Dec. 27, 1846 in Preston County, died at the age of four and a half on Aug. 2, 1851.
By 1846, the Ludingtons had moved across the state line to a farm in Knottsville in what is now Taylor County, WV. In the 1850 federal census of Taylor County, they had six boarders under their roof, including three road contractors and two laborers.
Within two years of the birth of daughter Frances in 1856, the Ludingtons made a decision to migrate to the midwest and seek new opportunity in the flat prairies of Iowa. They relocated in the spring of 1858 to Virginia Township, Warren County. As shown by the 1860 and 1870 censuses, they remained in this community, known as "New Virginia," for the balance of their lives. New Virginia is about 30 miles to the south of Des Moines.
Catharine passed away on April 27, 1874 with burial in New Virginia Cemetery in Warren County.
Hiram survived his wife by more than 35 years. He passed into eternity on New Year's Eve 1910 at the age of 93. Interment was beside his wife.
~ Daughter Priscilla "Jane" Ludington ~
Daughter Priscilla "Jane" Ludington (1842-1918) was born on March 13, 1842 in Somerset County, PA and spent some of her early years in Preston County, VA. When she was a teenager, she and her parents and younger siblings migrated to Iowa and put down roots in Virginia Township, Warren County.
In 1880-1900, she was unmarried and lived at home with her widowed father and younger sister Frances.
She died on Jan. 26, 1918, and was laid to eternal sleep in the family plot at New Virginia Cemetery.
~ Son Henry C. Ludington ~
Son Henry C. Ludington (1845-1912) was born in about 1845 in Barbour County, VA or in Knottsville, Taylor County, VA (later West Virginia). He spent his early years in Preston County, VA and then in the spring of 1858 made the trip with his family to Warren County, IA. He stood 5 feet, 7 inches tall, with a fair complexion, dark hair and blue eyes.
At the age of 17, at Winterset, IA, he enlisted in the U.S. Army during the Civil War on or about Aug. 17, 1862. Henry was assigned to the 39th Iowa Infantry, Company F, commanded by Capt. J.M. Brown. While on duty at Corinth, Mississippi, on New Year's Day 1863, he contracted what he described as "disease of eyes" caused by exposure to inclement weather. During the winter of 1864-1865, he was sent to a hospital in Chattanooga, Tennessee, where he ran into an old friend and fellow member of the 39th Iowa, Jefferson Wheat.
At the close of the war, Henry received an honorable discharge in the District of Columbia on June 5, 1865.
On Sept. 1, 1868, when he was 23 years of age, Henry married 17-year-old Harriet Virginia "Jennie" Sayre (1851-1919), a daughter of Enoch and Elizabeth (Felton) Sayre of New Virginia, Virginia Township, and whom they had known back in Virginia. The ceremony was held at New Virginia, officiated by Rev. Franklin M. Read.
They had seven known children -- Horace Ludington, Gertrude Gustin, Bernice Pauline Swesey, Cecile Lillian Britten, Enid Agatha Baker, Jewel Ludington and Ray Ludington. Sadly, infants Jewel and Ray both died on April 25, 1871, with interment in New Virginia.
The Ludingtons were members of the Methodist Church of New Virginia, with Henry belonging to the Mason lodge and the Grand Army of the Republic (GAR). In 1890, while residing in New Virginia, and suffering from blindness and rheumatism, Henry was awarded a federal pension as compensation for his ailments. [Invalid App. #873.871 - Cert. #635.230] Several friends stepped forward to provide supporting affidavits, including John B. Read, who remarked that "before this enlistment, [Henry] was a sound young man in good health and I have been acquainted with him ever since his discharge in 1865 and since he has been afflicted with Rheumatism and bad Eyesight, the left Eye is nearly gon out and the Right Eye is in bad condition. I live a near neighbor to [him]."
In about 1906, the Ludingtons resided in Cheyenne Wells, CO. Two years later, in 1908, they were mentioned in W.C. Martin's book History of Warren County, Iowa. They moved again in 1908 to California, settling in Pomona.
Circa 1912, Henry received $18 in monthly pension checks. As his health declined, on or about Nov. 5, 1912, Henry entered the National Soldiers Home in Sawtelle, CA. He died there a little more than a month later on Dec. 14, 1912. The cause of his death was ruled "epilepsy" although there is no other indication in his medical record that he suffered from this disease.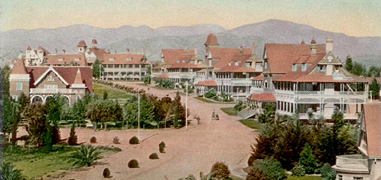 Grounds of the soldiers home in Sawtelle near Los Angeles
Harriet then began receiving his monthly pension payments. [Widow App. #999.037 - Cert. #756.788] She made her home during that time at 811 Flower Street in Inglewood. She passed away in Inglewood, CA on Oct. 11, 1919.
They are named in Vol. 1 of the 1896 book A Memorial and Biographical Record of Iowa and are profiled in Vol. 4 of Ralph Sayre's book Sayre Family: Another 100 Years.
Son Horace Ludington (1870- ? ) was born on March 21, 1870. In 1928, at the age of 58, he resided in Inglewood, CA.
Daughter Gertrude Ludington (1872- ? ) was born on Jan. 15, 1872. She married (?) Gustin.
Daughter Bernice Pauline Ludington (1878- ? ) was born on May 4, 1878. She was wedded to Robert H. Swesey ( ? -1935). The couple did not reproduce. In 1913, their address was 824 North Birch Street in Santa Ana, CA. Circa 1928, they lived on Lincoln Avenue. They moved again to a five-room house with garage at 1107 North Bristol Street in Santa Ana. Bernice was a member of the Innominada Club. Robert died at the age of 59 on April 29, 1935. He was survived by his brother Charles of Truro, Iowa, and sisters Nettie Porter of Denver, Ellen Armstrong of St. Charles, IA and Ann Swesey of Des Moines. A short obituary was published in the Santa Ana Register.
Daughter Cecile Lillian Ludington (1881- ? ) was born on July 25, 1881. She was united in matrimony with R.L. Britton ( ? - ? ). In 1928, they lived in Long Beach, CA.
Daughter Enid Agatha Ludington (1889- ? ) was born on May 2, 1889. She was married to Oliver Baker ( ? - ? ). The couple produced one known daughter, Beatrice Baker. They dwelled in Harding, CA in the late 1920s.
~ Civilla "Frances" Ludington ~
Daughter Civilla "Frances" Ludington (1856-1904) was born on Aug. 22, 1856 in Preston County, VA. As a young girl she made the move to Iowa with her parents and siblings. She never married and for decades lived at home with her widowed father and single sister Jane. Frances died on April 16, 1904, at the age of 48, with burial in the family plot in New Virginia Cemetery, Warren County, IA.
Copyright © 2016 Mark A. Miner
Research for this page graciously shared by the late Olive (Rowan) Duff and the late Donna (Younkin) Logan.