Mary (Younkin) Hartzell
(1786-1860s?)
Mary (Younkin) Hartzell was born in about 1786, most likely in Bucks County, PA or in Loudoun County, VA, the daughter of Johannes "John" and Catherine (Dorscheimer) Younkin.
As a very young girl, she resided with her parents, brothers and sisters near Lovettsville in the Shenandoah Valley region of Loudoun County. Then, in the late 1790s, they relocated back into Pennsylvania, settling near what became the village of Kingwood in Turkeyfoot Township, Somerset County.
She married widower George Hartzell (Sept. 30, 1788-1856?), son of Nicholas and Dorcas (Settle) Hartzell Sr. of Turkeyfoot Township. It was one of many intermarriages between the two Somerset County pioneer clans. She was four years older than her spouse and was not able to read or write.
Evidence suggests that Mary was George's second spouse, his first wife having been Susanna Spaight ("Specht") (1798-1834), daughter of Christopher Spaight of Stoystown, Somerset County. But this needs to be confirmed.
Oral family tradition has it -- although this is not proven with precision, and there is at least one skeptic -- that George and Mary produced nine known offspring -- John G. Hartzell, Simon Hartzell, Jonas Hartzell, Stephen D. Hartzell, Catherine "Kate" Hartzell, Mary Holliday, Elizabeth "Betty" Murray, Elias Mel Hartzell and Jacob Hartzell.
The names of Mary and George as a married couple were written in official Somerset County Orphans Court documents circa 1835 when, after the death of Mary's father, the judges needed to divide the assets and pay outstanding debts of the estate and then make a division among the legal heirs. That said, the Hartzells are one of the least documented branches of the already poorly known group of southwestern Pennsylvania Younkins.
What follows still needs to be confirmed with additional evidence.
George erroneously has been said to have been a native of Germany and to have emigrated to the United States in 1817, settling in Somerset County. This is not accurate, as he first was named in Somerset County tax assessment lists four years earlier, in 1813.
An interesting connection is that Mary's grandparents, Johannes "Heinrich" and Catharina (Scherer) Younkin, had links to the same Lutheran church in eastern Pennsylvania as George's supposed grandparents, and both families migrated to the same county in southwestern Pennsylvania.
Having heard many old stories, a great-great-grandson, John W. Hartzell, reported about the travel experience in 1951 in a letter to cousin Ida "May" (Brantner) Malson:
Many other Dutch friends came over with the Hartzell family. Some of the names were Leonard Straight, Jakie Sonaker and Mose King. These early settlers moved in covered wagons. Their belief was they should move on Sunday which they always did. Their first homes were made of round poles. They grew tomatoes in their gardens but didn't eat them, but considered them poison and called them Jerusalem apples. Finally, they began to make tomatoe butter by using Maple Syrup sugar. This was fine according to Linsey Hartzell. Each home had its own flax and wool prepared for all the family needs. Eva Ann Hartzell, mother of Linsey Hartzell, did most of the weaving. She made clothing, Blankets, grain sacks, ect. [sic]. Some of the Social affairs they had consisted of log rolling, corn husking, splitting rails and meeting at night to make apple butter.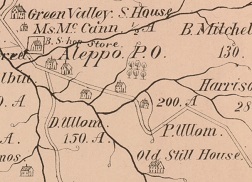 Aleppo, 1876 -- Green Valley schoolhouse,
blacksmith shop, store and old still house
The family spoke fluent German, a language passed down through their eldest son to his own children. The Hartzells were farmers.
When the federal census was taken in 1850, they dwelled on a farm in Turkeyfoot Township. Living in the household that year were unmarried daughters Catharine (age 26), Mary (24) and Elizabeth (18). Adding to the confusion, the 1850 census-taker marked that someone in the household had been married within the year -- what this referring to Mary and George themselves?
George is believed to have died in about 1856 at which time he would have been 66 years of age. His burial site has not been identified. Whether or not he succumbed in Somerset County or Greene County, PA is unknown.
Mary survived her husband. During the 1850s -- whether her husband was alive or not at the time is still in question -- she migrated to the northern panhandle of Virginia where her son John had been living in Marshall County since 1843. (That part of Virginia later became West Virginia during the Civil War.)
The federal census of 1860 shows her and her unmarried daughter Catherine living together under one roof in Aleppo Township, Greene County. She earned a living that year by "knitting," and their mail came through the post office in Cameron, Marshall County, VA (later part of West Virginia).
Any records of her death are not known to exist. During the Civil War, five of her offspring served in the Union Army, and possibly more. Among them were sons John (17th West Virginia Infantry), Simon (1st West Virginia Infantry) and Elias (1st West Virginia Infantry); grandson John Hartzell (12th West Virginia Infantry); and grandson in law George W. Fuller (possibly the 12th West Virginia Volunteer Infantry).
Circa 1967, research on the Hartzells was done by the late Eber Cockley, founder of the Historical and Genealogical Society of Somerset County. A copy of his typed notes is preserved today in the Minerd.com Archives. The May 1982 edition of the Society's Laurel Messenger newsletter contained a Hartzell article authored by Charles H. Price Jr. and Louise Dollison Marsh. The article claimed that Nicholas Hartzell (1765- ? ) was the son of the immigrant Melchior Hartzell and his third wife, Margaret Zorlin, both of whom settled in Turkeyfoot Township and died there.
[In May 2017, a search by the founder of this website of wills and deeds in Somerset County failed to produce any definitive record of George's and Mary's final fates. A similar search in Greene County in August 2017 proved equally fruitless. Should you have any knowledge or documents about George and Mary connecting them to their presumed children, please consider sharing that with us to enhance the accuracy of this biography. You may reach us via email.]
~ Civil War Soldiers Among Mary's Offspring ~
George W. Fuller (possibly the 12th West Virginia Volunteer Infantry)
~ Presumed Daughter Catherine Hartzell ~
Presumed daughter Catherine "Kate" Hartzell (1824- ? ) was born in about 1824 in Lower Turkeyfoot Township. She is said to have never married.
At age 26, in 1850, she lived at home with her parents and younger sisters Mary and Elizabeth.
During the 1850s, she and her mother and some of her siblings moved westward into Greene County, PA, where they settled in Aleppo Township. The 1860 census shows her residing with her widowed mother at the age of 31.
~ Presumed Daughter Elizabeth "Betty" (Hartzell) Murray ~
Presumed daughter Elizabeth "Betty" Hartzell (1832- ? ) was born in about 1832 and grew up in Lower Turkeyfoot Township.
She was united in marriage with (?) Murray.
Nothing more about them is in the known record.
~ Presumed Son Elias Mel Hartzell ~
Presumed son Elias Mel Hartzell ( ? - ? ) was born in about (?).
~ Presumed Son Jacob "Jake" Hartzell ~
Presumed son Jacob "Jake" Hartzell ( ? - ? ).
He is said to have migrated to Nebraska and, according to family noted, was "never heard from again." A nephew, also named Jacob Hartzell (son of Simon and Eva Ann [Whipkey] Hartzell) also dwelled in Nebraska circa 1925.
Copyright © 2015, 2017 Mark A. Miner
Research for this page graciously shared by the late Olive (Rowan) Duff, the late Donna (Younkin) Logan and Marlyn Hartzell Dalsimer, a.k.a. Marlyn Klee-Hartzell. Others researching the Hartzell family have been Beverly Palarino, John C. Foster, Louise Dollison Marsh, Martha Jane Martin and Barbara Erlenbach. In the 1920s and '30s, consulting engineer Dr. J. Culver Hartzell, of Blue Ash, OH, and the son of Bishop Joseph Crane and Jennie (Culver) Hartzell, and grandson of Michael Bush and Nancy (Worman) Hartzell of Moline, IL, paid genealogists to search for records.