Nancy Jane (Younkin) 
Johnson Rowan
(1831-1916)
She was married twice. Her first husband was Samuel Johnson ( ? - ? ). During the Civil War, Samuel served in the Union Army. Nothing more about his life or fate is known, other than that he died during or shortly after the war.
Nancy Jane's second spouse was Samuel K. Rowan (1842-1918), the son of Michael and Rosanna Rowan and a native of Normalville (also known as Elm and Springfield). They were wed on June 27, 1867 Springfield Township, when Nancy Jane was age 36 and Samuel 25. Justice of the peace J.W. Brooks performed the service, and Benjamin Hawkins and Evans Bigham were witnesses.
Her husband stood 5 feet, 9 inches tall, weighed 125 lbs., and had a dark complexion, black hair and brown eyes. The wife was 11 years older than the husband.
Samuel was a veteran of the Civil War, having served with the 6th Pennsylvania Heavy Artillery, Company E. He could neither read nor write, and thus was at the mercy of company clerks for properly spelling his name in the regimental roster. He enlisted on Aug. 31, 1864 and remained in the service until his honorable discharge in Washington, DC on June 13, 1865. While at Fort Ethan Allen in Arlington, Virginia, in May 1865, he became sick and was excused from duty.
After the war, he returned home to Normalville, and added a middle initial to his name. In his words: "Since my return from the service I have added a "K" to my name for the reason that there are two Samuel Rowans and this was done to keep our mails getting mixed." At one point, as no record of his children's names, birthdates or baptisms had been recorded, Samuel's aged father dictated the information to Rev. Harrison Knight, who in turn wrote them on paper. The "sheet of paper was placed in father's old bible which was much worn," Samuel recalled. Years later, Samuel's sister Rebecca (Rowan) Hawkins was in possession of the Bible and the list, and produced it for government investigators to prove Samuel's age.
They did not reproduce, and resided in Normalville and Mill Run, Fayette County. In about 1871, they brought two-year-old C.G. Imel into their home and raised him to manhood.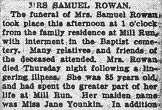 Connellsville Weekly Courier
As he aged, Samuel began to suffer increasingly poor health. He applied for a federal pension as compensation since he was a veteran. Among his friends and neighbors providing sworn testimony on his behalf were Albert Showman, James D. Mountain, M.F. Murray, John J. Nickelson, David Nickelson, Elijah Henry, C.G. Imel, A.S. Whipkey,
Neighbor Showman testified in 1897 that "I have lived next farm to him for 16 years. I have saw him on an average of at least once a week during the last 16 years. He worked some for me at different times up until the last few years." He and David Nickelson also worked together, "harvesting and husking corn." All agreed he did not engage in any "vicious habits."
Samuel endured a freak injury in August 1888. He recalled that he "received injury to write & thumb of left hand. Was riding horseback and my mare stumbled and fell down throwing me resulting in dislocation of wrist. Thumb stiff ever since. Have lost the use of wrist to some extent."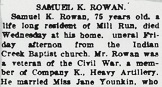 Connellsville Weekly Courier
When a special census count was made of Civil War veterans in 1890, Samuel was listed as living in Elm (Normalville) and suffered from "Heart and lung disease." He also claimed to be afflicted with diseases of back, digestive organs and kidneys.
Nancy Jane died at the age of 85 on June 14 (or June 23), 1916. On her death certificate, a physician noted the cause of death as "Infirmities of old age. No doctor." In an obituary, the Connellsville Weekly Courier noted that she "had spent the greater part of her life at Mill Run," and added that her brother Frank, his wife Harriet, and their married daughters Nora Kate Sherrick and Martha Jane Detwiler traveled to Mill Run for the funeral.
Samuel survived his wife by two years. As his own health declined, his sister Rebecca Hawkins and her daughter "nursed & cared for him day & night." He passed away in Mill Run on Valentine's Day 1918, at the age of 75. The Weekly Courier said that he had been "a life long resident of Mill Run." He was laid to rest in the Indian Creek Baptist Church Cemetery. After his death, a small quantity of his household furniture was sold to help defray expenses, netting $22.00.
Copyright © 2013 Mark A. Miner
Research for this page graciously shared by the late Olive (Rowan) Duff and the late Donna (Younkin) Logan