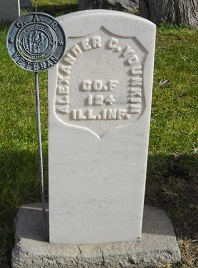 Alexander's grave, Kimball Cemetery
Courtesy Raymona Williams, Find-a-Grave
Alexander C. Younkin was born on Sept. 8, 1835 in Milford Township, Somerset County, PA, the son of Dr. Jonas and Martha (Pringey) Younkin.
His middle name could very well have been "Campbell," so bestowed in honor of his father's great friend and spiritual mentor, Rev. Alexander Campbell, founder of what today is the national Disciples of Christ Church (Christian Church).
Circa 1850, at about the age of 15, Alexander and his family relocated to Henry County, IL. He and his brother Walter found Henry County appealing and stayed despite the fact that their parents and younger sisters and brothers pushed further west into Iowa. In adulthood, he stood 5 feet, 10 inches tall, with a dark complexion, grey eyes and black hair.
On March 18, 1860, at the age of 24, Alexander married Ohio native Harriett Amanda Mooney (Dec. 1842-1905). She was the daughter of William and Sarah A. (May) Mooney. The ceremony took place in Cambridge, Kewanee Township, Henry County, with Rev. St. Clair Ross officiating.
The couple produced four children, of whom two are known -- Charles Elbert Younkin and George Elmer Younkin.
The young family initially made its home in Kewanee, Henry County. When the Civil War broke out, Alexander traveled to Camp Butler, IL to join the Union Army. He was assigned on Aug. 14, 1862 to the 124th Illinois Infantry, Company F. Capt. Matthew B. Potter commanded the company.
Alexander's wartime career did not last long. By mid-November that year, in La Grange, TN, he was certified as "disabled" and received an honorable discharge on Nov. 16, 1862. In writing about the case, Capt. Potter said "His disease, I believe to be Hereditary, as I have understood since his enlistment, that other members of his family have died of consumption [tuberculosis]. With him it has manifested itself within the past two months." The regiment's surgeon wrote that Alexander suffered from a progressively worse disease of tuberculosis and "has suffered from an attack of acute Dysintery and fever and has now Haemopthsis [coughing up of blood] with dulness upon Percussion in both lungs, anemia and debility accompanied with a rapid pulse and rapidly declining strength. Disability occurred before enlistment."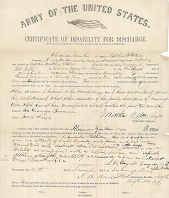 Alexander's disability discharge
Alexander returned home to Kewanee after he left the army. In 1880, when Richard L. Howard's book History of the 124th Regiment Illinois Infantry Volunteers was published, he was named in a roster of soldiers.
The Younkins spent about 18 years in Kewanee, where Alexander earned a living as a farmer and teamster. Their home address in 1876 was on the south side of South and Main Street. When H.F. Kett and Company's book History of Henry County: Its Tax Payers and Voters was published in 1877, Alexander was listed as a teamster and a Republican, having been born in Pennsylvania, and with two children at home. That same year, he began to notice some hearing loss.
The federal census for 1880 shows the family residing in Burns Township, with Harriet marked as suffering from "neuralgia," and both sons listed as working as farm laborers.
On or about Feb. 25, 1880, they pulled up stakes and moved to Creston, Union County, IA and remained there for a dozen or more years. Alexander made the acquaintance of Edsel Lateman in Creston. Lateman later recalled that Alexander suffered from rheumatism of the back and was considered "a worthy citizen of moral and temperate habits."
On May 9, 1890, while in Iowa, Alexander began receiving a federal pension as recognition of his sufferings while in the military. [Invalid App. #1.029.777 - Cert. 745.216]
In 1893, the Younkins relocated to Cedar Rapids, Boone County, NE. From there, three years later, on Feb. 15, 1895, they pushed onward to Kimball, Kimball County, NE. When the United States Census again was enumerated in 1900, they lived in the Dix Precinct of Kimball County. Married son Charles and his family dwelled just a few houses away.
Sadly, Amanda passed away in Kimball, Kimball County, NE on Feb. 20, 1905.

Above: Cattle ranch in Alliance, Nebraska. Below: snow drift near Alliance in March 1913 which stalled a railroad train for 56 hours.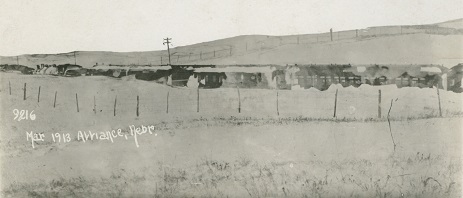 Alexander lived for another quarter century after his wife's death. On July 8, 1908, he moved to Alliance, Box Butte, NE. The Nebraska State Journal in Lincoln reported in October 1910 that his soldier's pension had been increased to $20 per month.
Circa 1910, he made his home in a "lodging house" in Alliance, owned and operated by one of his sons or grandchildren, with 16 other lodgers in the dwelling located on Box Butte Avenue. That year, the 70-year-old had no occupation.
Then by 1930, after about two decades, he left Alliance and traveled to Wyoming to live with his married son George near Chugwater, Platte County.
His final years were spent living in George's home six miles east of Chugwater. He was examined by Dr. Earl E. Griggs, a military physician, on April 24, 1925. Griggs reported that "I ... find him completely disabled because of poor vision. He is almost completely blind. Cannot see to dress or feed himself. I could not make him hear anything I said to him because of almost complete deafness. His arterio-sclerosis is extreme. He cannot stand without support and is in my opinion completely disabled and cannot get along with the assistance of an attendant."
There, at the age of about 92, suffering from hardening of the arteries, he succumbed in his son's home on June 6, 1930. His remains were returned to Kimball for interment. [Find-a-Grave] In an interesting twist, when son George filled out the official Wyoming certificate of death, he could not name either of his father's parents.
Agents of the Chugwater Valley Bank assisted with paperwork in finalizing Alexander's estate and government reimbursement for burial expenses.

Letterhead of the Wyoming bank which helped finalize Alexander's estate
~ Son Charles Elbert Younkin ~
Son Charles Elbert Younkin (1861-1955) was born on Nov. 26, 1861 in Kewanee Township, Henry County, IL.
On Nov. 27, 1887, when he was age 19, and in a ceremony held in Creston or Orient, Union County, IA, he was united in marriage with 17-year-old Nellie Mae Green (Sept. 21, 1870-1946), a native of Orient, Adair County, IA.
They remained together for 52 years, minus one day.
The Younkins produced six offspring, born in Iowa and Nebraska -- Florence Cynthia Carland, Loyde Leslie Younkin, Glenn Steven Younkin, Bessie Maybelle Jones, Eunice Else Ambrose Lemaster and Ralph Alexander Younkin.
As a young man, Charles began pioneer work as a rancher near Kimball, Kimball County, NE.
Their address circa 1892 was 604 North Birch Street, Creston, Union County, IA.
The 1900 census of the United States shows the family living near his parents in the Dix Precinct in the Dix Precinct of Kimball County. That year, three boarders lived under their roof.
Later, they relocated to Alliance, Box Butte County, NE, "where he engaged in the transfer business for nearly 20 years," reported the Younkin Family News Bulletin.
The Younkins moved again before 1920 to Scottsbluff, Kimball County, where they lived on Ninth Avenue. The 1920 and 1930 federal censuses show Charles earning a living as a driver on a dray line, typically a flat-bed wagon pulled by mules or horses.
Charles retired in about 1937.
Charles died in his daughter Florence's home on Nov. 26, 1939 in Scotts Bluff County, two miles north of the town of Lyman, near the Wyoming state line. Burial was in Fairview Cemetery, with Rev. George Morrel of the Methodist Church officiating.
Nellie survived her husband by about seven years. She relocated to Burbank, Los Angeles County, CA, where she succumbed on Nov. 28, 1946.
Daughter Florence Cynthia Younkin (1889-1968) was born on March 17, 1889 in Orient, Adair County, IA. On April 5, 1916, in Broken Bow, Custer County, NE, she married J. Frank Carland ( ? - ? ). They did not reproduce. In 1939, they lived two miles north of Lyman, near Scott's Bluff, NE. Florence spent her final years in Medford, OR, where she died on May 23, 1968.
Son Loyde Leslie Younkin (1891-1956) was born on Oct. 16, 1891 in Orient, Adair County, IA. When he was 18 years of age, in 1910, he boarded with the family of widow Rose McInroy in Boyd, Butte County, where he provided farm labor. At the age of 20, on June 8, 1912, he wedded Blanche Estelle Himes (Oct. 28, 1893-1968), a native of Alliance, Box Butte County, NE. They were the parents of seven children -- Muriel Eleanor Ortez, Ruth Estelle Bass, Vernon Leslie Younkin, Ray Orvil Younkin, Doris Louise Leeling, Nellie Marie Jones and Norma Lou Bruegger. Circa 1921, the family dwelled in Gering, Scotts Bluff County, NE. Eventually they relocated "to a ranch north of Lusk," Wyoming, reported the Casper Star-Tribune. In 1939, they lived in Lusk. Lloyd passed away in Lusk on March 15, 1956. Blanche survived for another dozen years and died four days before Christmas in 1968.
Granddaughter Muriel Eleanor

Younkin

(1914-1984) was born in about 1914. She married (?) Ortez. Their three daughters were Jeannette Zsambok, Marilyn Dement and Donna Brandelik. The Dayton Daily News once noted that she was a "bank teller at First National Bank of Dayton and was a member of Riverdale United Methodist Church." In 1983, Muriel lived in Dayton, OH at the address of 1127 Harvard Boulevard. She passed away at the age of 70 on June 6, 1984. Rev. Fred C. Whitley led the funeral service held in her church, with interment following in Glen Haven Memorial Gardens. An obituary appeared in the Daily News.
Granddaughter Ruth Estelle

Younkin

(1915-1999) was born on May 1, 1915 in Alliance, NE. She attended grade school at Hat Creek and Buena Vista. As a young adult, she graduated from the University of Wyoming and then taught grade school for five years in Jireh, Cheyenne River and Torrington. In June 1941, when she was age 26, Ruth wedded Lewis Gene Bass (1916-1994), the son of Lewis and Jennie Bass and a native of Harrison, NE. Immediately, they purchased a cattle ranch 20 miles south of Manville. They were the parents of Lewis Gene Bass and Jannae Maddox. They belonged to St. George's Episcopal Church. From 1965 to May 1979, she served as assistant librarian for Eastern Wyoming College. She was active with the International Order of Job's Daughters, the Order of Eastern Star and Daughters of the Nile. Lewis was an agriculture major at the University of Wyoming. Active in the community as well, he was a member of the Wyoming Stock Growers Association and for 15 years was on the board of directors of the State Farm Bureau. He was a master of the Masons lodge n Guernsey, a member of the Wyoming Consistory of the Syria Shrine, a patron of the Order of Eastern Star in Guernsey and Worthy Grand Patron of of the Wyoming O.E.S. from 1966 to 1967. In addition, from 1979 to 1980, he was associate supreme guardian of Job's Daughters. The Basses' home in the early 1980s was in Lusk, WY. Sadly, Gene was admitted to Scottsbluff Nursing Home where he died at the age of 78 on Sept. 24, 1994. Ruth's final years were spent in Torrington, Goshen County, WY. She succumbed at the age of 84 on Oct. 12, 1999. Funeral services were held in the family church, preached by Rev. Dale McQueen, with interment in Lusk Cemetery. In an obituary, the family asked that any memorial donations be made to organizations benefitting disabled children.
Granddaughter

Doris Louise

Younkin

(1923-2011) was born on Dec. 16, 1923. She was united in holy matrimony with (?) Leeling. In 1983, she dwelled in Manville, Niobrara County, WY. Doris died at Niobrara Health and Life Center in Lusk at the age of 87 on July 18, 2011.
Granddaughter

Nellie Marie

Younkin

(1926-2013) was born on Sept. 13, 1926 in Hat Creek, WY. She attended Chadron State College and was a school teacher for several years. On Jan. 13, 1945, in nuptials held at Lusk, WY, she was joined in wedlock with Walter V. Jones ( ? - ? ). Their children were Claudia Storonskij, Walter Jones, Martin Jones and Terry Jones. Over the years, the family moved frequently. Their stops included "Fort Robinson and ranches by Marsland, Hyannis, Merriman, rushville and Hay Springs," said a newspaper. In 1967, they relocated to Alliance, NE, where Nellie was employed for 22 years at Good Samaritan. Additional moves were to Billings, MT and Casper, WY. Nellie died in Casper on June 11, 2013. Burial was in Alliance City Cemetery. An obituary in the Panhandle Post of Alliance noted that her survivors included five grandchildren and six great-grandchildren.
Granddaughter

Norma Lou

Younkin

( ? - ? ) married (?) Bruegger. She resided in the early 1980s-2013 in Van Tassell, Niobrara County, WY.
Son Glenn Steven Younkin (1897-1955) was born on Aug. 26, 1897 in Nebraska. On April 16, 1920, he was united in matrimony with Alice Frances McLaughlin (Feb. 18, 1901-1988), a native of Fort Collins, CO. Their four children were Florence Mae Varley, Iris Marie Schmidt Borman, Glenn Charlie Younkin and David Joseph Younkin. The Younkins' home in 1939-1955 was in Alliance, NE. Sadly, Glenn died at the age of 58 on March 12, 1955. Alice lived for another 33 years as a widow and spent her final years in Manhattan, MT and in Fort Collins, CO. She passed into eternity on Sept. 2, 1988. Burial was in Alliance, NE.
Daughter Bessie Maybelle Younkin (1901-1983) was born on May 1, 1901 in Kimball, Kimball County, NE. Unmarried at the age of 18, she lived with her parents in Scottsbluff and earned a living as a stenographer with a wholesale grocery business. On Christmas Day 1922, she was joined in wedlock with George "Dewey" Jones (Nov. 13, 1899-1975). Their two known children were Robert Dewey Jones and Shirley Louise Kaiser. They made their residence in 1939 in Scottsbluff, NE. The Grim Reaper swept away Dewey at the age of 75, in Burbank, Los Angeles County, CA, on Sept. 18, 1975. Bessie outlived her spouse by eight years, and died in Burbank on Jan. 24, 1983.
Grandson

Robert Dewey Jones
Daughter Eunice Else Younkin (1904-1990) was born on Dec. 4, 1904 in Scottsbluff, Kimball County, NE. She was twice married. Her first marriage took place in 1921 when at age 17 she was united with 19-year-old Beryl Ambrose (1902- ? ). Beryl was a native of Minnesota. The couple had one daughter, Leone Mae Neil. When the federal census enumeration was made in 1930, the Ambroses made a home in Scottsbluff with Eunice's parents. That year, Beryl worked as a garage mechanic and Eunice as a sales lady in a variety store. Then in 1935, when she was age 31, Eunice wed for a second time, to Walter D. Lemaster (June 28, 1904-1975), a native of Kentucky. The Lemasters did not reproduce. Circa 1939, they lived in San Fernando, CA. Walter died in April 1975, ending their union of four decades' duration. Eunice spent her final years in Northridge, Los Angeles County, CA. There, she passed away on March 3, 1990.
Granddaughter Leona Ambrose (1924- ? ) was born in about 1924. She grew up in Scottsbluff, NE.
Son Ralph Alexander "R.A." Younkin (1909-1988) was born on Jan. 20, 1909 in Scottsbluff, Kimball County, NE. In 1930, at age 21, he worked as a grocery store salesman in Scottsbluff. On July 2, 1932, at the age of 23, he was wedded to Helen Josephine Madden (Aug. 18, 1911- ? ), a native of Crab Orchard, Johnson County, NE. They resided in Scottsbluff, NE and were the parents of Gary Jerome Younkin. In about 1939, they relocated to in Denver, CO, residing on Clay Street. The 1940 federal census shows the Younkins living there, with Ralph at age 31 earned a living as a broker of wholesale popcorn. Ralph passed away in Lakewood, Jefferson County, CO on Jan. 17, 1988, just three days shy of his 79th birthday.
Grandson Gary Jerome Younkin (1938- ? ) was born in about 1938 in Scottsbluff, NE.
~ Son George Elmer Younkin ~
Son George Elmer Younkin (1863-1955) was born on April Fool's Day 1863 in Kewanee Township, Henry County, IL.
At the age of about 24, in 1887, he was wedded to 19-year-old Anna C. "Annie" Yant (June 1867-1943), a native of Polk County, IA
The Younkins bore five children, of whom three are known -- Bertha "Birthy" Wallace, Elmer George Younkin and Mary Elizabeth Williams.
The 1900 census of the United States show this family in the Dix Precinct of Kimball County, NE, with George working in "sheepraising."
George signed an affidavit of testimony in his father's Civil War pension case, circa 1925, at which time he lived in Lyman, NE.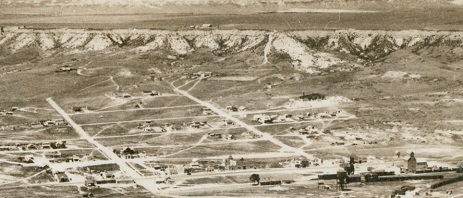 Bird's-eye view of Chugwater, WY, the Younkins' home in 1930. Note the railroad depot at lower right and claystone bluffs in the background.
By the time that the 1930 federal census was made, George and Annie lived on a farm six miles east of Chugwater, Platte County, WY. That year, George's 92-year-old widowed father lived in their household. What drew the Younkins to Chugwater is not known, but they may have been influenced by developers' advertising that it was the "gateway to Platte County's great dry farming" assets.
Continuing to pursue new opportunities, by 1939, George made a home in Oklahoma in Elk City, Beckham County.
Sadly, Annie passed away two days before Christmas 1943, at age 76.
George died in 1955, possibly in Washita, Caddo County, OK, at the age of 91 or 92. His remains were placed into eternal repose in Fairlawn Cemetery in Elk City. [Find-a-Grave]
Daughter Bertha Younkin (1891- ? ) was born in Oct. 1891 in Iowa. She was joined in holy matrimony with Brink Wallace ( ? - ? ). They are believed to have dwelled in Scottsbluff, NE. Controversy arose within the family circa 1925 when relatives accused her of mis-appropriating her grandfather Younkin's Civil War pension checks. The group then approached Samuel Shove, a Scottsbluff pension agent, who investigated the charge. Shove then wrote to the U.S. Commissioner of Pensions in Washington, DC, stating: "I am all the more interested and can speak with the truth whenI say that the one who has been getting his check Mrs. Bertha Wallace, treats the old man with contempt, and her only interest is in getting his check. There isn't a question in my mind, but what the old man is feeble minded, and is being mis lead by the parties giving him an existence -- the question has arisen in my mind, suppose the old man and he will before long pass away, then who will bear the funeral expenses, not a penny is being layed aside for this, but now comes people well established in business in this City, who are one his own child, and six of his grandchildren, who do not want any part of his pension, but want to see him get his own money, and that some of it be placed in a fund for his own use, and future burial, the ones now taking care of him, spend every cent of it, upon their own selves, merely giving him food, and old cloths."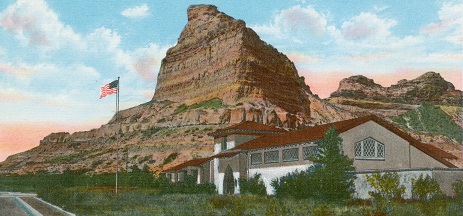 Scott's Bluff national monument and museum at Scottsbluff, Nebraska, where the Wallaces made a home in the 1920s
Son Elmer George Younkin (1894-1970) was born on Aug. 18, 1894 in Cedar Rapids, Boone County, NE. He married Cory Elsie Pugh (Dec. 21, 1898-1980), a native of Brazoria County, TX. Their two known sons were Harold "Shelton" Younkin and Jimmy Gordon Younkin. Elmer died at the age of 75 on April 3, 1970 in Anadarko, Caddo County. Cora joined him in death on Jan. 21, 1980. They rest in Memory Land Cemetery in Anadarko.
Grandson Harold "Shelton" Younkin (1924-1980) was born on May 18, 1924 in Marlow, Stephens County, OK. On June 2, 1946, Shelton wedded Jean Van Riper (Jan. 22, 1922). He died at age 56 in Anadarko, Caddo County on May 24, 1980. Jean outlived him by two decades. She succumbed in Norman, Cleveland County, OK on May 14, 2000.
Grandson Jimmy Gordon Younkin (1932-2000) was born in 1932. He was a U.S. Army veteran of the Korean War. He passed into eternity at age 67, on March 7, 2000, in Elk City, Beckham County. Burial was in Fairlawn Cemetery in Elk City.
Daughter Mary Elizabeth Younkin (1903-1946) was born on Feb. 5, 1903 in Harrisburg, Banner County, NE. She wedded Harlan Otto Williams (Oct. 16, 1892-1959). He was a U.S. Navy veteran of World War I. The couple dwelled in Preston, Hickory County, MO. Tragically, Mary contracted an acute case of hepatitis, of causes unknown, and was admitted to St. John Hospital in Springfield, Greene County, MO. She died there a day later at the untimely age of 43, in Springfield, Greene County, MO, on the next-to-last day of 1946. Her remains were lowered beneath the sod in Bowers Chapel Cemetery in Urbana, Dallas County, MO. Harlan outlived his bride by a baker's dozen of years. Death took him away on Dec. 4, 1959. He rests in Los Angeles National Cemetery.