Home

Angeline 'Annie' (Younkin) Esch
(1861-1892)
Angeline S. "Annie" (Younkin) Esch was born on June 28, 1861 in Indiana County, PA, the daughter of Aaron and Mary (George) Younkin.
At the age of 21, reported the Indiana (PA) Weekly Messenger, she "was converted and joined the Evangelical Association in the beginning of the year 1883, and was a faithful member until death." Thereafter she was lovingly referred to as "Sister Annie" by church friends.
On Sept. 30, 1885, now age 24, she was united in matrimony with 28-year-old George Watson Esch (Sept. 9, 1857-1935), son of Adam and Julia (Waters) Esch of Cambria County.
Together they bore two daughters -- names not known -- and mourned when one of the girls died young.
They lived on a farm in Brush Valley. An article in the gossip columns of the Weekly Messenger noted that in late July 1891, George had finished all of his harvesting except for his oats.
The family again was plunged into grief when Angeline contracted tuberculosis ("consumption") in the spring of 1892. Her health steadily declined. M.H. Shannon, a correspondent for the Weekly Messenger, paid her several visits and "always found her perfectly resigned to the will of God, and expressed her willingness to depart and be with Jesus. She died in great peace. Some of her last words were 'I am now going home'." An obituary in the Weekly Messenger said she had died "in the triumph of faith." Rev. D.J. Hershberger preached the funeral sermon, based on the scripture verse Revelations 14:13 [King James Version] -- "And I heard a voice from heaven saying unto me, Write, Blessed are the dead which die in the Lord from henceforth: Yea, saith the Spirit, that they may rest from their labours; and their works do follow them." The remains were lowered into the sacred soil of Fry Cemetery in Brush Valley.
After a year of grieving, on Feb. 16, 1893, the 35-year-old George wed a second time to 21-year-old Louisa Catherine Miller (1871-1943). The second marriage endured for half a century.
Four more children were born to the pair -- Hazel A. Esch, Mary L. Esch, Charles P. Esch and Royal L. Esch.
George plied his trade as a farmer and carpenter, and in April 1903 the couple moved from Brush Valley into the city of Indiana. They were members of the First Methodist Episcoal Church. Their address in the mid-1930s was 399 South Sixth Street in Indiana.
On the fateful day of Nov. 24, 1935, while at the corner of Sixth and School Streets in Indiana, he suffered a massive heart attack and died instantly. Rev. Holt Hughes, of the First Methodist Episcopal Church, presided at the funeral. Burial was in Indiana's Greenwood Cemetery. His daughter from the second marriage, Mary L. Esch of Indiana -- employed as registrar at Indiana State Teachers College -- was the informant for the Pennsylvania certificate of death. An obituary was published in the Indiana Gazette.
George's daughter Hazel A. Esch (1893-1982) from the second marriage was born on Nov. 5, 1893 in Brush Valley. At the age of 10, she relocated with her parents to the city of Indiana, PA. She taught mathematics for four decades in the Vandergrift (PA) Public School. She belonged to Grace United Methodist Church, United Methodist Women and Indiana County Retired Teachers Association. She shared a residence for many years with her sister Mary. Her final three years were spent residing in Cameron Manor, Indiana. Death gathered her away at the age of 88 on July 28, 1982. An obituary was published in the Indiana Gazette. Burial was in Greenwood Cemetery, with services led by Rev. Keith P. Wells.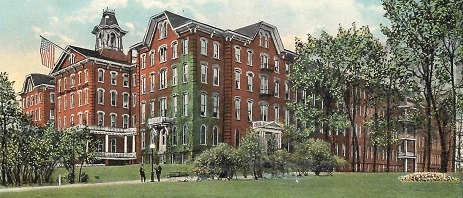 Mary L. Esch, of her father's 2nd marriage, was registrar at Indiana University of Pennsylvania for 51 years.
Esch Hall at IUP, named for Mary.
Photo by Richard C. Miller

George's daughter Mary L. Esch (1895-1971) from the second marriage was born on July 24, 1895 in Brush Valley. She moved to the city of Indiana, PA with her parents at the age of about eight. She was a graduate of the Indiana Public Schools and in 1915 from Indiana Normal School. She began her working career as a secretary to the registrar of her alma mater. A year later, she was promoted to the post of registrar. an influential position involving reviewing applicants, registering students and maintaining a record of their grades. She held that position for 51 years, during which time the school evolved from a small training ground for educators to a state college and then Indiana University of Pennsylvania. Her 1962 article, "My Forty-Seven Years at Indiana," is said to be a valuable history of the institution. She retired on July 1, 1966 with the title of registrar emeritus. She also was active in IUP's alumni affairs and in 1933 was on a committee "that reorganized the association on a local unit plan with a representative system for conducting alumni affairs," said the Indiana Gazette. "Miss Esch was named treasurer of the new organization and was later appointed executive secretary." As such, she was involved with regional chapters and is known to have spoken to the District of Columbia alumni association of IUP in 1962. She also was treasurer of alumni loan funds and held a membership in the American Association and Middle States Association of Collegiate Registrars, Indiana Hospital Auxiliary and Pennsylvania State Education Association. As well, Mary was listed in Who's Who of American Women and the Dictionary of International Biography. She made her home with her sister Hazel on 399 South Sixth Street in Indiana. While on vacation a week before Christmas 1971, in London, England, she suffered a fatal heart attack and passed away at the age of 76 in University College Medical Hospital. Her body was transported back to Indiana for interment in the sacred soil of Greenwood Cemetery, with the funeral jointly conducted by Rev. Delbert E. Jolley and Rev. Dr. Howard W. Jamison. In her memory, the residential Esch Hall was dedicated on campus on Oct. 6, 1973. The building was razed in 2008 to make room for new, modern student housing.

George's son Charles P. Esch (1904-1928) from the second marriage was born on July 16, 1904 in Indiana, PA. He was employed in young manhood as a bookkeeper with Gulf Refining Company in the Wilkinburg section of Pittsburgh. On May 18, 1927, he wed Clara "Jane" Young ( ? - ? ), daughter of W.O. Young of Indiana. Local Lutheran church pastor Rev. B.F. Bieber officiated. During their brief marriage, they bore a daughter. Tragedy cleaved apart the family in the spring of 1928. While onhis way to work on April 30, 1928, he was struck by an automobile. Badly injured, he was taken to West Penn Hospital where he died the following evening. Interment of the remains was in Greenwood Cemetery in Indiana. An obituary in the Indiana Weekly Messenger said he "was well known in Indiana... He was a young man of splendid character." At the time, their daughter was just eight weeks old.

George's son Royal L. Esch (1907-1974) from the second marriage was born on June 1, 1907 in Indiana, PA. He entered into marriage with Ethel Wilkinson (1903-1970). The four sons they produced together were Royal L. Esch Jr., Paul W. Esch, David Esch and George E. Esch. Royal spent his working career in the U.S. Army, and in 1928 was stationed in Aberdeen, MD. His service included World War II and the Korean War. He attained the rank of captain. In retirement, the couple put down roots in Indiana. They belonged to Grace United Methodist Church, and he held memberships in the Tompkins lodge of the Masons of Staten Island, NY and the Coudersport (PA) Consistory. Their final address together was at 85 Harrison Drive. Royal died in Pittsburgh's Columbia Hospital at the age of 66 on March 18, 1974. Rev. Dr. Delbert E. Jolley conducted the funeral service.

Copyright © 2021-2022 Mark A. Miner

Minerd.com extends its gratitude to the late Donna (Younkin) Logan for her research contributions to this biography.