Edwin Younkin, M.D. was born on March 18 or 19, 1838 in Milford Township, Somerset County, PA, the son of Dr. Jonas and Martha (Pringey) Younkin. Edwin was an early physician, becoming nationally renowned, and beginning his learning as a homespun profession from his father.
The father's approach was considered "the New School, as it was known in those days," said a profile in the American Medical Journal. "The reformed practice in that day was in its crudity, and physicians, from necessity, dug their own roots, gathered their own herbs, and prepared their own medicines.... [The father] had his drug-mill, which was made from a section of a large gum tree that in its hollow cavity had fixed two large-mill-stones, and which were made to run by a hand-sweep. Edwin took much delight in gathering drugs, which grew abundantly in the mountains and valleys, and, after drying, they were ground in the mill." Thus, Edwin was "literally born and reared in a physician's office, where he gained a practical knowledge of medical botany and the methods of compounding drugs according to his father's art."
When he was 12 years of age, circa 1850, Edwin joined the family in its westward migration to Illinois and thence into West Liberty, Muscatine County, IA. For the family's first six years in Iowa, Edwin and his father and brothers plowed their sod into a cultivated farm. But, said a profile in the American Medical Journal, "It was determined in very early life that Edwin should be the doctor, though he was the fifth of the family."
He enjoyed reading his father's library of medical books, but when the father's health began to fail somewhat, Edwin was recruited to assist in treating patients. "Edwin was called into the rougher part of the professional riding," said the Journal. "Feeling, however, that further preparation was necessary, and that his education was too limited, [he] determined to strike for greater preparation. He told his father his intentions, and left home when nineteen years of age." It also may have been a decision influenced by the father's increasing alcoholism and his parents' failing marriage. "This step was not quite pleasing to the father," continued the Journal:
...as it was felt that the boy could not be spared. After attending a district school one term, he entered a seminary in Kewanee, Ill. While attending school at this seminary he joined the Baptist church, but finally united with the Christian church. Manifesting a talent for public speaking, he was urged to the ministry. He was ordained a minister, and preached acceptably for a number of years; his labors were quite successful, and were crowned with numerous converts. In 1859 he entered Abingdon College, in Knox Co., Illinois, as a student, where he pursued his studied in the English branches, and made some advancement in Greek and Latin, though not to entire completion or graduation. The practice of medicine still dominating in his mind, he gradually out of the ministry and set himself more earnestly to the medical profession.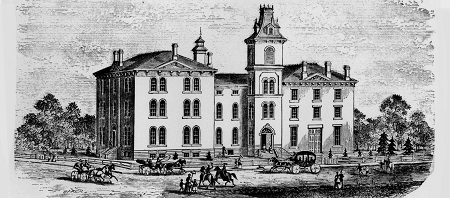 Abingdon College, where Edwin met Matilda and began a great partnership
On April 28, 1861, when he was 23 years of age, Edwin was joined in holy matrimony with Matilda A. "Mattie" Hart (1843- ? ), of Eaton, OH, whom he had met at Abingdon College. The ceremony was performed by Rev. U.P. Aten (spelling?) in Stark County, IL. The couple settled in West Liberty, Muscatine County, IA and produced two daughters -- Minnie Hall and Carrie Elvina Bowler.
Desiring to extend the Christian Church movement to his new locality, Edwin, Matilda and friends "held religious services in the school house near the home of William Phillips on South Prairie," said the 1938 booklet One Hundred Years of History: Commemorating a Century of Progress in the West Liberty Community. "This little group continued to meet at intervals during 1863 and the winter of 1863 and 1864 organized a Church of Christ. They followed the example of the Church as it is recorded in the Acts of the Apostles, as to officers and teaching and practice. The following were charter members of this church: Mr. Barnes; William and Rachael Hise; James Ball and wife and daughter Lizzie; J.S. Wilson and wife; Frank Grant and wife; Dr. Edwin Younkin and wife; Maria Miller and Adda Kieth. William Hise was chosen Elder and Dr. Younkin and J.S. Wilson were chosen Deacons."
In his early medical practice in West Liberty, Edwin "passed through a severe epidemic of typhoid fever without the loss of a patient," said the Medical Journal. "He contracted the disease himself, and claims that his recovery is due to the nursing of his wife and mother."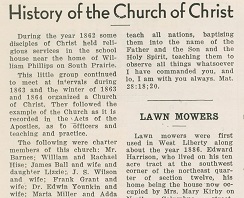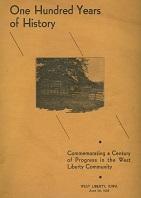 Article naming Edwin in a 1938 centennial history of West Liberty, Iowa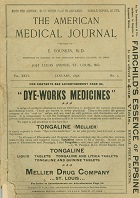 American Medical
Journal, January 1898
They relocated to Long Grove, IA in 1863, during the height of the Civil War, and again he found himself treating a community infected with deadly diphtheria. He sold his practice in 1865 and left Long Grove to enroll in the Eclectic Medical Institute in Cincinnati. He begun there on Dec. 21, 1865, took one course, paid $148 in tuition and graduated on Feb. 3, 1866, receiving a diploma in Latin/English and writing his thesis on diphtheria.
The Younkins then moved to Indian Point in Knox County, IL by 1870 and seemed to be building a reputation until a fire in 1872 "burned out ... all he had, and no insurance, and shortly after this he was induced to go to Leavenworth, Kansas, where he met with other misfortunes, the results of drouth and grasshoppers," said the Medical Journal. The American Medical College recruited him in 1875 to join its faculty as chair of surgery, and he held this post for many years afterward. It was located at 3035 Lucas Avenue in St. Louis, and among other responsibilities, Edwin served as editor of the Medical Journal. When profiled in the Medical Journal, in January 1895, at the age of 46, Edwin was said to be:
...a hard worker, and has made his way through many embarrassments. He has filled public stations, civil, religious, political and professional. He has, with some, assisted in their birth; treated them in disease; tied the gordian knot; performed the baptismal ceremony; an dperformed the last solemn rites of their funerals. He has gone to the head of the medical profession, having been president both of the State and National Associations. As a surgeon he is known all over the United States, and is the acknowledged ovariotomist of the West. He is quick of perception, and acute as a diagnostician. As a lecturer, he is smooth, terse and logical. He centralizes his thoughts and feelings, and is capable of eliminating from his mind all considerations that do not belong to his subject. His language is characterized by precision and method. He deals with facts, and at times rises into the eloquent. His is not much preyed upon by external surroundings; he is fearless and independent, caring more for a conscientious right than what others might say of him. Like the oak, he meets the breeze without succumbing to it; he wastes no time in display, and in an argument burns but few blank cartridges. He has held several public debates upon different topics, and is rather fond of discussion. Whatever may be his dislikes to what he deems untenable ground, he exercises great liberality in his feelings towards his opponent. His ideas, when wrought upon, are affluent, and culminate in keenness of expression, and at times in sarcastic witticisms and irony. His temperament contributes sprightliness of manner, though his intellect is of the German type.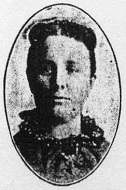 Rev. Matilda
(Hart) Younkin
Matilda was a member of the Women's Christian Temperance Union and of the Knights and Ladies of Honor, a fraternal benefit organization focusing on moral and material aid for members. She also pursued a formal clergy position and, said the St. Louis Post-Dispatch, was "the only St. Louis woman to be ordained in the Christian church and to solemnize weddings and exercise other functions of the ministry.... In addition to the peculiar distinction which was hers, she was one of the best-known women in the Christian Church in the country."
While in St. Louis, she became deeply troubled that churches were oblivious to the human suffering in the slums of St. Louis, where the Disciples were strong, and that congregations lacked the compassion and care to effectively serve homeless, sick and distressed. So in February 1886, she invited five women to join her for prayer in the basement of the First Christian Church at 17th and Olive Streets and to discuss how they could respond to these overwhelming social needs. Their work grew and generated widespread interest and a year later, on March 10, 1887, the State of Missouri granted a charter to the women's new "Benevolent Association of the Christian Church," later named the National Benevolent Association. Matilda traveled to Illinois, Kansas and Missouri, lecturing to Ladies Aid Societies and recruiting their members to assist as auxiliaries. Each auxiliary paid a $5 membership fee which covered the cost to place one orphan in a new, yet-to-be established home. The work was not easy, and she met strong resistance from a traditional male leadership and in some instances received catcalls from audiences as she spoke. In 1889, the NBA's first "home" for orphans and the homeless was opened in St. Louis, and in 1899 the NBA was formally named as an agency of the Disciples of Christ. "Within a few years homes were opened in Colorado, New York, Ohio, Texas, Georgia, and Oregon," said The Encyclopedia of the Stone-Campbell Movement, edited by Douglas A. Foster.
During her extensive travel of advocacy for the orphans' home, "it occurred to her that she could work a great deal more effectively if she was an ordained minister," said the Post-Dispatch.
She turned the subject over fully in her own mind and became convinced that it would be a great advantage. Her husband had no objection. There was nothing in the rules of the church to prevent it. Four years ago [in 1895] she was duly ordained at the Central Christian Church, of which she was a member. She never had charge of a church. It was never her intention to engage wholly in ministerial work. But in her travels she constantly occupied the pulpits of Christian Churches, and when occasion arose she pereformed the other functions of a minister. During the four years she married perhaps a dozen couples. The first ceremony performed by her received a good deal of newspaper attention. It was performed in the parlor of her home. The cuople had met her in her travels in Illinois and made the journey to St. Louise especially to be married by her. Some of the other couples she married while on her travels.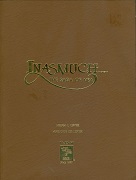 'Inasmuch' book picturing Matilda in several places
Sadly, Matilda contracted cancer in 1896 -- at the zenith of the NBA's national emergence -- and also lost her voice after an attack of "la grippe." The failing health forced her to curtail traveling and speaking on behalf of the NBA. Ironically, she died on Oct. 13, 1899, just a few days before the Disciples formally brought the organization into its organizational fold. Quoted in her eulogy was this apt sentence: "Not all who began the journey together lived to see its completion." An obituary in the St. Louis Post-Dispatch said that Rev. D.R. Dungan of the Cabanne Christian Church officiated at her funeral, to be held at the Central Christian Church, with interment in the Bellefontaine Cemetery, where a flat stone marks her final resting place..
Some 17 years later, among other members of the Husband and Younkin families, she was pictured on the front page the Christian Standard newspaper (Dec. 16, 1916). The story reported that Matilda was "known to the brotherhood as Mattie Younkin, and the founder of our Orphan Home and benevolent work. Sister Mattie needs no eulogy -- 'her own works praise her in the gates.' What a crown of bright jewels awaits her, with all the dear ones who carry on her blessed work!"
Today, the NBA serves as the Disciples' health and social services general ministry, with 40 ministries across 22 Disciples regions. Its ministries focus primarily on older adults, hunger and food security, peace and justice, prison ministry, addiction recovery, advocacy, families and youth, poverty, affordable housing, mental health, at-risk youth, intentional communities and youth mission and leadership development.
Now widowed, Edwin made a new home near his married daughter Carrie Bowler on a farm in Villa Ridge, Franklin County, MO, in Township 43 North, Range 1 East. There, he was was elected into membership of the Gray Summit lodge of the Masons on Nov. 4, 1912. He is named in a discussion of local physicians in the Centennial Biographical Directory of Franklin County, Missouri, published in 1925 by Herman Gottlieb Kiel.
He is believed to have married again, to (?) Waterhouse ( ? - ? ). She brought a son to the marriage, Merle E. Waterhouse, of 3220 Lennyson Square in St. Louis.
Stricken with a gastric ulcer, Edwin passed away at the home of his daughter Minnie Hall in Chicago on Nov. 12, 1926. His burial site is unknown, and it's entirely possible that he donated his body to science.
In June 1996, some 97 years after her death, Mattie was portrayed as a character in the 30-minute play This Is Our Story, written by Judith Dyer of Salem, OR, performed in the Union Christian Church of Franklin, IN.
~ Daughter Minnie (Younkin) Hall ~
Daughter Minnie Younkin (1866- ? ) was born on Dec. 21, 1863 in Iowa.
She was twice married. One of her spouses was Don Tarvid ( ? - ? ).
Another was Frank L. Hall ( ? - ? ), united in wedlock in about 1884. The Halls were the parents of Myrtle Mae Warren, Leon Frances Benson and William Edwin Hall.
In 1926, their home was in Chicago, and her aged father died there that year. She was in direct contact during the late 1930s and early '40s with the founders and officers of the Younkin National Home-coming Reunion and authored several poems published in the organization's newspaper, the Younkin Family News Bulletin.
Their fates will be added here once learned.
Daughter Myrtle Mae Hall ( ? - ? ) married Ralph C. Warren ( ? - ? ). They produced a daughter, Marcia Patricia Warren. The Warrens divorced.
Daughter Leone Frances Hall ( ? - ? ) wedded Clarence Benson ( ? - ? ). They had one daughter, Betty Irene Benson. Betty authored a poem, "Easter Morning," published in the Younkin Family News Bulletin (edition of March 15, 1940).
Son William Edwin Hall (1885- ? ) was born on Dec. 7, 1885. He was joined in matrimony with Vida Bowers. Their only son was Donald Frank Hall. The couple eventually divorced.
~ Daughter Carrie Elvina (Younkin) Bowler ~
Daughter Carrie Elvina Younkin (1868-1944) was born in on Oct. 19, 1868 in Indian Point, Knox County, IL.
She wedded James "Harvey" Bowler (1862-1933), son of W.W. Bowler.
They were the parents of Mattie Brown, Minnie Myers and Frank LeRoy "Roy" Bowler.
In the 1890s, they left their home in Villa Ridge, MO for warmer climes in Southern California. They made their new home in Chino, where Carrie was active with the Order of Eastern Star and the First Christian Church of Pomona. James was considered a "pioneer deep-well driller and pump inventor," said the Chino (CA) Champion. He "bore the reputation of being an expert in that line."
Their address in 1920 was 435 East Second Street in or near Pomona. Sadly, poor health forced him to leave the business, and after a lengthy illness, he died in the California state hospital at Patton in August 1933.
After his death, Carrie maintained an address of 549 West Center Street.
In October 1940, Carrie and daughter Mattie were among 50 cousins to attend a Younkin Reunion held at the Washington Park Clubhouse in Pomona, which received news treatment in the Champion. Others attending were Mr. and Mrs. Glen Younkin and children Cherie and Carlisle; Mr. and Mrs. A.E. Younkin and Mildred Mildred and Clara Ellen; Mr. and Mrs. R.E. Myers and son Lloyd; Mr. and Mrs. H.A. Younkin; Mr. and Mrs. Joseph Bonnett and children Bobby and Jean; Mr. and Mrs. Harold Younkin and daughter Donna; Mrs. L.Rogers; Mrs. Del Morrison and children Barbara, Donald and Marjorie; Opal Adams; Mrs. C.E. Ayers, Mr. and Mrs. Stephen P. Schmitt; Mr. and Mrs. Earle T. Barham; Betty Ross; Mr. and Mrs. Joseph Cribs; Mr. and Mrs. Harry Morrison and children Glen, Kenneth and Leonard; Lute Jamison; and Mr. and Mrs. Arthur Olson.
She died on Aug. 30, 1944, with funeral services held at the Todd Memorial Chapel in Pomona and burial in Pomona Cemetery.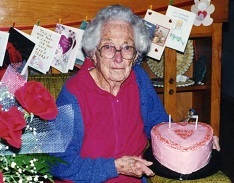 Minnie (Bowler) Myers, 1995
Daughter Martha "Mattie" Bowler ( ? - ? ) was born in (?). After graduation from Pomona High School in 1914, she worked for eight years with the Orange Belt Emporium. On Sept. 17, 1920, she wedded former Chino resident Luther A. Brown ( ? - ? ), who had moved to Alpaugh, CA. The nuptials were held in the home of Mattie's parents, and were reported by the Los Angeles Times. Luther owned a ranch in Alpaugh at the time of marriage. She lived in Pomona in 1944.
Daughter Minnie Bowler (1895- ? ) was born on Valentine's Day 1895. On Aug. 22, 1918, when she was 23 years of age, Minnie was joined in matrimony with Ray E. Myers (Aug. 22 [?]- ? ), whose name sometimes has been given as "Rene." He was the son of Olive Myers. The wedding was held in the home of Minnie's parents. They resided for many years in Chino, CA. The couple had two children, Lois Stoddard and Lloyd Myers. In August 1943, the couple celebrated their 25th wedding anniversary with a surprise party at their home, organized by Minnie's sister Mattie Brown, Mrs. F.W. Combs and Mrs. G.E. Livingston. In about 1942, the Myerses moved from their ranch on 15th Street into another home. Minnie celebrated her 100th birthday on Feb. 14, 1995.
Son Frank LeRoy "Roy" Bowler ( ? - ? ) was born in (?). He made his home in 1944 in Huntington Park, CA.