Home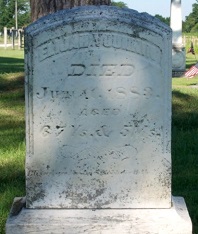 Elijah's grave -
courtesy Phyllis Hazen
Elijah Younkin was born on Jan. 11, 1816 in Turkeyfoot Township, Somerset County, PA, the son of Jacob and Sarah "Salome" (Weimer) Younkin Jr.
On Nov. 3, 1839, at the age of 23, he was united in holy wedlock with 18-year-old Abigail Dwire (1821-1862).
They produced seven children -- Norman D. Younkin, Ellen Younkin, Martha Younkin, William Younkin, Catherine D. Coons, Barbara Younkin and Albert Younkin. They also raised a granddaughter, Emma Coons (born 1868). With great sadness, they buried their daughters Martha, Ellen and Catherine at young ages.
Elijah was an early school teacher in Turkeyfoot Township, among other early instructors who included Hugh Connelly, John Lichliter, Jack Mitchell and A.J. Colborn. In 1835, there were six schools in the township, and by 1878 the number had grown to 19. He was identified as "among the most proficient teachers" who taught in the township of the 1840s ( Report of the Superintendent of the Commonwealth of Pennsylvania for the Year Ending June 1, 1877, Harrisburg, 1878).
Elijah was a fervent Christian believer who helped found the Church of Christ movement in Somerset County. Many years after the fact, he was acknowledged for this role in The Disciple, A Monthly Magazine of Christian Literature, Vol. IV (July-Dec. 1886), which include reprints of his letters which in turn had been published in the Millennial Harbinger newspaper.
In the fall of 1831 or spring of '32, they attended a newly formed church which The Disciple called "a shabby log school-house on the Turkey-Foot road." Led by Chauncey Forward, a former lawyer in Pittsburgh and congressman, the church was located about four miles southwest of New Centerville and was known as Turkey-Foot or Spruce Creek. "Afterwards they built a log meeting-house, which is now occupied by the German Baptists (Dunkards)." Among their fellow worshippers were Elijah's cousins Harmon and Rachel (Younkin) Husband, Dr. Jonas Younkin and wife, John Prinkey and wife, Shaphat Dwire and wife, Jacob N. Hartzell and wife, Jacob and Catherine (Younkin) Minerd Jr., Leonard and Martha (Minerd) Harbaugh Sr., Joseph Harbaugh, Steward Rowan and wife, Solomon Baldwin and wife, John Graham and wife, and Sallie Edwards and her son and daughters.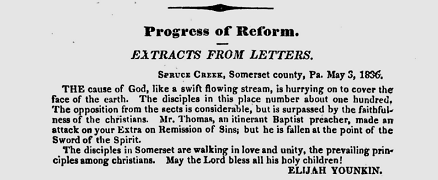 The Millennial Harbinger, Vol. VII, 1836. Courtesy Google Books.
During that period of Christian gathering, Elijah wrote a letter to the editor of the Millennial Harbinger which was published in the edition of May 3, 1836. It read:
The cause of God, like a swift-flowing stream, is hurrying on to cover the earth. The disciples in this place number about one hundred. The opposition from the sects is considerable, but is surpassed by the faithfulness of the Christians. Mr. Thomas, an itinerant Baptist preacher, made an attack on your Extra no Remission of Sins; but he is fallen at the point of the Sword of the Spirit. The disciples in Somerset are walking in love and unity -- the prevailing principles among Christians. May the Lord bless all His holy children.
Five years into their married lives, in about 1844, the Younkins made a major decision to move west to Iowa. After making the arduous journey, they first arrived at West Liberty, Wapsinoc Township, Muscatine County. They moved again at least once during the early years and landed on their permanent farm in the spring of 1847.
The federal census of 1850 shows them residing on the 150-acre farm, which was located in Section 34. Their post office at the time was Nichols, IA.
In 1857, deeply interested in the public affairs of his new community, Elijah attended a Republican convention in Muscatine and was nominated for an elective post. The Davenport (IA) Daily Gazette reported on June 25, 1857 that "The Republicans of Muscatine county held their Convention last Saturday and made the following nominations. For County Judge, George Meason; Sheriff, H.H. Hine; Treasurer and Recorder, W.G. Robb; Coroner, Peter W. Deitsch; Surveyor, Elijah Younkin. These are all good men, and will be strongly supported by the Republican party."

Muscatine, Iowa, about 11 years after the Younkins arrived
When the census again was made in 1860, the Younkins' home was in Pike Township, drawing their mail at the post office of Muscatine. That year, 19-year-old son Norman helped with work on the farm, and German-born Peter More, age 34, boarded in their home.
Elijah and Abigail worried during the Civil War when son Norman enlisted in the Union Army. Heartache enveloped them when they received word that their son had been wounded at the battles of Shiloh and Iuka and later died at Corinth, Mississippi on June 23, 1862.
Compounding the tragedy, Abigail herself died just a little more than three months after her son's death, at the age of 41, on Oct. 9, 1862. Was she a victim of a broken heart?
On Aug. 25, 1864, while in Pike, Iowa, Elijah wrote a letter home to his mother. It said:
Dear Mother I arrived safely home on last evening. I found my son William at Muscatine with the team. Ellen had the bloody flux whilst I was away. She was confined about a week. She is about again. The children all had been some unwell but did not get bad. The flux has been raging in the settlement and a number of children have died. In some places it has proved quite fatal to many children. In the section where Hannah and William live it has not yet appeared and they may escape. I saw Charles Rhodes and wife at Muscatine also Joshua Rhodes. The folks in their settlement are all well. William and family have been on a visit while I was away. The children had the whooping cough. I walked from J Pringeys to Connellsville on Sunday Arrived there before the heavy rain, got off at 6 oclock, got to Patseys at 9 waiting until one and got to Davenport on the next evening. Staid over night and started at 6 oclock And got to Muscatine at nine.
My neighbors expected that I have gone east to get a wife. But they have been disappointed, not myself. There is no doubt but I could get someone here but I have not made any selection that would suit well in all particulars. And I don't know as much about my marriage as some other folks seem to know. Ellen had commenced to write a letter to me after she got sick but gave it up. After she got some better she concluded not to write. The sickness has abated some but the weather is quite warm and it may become more violent than ever. You cant imagine how glad I was when the beautiful prairie cornfields began to open on my vision as the cars emerged from the Mississippi into the lovely state of young Iowa. I prize the west more than ever I did. I never realized it beauty and fertility as I do now. Having seen the Contrast. Oats are yielding fifty bus. to the acre and are bringing fifty cents in the market. Corn will not be high as there will be a super abundance.
Ellen and myself will start to the meeting tomorrow morning. We will stay until Monday. I wish you could be with us at the meeting I am certain you would enjoy it well. There is a young woman in the neighborhood going with us. She was baptized in Flenone (?) against the wishes of her relatives who are Methodist. But she was determined to follow out her convictions of duty against all their opposition and they finally yielded. She will take her membership with the church at Columbus City. I forgot to tell you that those of you that wish to live and die connected with the disciples had better take membership with the brethren at Laurelhill or at Somerset, as there is no prospect of a permanent organization at Turkeyfoot. It would be well for you to do so even if you could only attend the meeting once in a year. Give my respects to all the family and to all the friends. You will please write and let us know how you are getting along. I remain yours,
Elijah Younkin

1879 book History of Muscatine County. Courtesy Google Books.
After three years as a widower, Elijah married for a second time to Eliza (Morrow) Silverthorn (1827- ? ), a native of Athens County, OH. The ceremony was held on July 19, 1865 in Scott County, IA. Eliza apparently had been married once before and brought a daughter, Forence Silverthorn (born 1859), to the marital union.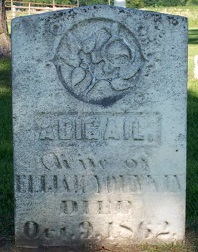 Abigail's grave -
courtesy Phyllis Hazen
During his years in Muscatine County, Elijah served on the Board of County Supervisors for four years (1861-1864). This body was created by the Iowa Legislature to be composed of one elected supervisor from each township in the county. As a commissioner, he is known to have helped divide the farm estates of deceased citizens for fair and equal distribution to heirs. He also was one of three men to serve as the first trustees of the local Christian Church and, reported the Muscatine Weekly Journal, "was largely instrumental in building the brick church at Nichols, working with both heart and hands, sparing no efforts to forward the cause of his blessed Redeemer.... He had no contention in his soul, but when his words were all verified he took his stand for right."
Elijah also held the position of Swamp Land and Drainage Commissioner at one time. In 1857, he served on the board of directors of the Muscatine County Agricultural Society which exhibited at the annual Iowa State Fair held in Muscatine. He is named in the Fourth Annual Report of the Iowa State Agricultural Society to the General Assembly (1857) and also is profiled in the 1879 book History of Muscatine County.
The 1870 census shows the combined family continuing to dwell in Pike Township. Among others in the household were George Noden (age 19, born in Connecticut), granddaughter Emma Coons (2) and Nancy Morgan (67, born in Vermont). By 1879, their post office location had changed to the town of Nichols.
His entry in A.E. Caffee's Muscatine County History and Directory, 1876-1877, states that he "Resides sixteen miles from the city, two miles west of Lord's Ferry; post office, Coneville. Owns one hundred and twenty acres land." The farm was located in Section 34, and was valued at $30 per acre. His son William owned a nearby farm.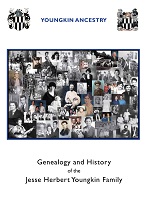 Mark Terry Youngkin's book
Stricken with an incurable case of emphysema, Elijah died on June 11, 1883 at the age of 67. Funeral services were led by Rev. Smith of the Christian church of West Liberty. Burial was in the Watkins Cemetery in Nichols, IA. [Find-a-Grave] An obituary in the Muscatine Weekly Journal reported that he "had been a great sufferer for many years and especially during the past winter and spring when his disease became complicated with dropsy.... His long life in this county, being among the first settlers and holding some positions of public trust, made him widely known through out the community."
In 1889, Elijah was named for his public service as a supervisor in the book Portrait and Biographical Album of Muscatine County, Iowa (Chicago: Acme Publishing Co.) and again in Volume 1 of Irving B. Richman's work, History of Muscatine County, Iowa: From the Earliest Settlements (Chicago: S.J. Clarke Publishing Co., 1911).
Elijah is named in a 456-page masterwork of authorship by Mark Terry Youngkin, of the family John Harrison and Eliza Jane (Coble) Youngkin, entitled Youngkin Ancestry - Genealogy and History of the Jesse Herbert Youngkin Family. The electronic-only volume is solely distributed in Portable Document Format (PDF) from the digital library called the Internet Archive in San Francisco, CA, which contains the latest book version circa 2020. View/download the web-optimized version of Youngkin Ancestry on DropBox [60MB in size] or the full, high-resolution version on the Internet Archive [360MB].
~ Son Norman D. Younkin ~
Son Norman D. Younkin (1840-1862) was born in 1840. At the age of 19, in 1860, he lived at home and assisted with farm labor.
During the Civil War, on Feb. 17, 1862, he enlisted in the Union Army and was assigned to the 16th Iowa Volunteer Infantry, Company F. Tragically, he lost his life in the cause of preserving the nation.
He received wounds at the battles of Shiloh and Iuka, MS. His health declined further while in Corinth, MS, and he succumbed there on June 23, 1862. He is named among Muscatine County Civil War soldiers in the 1878 book History of Muscatine County, Iowa and the 1889 book Portrait and Biographical Album of Muscatine County, Iowa (Chicago: Acme Publishing Co.).
His name is inscribed on a 30-ton monument in Muscatine bearing the names of 500 local soldiers.
~ Daughter Ellen Younkin ~
Daughter Ellen Younkin (1842- ? ) was born in 1842. She was deceased by 1889 and possibly well before that.
~ Daughter Martha Younkin ~
Daughter Martha Younkin (1844-1864) was born in 1844.
She grew to womanhood, but sadly passed into eternity at the age of 20 years, three months and eight days on Feb. 28, 1864, just two years after the Civil War death of her brother Albert. The cause of her untimely loss is unknown.
Her grave is in the Watkins Cemetery. [Find-a-Grave]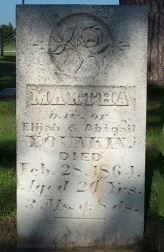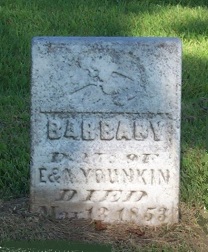 Graves of Elijah and Abigail's daughters Barbary (1853) and Martha (1864) - Watkins Cemetery, Nichols, IA -
courtesy Phyllis Hazen
~ Son William Younkin ~
Son William Younkin (1846-1908) was born in September 1846 in Muscatine County, the first of the children to be born in Iowa.
He married Mary Martha Quimby (1853-1913).
Their known children were Lewis A. Younkin, Maud Ethel West, Mattie Dixon, Francis "Marion" Younkin and Jessie Lee Younkin.
By the mid-1870s, William acquired 65 acres of land located 17 miles from Muscatine. His entry in A.E. Caffee's Muscatine County History and Directory, 1876-1877, states that his farm was "two miles west of Lord's Ferry, three and one-half miles south of Nichols Station; post office, Coneville." He was named in a profile of his father in the 1879 History of Muscatine County book.
By 1882, the family had migrated to Taylor County, IA where their daughter Maud was born. The Younkins endured the death of their 20-year-old son Lewis in 1894.
William died in 1908 in Taylor County. Burial was in Platteville Cemetery in Platteville, Taylor County. As a widow, Mary Martha spent her final years living with her married daughter Maud West in Blockton, Taylor County.
She followed her husband to the grave on May 29, 1913, at age 60, "after an illness of only a few days," reported the Blockton (IA) News. She was laid to rest beside her husband following a funeral service officiated by W.M. Hunt based on a passage from scripture found in Hebrews 9:27. [Find-a-Grave]
Son Lewis A. Younkin (1874-1894) was born on April 4, 1874 in Iowa. He apparently never married. Heartache enveloped his family when, at age 20, he died in Taylor County, IA on Oct. 17, 1894. Burial was in Platteville Cemetery. [Find-a-Grave]
Daughter Maud Ethel Younkin (1882-1954) was born on Aug. 20, 1882 in Taylor County. She married Elmer Ellsworth "E.E." West (1876-1955), the son of John Arthur and Susanna (Smart) West. Their only son was Arthur West. In 1913, their home was along Route 2 in Blockton, Taylor County, IA. Reported the Blockton (IA) News: "Her early life was spent in Taylor County. After marriage, her life was spent in Worth County, Mo. She and her husband lived on a farm until 1923 when they moved to Grant City [MO] and remained there until the time of her death." In November 1936, or perhaps earlier, she learned of the Younkin National Home-coming Reunion being held in the old family home area of Kingwood, Somerset County, PA. She wrote to the reunion organizer Charles Arthur "Charleroi Charley" Younkin, letting him know that her grandfather was Elijah Younkin and that his brothers were Jonas [?], Isaac and Daniel. Then on the next to last day of 1936, having received another letter from Maud, Charley wrote a letter to reunion president Otto Roosevelt "Pete" Younkin:
Had a letter from the Mrs. E.E. West of Grant City Mo. who tells me her grandfather as being Elijah Younkin. As a young man he was a Tailor and after going to Iowa was a Farmer. She does not seem to have much line on the relationship, other than his having brothers Jonas [?] and Daniel. In my last letter to her [I asked] if she knew of he having other brothers. It appears that she does not know this. In my next letter I intend to ask if she is able to give maiden name of wife of her grandfather Elijah Younkin.
Maud succumbed following a long illness on March 29, 1954. Burial was in Platteville Cemetery in Taylor County. Elmer survived her by only 10 months. He was swept away by the Grim Reaper in Mount Ayr, Ringgold County, IA on Jan. 19, 1955. [
Find-a-Grave
]
Son Jessie Lee Younkin (1886-1970) was born on Nov. 10, 1886 in Platteville, Taylor County, IA. At the age of 23, on March 10, 1910, he was united in holy matrimony with Pearl Fay Higgins (1889-1964), daughter of Matthew and Loretta Higgins of Ringgold County, IA. They produced four children -- Dale Younkin, John Younkin, Deva Margaret Stein and Velma Cunning. They made their home for many years in Bedford, Taylor County, where they were longtime farmers. Sadly, Pearl died in Kansas City, MO at the age of 74 on Jan. 4, 1964. Her remains were returned to Platteville for funeral services led by Rev. James Ferris of the First Christian Church of Blockton. An obituary in the Bedford Times-Press noted that her survivors included 22 grandchildren and four great-grandchildren. Jessie lived on for another six years. At the end of his long life, Jessie was admitted to the Ringgold County Hospital in Mount Ayr, IA, where he expired on Dec. 14, 1970. His remains were interred at Platteville Cemetery east of Bedford. In an obituary, the Times-Press said that "He will be greatly missed by all who knew and loved him." [Find-a-Grave]
Daughter Mattie Younkin ( ? - ? ) was born in (?). She was wedded to (?) Dixon. In 1913, they resided in Omaha, NE.
Son Francis "Marion" Younkin (1869-1948) was born in November 1869. When he was about 19 years of age, on Sept. 2, 1890, he was wedded to 19-year-old Lydia Louise Smith (1868-1942). Lydia was a native of Illinois and the daughter of Lyman Henry and Lucy Jane (Reeves) Smith. The marriage took place in Taylor County, IA. They produced four offspring -- Gracie M. Younkin, Dora Fern Younkin, Lyman William Younkin and one who died in the 1890s. They lived in Nebraska in 1893 when daughter Gracie was born and the migrated to Missouri by 1896, settling in Nishnabotna, Atchison County. The federal census listing of 1900 shows the Younkins in Nishnabotna, with Marion earning a living as a day laborer. Contininuing to be restless, the Younkins relocated again during the decade of the 1900s to Washington State, making a home in Cascade, Skagit County. There, their son Lyman was born in about 1908. The 1910 census shows Marion laboring as a farmer on a "truck farm." Their home circa 1913 was in Marblemount, Washington State. Lydia died in or around Snohomish County, WA in 1942 and was placed into eternal repose in Darrington Cemetery. Marion followed her to the grave six years later, in 1948. [Find-a-Grave]
Alice Younkin's memoir

Grandson Lyman Younkin ( ? -1948) was born in (?). When he was 21 years of age, on June 20, 1928, he was joined in wedlock with 23-year-old Alice Elizabeth Chrisman (July 15, 1904-1998), a native of Olympia, WA but residing at the time in Darrington, WA. Their nuptials were held in Bellingham, WA. Reported the

Red Bluff Daily News

, "Mrs. Younkin has many friends here who wish her marriage to be a happy one, she passed the eighth grade in the Red Bluff school... [A]fter graduation went to the normal and has been a successful teacher for the past two years, she startd to learn to play the violin in Red Bluff playing that instrument with ease she soon was giving lessons to others while still attending school." Alice attended grade school in Red Bluff, CA and high school in Auburn, WA. She was a graduate of Western Washington State College in Bellingham, and went on to several years' of teaching in a two-room school near Darrington. The couple bore two offspring -- Lucille Potts and Eugene Lyman Younkin. Sadly, Lyman died in 1948 at the age of 40. Alice outlived her spouse by half a century. In 1970, she relocated from Bellingham to Rogue Valley and was active in the Methodist Church. She also liked to garden, paint, quilt and read. Alice in 1980 authored a memoir of her growing-up years and married life in the North Cascade wilderness, near Darrington, WA. The book is entitled

Timber Bowl Valley

, and an original signed copy is preserved today in the Minerd.com Archives. Alice's final years were spent in Medford, OR. At the age of 93, she surrendered to the spirit of death at home on April 12, 1998. Pastor Les Hagen led the funeral service, with burial in Darrington Cemetery.
~ Daughter Catherine D. (Younkin) Coons ~
Daughter Catherine D. Younkin (1848- ? ) was born in 1848 in Iowa.
On April 4, 1866, when she was 18 years of age, she was united in marriage with William H. Coons ( ? - ? ). the ceremony was held in Muscatine.
They are believed to have produced one daughter, Emma Ellen Coons, born in 1867.
Evidence suggests that the marriage fell apart, or perhaps was terminated by an early death, as their daughter was taken in by Catherine's parents in the first year or two her life, and raised by them.
Daughter Emma Ellen Coons (1867- ? ) was born in 1867 and was raised by her mother's parents in Pike Township. At the age of 19, on March 1, 1886, she was joined in marital union with John William Wright (1862- ? ) in a ceremony held in Muscatine. The son of John Wright, John was a native of Champaigne County, Ohio.
~ Daughter Barbara "Barbary" Younkin ~
Daughter Barbara "Barbary" Younkin ( ? -1853) was born in the early 1850s in Iowa.
She passed away at a young age on March 13, 1853. Her remains were placed into rest in the Watkins Cemetery. [Find-a-Grave]
~ Son Albert Younkin ~
Son Albert Younkin (1852- ? ) was born in 1852 in Iowa.
In 1870, at the age of 17, he lived at home and attended school. He was named in a profile of his father in the 1879 book History of Muscatine County. In 1880, still unmarried at age 27, he remained with his parents in Pike Township, Muscatine County. His name has not yet been discovered in the 1900 census.
Copyright © 2016-2017, 2020-2022 Mark A. Miner
Research for this page graciously shared by the late Olive (Rowan) Duff, the late Donna (Younkin) Logan and Linda Marker. Elijah Younkin 1864 letter courtesy Beverly Domer.