Elizabeth (Younkin) McNutt
(1855-1943)
Elizabeth "Lizzie" (Younkin) McNutt was born on Dec. 21, 1855 in Brush Valley Township, Indiana County, PA, the daughter of Aaron and Mary (George) Younkin.
Elizabeth believed her birth year to have been 1852.
She and Edward Turner McNutt ( ? -1904) were united in matrimony on June 13, 1876. Rev. A.C. Johnson presided, and the news was announced in the Indiana Democrat.
Five offspring produced by the pair were Gary H. McNutt, Victor Carroll McNutt, Harry Foster McNutt Sr., Bertha Miller and Mary Jarvis.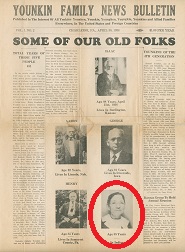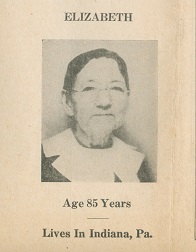 Elizabeth McNutt pictured in the April 1938 Younkin Family News Bulletin
The McNutts resided in Cokeville near Indiana, Indiana County. They were members of the Free Methodist Church.
Sadly, Edward died in Cokeville at age 51 on July 20, 1904. His remains were laid to rest in Blairsville.
Elizabeth outlived him by 39 years. When she marked her 90th birthday in 1943, she was pictured in the Indiana Evening Gazette, and received many cards and visits from friends.
For the last four months of her life, the widowed Elizabeth resided in the Cribbs Rest Home in Blacklick Township near Nanty Glo, Cambria County.
Having borne rheumatic diseases which weakened her auto-immune system, added to chronic heart disease, she suffered a cerebral hemorrhage and died at the age of 91 on Oct. 5, 1943. Son Victor, living at 324 29th Street in McKeesport, PA, was the informant for the official Pennsylvania certificate of death. Burial was in Blairsville, PA, with Rev. Howard Cannon and Rev. D.W. Harris co-officiating the funeral service. An obituary appeared in the Indiana Gazette, which said that she was survived by 18 grandchildren and five great-grandchildren, with three of her grandchildren in military service at the time during World War II.
~ Son Gary H. McNutt ~
Son Gary H. McNutt ( ? -1966) was born in (?) in Brush Valley.
He married Emma Dennison ( ? -1966) of McKeesport, near Pittsburgh.
The couple became the parents of H. Wayne McNutt.
Gary dwelled in McKeesport near Pittsburgh and in the late 1930s worked as a foreman for McKeesport Tin Plate Company. He became employed as a superintendent in the McKeesport Water Department and in 1941 helped to settle a strike by workers over pay raises.
In May 1939 he was appointed as a city councilman, reported the Pittsburgh Post-Gazette, "in a surprise move that prevented the courts of the county from appointing a successor to the late Councilman J. Denny O'Neil... Mr McNutt, a Republican, was chosen from a list of 17 applicants. Previous to his election, council had been split on an appointee, with Mayor Lysle, favoring someone in sympathy with a proposed housing project, and Councilman Ben Rosenberg favoring his secretary, Miss Agnes Dunn, who opposed the project." When asked if he would vote to pass the housing bill, he was quoted saying "I would rather not commit myself. I may have a statement tomorrow."
He was defeated for re-election in about 1941.
He belonged to the McKeesport lodge of the Masons and the Syria Temple in Pittsburgh, and she for 50 years in the Order of Eastern Star. Then in about 1945, they relocated to Florida, settling in St. Petersburg. Their address in the mid-1960s was at 344 Seventh Street North. He and their son enjoyed fishing.
Sadly, wife and husband died just a few months apart. She passed first on July 2, 1966.
He died on Sept. 16, 1966 at the age of 87. An obituary was printed in the Tampa Bay Times, which said that his funeral sermon was delivered by Rev. Dr. Paul R. Hortin of Christ Methodist Church, and that burial was in Memorial Park Cemetery.
Son H. Wayne McNutt ( ? -1981) was born in (?). He married Bertha ( ? - ? ). They are not known to have reproduced. In the 1950s and early '60s, Bertha was active with the South Side Hospital Junior Auxiliary, and often was pictured and named in Pittsburgh news stories. They relocated to St. Petersburg, with the couple living at 6207 10th Avenue South in Gulfport. He died on July 21, 1981, with a brief notice appearing in the Pittsburgh Post-Gazette.
~ Son Victor Carroll McNutt ~
Son Victor Carroll McNutt (1881- ? ) was born on Sept. 29, 1881 in Indiana County. He made a home in 1902 in Avemore, PA.
On Dec. 10, 1902, he wed Ivy F. Johnston (Aug. 11, 1880- ? ), a resident of Saltsburg, Westmoreland County. At the time, he earned a living as a mill worker.
The known children born to the pair were Raymond Johnston McNutt, Helen McNutt and Wayne McNutt.
The family made a home for decades in McKeesport near Pittsburgh, at the address of 324 29th Street.
Unspeakable grief descended upon the McNutts on the fateful day of March 10, 1942. Bachelor son Raymond, age 33, "was found dead in his auto in a garage near his home by his father, Victor McNutt," reported the Pittsburgh Press, " the garage doors closed and the motor running. Mr. McNutt was unconscious, in the front seat. Leaping into the car, Mr. McNutt took his son to the [McKeesport] hospital where efforts to save him were futile." The deputy county coroner ruled the death an accident. Burial was in Mt. Vernon Cemetery in Elizabeth, PA.
Victor is believed to have passed away on June 17, 1970, with burial in Mt. Vernon Cemetery, Elizabeth.
~ Son Harry Foster McNutt Sr. ~
Son Harry Foster McNutt (1888-1948) was born on Aug. 2, 1888 in Indiana, Indiana County, PA.
He entered into marriage with Ida Mae Webb ( ? -1945).
The couple's only son was Harry Foster McNutt Jr.
Harry earned a living as an insurance salesman. Their address in Pittsburgh was 424 Eureka Street.
Grief blanketed the family when Ida surrendered to death on Oct. 1, 1945. A death notice was printed in the Pittsburgh Sun -elegraph and Pittsburgh Press.
The widowed Harry survived for another three years and remained in their dwelling.
Stricken by a heart attack, at the age of 59, he died 12 hours later on June 6, 1948. Interment of the remains was in Jefferson Memorial Park.
Son Harry Foster McNutt Jr. ( ? -1998) is believed to have wed Bertha Smay ( ? - ? ). The pair did not reproduce. For 10 years, she was a volunteer at Allegheny General Hospital. Harry died on June 30, 1998 and Bertha on March 10, 2000.
~ Daughter Bertha (McNutt) Miller ~
Daughter Bertha McNutt ( ? -1962) was born in (?) in Indiana County, PA.
She wed (?) Miller.
The children born to this family were Harold M. Miller and Ruth M. Kunkley
She migrated to Florida in about 1942 and lived in Orlando for the last two decades of her life. Her final address was 206 East Church Street.
Bertha held a membership in the First Methodist Church.
The angel of death cut away Bertha at the age of 75 on Aug. 29, 1962. An obituary appeared in the Orlando Evening Star.
Son Harold M. Miller ( ? - ? ) resided in 1962 in Nyack, NY.
Daughter Ruth Miller ( ? - ? ) wed (?) Kunkley ? - ? ). She was in Miami in 1962.
~ Daughter Mary (McNutt) Jarvis ~
Daughter Mary McNutt ( ? -1977) was born in (?).
She married Harry Jarvis ( ? - ? ).
The couple together produced two daughters -- Alice Baily and Vera Westhall.
They moved from Indiana to Florida in 1924 and settled in Orlando. They eventually moved by 1966 to Winter Park, FL, at an address of 1111 South Lakemont Avenue. She belonged to the First Presbyterian Church.
Mary passed away at the age of 85 on Dec. 10, 1977. Her obituary was published in the Orlando Sentinel.
Daughter Alice Jarvis ( ? - ? ) was joined in wedlock with (?) Baily ( ? - ? ). She dwelled in Tampa in 1977.
Daughter Vera Jarvis ( ? - ? ) was uniterd in matrimony with (?) Westhall. Circa 1977, Vera resided in Bedford, NH.
Copyright © 2021-2022 Mark A. Miner
Minerd.com extends its gratitude to the late Donna (Younkin) Logan for her research contributions to this biography.