Emily Ogle (Younkin) Howe was born on May 31, 1840 in Somerset County, PA, the daughter of Dr. Jonas and Martha (Pringey) Younkin. She undoubtedly was named in part for Mary Ogle, one of the women who helped her father create the Disciples of Christ movement in Somerset in collaboration with Rev. Alexander Campbell.
As a young girl in Somerset County, Emily and her brother Edwin were put to work by their country doctor father. The children "went among the hills and gathered the roots and herbs with which [their] father compounded all his medicine," recalled a cousin nearly 100 years later.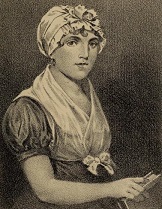 Mary Ogle, Emily's
partial namesake?


Tale of a Pioneer Church
Emily migrated with her parents and siblings at the age of 10 to Illinois and thence to Iowa. There, in Muscatine County, IA, in the summer of 1861, she met her future husband Zimri Howland Howe (May 23, 1833-1911), son of John H. and Katherine "Kate" (Howland) Howe of Bridgewater, Washtenaw County, MI. One of Zimri's ancestors, George Howe, had served as a lieutenant under Gen. George Washington in the Revolutionary War with service in Bridgewater, NY.
Zimri stood 5 feet, 8 inches tall. He had a light complexion, grey eyes and brown hair, and weighed 140 lbs.
After the Civil War was declared, Zimri left his home in Davenport, Scott County, IA and traveled to Birds Point, MO, an island in the Mississippi River, to join the Union Army. He was placed on Sept. 15, 1861 within the 2nd Iowa Infantry, Company B. He sought medical care for fever at Cairo, IL in October 1861; St. Louis in November and December 1861; and in camp by regimental surgeon Dr. March. Tent-mate W.A. Nichols recalled that while in St. Louis, Zimri "was very sick and was not expected to live at all."
Zimri regained his health and rejonied the regiment. While in battle at Fort Donelson, on Feb. 14, 1862, as part of the left wing of the advancing Union Army, he received a slight gunshot wound in the head and right ear. Fellow soldier Frank Suiter was watching as it happened and wrote that "Howe was not far from me at the time; we were charging the breast works and had just entered the first line of works of the fort when Howe fell.... [I] assisted him to rise, and noticed that he was bleeding quite profusely. He said it was not serious and remained with the Co. through the battle, and was not sent to hospital but was unfit for duty for some two weeks. His face was swollen & he suffered some pain, but his wound was not considered serious."
Fellow soldieer George Messing remembered seeing "the blood squirting" from the lower ear.
The wound was probed and dressed by a physician at the nearest makeshift field hospital. Zimri recalled that "I did not go to any Hospital but remained in my quarters. He gave me a wash for it and told me to keep wet cloths on my head." The enemy buckshot never exited his neck and was embedded in the muscle tissues. Zimri later blamed the wound on his early deafness.

Union soldiers under fire at Fort Donelson, TN
Famous Leaders and Battle Scenes of the Civil War
Later that spring, in June 1862, on a march from Rienzi, MS to the Tuscumbia River in northern Mississippi and western Tennessee, he contracted severe diarrhea.
Zimri was promoted to corporal on Oct. 4, 1862. He was honorably discharged from the army at Corinth, MS on March 20, 1863. Within a week, on March 26, 1863, now at Memphis, TN, he re-enlisted in the army and was assigned to the 55th U.S. Colored Infantry, Company A. His initial rank with the 55th U.S.C. was sergeant followed by promotions to second and first lieutenant and quartermaster.
He received medical care in camp from Dr. Humphrey in June and July 1863. At the Battle of Corinth, MS on Oct. 2-3, 1863, he began to suffer from hemorrhoids. He later wrote that for about two to three months, he led drill exercises for black troops with the 55th U.S.C., "in an open field where the dust was always very deep. I contracted sore eyes being in that dust and hot sun from five to seven hours each day Sundays & all." Friend James M. Miller observed that his eyesight was so bad that zimri "was unable to read his letters & do writing."
Zimri received a month-long furlough in August-September 1863 and returned to Iowa during that time. Emily recalled that "He was sick in bed at my Fathers house at that time and again in the summer of 1864." In July 1864, he was on duty at Fort Pickering, TN. Not much else is known about his experiences in the 55th U.S.C. In August 1865, he was treated for diarrhea and fever at Vidalia, LA. With the regiment's physician also very sick at the time, Zimri employed a private doctor, Dr. McCracken, for his ailments.
At some point during the war, writing letters back and forth, Emily and Zimri agreed to marry, and he invited her to join him where stationed in Natchez, MS. He wrote that he was very ill and unable to travel north as planned. She made the trip, of hundreds of miles, whether alone or not is not known. She arrived in Vidalia and "found him very sick with diarrhoea & fever under the care of a civilian doctor from Natchez Mifs. He got better but not well."
On Oct. 30, 1865, in Natchez, Adams County, MS, they were united in holy matrimony. Chaplain Rev. George Kitchen officiated. Many years later, in its "A Fact a Day About Iowa City" column, the Iowa City Press-Citizen recounted their unusual wartime union.
Darts of "Dan Cupid" the little blind god, who shoots a "mean arrow," and who has been known through the ages as "Eros" and "Amor", respectively by Athens and Rome, were no less unknown to Civil War soldiers than were the bullets from the guns of the enemy. Romance, in other words, played its role in the drama of the internecine strife of the 1860's, and helped to relieve the tragic scenes. Testimony thereof was given by Miss Emily O. Younkin, a loving bride of these longgone days. From Iowa City, she traveled slowly, but surely, to Natchez, Miss., where she was wed.... In an old Southern church, they were made one. After the war, they came back to Iowa City, and later removed to Beatrice, Nebr., where the romantic warrior was "mustered out" by the Great Commander, not long before the eightieth anniversary of his birth.
The newlyweds made their home in Mississippi for a brief period of time while Zimri fulfilled his terms of enlistment. He received an honorable discharge at Baton Rouge, LA on New Year's Eve 1865. Immediately, the couple left for Iowa but had to stop at Vicksburg, MS where he was sick for about two weeks. Eventually they completed their travels and began a home where her parents were living in Iowa City.
The Howes went on to become the parents of at least four children -- Effie Martha Thomas, Laura Crosby McCann, George Howland Howe and Catherine Marie Fowler.
Circa 1866-1869, when Zimri's brother-in-law Archibald Campbell Younkin served for three terms as treasurer of Johnson County, IA, Zimri worked in his office as deputy county treasurer, helping to collect taxes. Archibald later wrote that Zimri "was not a strong and vigorous man. he could not perform or do heavy work, such as lifting or great exertion and bodily activity. Nor exposure to extremes of hot or cold weather. He was frequently sick and unable to do any work of any kind for everal days and sometimes even for several weeks. His principal ailment seemed to be diarrhea or as he called it 'bloody flux.' I know that my father Dr. J. Younkin prescribed for him part of the time...."
In 1867, Emily remembered, Zimri suffered a skin infection ("erysipelas") on his face which "caused his eyes to become very sore." For nine years, from 1866 to 1874, Zimri received medical treatment in Iowa City from his father-in-law as well as Dr. Price and Dr. Moon. After that time, he wrote, "I did not emply any Dr. but my wife doctored me all the time. Her father was a Dr., also a brother, and she knew what they used. I was alwais to poor to pay doctors bills."
After Emily's brother Archibald left office, Zimri did likewise and spent the next five years farming. They rented a house in Iowa City through the real estate agency of Julius A. Smith, and in the winter of 1873-1874, Zimri was employed for Smith's firm of grain buyers and shippers. Wrote Smith, "I remember when the grain business we were short of help. We wanted a man to go out on the road to attend to the shipment of some wheat. [Zimri] was laid off on account of his eyes but came and offered to go. I saw he was wholly unfit to go and sent another man."
In recognition of his wartime wounds, the U.S. government awarded Zimri a military pension on Jan. 11, 1887. [Invalid App. #593.711 - Cert. #999.720] Handwritten birth records from the Howe family Bible were used to confirm his birthdate, a book which had been published in 1854 by the American Bible Society of New York.
Emily and Zimri extended a hand to their friend John H. Gearkee when he became widowed. Gearkee and his young daughter lived in the Howe household for two years.
In February 1874, the family relocated from Iowa City to Kansas, where they spent two years. They traveled an overland route in the company of the family of F.R. and Hannah E. Talbot. Friend Talbot wrote that "he remained in my family about four months & was ailing all the time...."

Bridge and mill, Beatrice, Nebraska
Then in 1876 they migrated again to Beatrice, the county seat of Gage County, NE. Zimri and his brothers-in-law Aaron Schrock Younkin and Uriah Younkin worked together in the winter of 1878-1879, cutting and hauling wood. During that period, they all lived under the same roof. Circa summer 1880, Zimri became so ill at times that he "was unable to sleep nights," Emily wrote. In the early 1880s, he continued to work with his Younkin brothers-in-law in haying and threshing.
He quit farming altogether in 1887. During the administration of President Grover Cleveland, Zimri was named postmaster in the town of Odeil, NE. Later, he was appointed as superintendent of the county home. Circa 1890, the Younkin brothers-in-law lived directly across the street from the Howes in Beatrice. In October 1880, Emily and Zimri visited their old friends the Talbots and in June 1891 the Talbots spent a week at their home. During the early winter months of 1891, he employed one of Emily's brothers to build a stable and other outbuildings on their property in Beatrice, but was unable to help to any extent.
Zimri earned a living from 1889 to 1893 driving a hack for A.V.S. Saunders in Beatrice. Saunders noted that the work was "light employment" and that he sat on "a peculiarly formed cushion." Yet given attacks of what some called nervousness and exhaustion, he took to his bed and employed others to drive in his stead.
In 1896, G.P. Marvin, publisher of The Democrat newspaper in Beatrice, wrote that Zimri was "a good old democrat." In August 1906, his former regiment mate James C. Park of West Liberty, Iowa wrote that Zimri had visited him during autumn 1896 and had noticed that Zimri's "eyes were watery and red, and he was somewhat hard of hearing. In the fall of 1898 or 99, I was with him in Omaha, two or three days, his eyes lookedworse, and he was deafer than he was in 1896. I visited him last fall, and his eyes looked worse than ever before, and he was very deaf."
Zimri was injured by a blow to the left eye in mid-September 1904. A military physician reported in June 1906 that Zimri had an advanced cataract in his left eye, and a beginning cataract in the right. Neighbor W.S. Van Ness, who lived on the same block in Beatrice and whose barns were separated by a 20-foot-wide alley, said that "His hearing is so bad that I am generally obliged to go across the alley to converse with him."
He and Emily were charter members of the Christian Church of Beatrice, and he served as an elder circa 1911. A note Zimri wrote in 1908 lists his address at the time as Post Office Box 1116 in the Glenover neighborhood in northwestern Beatrice.
When the federal census was enumerated in 1910, the Howes lived at 1116 Ashland Avenue in Beatrice, with 33-year-old unmarried son George and 22-year-old daughter Catherine in the household.
Zimri was cut down by the Grim Reaper on Oct. 10, 1911 at home in Glenover near Beatrice. An obituary in the Nebraska State Journal of Lincoln noted that death was due to "a complication of diseases, he having failed in health for the past year."
After Zimri's death, Emily was awarded his monthly pension payments. [Widow App. #973.480 - Cert. 732.592]
Emily passed away in Omaha on Feb. 10, 1935.
Emily and Zimri rest for eternity in Beatrice Cemetery in Beatrice, Gage County, NE.
~ Daughter Effie Martha (Howe) Thomas ~
Daughter Effie Martha Howe (1866-1963) was born on Dec. 13, 1866 in or near Iowa City.
In 1900, unmarried at the age of 34, she earned income as a dressmaker and apparently resided with her parents.
Circa 1908, she filed a claim for land in Colorado and traveled there in October 1908 with her sister Laura McCann.
Effie eventually married (?) Thomas. In the 1930s, her home was in Fairbury, Jefferson County, NE.
In its gossip columns of July 9, 1946, the Beatrice Daily Sun reported that Mrs. E.F. Richards and daughter Sylvia had traveled from their home in Kelso, WA to spend a month visiting with Effie and her sister Laura McCann in Beatrice.
Effie passed away at the age of 96 on March 12, 1963. Burial was in Evergreen Home Cemetery in Beatrice.
~ Daughter Laura Crosby (Howe) McCann ~
Daughter Laura Crosby Howe (1869-1961) was born on Aug. 2, 1869. At the age of five, she and her parents and siblings moved into the community of Beatrice, Gage County, NE.
Laura is believed to have wedded Joseph McCann ( ? -1940?).
They produced at least one known son, Richard McCann.
Evidence suggests that Joseph died on Sept. 1, 1940, with interment in Beatrice's Evergreen Home Cemetery.
Laura survived her spouse by more than two decades. She was a Sunday School teacher at the First Christian Church of Beatrice circa 1943.
In its gossip columns of July 9, 1946, the Beatrice Daily Sun reported that Mrs. E.F. Richards and daughter Sylvia had traveled from their home in Kelso, WA to spend a month visiting with Laura and her sister Effie Thomas.
Laura underwent major surgery at the University of Nebraska hospital in Omaha in February 1949.
She made her residence in Beatrice, NE circa 1951. In July 1957, the 88-year-old Laura was "clared to have lived the longest in Beatrice," reported the Beatrice Daily Sun.
Laura entered eternity on Feb. 1, 1961, at the age of 91. She rests for eternity in Evergreen Home Cemetery in Beatrice.
Son Richard McCann ( ? - ? ) was married and had at least one daughter, Laura Jo McCann. Circa 1950, he was employed as production manager with the radio station KBON-AM in Omaha.
~ Son George Howland Howe ~
Son George Howland Howe (1877-1956) was born on Feb. 24, 1877 in Beatrice, Nebraska.
He served in the U.S. Army during the Spanish American War. After peace was declared, he established a home in Puerto Rico, where he was named manager of a plantation. After six years of the plantation work, he became seriously ill in 1904 and was sent to a hospital in St. Louis, MO.
By July 1904, he had recovered sufficiently enough that he was brought home by his father. George obtained employment in Beatrice as a lineman with the New Home Telephone Company. He dwelled in Beatrice circa 1911 with his parents.
George was united in wedlock with Florence Delia Wright (1885-1955), daughter of Samuel G. Wright.
The couple produced a son, Howland Wright Howe, born in Colorado in 1916.
In 1913, the newlyweds relocated to Denver for George to begin work for a feed and fuel business. By 1920, census records show they were back in Nebraska, with George earning a living with Nebraska Telephone Company. They eventually migrated to Southern California, making a home by 1930 in Los Angeles, Los Angeles County.
The United States Census of 1930 shows the Howes in Los Angeles with Florence's widowed, 71-year-old father living under their roof on Budlong Avenue. George's occupation in 1930 was as a farm irrigation contractor, a line of work which he maintained during the 1930s. He is known to have traveled to Honolulu in January 1939 on the ship S.S. Matsonia.
When the federal census again was enumerated in 1940, George earned a living as a lawn sprinkler contractor for landscaping.
Florence died in Los Angeles on March 12, 1955. Her remains were placed into repose in Roosevelt Memorial Park in Gardena, Los Angeles County.
George only lived for another 16 months after his wife's passing. He joined her in death on July 17, 1956. He rests in Los Angeles National Cemetery.
Son Howland Wright Howe (1915-1957) was born on June 24, 1915 in Denver. As a young man, he moved with his parents to Los Angeles, where he pursued a career as a vandeville actor. On Jan. 24, 1939, at the age of 23, he filed a notice of intention to marry 19-year-old Alvilean Stepp ( ? - ? ) of Gardena, Los Angeles County. The news was announced in the Santa Ana Register. The marriage did not take place, or did not last, and by 1940 he dwelled in his parents' home in Los Angeles, continuing his vaudeville pursuits. In January 1945, he resided in the Padre Hotel in San Francisco and became engaged to 27-year-old Anna Grant ( ? - ? ) of 340 Mayflower Street. News of their marriage license was published in the San Francisco Examiner. The couple went on to produce three sons -- David Howe, George Howe and John Howe. Howland gave up show business and earned a living over the years as a plumbing supply salesman. He also was a neighborhood commissioner for the Boy Scouts of America. In the winter of 1957, George suffered a head injury while working at a ranch. He survived for another three months but sadly, on May 3, 1957, died from the effects at the age of 41. A short obituary was printed in the Los Angeles Times. Only a year had passed since the death of his father, adding to the tragedy.
~ Daughter Catherine Marie (Howe) Fowler ~
Daughter Catherine Marie Howe (1887- ? ) was born on April 24, 1887 in Beatrice Nebraska.
At the age of 23, in 1910-1911, she was a teacher in the Omaha school system and dwelled at home with her parents.
She married Daniel Morgan "Dan" Fowler (1878-1959), a native of Canada.
They were the parents of Richard Fowler and resided for decades in Omaha.
Sadly, Daniel succumbed in Omaha in September 1959.
Catherine outlived her husband by two decades. Death swept her away at the age of 92 in Omaha in September 1979. Her remains were transported to Beatrice for burial in Evergreen Home Cemetery.
Son Richard Fowler ( ? - ? ) underwent major surgery in Omaha in December 1948.