Home

Henry Younkin
(1795-1877)
Henry Younkin was born on Sept. 25, 1788 in Somerset County, PA or in about 1795 in Virginia, the son of Rudolph "Ralph" and Elizabeth (Hockman) Younkin.
At the age of about 10, circa 1798, Henry joined his parents in a move to near Lovettsville, Loudoun County, VA. The father made further explorations into a possible move to Somerset County, PA where other Younkin uncles and cousins were living at that time.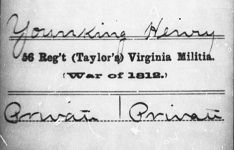 Henry's War of 1812 service card


Courtesy National Archives
Henry is believed to have been a soldier during the War of 1812. If so, he served as a private in Capt. Everhart's Company of the 56th Regiment (Taylor's) of the Virginia Militia. His name in official military records has been spelled "Younking."
Two years after the war ended, as Ohio opened to more orderly, safe settlement in 1816, Henry and his parents relocated again, settling in Corning, Perry County, OH.
Henry and John Younkin (his brother?) jointly purchased land in Muskingum County, OH in 1819.
On Feb. 15, 1821, in nuptials held in Muskingum County by the hand of J. Crooks, the 26-year-old Henry was united in wedlock with Sarah Ann Bartlett ( ? -1846).
The couple produced seven or more children -- Caroline M. Younkin, Robert T. Younkin, Elizabeth Younkin, Hester Anne Boling, Charles Henry Younkin, Mary Ellen Younkin and one who died unnamed in infancy in 1846. Evidence suggests that another son was Armstrong Mason Younkin who served in the War with Mexico circa 1846-1848.
He is believed to be the same "Henry Younkin" who in 1823 served as postmaster at Uniontown, Muskingum County. At that time, he was jailed for and confessed to robbing money from the mails, including $550 intended for Mr. Coulson of Rushville, $50 for Mr. Odlin and $60 for Mr. Beckwith of Somerset, OH. Reported the Philadelphia National Gazette, tongue in cheek, "The postmaster had not been in office much more than two years, but he has made up in industry what he lost in time." Henry was convicted of grand larceny and sentenced to three years of hard labor in the Ohio penitentiary.
Sadness enveloped the family when Sarah Ann died on Aug. 11, 1846 in Zanesville, Muskingum County. Evidence hints that her demise was in childbirth as the couple also lost an unnamed baby that same year.
The widowed Henry earned a living in 1850, in Muskingum County, as shown in federal census enumeration records.
In recognition of his wartime military service, Henry in 1854 was awarded a patent from the United States Government for 88.19 acres in Illinois. The tract sat in the northwest quarter of Section 7, Township 13 North, Range 9 east in what today is Coles County. It appears that Henry chose to assign his ownership rights in the property to William Bancroft, perhaps to pay a debt or because he planned to relocate elsewhere.
Henry and his children pulled up stakes in 1856 and migrated to Iowa, where they initially were pioneers of Keokuk.
Eventually they established a home in Chariton, Lucas County, IA. Henry died there at the age of 82 on June 16, 1877.
In later years, his children believed Virginia to have been his birthplace.
~ Daughter Caroline M. Younkin ~

Daughter Caroline M. Younkin (1824-1890) was born in about 1824 in Muskingum County, OH. She appears not to have married.
At the age of 26, she resided in Muskingum County in 1850 with her widowed father and younger siblings.
Caroline was about 32 when her father and the family relocated to Iowa.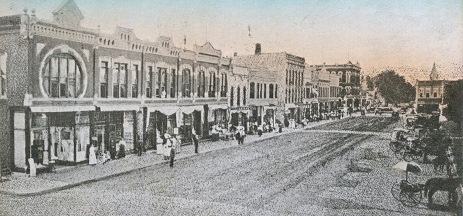 Horses and buggies on the west side of the public square, Chariton, Iowa
At the age of 56, in 1880, she and her sister Mary operated a millinery business in Chariton, Lucas County, IA. That year, the two women and their brother Robert shared a home.
The Angel of Death carried her away in about 1891 in Chariton, Lucas County, IA.
Burial was in Chariton Cemetery.
~ Son Robert T. Younkin ~
Son Robert T. Younkin (1826-1896) was born on Feb. 17, 1826 (or 1829) in Fultonham, Muskingum County.
Robert appears to have relocated with his parents and younger siblings to Iowa circa 1856. He established a home in Chariton, Lucas County, IA.
"For a number of years," reported a Chariton newspaper, "he worked with a government surveying corps and traveled over a large portion of the United States."
He returned to Chariton in about 1866, at the age of 37. Soonafter his arrival, according to one source, perhaps a sanitized version of the facts, he became ill and lost his vision. Another source, reported at the actual time, suggests that in 1867 he gouged out both eyes with a stick while in Audrain County, MO. He was was brought into the town of Mexico and questioned by authorities. "He seems to be perfectly rational," said a story syndicated in newspapers throughout the country, "though Younkin says himself that he was insane when he did the deed, and it seems impossible to entertain any other conclusion. Younkin says he is thirty-four years of age, seems disposed to be non-committal about his residence or nativity, and hints at a love affair that did not run very smoothly as the cause of his temporary insanity."
Somehow Robert adapted to his plight. "Not being able to see," said the Chariton newspaper, "the sense of hearing became more keen and he was able to recognize persons whom he had not seen for years by the sound of their voice. He was quiet and unobtrusive in his manner and during his long residence here made many friends."
Circa 1880, census records show that he lived with his single sisters Caroline and Mary in Chariton and had no occupation.
As he aged, his mind became impaired as his health declined. He was taken to a hospital in Clarinda, Page County, IA. He died there at the age of 70 on March 12, 1896. His remains were shipped back to Chariton for funeral services at the home of his sister Hester Boling, with Rev.A.H. Collins preaching the sermon. The body was placed into rest in Chariton Cemetery. [Find-a-Grave] .
~ Daughter Elizabeth Younkin ~

Daughter Elizabeth Younkin (1832- ? ) was born in about 1832 in Muskingum County, OH.
At the age of 18, in 180, she made a home with her father and siblings in Muskingum County.

Sen. Sanford Boling


Courtesy Iowa.gov
~ Daughter Hester Anne (Younkin) Boling ~
Daughter Hester Anne Younkin (1834-1927) was born on April 30, 1834 or Oct. 31, 1835 at Fultonham, Muskingum County, OH.
In the mid-1850s, she migrated with her parents and family to Iowa.
On Jan. 17, 1865, in a wedding held in Fairfield, Jefferson County, IA, the 30-year-old Hester married 30-year-old Civil War veteran Sanford M. Boling (Dec. 30/31, 1834-1893), a native of Fultonham, Muskingum County and the son of William and Juda (Grimsley) Boling. Officiating was Rev. A. Axline, pastor of the Evangelical Lutheran Church.
The one known daughter born to this couple was Bessie Millikin.
As a boy of 10, Sanford "received his education in the old subscription schools common at that early day and at the age of ten years began working at the plasterers trade with his father," said a profile in the Iowa Official Register. Father and son labored together in Uniontown, OH, and one friend later referred to Sanford as "a splendid workman." Among their customers was Enoch B. Lake over a span of a decade.
In manhood, Sanford stood 5 feet, 11¼ inches tall and weighed 135 lbs.
Then after the Civil War broke out, he joined the Union Army in August 1862 and was assigned to the 122nd Ohio Infantry, Company F, holding the rank of second lieutenant. His friends Andrew C. Brechbill and C.C. McCabe and future brother-in-law Charles Henry Younkin all recalled that at the time of enlistment, Sanford was "a sound able bodied man." He was sent with his men to Virginia and was assigned to build and repair the earthen forts around the town of Winchester.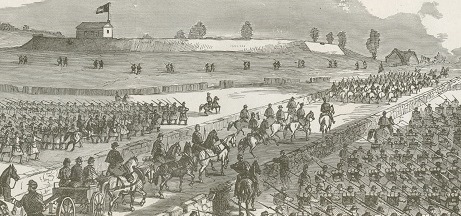 Above: Union troops near one of Winchester's earthen forts. Below: ruins of Winchester's Star Fort in later years.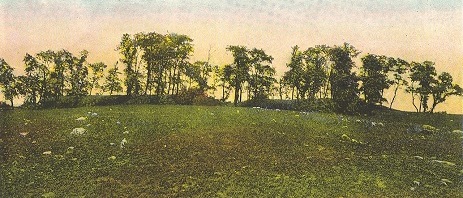 Unfortunately, while in Winchester in April 1863, he contracted typhoid fever. Wrote Alva Richards, an assistant surgeon with the regiment, "I treated him through that attack, which was a severe one, it was complicated with pneumonia and he was very sick for some time, perhaps 4 weeks." During that time, he was brought into the private home of local citizen (?) Heillhouse/Hillhouse, who lived in a large brick dwelling in the western part of the town. There, he received medical care from Richards as well as visits from regimental chaplain McCabe.
Sanford received a furlough on May 2 to go home to his parents, returning May 13. He was sent away again for medical care on June 11. During his time away, his regiment was repulsed at and driven from Winchester on June 14 and then fought several weeks later at Gettysburg.
After making a partial recovery, he rejoined a detachment of his unit in September 1863 at Martinsburg, WV. They saw duty at Culpeper Court House, VA. In November, he was brought into the full regiment and ordered to move again as part of the Mine Run campaign. The campaign, in the fall of 1863, is said to have been Union General George Meade's final effort that year to dislodge Confederate General Robert E. Lee's army from Northern Virginia. While on the march, he began to experience vision problems, especially in his left eye. "It appeared just as if someone had thrown a handful of sand in my eyes and I could scarcely see for a time," he later recalled. After marching "through mud and enduring untold hardships, the project was abandoned," said a biography in an Iowa county history book. Then during the winter of 1863-1864, he was an acting adjutant and was assigned to Columbus, OH, where from Feb. 15, 1864 to Jan. 9, 1865, he performed the light duty of recruiting soldiers.

Duplicate of the Bolings' Jefferson County marriage record.
National Archives.
He resigned his position on Dec. 30, 1864, and returned home to Uniontown. He spent just a few days there and then started on an overland trip to Iowa to begin his future with our Hester Anne. He arrived in Fairfield on Jan. 14, 1865, and the couple soon was wed. The Bolings stayed in Fairfield for the 28 remaining years of Sanford's life. Once in Fairfield, said the Register:
During the first five years after his arrival [in Iowa] he was in the employ of the American Express Company, but his health so failed him that he was compelled to change his occupation and for a time he worked at the plasterer's trade. This was followed by one year spent as a contractor and in January, 1874, he entered upon the duties of the office of Auditor of Jefferson County, in which capacity he served the people acceptably for six years, his worth and ability having been tested and found to be in merit even above what his friends had anticipated. In 1879, he was honored with an election to the State Senate and served in that body during the sessions of 1880 and 1882. In the first Assembly, he was Chairman of the Committee on Penitentiaries, which originated a bill creating the office of warden in the penitentiary at Anamosa. He was the active spirit in securing an amendment to equalize the good time earned by convicts. Up to this time counties could vote on public improvements only at general elections, and as a result when one party championed any public enterprise, the other felt bound to oppose. It thus became difficult for a county even to erect a courthouse, and it was through the instrumentality of Mr. Boling that an amendment was passed permitting such questions to be voted upon either at general or special elections. During the session of 1882, he was Chairman of the Committee on Public Buildings and secured the passage of a bill appropriating a half million to complete the State Capitol. Former appropriations had been so small that they were largely consumed in paying the salaries of those selected to look after their expenditure and in the passage of this bill Mr. Boling performed an important work. Socially, he belonged to the Masonic and Odd-Fellows fraternities and to the Grand Army Post of Fairfield, of which he is a charter member.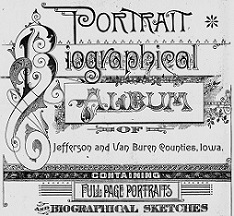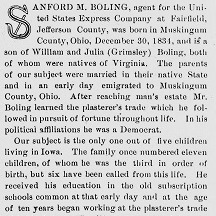 Sanford's biography in the Portrait and Biographical Album of Jefferson and Van Buren Counties, Iowa., published in 1890.
In May 1888, citing disease of the eyes and stomach and debility from the typhoid fever, Sanford was awarded a military pension as compensation. [Invalid App. #653.158 - Cert. #464.339]. His health at that time was so poor that friends noticed his despondency and feared he might even resort to taking his own life. But the concerns proved to be unfounded.
Sanford in 1890 was featured in a lengthy profile in the Portrait and Biographical Album of Jefferson and Van Buren Counties, Iowa, published by Lake City Publishing Company of Chicago. Sanford was in ill health circa 1892 and had to leave his job as an agent with the United States Express Company. Family friend Rev. E.L. Schreiner observed that the patient "has been a patient, quiet sufferer, anticipating all the time the probability that he might not recover." As reported in the Weekly Journal, Sanford confided to Schreiner that:
...during his life he had been troubled with doubts and had been skeptical about Christian religion, but since his sickness he had reviewed the whole ground, and fel that he could not set up his reason and judgement against God, and his Word, and he had come to a cordial acceptance of them, and he desired to yield to every requirement that God made of him, asking me to read from the Bible and pray with him. "I returned in a few days and during this and subsequent inter views he made a complete surrender of himself to God and case himself on the mercy of Christ, and soon found peace in believing. Shortly after this he united at his own request, with the Church, and with a few intimate friends received the sacrament of the Lords supper, manifestly discerening by faith the shed blood and broken body of Christ, his only hope. From this time on his progress in spiritual discernment was great and rapid. On my return from Conference while with him one day, when he had so declined in strength that he could only speak in a whisper, he took my hand and drawing me close to him, he said "the doctor has just told me that there is no possible chance for me to get well, and I want to say that it is all right. I am perfectly happy! happy, Glory to God."
For the last seven months of his life, Sanford was unable to care for himself. He was examined nearly every day by O. Burnham Moss, MD, who found the old soldier "extremely emaciated, scarcely able to take food, coughing and expectorating, and so feebel as to be out of bed only a few minutes at a time. He had some defect of vision, for which he kept the eyes shaded much of the time." He passed away on Oct. 18, 1893 in Fairfield.
An obituary printed in the Weekly Journal said that the funeral was held in the Boling home. "There was a good attendance of friends of the family. The service was impressively conducted by Rev. E.L. Schreiner of the M.E. Church." The following day, his remains were taken by his fellow friends to the Chicago, Burlington & Quincy Railroad depot for transport to Chariton for burial. Pallbearers included T.F. Higley and W.H. Neibert from the Masons, Robert Israel and John W. Quillan from the Odd Fellows and Thomas Bell and Charles Gift from the GAR. [Find-a-Grave]
After Sanford's death, Hester Anne was awarded her husband's pension and received monthly government checks for the rest of her life. [Widow App. #589.593 - Cert. #428.441]. Among those stepping forward to provide affidavits in support of her case were Elizabeth Fulton, D.G. Higley, T.F. Higley, W.W. Junkin and Robert Watters of Fairfield.
She relocated from Fairfield to Chariton, Lucas County, IA on April 13, 1894. Hester Anne passed away on Feb. 9, 1927. Interment was in Chariton Cemetery, and her obituary appeared in the Ledger.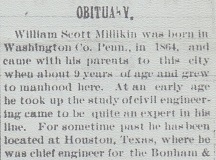 William Scott Millikin's obituary, 1904
Daughter Bessie Boling (1865?-1936) was born on Oct. 17, 1865 in Fairfield, Jefferson County, IA. When she was about age 23, circa 1888, she was pursued by two potential suitors, Colin E. Campbell and civil engineer William Scott Milliken. On March 12, 1890, without much warning to her friends, she married Millikin (Feb. 9, 1864-1904). He was the son of Dr. John C. and Elizabeth (Evans) Millikin of Washington County, PA who had migrated to Iowa in about 1873. The nuptials were led by Rev. J. Hochuly of the Episcopal Church. The Millikens did not reproduce. They spent their lives in Fairfield, Jefferson County. In 1893, at the death of her father, Bessie was so ill and bedfast that she could not attend the funeral and out-of-town burial. Reported a newspaper in 1904, "For sometime past he has been located at Houston, Texas, where he was chief engineer for the Bonham & McKinney Electric railway. He also had an office there from which he conducted a large amount of work for his services were always in great demand." His brother joined the consulting business in late summer of 1904. William suffered a stroke and died a few days later on Nov. 13, 1904. His remains were shipped to Fairfield to lie in repose in Evergreen Cemetery, with Rev. Alex Corkey officiating at the funeral service. As a widow, Bessie made a home in Chariton, Lucas County, IA, with her name often misspelled as "Milliken" and "Milligan."
She received a letter one day from her former beau Campbell, now living in Chicago at the age of 47. They exchanged correspondence, and he traveled to see her. He told her that he planned to go into business in Chariton, and once again proposed marriage, and she turned him down, perhaps more than once. On the evening of Oct. 17, 1905, having been in Chariton for 10 days, Campbell again was a guest in her home, but the visit ended badly. As they conversed, about 10:30 p.m., he drew a revolver from his coat pocket and said, "We will end it all right now." She maintained calm and soothed his tone, and then said she was going to get a glass of water. But instead she ran to a neighbor's home to summon Mr. Beck, the night marshal in town. Beck came quickly to the house and called out to Campbell to come outside. This was rebuffed with a counter-offer to meet at the front door. As Beck was making his way around the building, Campbell shot himself in the right temple. Beck found him inside, dying. Said the Ottumwa Tri-Weekly Courier, "In his pockets were found five extra cartridges in addition to those in the revolver, indicating that he had anticipated the crime and possibly the murder of Mrs. Milligan." Added the Corning (IA) Adams County Free Press, "It seems that he had recently sustained financial reverses and was in a melancholy mood. Mrs. Millikin again refused his offers of marriage and he decided to end it all." Despite extensive press coverage, she remained silent about the horrific incident. In 1910, she earned income as a census-taker in town. She is known to have traveled to Ottumwa, IA in July 1911 to visit with her uncle Charles Henry Younkin and family on 415 East Fourth Street. Federal census records for 1920 show Bessie at age 55 sharing a Chariton home with her widowed mother and 80-year-old, unmarried aunt Mary Younkin. She earned a living that year as a chamber maid in a local hotel. After the death of her mother and aunt, she lived at the corner of 12th Street and Roland Avenue. On the fateful day of Jan. 25, 1936, she went to Chariton in the morning and returned home, expecting to go back in the afternoon. She was dressed in her overcoat and waiting for a friend to come and join her, but then slumped over, unconscious. A physician was called, but nothing could be done. She died that evening at the age of 70. Funeral services were officiated by Rev. F.W. Wipperman, and burial in Chariton Cemetery. [Find-a-Grave]
~ Son Charles Henry Younkin ~

Son Charles Henry Younkin (1836-1922) was born on June 22, 1836 in Fultonham, Muskingum County.
He migrated to Iowa in 1859 when he was 23 years of age and settled first in Toledo, Tama County. Evidence suggests that he returned to Muskingum County from time to time and was there in 1862 at the time his future brother-in-law Sanford Boling joined the Union Army during the Civil War.
He was married three times. His first bride was Matilda Miskimins (May 14, 1843-1868), daughter of H.H. and Harriet Miskimins (or "McKinnis").
They produced two sons, Claude H. Younkin and Charles Younkin.
Sadness enveloped the young family when Matilda died at the age of 24 on March 16, 1868 in Chariton, Lucas County, IA. Interment was in Chariton Cemetery. Clues hint that their son Charles died young and is buried with his mother.
Within a short time, he wed again to his dead wife's sister, Emily Miskimins (June 30, 1851-1870), alsoo the daughter of H.H. and Harriet Miskimins. Charles was plunged again into grief when the Grim Reaper of Death took her away quickly, at the age of 18, on Feb. 1, 1870, in Chariton. Her remains were lowered into eternal rest in Chariton Cemetery. [Find-a-Grave] She and her sister rest together under a tall pylon marker at the gravesite.
He spent three years grieving before marrying again. On Oct. 27, 1873, at the age of 37, he was united in wedlock with his third wife, Nancy Ann Newcomer (Jan. 29, 1855-1923), a native of Connellsville, Fayette County, PA and the daughter of (?) and Martha (Galley) Newcomer. The couple's nuptials were held in Toledo, Tama County, IA.
Their children were Lloyd A. Younkin, Frank B. Younkin and Marcus Warland Younkin.
The family relocated to Ottumwa in 1899 and were members of the Ottumwa Methodist Church. He also belonged to the Masons and Knights Templar. Then in 1913, he became a partner in Younkin Bros. business located at 306 East Main Street, which is believed also to have been known as the Younkin News Agency. Their home in 1911-1920s was at 415 East Fourth Street.
Suffering from coronary heart disease, known as "angina pectoris," Charles died on the next-to-last day of 1922, with burial in Ottumwa Cemetery. Nancy Ann only lived for a little more than a month. She was stricken with cardiac asthma and passed away on Feb. 7 or 9, 1923. In the early 1990s, Loretta (Adams) Kelldorf, of the family of Col. John C. Younkin, photographed the Younkin graves.
Son Claude H. Younkin (1862? - ? ) was born in about 1862. Circa 1922-1923, he dwelled in Ottumwa.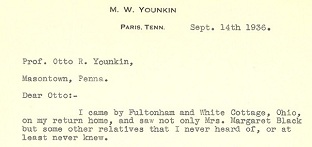 Letter from Marcus Younkin to Otto Younkin, 1936
Son Marcus Warland Younkin (1874-1955) was born on Oct. 3, 1874 in Iowa. On Christmas Eve 1895, in Chariton, Lucas County, IA, he was married to Anna "Azalea" Adams (Jan. 13, 1874-1957). Their only child was Margaret Thompson. As an adult, the Younkins resided in Nashville circa 1912 and in Paris, TN in the 1930s. Marcus was employed over the years with Kentucky-Tennessee Clay Company. In September 1936, they traveled to Ohio where they visited 91-year-old cousin Margaret (Younkin) Black, and Azalea took a photograph portrait. Upon arriving home, he sent a letter reporting his travels and discoveries to Otto Roosevelt Younkin, of Masontown, PA, president of the Younkin National Home-coming Reunion. Then in 1938, they took a driving tour of Pennsylvania and New England, with a stop to tour the Gettysburg battlefield and attending the Younkin reunion. In June 1941, they took another driving vacation and spent time visiting with reunion president Otto Roosevelt Younkin in Masontown, PA. Marcus died on July 11, 1955. Azalea outlived him by nearly two years and passed into eternity in Paris on July 1, 1957. Daughter Margaret (1912- ? ) married Lorenzo Dare Thompson and in October 1992 corresponded about Younkin genealogy with Laurel Posey of the family of Col. John C. Younkin.
Son Dr. Lloyd Albert Younkin (1884-1969) was born on May 9, 1884, a twin with his brother Frank. He never married. He was a chiropractor and made a home in 1922 in Ottumwa. He was fascinated with the Younkin genealogical research and reunion initiatives of the 1930s. On July 21, 1937, he authored a letter to the secretary of the Younkin National Home-coming Reunion which was published under the headline "Ottumwa Note" in the inaugural 1937 edition of the Younkin Family News Bulletin:
Father has often told me that our family emigrated from Germany -- some going to Ohio -- some to Pennsylvania and others to Virginia -- and that the name was spelled Jounkin or some such wording. Too bad he is not now living -- what a "kick" he would get out of all this -- as well as his Sisters -- if they were living today. All his family was born at Fultonham, Ohio -- close to Zanesville. They left for Iowa about 1856 -- Grandfather Younkin, Father and his brother Robert, and sisters Hester Anne, Mary Elizabeth, and Caroline. Those left behind were the Mother, who died in 1846 -- also another Sister -- both are buried at Zanesville. They probably came down the Ohio River to Cairo, Illinois, where the Mississippi meets it, then came up the latter to Keokuk, Iowa, for I have pictures taken of Grandfather Younkin in this town. Grandfather Younkin died in 1878 (name Henry) and is buried at Chariton, Iowa. My father died in 1923 and is buried here, his 3 sisters spoken of, Caroline, passed in about 1890; Mary Elizabeth in 1922 and Hester Anne in 1927 -- they are all buried at Chariton, Iowa, and brother Robert died about 1892 -- buried at Chariton also.
It might prove interesting reading to other members how we Younkins' of Iowa came to know of "The Younkin Family Asslciation," for had not heard of it previous to 1935. In the local Daily in April, 1935, appeared 2 cuts of Twins (brother and sister), named Eli and Margaret Younkin Black -- aged 90, at that time -- living in Zanesville, Ohio -- or close by. A letter was written and found out that their father and the writer's grandfather were brothers -- a pleasant correspondence has been carried on since -- tho Eli Younkin passed on in January, 1937. I have the picture of Margaret Younkin Black, taken by my brother, Marcus W. Younkin, and his wife, when they visited Mrs. Black in September, 1936 -- whe must be a wonderfully fine lady -- from this picture -- which has Whistler's "Mother" beat all hollow. The only ones left of this branch of the Iowa Younkin's -- are my brother, Mr. M.W. and daughter Margaret of Paris, Tenn., my nephew, Mr. Charles N. and his sister, Martha Eloise and the writer -- too bad -- it was a large family back in Ohio -- my twin brother (father of Charles and Martha), Frank B., died in 1923. He was captain of the local "G" Company of the 168th regiment infantry, 42 division (Rainbows) during the World War.
He lived to the age of 85 and died in Bettendorf, IA on Aug. 13, 1969.

Frank's biography in the 1923-1925 Annals of Iowa, Vol. 14, 3rd Series.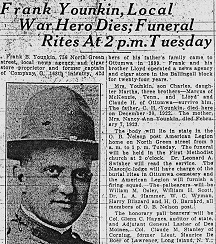 Frank's prominent obituary, 1923
Son Frank B. Younkin (1884-1923) was born on May 9, 1884 in Chariton, IA, a twin with his brother Lloyd. He moved to Ottumwa with his parents and family in 1899, when he was age 15. He joined the Iowa National Guard in 1903. On May 22, 1906, in Ottumwa, IA, the 23-year-old Frank was united in matrimony with 25-year-old Ella Cain (April 25, 1881-1959), daughter of Charles Cain of Cedar Rapids, IA. Rev. Henry W. Hargett, of the First Methodist Episcopal Church, officiated. They bore two known children, Charles Newcomer Younkin and Martha Eloise Watson. During World War I, Frank served as company commander of the 168th Iowa Infantry, seeing action in Belgium and France. While in battle in the woods north of Chateau Thierry, he was wounded by shrapnel in the right wrist, left foot and left shoulder and slightly gassed as well on July 26, 1918. A profile of Frank in the Annals of Iowa said that he also "saw service in the Champaign area, the St. Mihiel district, the Argonne forest, and was with the army of occupation in Germany." After returning home, Frank and his brother Lloyd earned a living as proprietors of Younkin Bros., a news agency and cigar store. Their address in the early 1920s was 756 North Green Street. With Frank suffering from acute pneumonia, he was admitted to St. Joseph Hospital, where he underwent surgery for intestinal problems. He did not recover, and the Angel of Death cut him away on March 24, 1923. Funeral services were held in the First Methodist Church, with Rev. Leonard A. Swisher in charge. Hymns sung included "It Is Well With My Soul," "When Life's Work Is Ended" and "Nearer, Still Nearer." The sermon was based on 2 Timothy 4:7: "I have fought a good fight, I have finished my course, I have kept the faith." Pallbearers were fellow American Legion members William M. Osler, William H. Scott, Dr. L.A. Hammer, W.C. Wyman, Henry Blizzard and H.G. Barnard. Honorary pallbearers included Iowa Auditor of State Col. Glenn C. Haynes, Adjustant General Lasher, Col. Claude M. Stanley, Lieut. Maurice DaBoer, C.G. Merrill of the local Rotary Club and Chamber of Commerce President E.G. Emery. In reporting on the funeral, a local newspaper said that "The city of Ottumwa paused for an hour this afternoon to pay tribute to one of its best known and beloved men -- Frank B. Younkin, who led the local infnatry company through the world war. Flags were at half mast all over the city, and by the mayor's proclamation, business houses, professional and industrial activities through the municipality's length and breadth ceased out of respect to the war hero and peace time community worker." Ella lived for another 36 years, including the last eight with her son. Burdend with hardening of the heart arteries, she died in Des Moines' Lutheran Hospital on March 15, 1959. Burial was in Ottumwa Cemetery, with Rev. H. Vance Laird of the Unity Lutheran Church officiating. Their son Charles made his home at 3257 Indianapolis Avenue in Des Moines, while daughter Martha lived in California in 1959. Frank is named in volume 1 of John Huddleston Taber's 1925 book The Story of the 168th Infantry and in the 1923 book Ottumwa Yesterday and Today.
~ Daughter Mary Ellen Younkin ~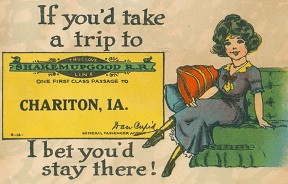 Humorous greeting card, Chariton
Daughter Mary Ellen Younkin (1838-1922) was born in June 1838 or 1840 in Fultonham, Muskingum County, OH.
She never married.
Mary Ellen was a teenager circa 1856 when she and her family migrated from Ohio as pioneers to Iowa.
At the age of 38, in 1880, she and her sister Caroline operated a millinery business in Chariton, Lucas County, IA. That year, the two women and their brother Robert shared a home.
Circa 1920, the now-80-year-old Mary Ellen lived in Chariton, cohabitating with her widowed sister Hester Anne Boling and widowed niece Bessie Millikin.
Mary Ellen passed away in Chariton on May 19, 1922. Her remains were lowered into eternal repose in Chariton Cemetery.
~ Presumed Son Armstrong Mason Younkin ~
Presumed son Armstrong Mason Younkin ( ? - ? ) was born in (?).
During the Mexican American War, which lasted from 1846 to 1848, he used the name "Armstrong" and served as a private in the 4th Ohio Infantry, Company F. Then bearing the name "Mason," he appears also to have been a member of the 3rd Ohio Infantry, Company H.
Then on Aug. 15, 1855, Mason received a patent of land in Illinois as compensation for his wartime service. The 160-acre tract was located in the northeast quarter of Section 7, Township 13 north, Range 9 east of what today is Coles County. He assigned the acreage to William W. Bancroft, the same man to whom Mason's father had done likewise for his own Coles County tract.
Copyright © 201902020 Mark A. Miner
Research for this page graciously shared by the late Donna (Younkin) Logan, Loretta (Adams) Kelldorf, Verda Baird, Laurel Posey and the Ottumwa Cemetery.