Reuben A. Younkin
(1840-1863)
Reuben A. Younkin was born in about 1840 in Indiana County, PA, the son of Aaron and Mary "Polly" (George) Younkin.
A bachelor at age 20, he lived and worked on his father's farm in Brush Valley Township, west of what then was known as Mechanicsburg in Indiana County.
Reuben served in the Union Army during the Civil War, enlisting on Oct. 7, 1862. He was assigned to the 153rd Pennsylvania Infantry, Company B. His relative John Youngkin also served in the same regiment and company, but his precise identity and connection to Reuben is unknown. He is known to have sent letters home to his childhood friend and brother-in-law Simon Dearmy, among others.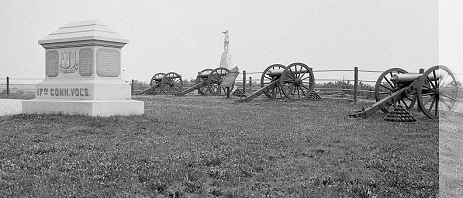 Above: Barlow's Knoll at Gettysburg, where Reuben was mortally wounded in day one fighting.

(Library of Congress/Detroit Publishing)

Below left: monument to Reuben's regiment at Gettysburg. Right: Crowds at the first "Decoration Day," Marker House in Blairsville, near Brush Valley, honoring fallen soldiers, May 1868.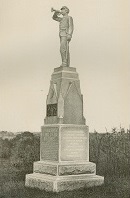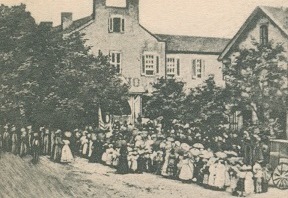 Their company was commanded by 2nd Lt. Adam Reisinger. Tom Huntington's Guide to Gettysburg Battlefield Monuments says that the 153rd "was a largely German regiment" and that the regiment had "mustered in for nine months and its enlistments were due to end in just a few weeks" at the time of the Battle of Gettysburg.
On the first day of fighting at Gettysburg, on July 1, 1863, Reuben was wounded at Barlow's Knoll along the battlefield's northern edge, shot either in the left shoulder or through the lungs. He remained with his regiment until being mustered out of the Army several weeks later on July 24, 1863 in Harrisburg, PA. A week after that, he died in Philadelphia's Chestnut Hill Hospital on Aug. 1 or 3, 1863, with the cause of death listed as "pleurisy" -- inflammation of the lung tissues.
Burial of the remains was in Philadelphia National Cemetery. No stone is known to mark the gravesite.


Official record of Uriah's death from his wound at Gettysburg.

National Archives.
Many years later, in April 1891, Reuben's widowed mother successfully petitioned the federal government to award her a military pension as compensation for the loss of her son. [Mother App. #509.157 - Cert. #345.744]
Today, Reuben's name is inscribed on the Pennsylvania Monument at Gettysburg.
Copyright © 2021-2022 Mark A. Miner
Minerd.com extends its gratitude to Barry Bee Brown, Joan Willett Grabenstein and the late Donna (Younkin) Logan for their research contributions to this biography.