.
Uriah Younkin
(1842-1905)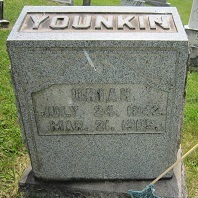 Uriah's grave. Courtesy Brian J. Ensley

Uriah Younkin was born on July 24, 1842 in Brush Valley, Indiana County, PA, the son of Aaron and Mary "Polly" (George) Younkin.

Uriah primarily spelled his name "Younkin." He stood 5 feet, 5 inches tall and weighed 135 lbs.

During the Civil War, he enlisted in the Union Army on Aug. 30, 1864. He was placed in the 6th Pennsylvania Artillery, also known as the 212th Regiment, Battery L. His regiment was made up of recruits from the counties of Allegheny, Butler, Westmoreland, Fayette, Washington and Lawrence.

The 6th Artillery primarily performed guard duty in the District of Columbia and northern Virginia. In September 1864, the men were posted in protection of the capital, and later in the month transferred to guard the Orange and Alexandria Railroad line between Alexandria and Manassas. Their base of operations at that time was the Fairfax County Court House.

Uriah once wrote in the Indiana (PA) Weekly Messenger that "When our regiment was lying between Alexandria and Fairfax Court House a comrade and myself were carrying a railroad tie into camp to build a fire. We were in a deep and narrow cut and, hearing a train aproaching, we started on a run, still carrying the tie. My companion dropped his end, throwing me, and I struck on my back. To this injury I attribute kidney difficulties and the development of itching hemorrhoids."

Fellow soldier Dorsey Peddicord later recalled that on Christmas night, 1864, Uriah and others were on picket duty, and the next morning, "soldiers came into the barracks and walked crippled... He stated he had frozen his feet. He took of [sic] his shoes and I looked at his feet -- they were sore and were purple and black. He was put off duty for the same. I saw him rubbing liniment on his feet." Uriah was treated by the regiment's surgeon but never hospitalized.

He also claimed to have contracted diphtheria, hemorrhoids, and kidney and spinal problems while stationed at Fort Ethan Allen, VA in February 1865. "The night was an intense cold night and very frosty air," recalled fellow soldier David Overdorff. "He had no protection for his feet, except the ordinary cover. The wind had a full sweep towards where we were. I felt as if we would perish from the cold. When the 'grand rounds' came round they remarked 'We cannot help you from the cold, protect yourselves as best you can'." The diphtheria caused bleeding and pain in Uriah's throat, rendering it very difficult to speak, and his comrades thought he might die. Overdorff helped take care of Uriah during the illness.

Following the war's close, at Fort Ethan Allen, Uriah was discharged on June 13, 1865.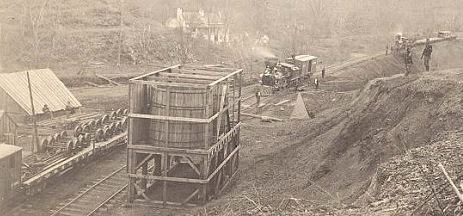 Locomotives in the Union Mills Station, Orange and Alexandria Railroad in Clifton, VA, as soldiers stand guard at right. Uriah and troops of the 6th Pennsylvania Heavy Artillery provided guard duty along the line.

Library of Congress
.
Uriah at age 23 wasted no time in getting married after his return home. On Sept. 19, 1865, he wed Louisa DeArmy (Dec. 26, 1840-1928), daughter of Jacob and Mary (Risinger) DeArmy, also spelled as "Deyarmin." The wedding was held at Indiana, PA, in a ceremony led by Rev. A.C. Ehrenfeld. A certificate signed by the pastor was placed into the family Bible.
Their two children were Mary Elizabeth Brown and Harry Clemence Younkin.
The family made a home in Brush Valley (once known as Mechanicsburg), Indiana County for years.
Four days after Christmas 1888, Uriah was awarded a military pension as compensation for wartime injuries. [Invalid App. #683.410 - Cert. #789.128]. He told a militiary physician in 1889 that "I have a sharp hacking cough in my throat. When I take cold my throat gets very sore & raw. My feet get itchy and swell up at the change of weather."
.
The couple is known to have been in Morrellville Borough in Cambria County in 1885-1891. Later they moved into the city of Indiana, PA where they dwelled during the 1898-1905 timeframe, at the addresses of North Fifth Street and 253 Philadelphia Street. He earned a living as teamster in 1888 and as a janitor at the local Lutheran church.
Circa 1898, Uriah authored a newspaper testimonial for Doan's Ointment, stating that he had seen physicians for his kidney and hemorrhoid problems "until I had given up all hopes of relief. After enduring these afflictions for, say 32 years, I learned about Doan's Ointment and procured a box at Hetrick Bros.' Drug Store. They use of this remedy gave me the greatest relief. I also used Doan's Kidney Pills and the use they afforded me and the comfort I have had since are more than I had ever expected to receive."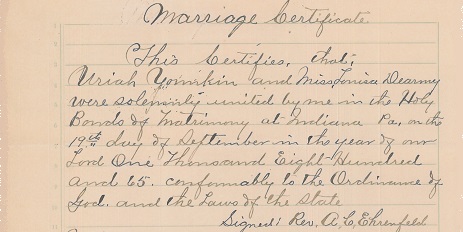 Copy of the Younkins' marriage certificate, 1865.

National Archives.
In mid-March 1905, Uriah and Louisa are known to have attended the funeral of their infant grandson John Westley Brown. But just a week later, death carried Uriah himself away into the everlasting on March 21, 1905. Dr.Burial was in Greenwood Cemetery in Indiana. In mid-March 1905, Uriah and Louisa are known to have attended the funeral of their infant grandson John Westley Brown. But just a week later, death carried Uriah himself away into the everlasting on March 21, 1905. Burial was in Greenwood Cemetery in Indiana.
The widowed Louisa successfully petitioned the government to award her late husband's pension to her. [Widow App. #824.851 - Cert. #609.499]. She then received monthly payments from the government for the balance of her life. Among relatives, friends and neighbors signing affidavits of support in her case were William S. Deyarmin, Lavina Shank and Margaret S. Campbell.
Under the terms of Uriah's will, she was to remain in their house in Brush Valley.
The Memorial Day immediately following Uriah's death, he was honored by Post 28 of the Grand Army of the Republic, and his life was recounted in remarks made by fellow GAR member John H. Hill.
Circa 1905, at the death of her sister Martha Schrader of Indiana, Louisa was named executrix of the estate and inherited the sister's assets. She is known to have traveled to visit her married son Harry in Johnstown. Her residence in 1917 was at 253 Philadelphia Street. She once stated that the correct spelling of her name was "Younken" and not "Younkin."
She provided a home in 1917 for her married granddaughter and husband, Ella May and Charles Dixon, and grieved at Ella's untimely death at age 24 following surgery for a cancerous tumor on her leg.
Her last home was with her married daughter Elizabeth Brown in Homer City, PA. For the final three-and-a-half years of her life, Louisa suffered from "chronic diffuse nephritis" -- kidney disease. At the age of 80 years and 25 days, she passed away on Jan. 21, 1928. Her remains were re-united with her husband's in Greenwood Cemetery.
.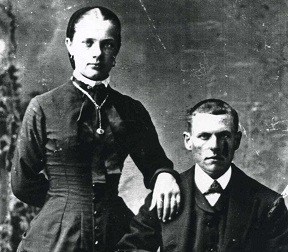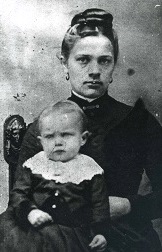 Left: Mary and John Brown's wedding photo, 1884 - Right: Mary with her short-lived son Clarence.
Courtesy Barry Bee Brown
.
~ Son Harry Clemence Younkin ~
Son Harry Clemence Younkin (1866-1926) was born on Sept. 12, 1866 in Brush Valley, Indiana County. He lived to be exactly 60 years of age.
He and Indiana native Anna Elizabeth Miller (Nov. 15, 1865-1935) entered into the rite of marriage on May 8, 1884, at Blairsville, PA, by the hand of Rev. Dr. Miles of the Methodist Episcopal Church. She was the daughter of John H. and Elizabeth (Beck) Miller.
The four offspring they produced together were Clarence Younkin, Louise Atkinson, Frank Younkin and Clair Younkin.
Five years into the union, the Younkins migrated to Morrellville, near Johnstown, PA. There, Harry worked in carpentry, and in about 1911 was hired as a carpenter by the Conemaugh Lumber Company. Their address together from 1893 to 1926 was at 151 Strayer Street.
Harry is known to have inherited funds from the estate of his mother's sister Martha Schrader circa 1905. When his father died in 1905, Harry was willed $450 cash, a sideboard, mahogany finished bedroom suite and bedding, large family Bible, best oak rocking chair, dark cherry armchair, suite of dining room chairs, family clock and enlarged, framed pictures showing a winter scene and the Lord's Prayer. He was active in the community as commander of the Elmo Castle of the Ancient Order of the Knights of the Mystic Chain, also serving the Castle for 24 years as treasurer. He belonged to the Patriotic Order of the Sons of America, Camp 721.
As he neared his 60th bithday, Harry was stricken with a heart attack or embolism and soon became bedfast. He died on his birthday at home on Sept. 12, 1926. Funeral services were held in the Younkin home, led by Rev. W.I. Good of Grace Lutheran Church. The remains were interred in Grandview Cemetery in Johnstown, with son Frank signing the official Pennsylvania certificate of death.
Anna Elizabeth outlived her spouse by nine years, and in about 1929 moved into the home of her married daughter Louise Atkinson in Riverside, Cambria County. Suffering from chronic heart disease, added to an infection of bronchial pneumonia, she died at age 69 on Jan. 21, 1935. Her funeral was conducted in Trace Lutheran Church in the Morrellville section of Johnstown, with an obituary appearing in the Indiana Progress. Interment was in Grandview Cemetery, Johnstown.
Son Clarence Younkin made a home in Johnstown, PA in 1926.
Daughter Louise Younkin married Edward Atkinson. They dwelled in Nanty-Glo, PA.
Son Frank Younkin resided in Viewmont, PA.
Son Clair Younkin was in Johnstown in 1926.
~ Daughter Mary Elizabeth (Younkin) Brown ~
Daughter Mary Elizabeth Younkin (1870-1950) was born on May 16, 1870 in Brush Valley, Indiana County and grew up in that community.
On Christmas Day 1884, by the hand of Rev. A.C. Ehrenfeld, the 14-year-old Mary Elizabeth wed 21-year-old John Adam Brown (March 28, 1863-1938), the son of Valentine and Susanna (Harmon) Brown. News of the marriage was announced on the pages of the Indiana (PA) Progress and Indiana Democrat.
Born in White Township, he moved in his early years to Center Township and in 1902 moved to Brush Valley.
Together, the couple produced a family of nine children -- Cora Louisa Wolfe, Elsie Susanna Walbeck, Ella May Dickson, Harry Clarence Brown, John Westley Brown, Muzzie Elizabeth Wallace, Effie Jane Brown, Glenn Valentine Brown and Carrie Myrtle Walsh.
Mary Elizabeth "lived all her life in the vicinity of Brush Valley," said the Indiana Gazette, "except for a short time in Johnstown.
The family was plunged into mourning when son Harry died at age seven on April 13, 1904 and son John at age nine months on March 9, 1905. At the death of son John in 1905, Mary Elizabeth's parents and other relatives are known to have attended the funeral.
Then when her father passed away in 1905, under the terms of his will, she was to recieve $450 cash in addition to one oak bedroom suite with bedding, parlor suite, large mirror, second best oak rocking chair, dining room oak rocking chair, parlor stand and lamp, large photograph of "Grandpa and Grandma Dearmy," the family death record, and one oak clock.
Mary Elizabeth held memberships in the Brush Valley Methodist Church and the Women's Society of Christian Service. The couple also endured the untimely deaths of their married daughter Cora Wolfe in 1909 and Ella May Dickson in 1917.
She took care of her dying mother in 1928 and, afterward, wrote to the Bureau of Pensions in Washington, DC, saying "I am the only child living and she died at my place and I had to burier her now if she was entitled to 75 dls. would be glad to receive it for to help me out."
Mary Elizabeth is known to have entertained a visit in her home on May 30, 1936 from Charles Arthur "Charleroi Charley" Younkin, secretary of the Younkin National Home-coming Reunion and publisher of a national newspaper, the Younkin Family News Bulletin.
Sadly, John passed away in 1938. His obituary in the Indiana Weekly Messenger called him a "prominent Brushvalley township farmer and road supervisor."
Mary Elizabeth endured as a widow for another dozen years, burdened with chronic heart disease and hardening of the arteries. At the age of 80, she died on the Fourth of July 1950. Her remains were laid to rest in nearby Fry Cemetery, with Rev. W.H. Seybolt presiding at the funeral service held in the family residence. Her son Glenn was the informant for her official Pennsylvania certificate of death. In an obituary, the Gazette noted that her survivors included 14 grandchildren and 15 great-grandchildren.
Daughter Cora Louisa Brown (1886-1909) was born on June 23, 1886 in Brush Valley. She was employed in young womanhood as a telephone operator in Indiana, PA. At the age of 20, on Oct. 10, 1907, she married Harry L. Wolfe ( ? - ? ) of Homer City, PA. In announcing the marriage, the Indiana (PA) Progress said that the ceremony was held in the parsonage of the Methodist Episcopal Church by the hand of Rev. George S. Holmes. The newlyweds first lived in Homer City. Grief cascaded over the family when, at age 22, several weeks after giving birth, Cora was stricken by a septic infection of her reproductive organs. She suffered for 24 days, but, unable to rally, she passed away in Indiana on March 14, 1909. Interment of the remains was in Greenwood Cemetery in Indiana.
Daughter Elsie Susanna Brown (1889- ? ) was born on April 6, 1889 in Brush Valley. On June 12, 1912, when she was 22 years of age, Elsie wed Samuel G. "S.G." Walbeck Jr. ( ? - ? ), living at the time in Heshbon, Indiana County. Rev. J.W. Cary led the nuptials ceremony, held at the parsonage of the Methodist Episcopal Church. Reported the Indiana Progress, "A reception was tendered the couple the same evening at the bride's home." Her home in 1917 was in Heshbon.
Daughter Ella May Brown (1892-1917) was born on April 19, 1892 or 1893 in Johnstown, PA. When she was 21 years of age, in 1913, she was joined in wedlock with Charles E. Dickson ( ? - ? ), son of Scott Dickson/Dixon of Philadelphia Street in Indiana. The couple lived under the roof of Ella May's grandmother at 253 Philadelphia Street. They did not reproduce during their four years together. Tragically, Ella May contracted a cancerous tumor of her left femur which then spread. She underwent surgery in Indiana Hospital, but there was no hope. She died at age 23 in Indiana on Feb. 15, 1917. Funeral services were held in the family home, led by Rev. Dr. B.W. Hutchinson of the First Methodist Episcopal Church. Burial was in Greenwood Cemetery, and an obituary was published in the Indiana Gazette. Inscribed on the face of her grave marker is the epitaph "Sweet be thy slumber."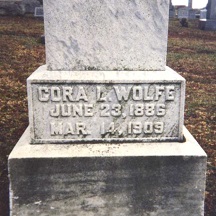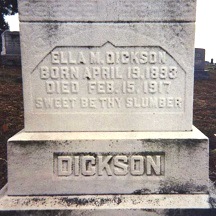 Graves of 2 married Younkin sisters who died in early adulthood
Daughter Muzzie Elizabeth Brown (1906- ? ) was born on Feb. 15, 1906 in Brush Valley. In 1924, at the age of 17, she was united in matrimony with Harry Wallace ( ? - ? ). Circa 1986, she dwelled in the rural outskirts of Indiana.
Daughter Effie Jane Brown (1908- ? ) was born on Jan. 31, 1908 in Brush Valley. She entered into marriage with Halcy George ( ? - ? ). Her residence in 1986 was in Indiana.
Son Glenn Valentine Brown (1911-1986) was born on June 28, 1911 on his parents' farm in Brush Valley. When he was age 21, on April 20, 1933, he wed Ruby Viola Reeger (Feb. 22, 1915-1982), daughter of Herman and Angeline (Stake) Reeger. The wedding was held in Cumberland, MD, with the couple remaining in the city for their homeymoon, "visiting many interesting places," said the Indiana Gazette. Upon their return to Indiana, a "most delicious dinner was served at the home of the bride's parents." Their three children were Glenn Jay Brown, Jean Elizabeth Fletcher and Barry Bee Brown. The Browns resided on the farm near Homer City where he had been born. For 49 years, Glenn drove a school bus for the United School District. A licensed practical nurse, Ruby was employed for many years at Torrance State Hospital. They were members of the Brush Valley Methodist Church. As her health failed, she became a resident of Indian Haven in Indiana. Sadly, Ruby surrendered to the angel of death at age 67 on Dec. 1, 1982. Glenn outlived her by four years. As a patient in Latrobe Hospital, he passed into the eternal realm at age 75 on Sept. 13, 1986. Rev. Collins Cramer led the funeral service, and interment of the remains was in the Garden of the Good Shepherd in Greenwood Cemetery. The Indiana Gazette carried an obituary. Their son Barry was very active in Younkin genealogy research in the 1990s and was in regular contact with the late Donna (Younkin) Logan, organizer of the Younkin Reunion East and publisher of the Younkin Family News Bulletin. They spent a day together touring old cemeteries in Brush Valley. Many of his contributions are published in this biography.
Daughter Carrie Myrtle Brown (1917-1993) was born on April 15, 1917 in Brush Valley. At the age of 16, circa 1934, she married William Jacob Walsh ( ? - ? ). Three offspring were born to this union -- James Walsh, William C. Walsh and Beverly Walsh. The Walshes made a home in Brush Valley circa 1950. Carrie died at the age of 76 in Johnstown, PA on April 27, 1993.
Copyright © 2021-2022 Mark A. Miner
Minerd.com extends its gratitude to Barry Bee Brown, Joan Willett Grabenstein and the late Donna (Younkin) Logan for their research contributions to this biography.