Online Museum of Creativity
Item: Embroidered Apron, Towels and Pillow Sham
Owner: Goldie (Minerd) Moennig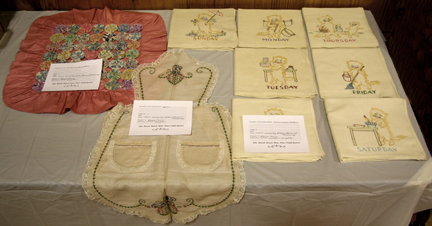 The late Goldie (Minerd) Moennig of Fort Wayne, IN, who grew up on a farm near Monroeville, IN, owned this set of hand-embroidered kitten towels, apron and pillow sham. It is not known if she fashioned them herself, or simply owned them, but they were brought to our 2006 reunion to be exhibited.
The seven "kitten towels," shown at far right, are individually labeled for each day of the week, reflecting "how women did things" in that era -- wash on Monday; iron on Tuesday (an all day job with a long clothesline of ironed clothes when finished); mend or sew on Wednesday; shop on Thursday; clean house on Friday; and bake on Saturday. Sundays were for going to church; milking the cows; taking care of other farm animals; and cooking a big noonday dinner, probably fried chicken. Goldie was the daughter of John Reuben Minerd and the granddaughter of James Minerd.
Click for next artifact
Return to index page
Copyright © 2006 Mark A. Miner. Photos by Sid Miller.