'Clear, Rushing' Harbaugh Run
Freshwater Stream Near the Old
Harbaugh Homestead in Somerset County, PA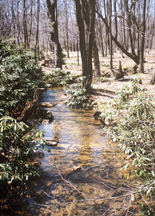 Harbaugh Run

Among the few physical places named after members of our family is "Harbaugh Run." It's a freshwater stream that flows through Lower Turkeyfoot Township, Somerset County, PA.

The Run was so named because it courses through the farm owned by many generations of our Harbaugh cousins, tracing back to pioneers Leonard and Martha (Minerd) Harbaugh Sr, near what today is Clairton Lake.

According to the Pennsylvania Department of Environmental Protection, Harbaugh Run is 2.7 miles in length, featuring high quality water and an abundance of cold water fish. The run feeds Sandy Run and is a tributary to Clairton Lake.
Book citing the Run

The Run is mentioned in the 1977 booklet, Hikerís Guide to the Laurel Highlands Trail, published by the Laurel Highlands Conservation and Development Project and the Sierra Club, Pennsylvania Chapter.

The booklet says that the lower section of the Laurel Highlands Trail, from Ohiopyle to the Ohiopyle-Confluence Road, "is the most spectacular part of the entire trail."

Specifically referring to the Run, it says:

Leaving the lake the trail crosses a narrow dirt road at mile 13.6 that is gated about Ĺ mile to the northeast. Between [Milepost] 14 and MP 15 is open woods with many fairly large trees. The crossing of Harbaugh Run at MP 15 is particularly pleasant, with much rhododendron lining the banks of this clear, rushing, boulder-strewn stream. Climbing out of Harbaugh Run one sees an interesting rock outcropping with laurel and rhododendron among the rocks at mile 15.2 where the trail turns north.


Copyright © 2003, 2009, 2022 Mark A. Miner