Home

Henry 'K.O' Yutzy's
Boxing Career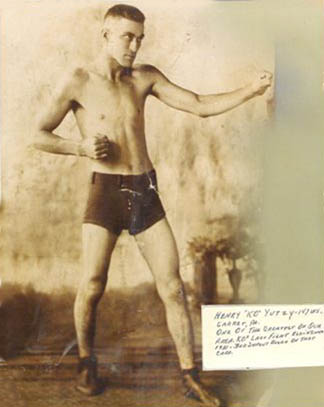 Henry "K.O." Yutzy (1902-1986) -- who married our Edith Minerd of the family of James W. and Minerva (Bodkin) Minerd -- began boxing at the age of 14 in his hometown of Meyersdale, Somerset County, PA. His nickname "K.O" or "Kayo" was a play on words for "knock out," and he carried it to the end of his life. Also known as the "iron jawed coal miner," he boxed as a welterweight in 60 known matches, 51 of them officially sanctioned, during the period of 1922 to 1930.
His first manager was John "Doc" Daugherty of Meyersdale. On March 3, 1924, at the age of 22, his contract was purchased for $275 by promoter Vic Ricker of Cumberland, MD. The new contract covered three years, with Ricker earning 25 percent of K.O.'s earnings.
K.O. was considered one of the only men in Cumberland who took his craft so seriously that he got in shape for every match. A news reporter once noted that K.O. had "the worst pair of cauliflowered ears we have ever seen and we've met many boxers over the past 28 years." His nose was broken at least four times.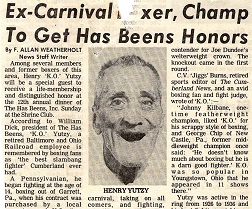 Cumberland (MD) news story, 1971
K.O.'s first fight in Cumberland, MD -- his future home -- is said to have been against Cocky Dilla of Pittsburgh, but no date has been found. Other opponents whose fight outcomes are not yet documented were Bobby Crafton and Buster Reid. He mainly fought in Maryland and Pennsylvania but also had matches in Ohio and Indiana He is said to have been so well liked in Youngstown, Ohio that he had bouts there 11 times. He never fought in Pittsburgh.
The Altoona (PA) Tribune (March 12, 1923) said that K.O. "is fairly well known here and has appeared on several occasions both here and in Johnstown, and always has pleased. While not one of the first-raters, yet he is a good battler, with plenty of grit and ability to give and take hard wallops." The Indiana (PA) Gazette (Dec. 29, 1923) carried a photo and feature story which said that K.O. was "a young, willing fighter who can fight, will fight and does fight. He is a fighting Junior Welterweight of class who has won his last four fights by a knockout. A glutton for punishment, a real offensive fighter. Yutzy will give the fight fans of Indiana a fight feast long to be remembered."
His promoter Ricker was widely regarded as a teller of tall tales. One of his favorites was that while in training, K.O. once hit his sparring partner so hard that the man became wedged in back of a radiator pipe and had to be removed by friends. "The blow put the heating system out of whack and the pipefitters had to go to work," he said.
K.O.'s last known fight took place in June 1930, a loss against Joe Colombo (or "Palumbo") of Clarksburg, WV. In retirement, he remained in Cumberland and was well known as a good man and gentle soul. At age 48, in February 1948, he had a comeback of sorts as a boxing judge. In April 1962, he and his former promoter Ricker were pictured in the Cumberland Evening Times at a testimonial dinner for 100 guests held at the Cumberland Country Club. On Sept. 26, 1971, he received a lifetime membership in the Has-Beens, Inc., a group of boxing enthusiasts who revived amateur boxing in Cumberland..
This list of K.O.'s known matches has been compiled through a Newspapers.com search and by cross-checking against detailed records on BoxRec.com.
~ Boxing Career of Henry "K.O." Yutzy of Cumberland, MD ~
| | | | |
| --- | --- | --- | --- |
| Date | Opponent | Location | Winner/Comments |
| 1922 | | | |
| Sept. 21, 1922 | K.O. Circus | Firemen's Casino, Meyersdale, PA | Draw |
| Oct. 13, 1922 | Albert "Bobby" Green | Liberty Theater, Cumberland, MD | Green |
| Nov. 4 or 24, 1922 | Freddie Lux of Pittsburgh | Frohsinn Hall, Altoona, PA - Promoted by Al Delozier | Draw |
| | | | |
| 1923 | Opponent | Location | Winner/Comments |
| Jan. 26, 1923* | Young Dudley | Somerset, PA | Yutzy - TKO in 9th round |
| Feb. 20, 1923 | Steve Carter | Moose Temple, Johnstown, PA | Yutzy - knockout in 3rd round |
| March 12, 1923 | Frankie Farmer of Youngstown, OH - or Johnny Fowles | Altoona, PA | Farmer or Fowles in 12 rounds |
| March 22, 1923 | Jimmy Goines | Johnstown, PA | Newspapers said a "slashing draw" after 6 rounds - Career Record says Yutzy. |
| April 17, 1923 | Bernie Conway of Johnstown, PA | Vigilant Hall, Johnstown, PA | Conway in 10 rounds -- Pittsburgh Daily Post: "Yutzy was on the defense continually and had little chance to show his wares." |
| May 29, 1923 | Johnny King | Craft's Five Acres, Uniontown, PA | King in 10 rounds |
| June 7, 1923 | Bernie Conway - rematch | Johnstown, PA | Conway in 10 rounds |
| July 10, 1923 | Johnny Crouse of Philadelphia | Johnstown, PA | Crouse in 8 rounds |
| Dec. 3. 1923 | Albert "Bobby" Green | Maryland Theater, Cumberland, MD | Yutzy in 5 rounds |
| Dec. 14, 1923 | Albert "Bobby" Green - rematch | State Armory, Cumberland, MD | Yutzy by TKO in 7th round |
| | | | |
| 1924 | Opponent | Location | Winner/Comments |
| Jan. 1, 1924* | Mike Urick of the Pittsburgh Lyceum | Indiana, PA. Pittsburgh Post-Gazette: "Yutzy has been going like a house afire lately, winning his last four bouts by knockouts. Urick met Yutzy about a year ago and earned a draw by a whirlwind finish." | |
| Jan. 14, 1924* | Tommy Murphy of Huntington, WV | Maryland Theater, Cumberland, MD | Yutzy by knockout in the 2nd round. |
| Jan. 17, 1924 | Dude Murphy of Toronto, OH | Majestic Club, a.k.a. Palisades Rink, McKeesport, PA | Murphy by decision. Pittsburgh Post-Gazette: "Both men apparently entered the ring with only one object in mind, a knockout. Wild swinging was the feature with a lot of chasing around thrown in. Yutzy landed the most punches and appeared to win with ease but the judges disagreed. Referee Al Foss decided in favor of Yutzy." |
| Feb. 19, 1924 | Bert (or "Birch") Schneider - Canadian welterweight champion | Youngstown, OH | Yutzy in 8 rounds |
| March 26, 1924 | Red Malley | Maryland Theatre, Cumberland, MD | Yutzy in 6 rounds |
| March 31, 1924 | Jimmy Muche | Rayen-Wood Auditorium, Youngstown, OH | Yutzy in 10 rounds |
| April 15, 1924 | Johnny King | Rayen-Wood Auditorium, Youngstown, OH | King in 10 rounds |
| April 19 or 20, 1924 | Xenophon Kakouros, a.k.a. "Young Xeny," the "Fighting Dentist" of the University of Pittsburgh | State Armory of Indiana, PA -- or possibly Maryland Theater in Cumberland, MD | Xeny in 12 rounds. |
| April 15, 1924 | Johnny King of Fayette City, PA | Rayen-Wood Auditorium, Youngstown, OH | King in 10 rounds |
| April 29, 1924 | Young Xeny of Pittsburgh | Maryland Theater in Cumberland, MD | Xeny in 12 rounds. Pittsburgh Daily Post: "The Greek played all around the miner boy, outboxing him and landing the cleaner blows. He hit Yutsy [sic] practically every time he came in and beat him to the punch. Yutzy never got a chance to set himself." |
| May 28, 1924 | K.O. Jitney of Beaver Falls, PA | Lyric Theatre, Frostburg, MD | Yutzy in 12 rounds |
| June 2, 1924 | Jimmy Muche - rematch | Knights of Columbus Hall, Steubenville, OH | Yutzy in 10 rounds. Cumberland News: "...it was the kind of fight that saw both men disregard almost every rule in the book to engage in a Pier 7 brawl. On several occasions the referee threatened to leave the ring because he not only feared the boxers would maim each other but he was trying to protect his own life. Muche's followers threatened to 'get' Yutzy after the fight so Ricker and his breadwinner returned to their hotel via the back alleys and got out of town on the first train." |
| Sept. 5, 1924 | Fay Keiser | Mid-City Stadium, Cumberland, MD | Keiser in 12 rounds |
| Dec. 1, 1924 | Young "Kid" Xeny - 2nd rematch | Rayen-Wood Auditorium, Youngstown, OH. Promoted by Al Zill. | Xeny in 10 rounds |
| April 17, 1925 | Jack Druner (or "Durner") of Allentown, PA | Maryland Theatre, Cumberland, MD | Yutzy by TKO in 7th round |
| May 29, 1925 | Johnny Donnelly of Cumberland, MD | Mid-City Stadium, Cumberland, MD - 1st open air show of the Mid-City Athletic Association. Connellsville Daily Courier: Yutzy "is in training at the Athletic Club rooms" at Vanderbilt, PA | Draw in 12 rounds |
| Sept. 1, 1925 | Jimmy Finley of Louisville, IN | Fort Benjamin Harrison Arena, Lawrence, IN | Finley by TKO in 5 rounds. Indianapolis Star: "In the second Yutzy was down for nine. In the fifth, after being floored, he climbed through the ropes." |
| Oct. 20, 1925 | Tony Ross or Mickey Flynn | Maryland Theater, Cumberland, MD - the first of a series of indoor shows promoted by Vic Ricker and Tommy Maus | Draw in 8 rounds |
| Nov. 16, 1925* | Billy Carter of Connellsville, PA | Perryopolis, PA | Scheduled for 4 rounds |
| Nov. 30, 1925* | Joe Mullen | Dickerson Run (PA) YMCA | |
| | | | |
| 1926 | Opponent | Location | Winner/Comments |
| March 16, 1926 | "Irish" Johnny Burke of Cleveland | Rayen-Wood Auditorium, Youngstown, OH | Yutzy by TKO by in 5 rounds, "the bout being stopped to save Burke from needless punishment," said the Pittsburgh Post-Gazette. Said promoter Ricker in the Cumberland News: "He hit Burke so hard in the 5th that Johnny bounced out of the ring like a rubber ball and was counted out." |
| March 29, 1926 | Mickey Fedor of Donora, PA | Rayen-Wood Auditorium, Youngstown, OH | Yutzy in "six slashing rounds," said the Pittsburgh Daily Post. |
| April 29, 1926* | Billy Carter of Connellsville, PA | Slavish Hall, West Side, Connellsville | Scheduled for 4 rounds |
| May 18, 1926 | Johnny Carey - had won 12 straight previous bouts | State Armory, South Centre Street, Cumberland, MD | Yutzy by knockout, 1st round - considered by Ricker as Yutzy's most sensational performance |
| May 28, 1926 | Johnny Carey - rematch | Erie, PA | Carey in 10 rounds |
| Sept. 1, 1926 | Pal Kansas | Hakoah Club, Youngstown, OH | |
| Dec. 16, 1926 | Rudy Cedar of Tarentum, PA | Palisades Rink, McKeesport, PA - Connellsville Daily Courier: "It will be Yutzy's first appearance within a squared circle after a layoff of three months.... He is at his best when he tips the scales at 142 pounds." | Cedar by TKO in 10th round |
| | | | |
| 1927 | Opponent | Location | Winner/Comments |
| Feb. 14, 1927 | Rudy Cedar - rematch | Maryland Theatre, Cumberland, MD | Yutzy in 10 rounds - Pittsburgh Daily Post: "He hammered his way to a popular verdict over the blood-bespattered but fighting Rudy Cedar of Pittsburgh here tonight before a capacity house at the Maryland Theater. Cedar never was in real danger, as even when seemingly very battered, he obliged with timely bursts from a wicked right which never failed to shake the local lad." A 1951 Cumberland news article said he "almost tore off Rudy's ear with a terrific hook." |
| March 28, 1927 | Bobby Richardson | Maryland Theatre, Cumberland, MD | Richardson in 10 rounds |
| May 20, 1927 | Sylvan Bass | State Armory, Hagerstown, MD | Bass in 10 rounds |
| May 27, 1927 | Walter Dickerson of McKeesport, PA | Maryland Theatre, Cumberland, MD | Draw in 6 rounds |
| June 13, 1927 | Sylvan Bass - rematch | Carlin's Park, Baltimiore, MD | Bass in 6 rounds |
| Aug. 16, 1927 | Jack Lumber of Youngstown, OH | Evans Opera House, Lonaconing, MD | Yutzy in 2 rounds |
| Sept. 22, 1927 | Rudy Cedar - rematch | Palisades Rink, McKeesport, PA | Cedar in 10 rounds |
| Oct. 10, 1927 | Joey LaGrey | Johnstown, PA | LaGrey in 8 rounds. Promoter Ricker thought it was Yutzy's best fight. |
| Oct. 12 or 13, 1927 | Ralph Hood of Charlotte, NC | Fair Grounds Arena, Hagerstown, MD | Yutzy in 7 rounds |
| Nov. 11, 1927 | Walter Dickerson - rematch | State Armory, Hagerstown, MD, staged by the Hagerstown Base Ball Club | Yutzy in 10 rounds |
| Dec. 20, 1927 | Walter Dickerson - rematch | State Armory, Hagerstown, MD | Draw after 6 rounds |
| | | | |
| 1928 | Opponent | Location | Winner/Comments |
| Jan. 12, 1928 | Lester "Buster" Reed of Mt. Savage, MD | State Armory, Cumberland, MD | Reed in 10 rounds |
| March 1, 1928 | Lester "Buster" Reed of Mt. Savage, MD | State Armory, Cumberland, MD | Yutzy in 10 rounds |
| April 13, 1928 | Fay Keiser | State Armory, Cumberland, MD | Yutzy in 10 rounds. Gate receipts announced at $2,775. |
| May 14, 1928 | Christopher "Cuddy" DeMarco - the "Sheik of Charleroi" | State Armory, Cumberland, MD -- DeMarco known as a "pocket edition" of famed Pittsburgh boxer Harry Greb | DeMarco in 10 rounds |
| July 4, 1928 | George Peck | Bedford, PA - open air ring | Draw after 5 rounds - during an electrical story, lightning struck, just as Yutzy punched Peck, and the power went off. Yutzy is rumored to have gone to the corner and said to his manager, "Gosh, Vic, I must have really hit him hard to put all those lights out." |
| Oct. 15, 1928 | Albert "Bobby" Green - rematch | State Armory, Cumberland, MD | Green in 10 rounds |
| | | | |
| 1929 | Opponent | Location | Winner/Comments |
| March 19, 1929 | Al Fields | State Armory, Cumberland, MD | Yutzy by TKO in 3rd round |
| May 2, 1929 | Teddy Welsh | State Armory, Cumberland, MD | Yutzy in 8 rounds |
| | | | |
| 1930 | Opponent | Location | Winner/Comments |
| June 19, 1930 | Joe Colombo (or "Palumbo") of Clarksburg, WV | State Armory, Cumberland, MD - Cumberland Evening Times: "Yutzy, veteran welterweight, returns to the ring after almost a year's absence..." | Colombo in 6 rounds. Yutzy is not known to have fought again. |
Copyright © 2016, 2022 Mark A. Miner