As I See It
By the late Gordon Sykes Jones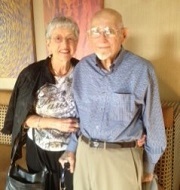 Gordon and Marjean (Miner)
Jones, 50th anniversary
[Editor's note: the following was written for the benefit of his nieces and nephews.]
All the the things that influenced my life and thinking and have led me to an "informed" look at life are in this short piece.
I write this as a person continually searching for the truth. My training and being is applying everything to logic and common sense. At one time in my life a lot of the writings of the Bible did not seem logical.
I was raised in the church as a Presbyterian and benefited by the teachings of the church in Sunday School.
As a young adult I drifted from the church, having to work in J & L Steel every Sat & Sun through college. In college I was in a very free thinking progressive atmosphere. Although I was raised in the church, baptized, joined church I felt during my young adult life I was not a Christian.
In the service I attended church irregularly, but I did attend. I also started my search. I was trained as an economist and the subject that held my most interest was economics and political history.
I have about 60 credits in field of economics and through study the similarities between economic, political and religious history really sparked an interest in how they are tied together.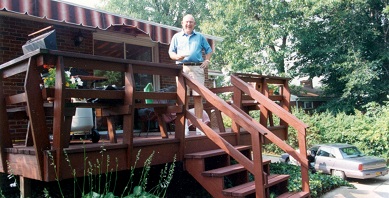 Gordon on the back porch of his home in Aliquippa, PA, circa 1993, shortly before retirement and a relocation to Daytona, Florida
Copyright © 2013 Gordon Sykes Jones. Re-published here with permission.