Home

The author and her husband
In memory of William Hayes Temple, who always understood.
My husband Dan and I bought our retirement house here 10 years ago. We have been asked why by so many people, and they still ask us even after so many years!!! I decided to respond so everyone can know and maybe people will learn something about Blair County they didn't realize. Sometimes it takes an outsider to help separate the trees from the forest.
There really aren't any forests where we came from. There is more of a jungle than a forest, a jungle of disconnected community, too much crowding, too many cars, too much noise, too much crime and too much "me-me-me." There are beaches, and quaint villages and of course, New York City, and it's excitement and culture, but if you want to retire in peace and quiet, Long Island isn't where you would move to. It is where retirees move from. Most of our friends moved to North Carolina, Arizona and Florida. Dan and I chose Pennsylvania, and in particular, anywhere near our beloved Horseshoe Curve National Park.
For 22 years we visited this area usually on the way to go camping in one of the beautiful places God has provided for us in this country. We would pack up our pick-up with a cap, throw in jeans and tees and a box of groceries and then drive in a previously decided direction with a KOA directory and atlas. A visit to Horseshoe Curve was the icing on the cake of our vacation as we stopped on the the way home for a few days.
My husband, a "train-iac" since he was born, always enjoyed watching and photographing trains all over this country. Horseshoe Curve is one of the best places to do that. We made friends with other people while there who were as enthusiastic as we were about anything to do with railroads. One memorable couple surprised us because it was the wife who was the train enthusiast, and the husband the loving "tag-a-long."

The famed Pennsylvania Railroad "Horseshoe Curve," Altoona, PA
It used to be, back when we started visiting The Curve in the mid 80's, there weren't as many trains per day. You could squeeze under the fence and take pictures from the other side. Once we even climbed up as high as we could go to take photos, and then followed the tracks West. We are now in our 60s and can't squeeze under much of anything, let alone an iron fence, but one great thing about this day and age is there are many, many more trains per day than back then!!!!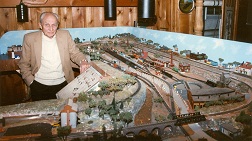 The author's father, a train "hobbiest"

My husband worked for Long Island Railroad for 33 years, and still can't get enough exposure to things "train." We make the trip up to the curve on a regular basis, even once in a snow storm. If the park is closed, we sit in the car outside and watch anyway all year round.

I was born in Williamsport and my father, a music teacher on Long Island, was a train hobbiest as well. Trains and music are my family things. To me, even though I was raised on Long Island, Pennsylvania was always home. Even though we don't have any family here, my German/English ancestry is deeply rooted in Somerset County from the 1700s. My ancestral home is still there, built in 1792, and people still live in it, using the barn and wood-shop. I was glad to come home to Pennsylvania. Some of the oldest history of our nation lives here. The Curve speaks to that sense with its dynamic influence on Blair County.

One thing that has stayed the same is people have always had a good time at The Curve. The view is terrific and just oozes beautiful Pennsylvania scenery, like nowhere else. People bring their lunch, their newspapers, their kids. It is a gathering place. It is an historic place. It is an engineering marvel. Altoona was born out of the people who created it. Its spirit is America and it belongs to us all.

Now you know.

Copyright © 2014 Cynthia (Minerd) Moringiello.
Originally published in the Altoona Mirror, Nov. 23, 2014.
Republished with the author's permission.