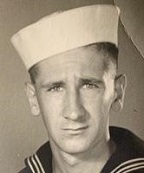 Hubert "Nubie" Long,
World War II
[Editor's note: the author is the son of George "Scott" and Mary Alice (Cronin) Long and grandson of the late Hubert "Nubie" and Joann (Riley) Long of the family of Marybelle (Minerd) Riley. The beloved grandfather of whom he writes passed away on Sept. 26, 2019 in York, PA.]
Notes from the last 10 minutes with a World War II veteran, a husband, a father, a grandfather, a great grandfather, an eternal inspiration. This is probably more for me, so I don't forget the memory of a man who lived a life that I was able to view from a distance. While in his presence, with my aunts and uncles, all I could think about was what was Grandpa holding onto? What was he waiting for? He talked about missing Grandma and being ready for months.

Between a few hours of conversation with Aunt Tish, Uncle Rick, Uncle Chris and Aunt Suzy I was able to think about the Man I knew and what he expected. My Grandpa in my eyes was a man of rules and procedures. His interpretation of life through common sense which was dictated through a set of Judeo-Christian morals and values. Things had to be done in order, properly and in a manner that makes common sense.

Aunt Tish and Aunt Suzy throughout the afternoon kept comforting Grandpa and reminding him all is ok. Everything is taken care of and he can go see Grandma and Uncle Pat now. So what was his motivation? After my last two visits with grandpa before the Demon began to take control of his mind, I began to understand what Grandpa needed closure with. First was his prayers. There was a proper order that needed to be taken. Second, Grandpa left Jacob with a couple of keepsakes, a few things he kept that were obviously important to pass on. I believe he wanted comfort that his legacy was going to live on and he was going to be remembered. I realized this when he called for Jacob last time he saw him. Tried with all his strength to pick him up and kiss him. This was surprising. To my recollection PopPop didn't give many kisses out to the boys. This was unprecedented behavior I never experienced from Grandpa. With a few words I received from Mom, maybe it was more of a request, I was ready to talk to Grandpa.
In a moment of logistics and planning by my aunts and uncles, I was asked to sit with Grandpa alone.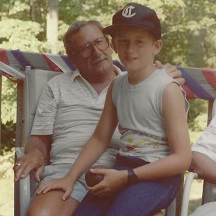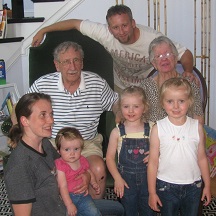 Left: Brandon and his granddad in earlier years. Right: Brandon and his wife and daughters with Hubert and Joann, 2012.
OK, I guess this was why I was here. I told Grandpa I'm not one to speak well. I don't have a quick tongue or instant replies that others in the family have been blessed with. I opened a few prayers on my phone and began his need for proper structure. I started with the Lord's prayer while rubbing his hand. Then I continued with three rich prayers I found normally given to the sick and dying. The last one felt a little closer. It had to do with the return of the prodigal son and the return to the never-ending love of a father's heart. I know there was a lot of anger and maybe some resentment the past year. I closed the prayers with the words I hear every Sunday before we are sent out into the community. I told Grandpa, God is not angry with him. God loves him. God forgives him and he is ready to receive him. Look towards Jesus, his arms are open and waiting there for you with Grandma and Uncle Pat.

I told him Dad was sorry he couldn't be there to say Goodbye. I told him he and uncle pat need to save a lager for Dad at the table. I told him, Jacob Olivia Emma and Sophia still ask how Great Grandpa is doing. I told him he is Loved, he is remembered and his memory will live on. I assured him he will not be lost in the Dust of eternity. I said we will take it from here Grandpa. I love you.

I stood up kissed him on the head. At that instant Grandpa started breathing on and off. After the third time I told him I was going to get his Sons and Daughters. I walked out and let them know. Within five minutes Grandpa took his last breath.