Home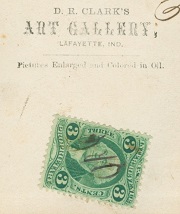 Imprint on the back
Civil War surgeon Dr. Ralph Wardlaw Cummings of Yarmouth, Maine, and his wife Eunice "Flora" Miner of Attica, Indiana probably had this photograph made at or near the time of their marriage on March 13, 1865. Wed in in Knoxville, Tennessee, they had this carte de visite image made in D.R. Clark's Art Gallery in Lafayette, Indiana. On the back of the light cardboard mounting is the photographer's imprint plus a 3 cent green "Proprietary" stamp with George Washington's likeness, issued by the Internal Revenue Service as a tax on photographs during the war.
Ralph was an 1853 graduate of Bowdoin College and completed further studies at the New York Medical College. After graduation in 1856, he was named editor and publisher in 1858 of the Maine Medical and Surgical Journal.
During the Civil War, he served as a private and sergeant with the 1st Michigan Infantry from 1861 to 1862 -- as first sergeant and assistant surgeon of the 23rd Michigan from July 28, 1862 to March 31, 1866 -- and for three weeks in March 1864 as surgeon of the 1st U.S. Colored Heavy Artillery. The 1,700-man 1st U.S.C.H.A. had been formed in February 1864 and spent most of its time in and around Knoxville. Ralph and Flora seemed most proud of this role, as the 1st U.S.C.H.A. name was inscribed on his grave marker two-plus decades later.
Following the war, Ralph was a physician in Bay City, MI; life insurance and claim agent in Knoxville, TN (1867); a pharmacist in Minneapolis, MN (1870); and associate editor of the Minneapolis Evening Times and News (1873). In 1873, while in Minneapolis, Ralph served as a corporate member of the American Board of Commissioners for Foreign Missions, and is mentioned in the November 1873 edition of The Missionary Herald. Sometime between 1873 and 1880, they moved to California where he is said to have edited a newspaper in Benicia, 35 miles northeast of San Francisco.
Sadly, Ralph died in San Francisco as he neared his 48th birthday on Aug. 17, 1880, of "disease of brain." He was laid to rest in the Oakland Cemetery, with a short notice of his death published in the Oakland Tribune. More>>>

Pittsburgh in 2016 celebrates its 200th anniversary as an incorporated city. This provides a window in time to acknowledge the Steel City's triumphs, from innovations that created permanent institutions to world class medical and educational facilities after overcoming severe economic challenges. More>>>


VisitPITTSBURGH is the promotional sponsor of this page. Be sure to get your copy of the Greater Pittsburgh Convention & Visitors Bureau's Official Visitor's Guide, a 25-page workbook to help event organizers stay on track, no matter what type of reunion or meeting they are planning to hold. The booklet features a full page of reunion ideas authored by the founder of this website, headlined "Take It from a Professional."
Full text>>>
Copyright © 2016 Mark A. Miner