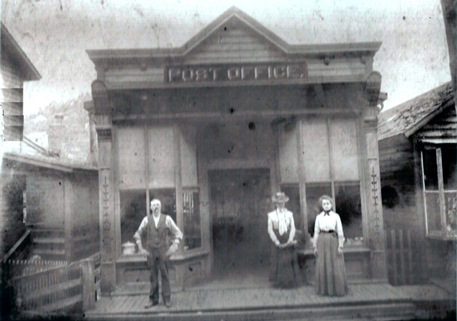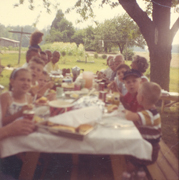 The first reunion, in Delaware
Later this month, in Greenwood, Delaware, the descendants of David Leander and Martha Jane (Harbaugh) Laughery will gather for their 48th annual reunion. This longstanding event began in the early 1960s, as their descendants had grown numerous and wanted a way to regularly reconnect. Willis and Dorothy Laughery hosted the first reunion, a picnic at their farm. Today the comprehensive Laughery Reunion Archives spanning each and every year are posted on Minerd.com as a lasting tribute.
This "Photo of the Month" shows David Leander Laughery as postmaster of Vanderbilt, Fayette County, PA, sometime during his 16 years in the role, in the late 1890s and early 1900s. The identity of the two women is unknown, but one may have been his niece Nellie Laughery, whom he appointed as his assistant in 1904. The position was fraught with occasional risk, and in mid-September 1901 thieves broke into a safe of the S.E. Porter drug store in Vanderbilt, taking $300 in post office money, checks and postage stamps. Reported the Connellsville Courier, "Most of this money and the stamps belonged to the Vanderbilt postoffice. Postmaster D.L. Laughrey was in the habit of placing his receipts in Porter's safe over night. No clew [sic] has been obtained to the robbers..."
After Martha Jane's father David Harbaugh, a Civil War veteran, died in 1910, the Laugherys made the momentous decision to leave and migrate to Delaware, where they found a better opportunity and planted deep roots. As a mark of the closeness they felt with their kin back in the mountains of Western Pennsylvania, the Laugherys' adult children often returned for the annual Harbaugh Reunions, whose archives also are posted on this website.