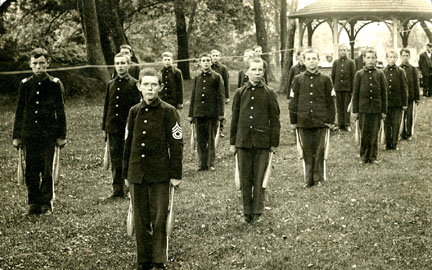 George Elmer Minerd (1899-1967) may be among the uniformed children of Civil War soldiers in this postcard image, but we are not sure. He was the son of a Civil War veteran, James Minerd Jr., of the 85th Pennsylvania Volunteer Infantry, and grew up in Fayette County, PA, near Pittsburgh.
When George was 10 years of age, in 1909, his father died. The lad was sent to a soldiers' orphans school at Chester Springs, Chester County, PA. By 1911, he had been transferred to another soldiers' orphans school at Scotland, Franklin County. At age 12, George received this postcard in July 1911 from a former instructor in Chester Springs, Major Beckman. on the back of the card, Beckman wrote:
Dean Mosier is keeping the boys from starvation at your old post at my table. He also prevents that extra piece of toast from going to waste. Do you know of any of the lads on the other side?
At age 15, when his mother remarried, George was adopted out of the family, and took the surname "Morris." However, at some point he regained the "Minerd" surname and used it the rest of his life. As an adult, George worked as a clerk at the Westinghouse Machine Company in East Pittsburgh, the Gulf Oil Refining Company, and the Works Progress Administration Liquid Fuels Survey.

This is one in a series of photographic images published on Minerd.com in 2007-2008 to promote our 2008 "Pittsburgh 250" reunion and to acknowledge the family's collective, long-term contributions to Western Pennsylvania as the city celebrates its 250th birthday. Be sure to see the profile of our reunion and website on VisitPittsburgh.com.
Copyright © 2008 Mark A. Miner