Home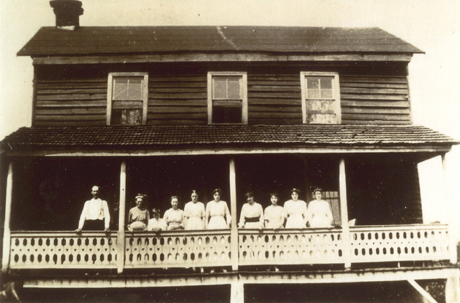 This old house, no longer standing, was built by Jacob and Rachel (Ansell) Minerd, III along what is now Route 653 east of Normalville, Fayette County, PA. It was constructed upon the Minerds' move to Normalville following the Civil War. At least four generations of our family have lived there at one time. The house was inherited by their daughter Elizabeth Long Gallentine, and later by her daughter and son in law, Rachel and John B. Pritts.
Originally made of logs, the house contained eight rooms -- four downstairs, and four upstairs. A 1906 article in the Connellsville (PA) Daily Courier observed that John Pritts was "adding a new porch to the front of his house and making many other improvements, which will add very much to the appearance…" The Prittses added weather board siding as protection over the years, and added a barn to the property which was still standing circa 1995.
Standing on the porch, left to right, are: John and Rachel (Long) Pritts, Homer Pritts, Susan Anna (Long) Kooser, Blanche Brooks, Hannah Prinkey, Elizabeth Kooser, Mary Kooser, Elizabeth Sleasman and Bessie Sleasman.
Copyright © 2006 Mark A. Miner